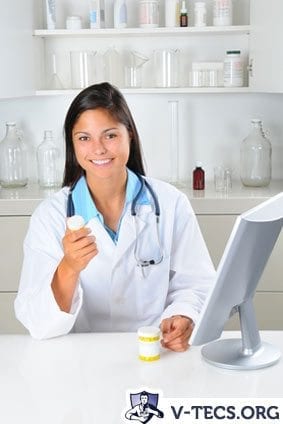 The current trends in the medical industry show that America has a bright future for Pharmacy Techs. In the coming decade, their employment rate is likely to rise by a considerable percentage. The demand for pharmacy techs rises as the average age in the U.S rises and the number of health care facilities increases. These people are responsible for handling prescriptions and medical orders. To facilitate their education, a number of schools and colleges in U.S have initiated short diploma and associate degree programs. However, in order to practice as a pharmacy tech, the state laws require an individual to acquire education from an accredited institute. Although there are a number of schools and colleges that offer Pharmacy Tech programs in Virginia, only the best ones are listed in the next section.
Pharmacy Tech Schools in VA:
National College
The National College has six campuses in the state of Virginia that offer the pharmacy tech diploma program. They are located in the following locations:
Charlottesville
Danville
Harrisonburg
Lynchburg
Martinsville
Roanoke Valley
Although the college also offers an associate degree in pharmacy tech, it is unfortunately not available in Virginia. The diploma program curriculum is designed to provide both theoretical and practical knowledge to aspirants. Students are trained in well-equipped labs and are required to work in the field in order to complete the program. Students develop the following skills at the end of the program:
1. Foundations of drugs and their applications
2. Assisting pharmacists
3. Maintaining records
Students are also required to learn computer skills to integrate technology with the current management systems. Graduates are thus enabled to take the nationally accepted CPhT exam. Candidates generally find wonderful prospects for startup job following the exam. The tuition fee for the pharmacy tech diploma program at National College is $15,216. Books and course materials cost extra, which rounds up the total cost of education to $18,000. Further information can be found on the college's website.
Website: https://www.an.edu/
Contact: 1.888.956.2732
Chester Career College
The Chester Career College, aka CCC, is located on West Hundred Road, Chester. The college has a diploma program which prepares pharmacy tech enthusiasts to work under the direct supervision of a registered pharmacist. The course-work includes subjects that familiarize students with prescriptions, pharmacy inventory, record maintenance, etc.
Students are prepared for real world scenarios prior to graduation since the real world is much different from academic institutions in most cases. Students are required to take part in externships at retail pharmacies to acquire work experience instead of using simulated labs. Chester Career College encourages its graduates to take the Pharmacy Tech Certification Exam administered by PTCB after they graduate. Students learn numerous skills that are useful for the health-care industry by the end of their classes. Some of these skills are listed below:
1. Dosage Calculations
2. Filling Prescriptions
3. Classifying Drugs
4. Understanding Drug Interactions
5. Preparing IV Mixtures
6. Repackaging
Graduates, once they have acquired these skills, can move on to work at a hospital pharmacy, retail technician, mail-order pharmacy, etc.
Website: http://www.chestercareercollege.edu
Contact: 1.804.751.9191
Blue Ridge Community and Technical College
The Blue Ridge Community and Technical College is located in Weyers Cave, Virginia. The college has introduced a comprehensive 60 hour course for pharmacy tech aspirants. The Virginia Pharmacy Board recognizes this program, which prepares students for the CPhT exam administered by PTCB. The course profile of the intensive program includes disciplines related to medical terminologies, drug interactions, prescription interpretation, etc. Students, once they have completed the studies, will have learned skills such as the following:
1. Dosage Calculations
2. Inventory Control
3. Handling Insurance Claims
4. Dose Conversions
Graduates can get employment as pharmacy techs in retail pharmacies, mail order pharmacies, hospitals, clinics, etc. after completing the 10 week, 60 hour program. The overall cost of the program is just $1,000 including the relevant course material. Any further information regarding the Blue Ridge Community College can be found on its website. Refer to the details provided below.
Website: http://www.brcc.edu
Contact: 1.304.260.4380
J Sargeant Reynolds Community College
The J Sargeant Reynolds Community College is popularly known as the Reynolds Community College. It has three campuses in the state of Virginia. Two are located in Richmond and the third one is located in Goochland. For pharmacy tech aspirants, the college has a Career Studies Certificate program. The program lasts two semesters or one year. During this time students take courses from different disciplines such as:
1. Medical Terminology
2. General Pharmacology
3. Pharmacy Management
Students are required to complete a 160-hour internship. along with the coursework, in order to acquire the certificate. The internship is made part of the curriculum to provide students with hands-on experience of a real world pharmacy so they are perfectly prepared when they start searching for employment. The skills acquired throughout the program include packaging, preparing and stocking medications under the supervision of a licensed pharmacist. The admission criteria require applicants to have a high school diploma or G.E.D certificate. Reynolds Community College is recognized by the Virginia Board of Pharmacy, which indicates that the graduates should find no problems in applying for a pharmacy tech license.
Website: https://www.reynolds.edu/_onlinecatalog/current/academic-programs/program-listing-A-Z.aspx
Contact: 1.804.371.3000
Stratford University
The Stratford University is a private educational institute that has two campuses in Virginia. One is located in Falls Church, while the other is in Woodbridge. The university offers an Associate of Applied Science Degree in Pharmacy Technology which requires students to complete 90 credits. Besides classroom education, the university also employs online education for its students. The A.A.S degree generally takes 60 weeks to complete. The program prepares students to dispense medications precisely and allows them to interact in a professional mode with patients, especially with the unstable ones. A summary of the skills acquired during the program is provided below:
1. Basic pharmacology knowledge
2. Maintaining patient records and filing insurance claims
3. Understanding drugs and their interactions
4. Practicing under the law and ethical standards of health-care
5. Managing inventory
Graduates, upon completion of the program, are ready to take the national certification exams administered by PTCB and N.H.A. These exams enable graduates to land good start-up employment opportunities at health-care centers, retail pharmacies, hospitals, etc. The faculty at Stratford includes some of the most renowned healthcare professionals. All the instructors either have a Pharma. D. qualification or hold a Certified Pharmacy Tech with a Master's Degree. The instructors are licensed by the state of Virginia and are able to teach students from their own experiences. Students are not only restricted to classroom lectures, instead they are required to complete an internship at a retail pharmacy in order to get practical experience..
The application fee for the program is $50 and is non-refundable. The university charges students $370 for each credit. There are a total of 90 quarter credits in the pharmacy tech A.A.S degree program. For more details, refer to the university's website given below.
Website: http://www.stratford.edu/
Contact:  1.800.444.0804 or 1.888.546.1250
According to the United States Department of Labor Bureau the pharmacy tech industry is likely to see a growth of 33% in the next decade. This proves that it is one of the safest professions to get into, as the graduates do not generally have to wait a long time for employment. Although there are also many other institutes and colleges in Virginia that offer pharmacy tech programs, the ones mentioned above have the best reputations. For information regarding more schools, visit the website of Virginia Board of Pharmacy: http://www.dhp.virginia.gov/pharmacy/