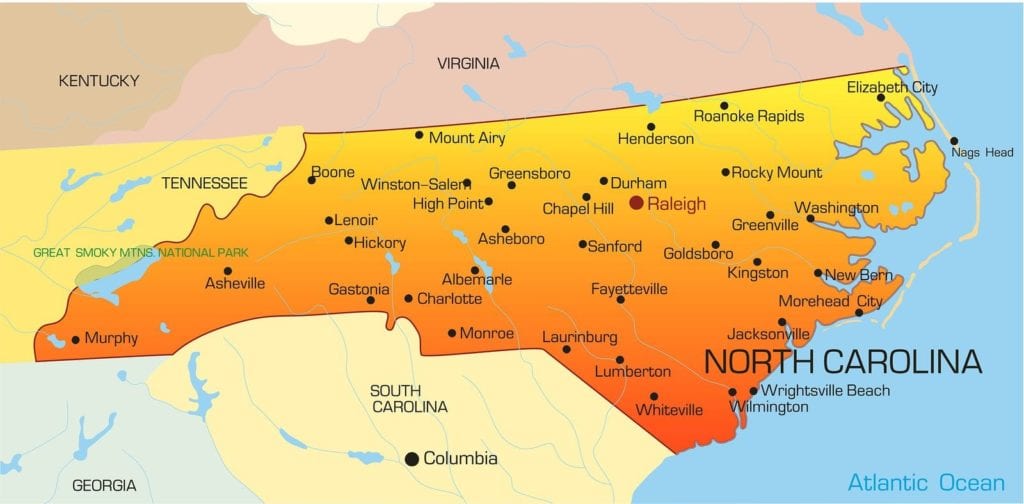 Pharmacy technicians are allied health professionals who perform various duties related to the preparation and dispensation of drugs under the direct supervision of a registered pharmacist. Training programs, approved by North Carolina's Board of Pharmacy, teach students how to interpret a physician's prescription, fill orders for pharmacists' review, and deliver the final order to the customer. They also learn how to prepare admixtures of intravenous solutions, process insurance forms, maintain patient profiles, replenish drugs and perform clerical duties. As community and hospital pharmacies in North Carolina expand their services to meet increasing public demands, there will be a greater need for the competent technical support that only a pharmacy technician can deliver. Certified pharmacy technicians have the skills and abilities to meet this need and will realize excellent employment opportunities in hospitals, nursing homes, retail drugstores, research labs and home health care agencies.
Pharmacy Technician Schools in NC
North Carolina Pharmacy Technician Requirements
License Requirement
In order to work as a pharmacy technician in North Carolina, the law requires individuals to register with the Board of Pharmacy. The requirement for registration excludes students enrolled in technician training programs who spend time at designated pharmacies as part of their education program. Therefore, the rule applies only to students who are present in the pharmacy for educational purposes only – students must be enrolled in a Board-approved program. The students, when present, do not count towards the pharmacist: technician ration. The Board could deny an application for registration from students who violate pharmacy laws while working as a technician.
Applicants for registration should present the following to the Board:
A copy of their high school diploma or equivalent. Those currently attending high school can also apply.
Evidence of employment at a state-licensed pharmacy.
Evidence of completion of a Board-approved pharmacy technician training program.
Board approved programs are those accredited by the ASHP. Pharmacy technicians who are certified by the PTCB or ExCPT can skip the above requirements and apply for registration.
Once registered, pharmacy technicians must abide by the state's pharmacy laws and renew their registration annually to comply with the Board's requirements. Pharmacists and employers should verify a prospective employee's status with the registry before extending an offer of employment.
Age Requirement
Individuals 18 years and older can register as a pharmacy technician in North Carolina.
Education Requirement
Pharmacy technician must provide evidence of high school completion as a requirement for registration. Individuals enrolled in high school or similar program must provide an official letter confirming their current status.
Other Requirements
A criminal background check is not a mandatory step in the registration process. However, applicants should have a good moral character, free from criminal convictions and drug and alcohol abuse. Applicants with convictions or disciplinary actions should provide supporting documents and a written statement to the Board. While the Board does not conduct background checks by default, pharmacy technicians applying for PTCB certification will need to pass a criminal background check.
The Pharmacy Technician Program
Content
Accredited pharmacy technician training programs prepare students to function as pharmacy technicians under the supervision of licensed pharmacists. Pharmacy technicians are an integral member of the pharmacy staff. A competent technician, trained in all aspects of the pharmacy, will give pharmacists the freedom to focus on the critical aspects of pharmacy administration and customer care.
Through a combination of didactic, laboratory practice and clinical experiences, students develop a knowledge of their roles and responsibilities and understand the importance of safe and efficient delivery of pharmacy products. Classroom topics cover areas, such as microbiology, pharmacy ethics and law, pharmaceutical terminology, dosage calculations, names of generic and brand name drugs, and inventory control. Students also learn compounding procedures, drug procurement, and packaging and labeling.
A clinical component of most programs takes place at a community or hospital pharmacy where students work under the supervision of a licensed pharmacist. The externship is crucial to students' eventual success on the job as it gives them the opportunity to apply their classroom learning in a real-world setting. Pharmacy employers also get the opportunity to evaluate students' skills before hiring them to work in the pharmacy.
There are fifteen ASHP accredited training programs in North Carolina, and many accredited by other recognized agencies. Colleges, universities, and vocational schools may have stringent enrollment policies, which might require students to possess a high school diploma, get immunized and pass a criminal background check. Graduates will be eligible for state registration and can also take the PTCB exam with confidence.
Duration and Cost
North Carolina residents pay an average of $5,100 for pharmacy technician diploma programs at the state's colleges and universities. Shorter certificate programs are also available at community Colleges, such as Rowan-Cabarrus Community College, where tuition is approximately $600. Shorter certificate programs may not fulfill the Board's requirements for training. However, you can use the program to prepare for the national certification exam to qualify for registration as a North Carolina pharmacy technician. Apart from tuition, students should budget for other expenses such as textbooks, workbooks, course materials, uniform, background check, drug screen, TB test and immunization. Financial aid may be available for qualifying students.
Employer-sponsored programs may be an option for a few individuals as pharmacy supervisors train new employees. However, as pharmacists face increasing responsibilities, training new employees may not be an option. This lack of time and resources is one reason so many pharmacy employers hire trained and certified individuals.
The duration of pharmacy technician training programs depends on the schedule, contact hours, and course content. Students can complete training is as little as 4 weeks or as long as 12 months.
National Exams
The North Carolina Board of Pharmacy recognizes the PTCB and ExCPT certifications. While certification is not mandatory for registration, it gives pharmacy technicians a distinct advantage over non-certified technicians. National certification validates a potential employee's ability to perform the duties of a pharmacy technician and confirms his/her understanding of pharmacy laws, procedures and public safety.
It is important to know the steps for registering for the certification exam of your choice. It also helps to be familiar with the design of the exam. A thorough evaluation of the content and process of each exam will help you to choose the one that is best for you.
PTCB Exam:
The Pharmacy Technician Certification Board administers the Pharmacy Technician Certification Exam. The exam tests your knowledge in four domains:
Medication
Federal Requirements
Patient Safety and Quality Assurance
Order Entry Processing
The duration of the exam is 2 hours. It features 90 multiple choice questions. The format is computer based and delivered at a designated test site that you'll choose when you register for the exam. The exam results are delivered at the test site as soon as the exam is completed. The pass/fail result will appear on the screen and printed out for your records. The certificate will be mailed to your address within a few weeks of the test date.
Eligibility:
Must be at least 18 years of age
Must have a high school diploma or GED
Must reside in the United States or its territories
Must complete a PTCB-recognized education program or equivalent work experience as a pharmacy technician (minimum of 500 hours)
Must disclose any criminal and State Board of Pharmacy registration or licensure actions
Must comply with all PTCB certification policies
Must pass the PTCB exam
You must create a PTCB account before applying for certification. Once the application is approved, you will receive authorization via email to schedule the exam at any one of the 1,400+ professional centers across the nation. The exam fee is $129.
ExCPT Exam:
The National Healthcareer Association administers the ExCPT exam. The exam covers several areas:
Overview and Laws
Drugs and Drug Therapy
Dispensing Process
Medication Safety and Quality Assurance
The duration of the exam is 2 hours and 10 minutes and covers 100 questions. The format is also computer based. You can take the exam at a PSI testing center near you or through live remote proctoring at a location of your choice. The results of the exam will be posted to your NHA account page within two days of scoring your test.
Eligibility:
Must be at least 18 years of age
Must have a high school diploma or GED
Must have completed a pharmacy technician training or education program within the last five years OR have one year of work experience with at least 1,200 hours of supervised pharmacy-related work within the last 2 years
You must create a free NHA account online and submit your ExCPT exam application through the account portal. Schedule a date and location- online or in-person- for the exam and pay the exam fee of $105. Prepare for the exam and take the test at a PSI testing center near your or through live remote proctoring at the location of your choice.
Certifications must be renewed every two years. You must participate in at least 20 hours of continuing education including a minimum of one hour of pharmacy law and one hour of patient safety.
Acquiring Your State License
Application
Pharmacy technicians must register with the Board within 30 days of beginning employment at a licensed pharmacy. North Carolina's pharmacy technicians can pursue certification by choice since it's not a requirement for registration. The Board recognizes PTCB or ExCPT certification and allows Certified Pharmacy Technicians to bypass the basic requirements for registration. Applicants for registration must be at least 18 years old.
Pharmacy Technician Application:
North Carolina's Board of Pharmacy no longer accepts checks. Applicants must use the online portal to submit the application for registration and pay using a Visa, MasterCard, or DiscoverCard.
Fill out the online registration form.
Answer all questions, making sure to provide accurate information.
Upload a 2 x 2 digital photo.
Submit the application and pay the $30 non-refundable application fee.
Provide a copy of your high school diploma or equivalent
Provide proof of employment at a pharmacy holding a valid in-state pharmacy permit
Provide documents of completing a pharmacy technician training program approved by the supervising pharmacist-manager
Applicants who hold a current pharmacy technician certification issued by PTCB or ExCPT do not require documentation of training or employment
The Board requires 2 to 4 weeks to process the application. Criminal convictions and disciplinary actions could delay the process.
Renewal
After the initial registration, pharmacy technicians must renew their licenses yearly. The renewal period begins on November 1 and ends December 31 every year. Pharmacy technicians who do not renew by December 31 will have a grace period of 60 days to renew their licenses – the grace period extends to March 1 of the following year. In addition to the grace period, the Board allows another 30 days wherein technicians can renew after paying a penalty. Those renewing later than this period must apply to reinstate the license.
Pharmacy technicians must use the online renewal form since the Board will not accept paper submissions. Following are the steps for renewal.
Use the Technician Login to log into your account using your license number and pin.
Submit the renewal form and pay the $30 fee using your Visa, MasterCard or DiscoverCard.
Change your name/address if they need changing.
Print your receipt and updated certificate.
Transfer
North Carolina's Board of Pharmacy does not practice reciprocity with other states. Pharmacy technicians who are registered in another state must use the new registration online form to submit a request to the Board.
Contact the Board:
North Carolina Board of Pharmacy
6015 Farrington Road
Suite 201
Chapel Hill, North Carolina 27517
Phone: 919.246.1050
Fax: 919.246.1056
Pharmacy Technician Training Programs North Carolina
Asheville, NC Pharmacy Technician Training Programs:
Asheville-Buncombe Technical Community College
340 Victoria Road
Asheville, NC 28801
(828) 398-7868
Charlotte, NC Pharmacy Technician Training Programs:
Central Piedmont Community College
1201 Elizabeth Avenue
Charlotte, NC 28204
(704) 330-6432
Southeastern Institute – Charlotte
5250 Seventy-Seven Center Drive
Charlotte, NC 28217
(704) 527-4979
Concord, NC Pharmacy Technician Training Programs:
Cabarrus College of Health Sciences
401 Medical Park Drive
Concord, NC 28025
704-403-3517
Cullowhee, NC Pharmacy Technician Training Programs:
Western Carolina University
1 University Way
Cullowhee, NC 28723
877.440.9990
828.227.7335
Durham, NC Pharmacy Technician Training Programs:
Durham Technical Community College
1637 Lawson Street
Durham, NC 27703
(919) 536-7200
Duke University Health System
2301 Erwin Road
Durham NC 27710
(919-416-3853)
Fayetteville, NC Pharmacy Technician Training Programs:
Fayetteville Technical Community College
P.O. Box 35236; 2201 Hull Road
Fayetteville NC 28303
910-678-8400
Hickory, NC Pharmacy Technician Training Programs:
Catawba Valley Community College
2550 Us Highway 70 SE
Hickory, NC, 28602
828.327.7000
High Point, NC Pharmacy Technician Training Programs:
Guilford Technical Community College High Point Campus
901 South Main Street
High Point NC 27260
336-334-4822
Jacksonville, NC Pharmacy Technician Training Programs:
Coastal Carolina Community College
444 Western Boulevard,
Jacksonville, NC 28546
910.455.1221
Lexington, NC Pharmacy Technician Training Programs:
Davidson County Community College
P.O. Box 1287
Lexington, NC 27293-1287
(336) 249-8186
Matthews, NC Pharmacy Technician Training Programs:
Harris Teeter
701 Crestdale Rd
Matthews NC 28105
910-329-0711
New Bern, NC Pharmacy Technician Training Programs:
Craven Community College
800 College Court
New Bern, NC 28562
(252) 639-2026
Pittsboro, NC Pharmacy Technician Training Programs:
Central Carolina Community College
764 West Street
Pittsboro, NC 27312-8822
1-800-682-8353
Raleigh, NC Pharmacy Technician Training Programs:
Wake Technical Community College
9101 Fayetteville Road
Raleigh, NC 27603
(919) 209-2596
Care One Health Training Institute
309 Chapanoke Road, Suite 116,
Raleigh, North Carolina 27603
(919) 773.7165
Salisbury, NC Pharmacy Technician Training Programs:
Rowan-Carabbus Community College -North Campus
1333 Jake Alexander Blvd. South
Salisbury, NC 28146
704-216-7222
Retail Business Services, LLC
2110 Executive Drive,
Salisbury NC 28147
866-366-3386
Smithfield, NC Pharmacy Technician Training Programs:
Johnston Community College
245 College Road
P.O. Box 2350
Smithfield, NC 27577
(919) 209-2596
Wilmington, NC Pharmacy Technician Training Programs:
Cape Fear Community College
411 North Front Street
Wilmington, NC 28401
(910) 362-7093
Winston-Salem, NC Pharmacy Technician Training Programs:
Forsyth Technical Community College
2100 Silas Creek Parkway
Winston Salem, NC 27103
(336) 757-3319