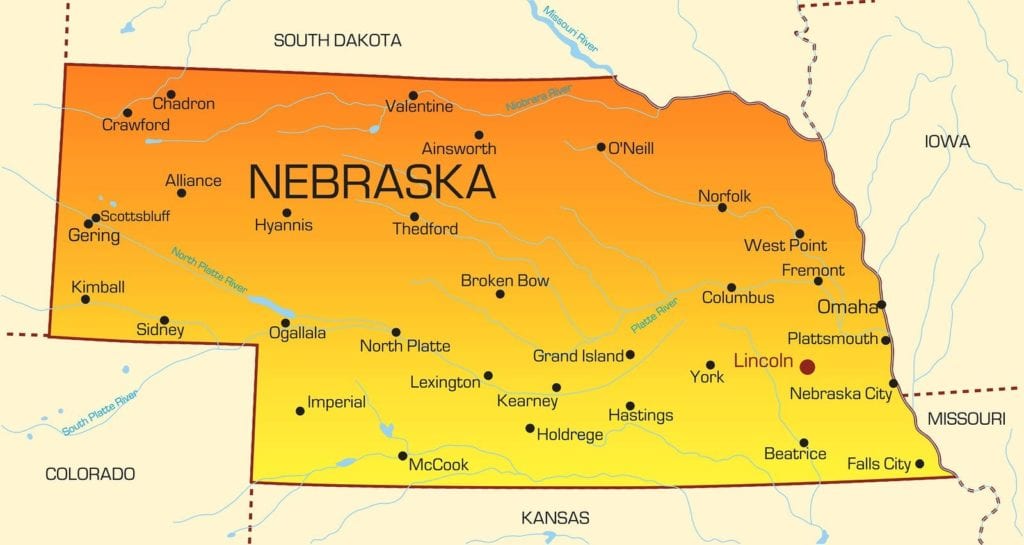 As life expectancy and the need for prescription medication increases, the demands for pharmacy technicians and similar positions will hit higher than average rates. The U.S. Department of Labor has already projected that employment opportunities for pharmacy technicians will grow faster than the average for all occupations. The projections represent good news for individuals who are searching for careers that are in demand now and will remain that way for years to come. According to data from the Occupational Outlook Handbook, the median wage for Nebraska's pharmacy technicians is $13.18, which translates to an annual wage of $27,770. Certified Pharmacy Technicians earn wages that exceed the median wage, so while the Department of Health and Human Services does not require certification, there are benefits of taking the national PTCB exam.
Pharmacy Technician Schools in Nebraska
Nebraska Pharmacy Technician Requirements
License Requirement
In 2007, Nebraska state adopted legislation requiring all pharmacy technicians employed with licensed facilities to register within 30 days of initial employment. The registration does not have to be issued within the 30-day period, but the individual must have proof of application. A single registration authorizes a pharmacy technician to work in multiple settings. To register, the individual must be at least 18 years old with a high school diploma. Crime and drug-related convictions could affect the applicant's ability to obtain the DHHS'approval.
The pharmacy employer or facility should check with the Department to verify that the employer has submitted an application for registration. The Department processes applications in the order in which they're received. Generally, applicants can expect a response within 4 to 6 weeks of submitting the completed application and all supporting documents. Once registered, pharmacy technicians must keep a copy of the wall certificate in the primary place of employment. Pharmacy technicians should also be familiar with the regulations governing their roles, including the pharmacist/technician ratio, roles and responsibilities, and name badge requirements.
All pharmacy technicians must renew their registration biennially to continue practicing pharmacy. Pharmacy interns functioning as a pharmacy technician do not need to submit another registration with the Department.
Age Requirement
The Department of Health and Human Services accepts registration requests from persons 18 years and older only.
Education Requirement
Pharmacy technicians applying for registration with the DHHS must be high school graduates or possess an equivalent degree of education recognized by the State Department of Education. The Department will accept proof of education in the form of:
A copy of the high school diploma
A copy of a GED certificate
A copy of an official high school transcript with the graduation date included.
A copy of a college diploma
A copy of a college transcript that indicates the date of high school graduation.
Other Requirements
The DHHS does not commission criminal background checks by default. However, pharmacy technicians must provide complete and truthful responses to questions regarding malpractice, criminal conduct, mental and physical health, and disciplinary actions. It is critical that you disclose all arrests, convictions or charges even if they were dropped, pled down, dismissed, pardoned or settled through diversion. Failure to disclose this information will result in denial of your application for registration. Adverse events, such as criminal convictions, does not mean automatic disqualification for licensure.
The Pharmacy Technician Program
Content
Nebraska's pharmacy technician training providers offer students the opportunity to learn the principles of pharmacy practice through classroom instruction and hands-on learning in multiple clinical settings. Accredited programs, such as the one at Southeast Community College, emphasize the principles, skills, knowledge, and attitudes program graduates need to work as efficient members of the pharmacy care team. The course curriculum includes topics such as anatomy and physiology, pharmacy calculations, pharmacy operations, pharmacy law and ethics, pharmacology, brand name and generic drugs.
After completing the classroom instruction, students must participate in a hands-on clinical experience under the close supervision of licensed pharmacists. During the practical experience, students use calculations to prepare and dispense medications, use pharmacy equipment to fill prescriptions, practice medical ethics, respond to patient questions, practice data entry, perform inventory, and label medications under the supervision of a licensed pharmacist.
Pharmacies and other facilities that employ pharmacy technicians also conduct training to prepare pharmacy technicians for their role. The course content is similar to the curriculum at formal institutions, although employer-trained technicians may begin practical training from the onset.
Duration and Cost
The average cost of South Community College ASHP-accredited program is $4,789 for tuition only. All other fees for books, parking, uniform, course materials, transport to and from the clinical rotation and other related costs are the students' responsibility. Many schools require students to complete a criminal background check, obtain a health statement, including TB and flu shot, present current CPR certification and register with the DHHS before the clinical rotation begins. All these requirements have associated costs for which students should be prepared.
Considering the cost of tuition and related costs, pharmacy technician students in Nebraska can spend up to $5,650 for a 12-month program. Financial aid may be available to qualifying students. Due, in part, to high training costs and the scarcity of accredited institutions offering pharmacy technician training, many pharmacy technician hopefuls opt for employer-based training, which offers a fast-track and affordable way to begin a rewarding career.
National Exams
Since pharmacy technicians require a very specific set of skills and a broad knowledge of medication and their effects, they must undergo intensive training to prepare for their role on the job. The DHHS requirements do not include certification for Nebraska's pharmacy technicians. However, approximately 30% of the state's technicians take the PTCB exam and earn higher wages and the respect and confidence of their pharmacist supervisors. PTCB certification also makes it easier for pharmacy technicians to move from one employer to another or to transfer from Nebraska to other states.
The PTCB is the older of the two recognized certification agencies in the United States. The Board adheres to strict guidelines for certification and maintaining certification. Pharmacy technicians must be 18 years or older and possess a high school diploma when submitting an application request. Other requirements include criminal background clearance and agreement with the Board's guidelines. Formal pharmacy technician training is currently not a requirement, but that will change by the year 2020.
After submitting the online application and the supporting documents, the candidate will receive authorization to schedule a convenient test date at a PearsonVue testing center in Nebraska. The computerized test contains 90 multiple-choice questions, which candidates must complete in 2 hours. Successful candidates can use the CPhT designation for two years and apply for renewal to maintain certification. The registration fee is $129 and $40 for renewal.
Acquiring Your State License
Application
Nebraska law requires pharmacy technicians to register with the Licensure Unit of the Department of Health and Human Services within 30 days of beginning employment at a pharmacy or facility. The individual must be at least 18 years of age, a high graduate or equivalent, and have no criminal or drug-related misdemeanor or felony convictions to file an application with the Department.
Pharmacy Technician Application:
The application form is available on the Department's website. Currently, there is no option for online registration. Pharmacy technicians must print the application form, complete all fields, and submit the completed form, the application fee, and the supporting documents listed below:
The completed application form, including the attestation.
The application fee of $25; paid using a check or money order made out to DHHS Licensure Unit.
Proof of age. Submit a copy of your current driver's license, birth certification, state identification, or other appropriate government-issued ID.
Proof of education. Submit a copy of your high school diploma or official high school transcripts showing graduation date. The Department will also accept a copy of your college diploma as proof of education.
Proof of US citizenship or residency. US-born citizens should submit a copy of their birth certificate or passport. If submitting a government-issued birth certificate, it must have an official seal. Individuals with US residency should submit a copy of their Green Card or a document showing Alien Registration Number, Certificate of Citizenship, American Indian Card, Certificate of Naturalization or similar document.
Submit a letter of explanation describing the event of circumstances pertaining to a "yes" response for any of the criminal history or drug-related questions on the application form. Include a letter from your probation officer if you're on probation and copies of official court documents. Individuals with a history of mental health or drug abuse should provide proof of treatment and discharge summary from the supervising doctor or therapist.
Mail the completed application and supporting documents to the address provided below.
Successful applicants will receive a 5"x7" wall registration document and wallet card upon initial registration. Pharmacy technicians should keep a copy of the wall registration at their primary place of employment. The wallet card should be on their persons at all times.
The Department reserves the right to deny registration to individuals who fail to meet the requirements due to removal from another state's registry, disciplinary actions, misdemeanors or felonies, or for violation of the Department's statutes or regulations that govern pharmacy technicians.
Renewal
Pharmacy technician registrations renew biennially, expiring biennially on January 1 of odd-numbered years. The Department will send a renewal notice at least 30 days before the registration expiry date. Pharmacy technicians must attest to not having misdemeanors, felony convictions related to drugs or other criminal convictions at the time of renewal. Individuals with convictions must submit supporting documentation. The Department may deny renewal to individuals with felony convictions and update the registry to reflect the convictions and disciplinary actions taken against the individual.
Take note of the following points:
The renewal fee is $25
Individuals who renew after the January deadline within 30 days must pay a $25 late fee in addition to the renewal fee.
Individuals renewing up to one year after the registration expiry must use the reinstatement application and pay a $35 late fee in addition to the $25 renewal fee.
Individuals renewing more than one year after the registration expiration date must pay a $75 late fee.
Pharmacy technicians must use the change of name form to update their names and contact the Department to advise of any changes to their mailing address.
Transfer
Out-of-state pharmacy technicians should submit an application for pharmacy technician registration within 30 days of commencing employment in Nebraska.
Contact the Department:
DHHS, Division of Public Health
Licensure Unit, RPQI
PO Box 95026
Lincoln, NE 68509-5026
Phone: (402) 471-6515
Email: monica.gissler@nebraska.gov
Pharmacy Technician Training Programs Nebraska
Bellevue, NE Pharmacy Technician Training Programs:
Walgreens Pharmacy #5540
6905 S 36th St
Bellevue, NE 68147
(402)734-7592
Council Bluffs, NE Pharmacy Technician Training Programs:
Hy-Vee Pharmacy #7030
757 W Broadway
Council Bluffs, IA 51501
(712)328-3277
Shopko Pharmacy #180
3271 Market Place Dr
Council Bluffs, IA 51501
(712)366-0377
Oard-Ross Drug
701 16th Ave
Council Bluffs, IA 51501
(712)322-2501
Lincoln, NE Pharmacy Technician Training Programs:
Southeast Community College
1111 O Street, Suite 112
Lincoln, NE 68509-3614
(402) 437-2787
University Health Center Phcy
1500 U Street
Lincoln, NE 68588
(402)472-7457
Russ's Pharmacy #1
1709 Washington St
Lincoln, NE 68502
(402)474-2102
Wagey Drugs
800 N 27th St
Lincoln, NE 68503
(402)476-3341
Walgreens Pharmacy #5736
815 N 27th St
Lincoln, NE 68503
(402)435-5151
Sun Mart Pharmacy #25
1340 W O St
Lincoln, NE 68528
(402)476-9833
National Pharmacy
3306 A St
Lincoln, NE 68510
(402)476-6231
Super Saver Pharmacy #9
2662 Cornhusker Hwy
Lincoln, NE 68521
(402)466-7775
Russ's Pharmacy #21
1550 S Coddington Ave
Lincoln, NE 68522
(402)435-8241
Lincoln Regional Center Phcy
W Prospector Pl & Folsom
Lincoln, NE 68522
(402)471-4444
Shopko Pharmacy #2172
3400 N 27th St
Lincoln, NE 68521
(402)465-5588
Super Saver Pharmacy #4
233 N 48th St
Lincoln, NE 68504
(402)464-8822
Target Pharmacy #217
333 N 48th St
Lincoln, NE 68504
(402)464-8066
Hy-Vee Pharmacy #1385
5010 O St
Lincoln, NE 68510
(402)465-0413
Walgreens Pharmacy #10408
4811 O St
Lincoln, NE 68510
(402)489-2232
CVS Pharmacy #8615
1401 Superior St
Lincoln, NE 68521
(402)477-9200
Stockwell Pharmacy
3811 S 27th St
Lincoln, NE 68502
(402)423-8588
Four Star Drug #2
1265 S Cotner Blvd Ste 1
Lincoln, NE 68510
(402)434-7730
Nebraska Dept Of Corr Pharmacy
2620 W Van Dorn St
Lincoln, NE 68522
(402)471-7805
Shopko Pharmacy #39
4200 S 27th St
Lincoln, NE 68502
(402)421-2444
Walgreens Pharmacy #4088
2502 N 48th St
Lincoln, NE 68504
(402)466-1424
CVS Pharmacy #8610
2711 S 48th St Ste 107
Lincoln, NE 68506
(402)484-5777
Walgreens Pharmacy #515
2600 S 48th St Ste 7
Lincoln, NE 68506
(402)483-2834
Walmart Pharmacy #1943
4700 N 27th St
Lincoln, NE 68521
(402)438-4381
Concentra Medical Ctr Phcy
4900 N 26th St Ste 104
Lincoln, NE 68521
(402)465-0010
Sam's Club Pharmacy #6413
4900 N 27th St
Lincoln, NE 68521
(402)438-3015
Hy-Vee Pharmacy #3
5020 N 27th St
Lincoln, NE 68521
(402)477-5099
Medicap Pharmacy #364
2555 Kensington Dr
Lincoln, NE 68521
(402)435-4800
Russ's Pharmacy #16
4400 S 33rd Ct
Lincoln, NE 68516
(402)421-1333
CVS Pharmacy #8626
130 N 66th St
Lincoln, NE 68505
(402)467-5342
The Pharmacy
1221 N Cotner Blvd Ste 1
Lincoln, NE 68505
(402)466-6082
Shopko Pharmacy #2047
100 S 66th St
Lincoln, NE 68510
(402)489-7148
Bethany Four Star Drugs
1340 N 66th St
Lincoln, NE 68505
(402)434-7710
VA Medical Center Pharmacy
600 S 70th St
Lincoln, NE 68510
(402)489-3802
CVS Pharmacy #8294
4808 W O St
Lincoln, NE 68528
(402)467-1134
Walgreens Pharmacy #2845
5701 Village Blvd
Lincoln, NE 68516
(402)421-7119
Pharmacy Specialty Service
2655 S 70th St Ste C
Lincoln, NE 68506
(402)486-0445
Russ's Pharmacy #15
2840 S 70th St
Lincoln, NE 68506
(402)489-6085
Hy-Vee Pharmacy #4
6001 Village Dr
Lincoln, NE 68516
(402)421-1040
CVS Pharmacy #8616
5500 S 56th St Ste 5
Lincoln, NE 68516
(402)423-3839
Shopko Pharmacy #2175
6845 S 27th St
Lincoln, NE 68512
(402)420-1199
Walgreens Pharmacy #6884
4000 S 70th St
Lincoln, NE 68506
(402)489-0338
Hy-Vee Pharmacy #1390
7151 Stacy Ln
Lincoln, NE 68516
(402)489-0588
Super Saver Pharmacy #17
2525 Pine Lake Rd
Lincoln, NE 68512
(402)420-8269
Walgreens Infusion Services
4401 S 70th St
Lincoln, NE 68516
(402)423-1333
Hy-Vee Pharmacy #1386
1601 N 84th St
Lincoln, NE 68505
(402)467-5157
Walgreens Pharmacy #1162
8300 Northern Lights Dr
Lincoln, NE 68505
(402)464-8302
National Pharmacy Specialties
7405 Pioneers Blvd Ste B
Lincoln, NE 68506
(402)486-3383
Walgreens Pharmacy #11089
5500 Red Rock Ln
Lincoln, NE 68516
(402)421-2122
Target Pharmacy #2303
8201 S 40th St
Lincoln, NE 68516
(402)420-3541
Sam's Club Pharmacy #4873
8480 Andermatt Dr
Lincoln, NE 68526
(402)975-6908
Omaha, NE Pharmacy Technician Training Programs:
Vatterott College-Spring Valley Campus
11818 I Street
Omaha, NE, 68137
888-202-2636
Bakers Pharmacy #301
4405 N 72nd St
Omaha, NE 68134
(402)571-3122
Hy-Vee Pharmacy #1470
7910 Cass St
Omaha, NE 68114
(402)384-8767
Nebraska Methodist Hosp Phcy
8303 Dodge St
Omaha, NE 68114
(402)354-4336
Hy-Vee Pharmacy #7062
8404 N 30th St
Omaha, NE 68112
(402)451-8842
Depot Pharmacy
1400 Douglas St Stop 0050
Omaha, NE 68179
(402)544-3740
Boys Town Hospital Pharmacy
555 N 30th St
Omaha, NE 68131
(402)498-6511
Creighton Family Pharmacy
601 N 30th St
Omaha, NE 68131
(402)449-4560
Walgreens Pharmacy #5741
3001 Dodge St
Omaha, NE 68131
(402)342-3301
Kohll's Pharmacy & Homecare
2923 Leavenworth St
Omaha, NE 68105
(402)342-6547
Charles Drew Health Ctr Phcy
2915 Grant St
Omaha, NE 68111
(402)451-3244
Walgreens Pharmacy #4772
3005 Lake St
Omaha, NE 68111
(402)451-7201
Nebraska Medical Ctr Clin Phcy
989200 Nebraska Medical Ctr
Omaha, NE 68198
(402)559-5215
Ed's Rexall Drug
2701 S 10th St
Omaha, NE 68108
(402)342-1731
Douglas County Hospital Phcy
4102 Woolworth Ave
Omaha, NE 68105
(402)444-7763
Healthmart Pharmacy
820 N Saddle Creek Rd
Omaha, NE 68132
(402)556-9313
Nebraska Medical Ctr O/P Phcy
4400 Emile St
Omaha, NE 68198
(402)559-6037
Walgreens Pharmacy #6962
3121 S 24th St
Omaha, NE 68108
(402)345-7178
Walgreens Pharmacy #7693
225 N Saddle Creek Rd
Omaha, NE 68131
(402)551-1797
Baker's Pharmacy #319
888 S Saddle Creek Rd
Omaha, NE 68106
(402)556-5600
CVS Pharmacy #5714
4840 Dodge St
Omaha, NE 68132
(402)558-2000
Kohll's Pharmacy
5000 Dodge St
Omaha, NE 68132
(402)553-8900
Almwood Pharmacy
808 S 52nd St
Omaha, NE 68106
(402)551-5200
Kubat Pharmacy
4924 Center St
Omaha, NE 68106
(402)558-8888
Hy-Vee Pharmacy #1465
5150 Center St
Omaha, NE 68106
(402)553-4143
Hy-Vee Pharmacy #1092
2323 W Broadway
Council Bluffs, IA 51501
(712)322-3111
Medicap Pharmacy #75
2201 W Broadway Ste 8
Council Bluffs, IA 51501
(712)325-8676
Walgreens Pharmacy #6936
4310 Ames Ave
Omaha, NE 68111
(402)453-4530
One World Pharmacy
4920 S 30th St Ste 105
Omaha, NE 68107
(402)502-5832
Walgreens Pharmacy #5190
2323 L St
Omaha, NE 68107
(402)738-8061
Hy-Vee Pharmacy #7
3505 L St
Omaha, NE 68107
(402)731-9971
Walgreens Pharmacy #2855
6101 NW Radial Hwy
Omaha, NE 68104
(402)551-6151
Alegent Health Homecare Phcy
5428 F St
Omaha, NE 68117
(402)898-8400
Children's Home Healthcare Phcy
4156 S 52nd St
Omaha, NE 68117
(402)734-6741
Cardinal Health Pharmacy
5840 F St
Omaha, NE 68117
(402)553-3776
K Mart Pharmacy #4130
5000 L St
Omaha, NE 68117
(402)733-6935
Kohll's Pharmacy & Homecare #4
5110 L St
Omaha, NE 68117
(402)733-2000
Walgreens Pharmacy #5143
7151 Cass St
Omaha, NE 68132
(402)558-8595