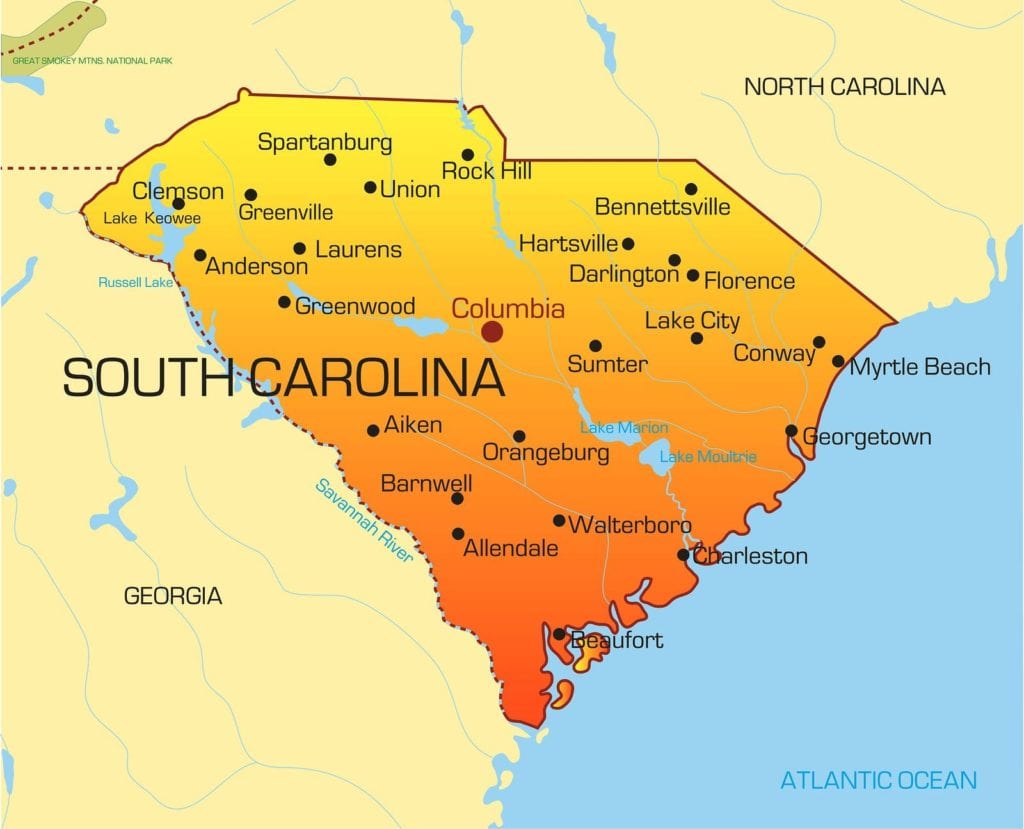 As a pharmacy technician, you'll directly impact patients' health through your service at community and hospital pharmacies. Your primary responsibilities will include preparing medications for dispensing and guiding patients through the prescription process while maintaining the highest level of customer service. While a licensed pharmacist will guide and closely monitor your actions, you should develop an eye for detail and effective communication skills. You'll also learn to work independently to calculate dosages, provide service within the confines of state laws, and complete administrative procedures, such as maintaining customer records and managing inventory. The South Carolina Board of Pharmacy requires pharmacy technicians to register with the Board before providing services in nursing homes, hospitals, correctional facilities, community pharmacies and other licensed facilities.
Pharmacy Technician Schools in SC:
South Carolina Pharmacy Technician Requirements
License Requirement
In South Carolina, it is unlawful for pharmacy technicians, not registered with the Board of Pharmacy, to perform the functions of a registered technician at licensed pharmacies. Therefore, you must meet all the requirements for licensure and receive confirmation of a successful registration from the Board before you begin offering pharmacy technician services for compensation. Pharmacy technician students enrolled in accredited training programs can work in the pharmacy, under the direction of a licensed pharmacist, for the purposes of practical training. The pharmacy technician student must wear proper identification indicating his or her student status. Registered pharmacy technicians must display their status in the pharmacy outlet where they're employed – it should be displayed in a place that's easily observed by the public.
The Board will approve your application for state registration when you provide the following:
A copy of your high school diploma or GED
Proof of formal academic training at an ASHP accredited school
PTCB certification
Affidavit of Experience certifying your completion of at least 1,000 hours of practical training at a licensed pharmacy
Once the Board approves your application for registration, it is your responsibility to complete the continuing pharmacy education requirements and report your employment/ changes in employment to the board to maintain state registration.
Age Requirement
Applicants must be at least 18 years old to register as a pharmacy technician in South Carolina.
Education Requirement
South Carolina's Code of Law requires prospective pharmacy technicians to possess a high school diploma before applying for Board registration. The PTCB, another requirement for state certification, also requests proof of high school education from all applicants. You can provide evidence of completing high school using the following documents:
A certified copy of your high school transcript with your date of graduation, or
A certified copy of your GED transcript
Other Requirements
As part of your preparation for the Board of Pharmacy registration, you must complete a minimum of one thousand hours of experiential training in a retail or hospital pharmacy. During the experiential training period, you will provide services under the supervision of a licensed pharmacist. This training could take place as part of an ASHP accredited pharmacy technician training program. The PTCB requires candidates to pass a criminal background check as a requirement for certification. Felonies and misdemeanors could affect your chances of CPhT certification and your eventual registration with the SC Board of Pharmacy.
The Pharmacy Technician Program
Content
In order to save time, effort and money, you should enroll in ASHP accredited programs only. South Carolina's Code of Laws requires pharmacy technicians to complete a formal academic training program as a prerequisite to registration. While there are numerous programs across the state recruiting new students, the Board approves programs accredited by the Amercian Society of Health-System Pharmacists (ASHP) only. A list of those programs is available below. Completion of ASHP accredited programs leads to a diploma or certificate after students learn essential topics, such as pharmacy calculations, pharmacy operations, pharmacology, anatomy and physiology and prescription drugs. Students also learn pharmacy law and ethics, drug distribution systems, medical terminology, aseptic technique, inventory control, communications, and partake in experiential training at a community or hospital pharmacy.
Duration and Cost
Tuition at ASHP accredited pharmacy technician programs in South Carolina cost an average of $6,500. Apart from tuition, prospective students must budget for additional expenses, such as textbooks, workbooks, registration fees, national certification, uniform, background check, immunization, and insurance. On average, full-time students can complete training in four months while part-time students can expect to complete the classroom training requirements and externship in 6 to 8 months.
National Exams
Pharmacy technicians applying for Board certification in South Carolina must be certified by the Pharmacy Technician Certification Board (PTCB). The national Pharmacy Technician Certification Examination (PTCE), governed by the PTCB, designates the CPhT title to successful candidates who demonstrate their competency to provide pharmacy technician services. Before applying for the 90-question multiple-choice exam at testing centers across South Carolina, you must:
Possess a high school diploma
Pass a criminal background check with no felony convictions
Have no denial or suspension of a pharmacy technician license in any state.
Apply for the test online and pay the $129 application fee using a credit card or check. The Board will issue a paper application under extreme circumstances; you can request the paper application by writing the Board and providing details of your disability or hardship. Once the Board approves the application, you're eligible to schedule a date for the PTCE exam within the 90-day authorization period.
Acquiring Your State License
Application
Submit your application for Board registration only after you've met all the requirements. The Board will verify your information and process the application within 30 days. They'll mail your registration and wallet card within 3-4 weeks of issue. Following are the steps for state licensure.
Download and fill out the application for registration.
Complete the Affidavit of Eligibility included with the application.
Provide copies of your social security card and your driver's license or DMV ID.
Include a check or money order in the amount of $40 for the application fee.
Once the Board approves your application, you must notify them in writing when you begin or change employment.
Renewal
Once administered, your registration will remain valid until June thirtieth, and you must renew annually. The Board of Pharmacy will send out a renewal card 45 days before the expiration. For this reason, it is crucial that you maintain an accurate address with the Board. If your address changes, you should fill out a change of name/address form and submit to the board with the accompanying documents.
To renew your license, you must initiate renewal and mail the $15 renewal application fee before the expiration date. You must also complete at least 10 hours of continuing pharmacy education (4 live and 6 home-study or 10 live hours). Failure to renew your registration before July first will cause your registration to lapse, and you must immediately cease working as a pharmacy technician. Use this Lapsed Renewal form and pay $40 to renew your registration within one year of expiration. If you fail to renew your license after more than one year, you need to apply for reinstatement of your registration, pay the $40 penalty fee, and provide proof of 20 hours of continuing pharmacy education.
Transfers
As an out-of-state pharmacy technician, you can apply to the Board of Pharmacy to transfer your registration to South Carolina if the requirements for certification in your home state are equivalent to the registration requirements in South Carolina. The Board will request a criminal background check report and proof of PTCB certification with the application for registration.
South Carolina State Board of Pharmacy
Synergy Business Park, Kingstree Building
110 Centerview Drive, Suite 202
Columbia, SC 29210
Telephone: 803-896-4300
Fax: 803-896-4596
Pharmacy Technician Programs in South Carolina
Aiken, SC Pharmacy Technician training programs:
Aiken Technical College
P.O. Box 696
Aiken, SC 29802
(803) 508-7489
Charleston, SC Pharmacy Technician training programs:
Trident Technical College
P.O. Box 118067
7000 Rivers Avenue
Charleston, SC 29423-8067
(843) 574-6481
Columbia, SC Pharmacy Technician training programs:
Midlands Technical College
P.O. Box 2408
Columbia, SC 29202
(803) 822-3572
Remington College – Columbia
607 Bush River Road
Columbia, SC 29210
(803) 214-9000
Virginia College – Columbia
7201 Two Notch Road
Columbia, SC 29223
(803) 509-7100
Florence, SC Pharmacy Technician training programs:
Virginia College – Florence
2400 David H. McLeod Blvd
Florence, SC 29505
843-407-2222
Greenville, SC Pharmacy Technician training programs:
Greenville Technical College
PO Box 5616 Ms 3011
Greenville, SC 29606
(864) 848-2981
Virginia College – Greenville
78 Global Drive, Suite 200
Greenville, SC 29607
(864) 504-3255
Greenwood, SC Pharmacy Technician training programs:
Piedmont Technical College
620 North Emerald Road
Greenwood, SC 29648
864-941-8527
Myrtle Beach, SC Pharmacy Technician training programs:
Horry-Georgetown Technical College
743 Hemlock Avenue
Myrtle Beach, SC 29577
(843) 477-2117
North Charleston, SC Pharmacy Technician training programs:
Southeastern Institute
4600 Goer Drive
Suite 105
North Charleston, SC 29406
(317) 457-6527
Virginia College – North Charleston
6185 Rivers Avenue
North Charleston, SC 29406
(843) 614-4374
Pendleton, SC Pharmacy Technician training programs:
Tri-County Technical College
Attn: Pharmacy Technician Program
7900 Hwy 76, P.O. Box 587
Pendleton, SC 29670
(864) 646-1334
Spartanburg, SC Pharmacy Technician training programs:
Virginia College – Spartanburg
8150 Warren H. Abernathy Hwy
Spartanburg, SC 29301
(864) 504-3255
Sumter, SC Pharmacy Technician training programs:
Central Carolina Technical College
506 North Guignard Drive
Sumter, SC 29150
(803) 778-6621