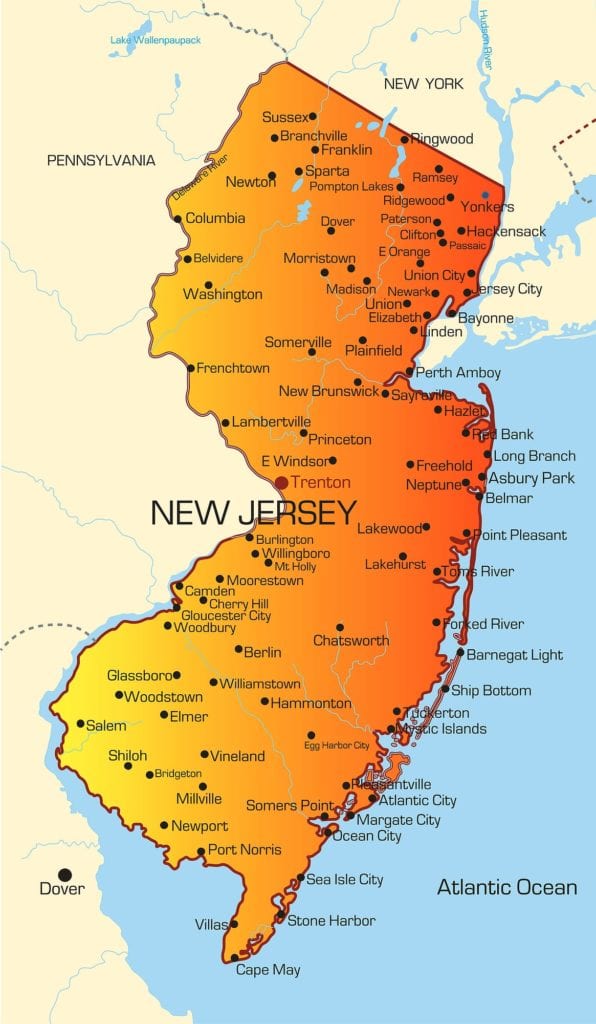 Pharmacy technicians do not provide hands-on care like doctors and nurses, but they are a critical member of the health care team. They receive and prepare the medications patients need to treat acute and chronic medical conditions. Working alongside the pharmacist, they receive prescriptions in person or electronically, assemble medication orders, verify the order with pharmacists, and supply the medication to patients along with any information regarding proper usage. Technicians also verify patient information, order stock, update inventory, and submit insurance claims.
The profession offers many rewards. Apart from ensuring patients have healthier and happier lives, technicians enjoy job security, stability, opportunities for growth, flexible schedules, and pleasant working conditions. The Bureau of Labor Statistics states that the job outlook for this career will grow 5% by 2031, which is the average growth for all occupations.
Pharmacy Tech Schools in NJ
New Jersey Pharmacy Technician License Requirements
Pharmacy technicians in New Jersey are registered, not licensed. Applicants must be at least 18 years old and have a high school diploma or equivalent. Proficiency in written and spoken English and clean criminal background are some other requirements for registration. Upon confirmation of registration, the technician must keep the large registration on display in the pharmacy. Technicians who work more than one pharmacy must carry the wallet sized blue registration on their person to present to a Board investigator upon request.
Pharmacy technicians must apply to the Board for registration within 10 days of hire. The Board will provide the registration within 180 days of application.
Age Requirement
Applicants must be at least 18 years old to register as a pharmacy technician in New Jersey.
Education Requirement
The New Jersey Board of Pharmacy requires all applicants to have a high school diploma or GED equivalent. Certification through a national accrediting agency is not required for registration.
Other Requirements
Applicants for registration must submit to a criminal background check. There must be no active alcohol or drug abuse within the past year, no federal or state controlled dangerous substances (CDS) or habit-forming drug violation convictions, no criminal convictions involving moral turpitude, and no prior suspensions or revocations by any state board fo pharmacy.
Applicants must schedule an appointment to have fingerprints digitally recorded after receiving the fingerprinting instruction sheet and preprinted form from the Board. Scheduling an appointment at anyone of the 17 locations across New Jersey may be faster than waiting for an appointment closer to home. Applicants who have been convicted of a crime must submit a detailed letter of explanation, all of the relevant police reports, reference letter, and any judgments of convictions, sentencing orders, termination of probation orders, and evidence of rehabilitation if applicable.
The Pharmacy Technician Program
Content
Pharmacy technician training is not required for registration as a pharmacy technician in New Jersey. While it may be thus, it is the sole discretion of the employer to determine whether the prospective employee must be trained and certified. Some employers maintain in-house training for new hires to learn the operations of the pharmacy and the role and responsibilities of technicians in New Jersey.
Technicians can retrieve patient profiles and files, perform data entry of prescription information, transcribe prescription content into patient records, prepare labels, compound, measure and count prescriptions, stock legend drugs, accept authorization of an unchanged prescription for refill, and refill automated medication systems. Training programs will cover theory and practical content in these specific areas that will enable technicians to fill their role under the direction of a licensed pharmacist.
The clinical externship is a critical component of ASHP accredited pharmacy technician programs in New Jersey. It includes a minimum of 250 contact hours of practice in a retail and institutional pharmacy. This real-world practice prepares students for employment after graduation. They will receive and prepare prescriptions for dispensing under the guidance of an experienced mentor. The externship will typically begin after completing the classroom requirements.
Duration and Cost
Pharmacy technician programs typically require six to nine months for completion for full-time students and up to twelve months for part-time students. In-house pharmacy technician programs provided by local pharmacies may require less time and will give trainees the opportunity to earn as they learn.
The average cost of certificate programs in New Jersey is $2,995 for an accredited program includes tuition for the theory and clinical externship. Additional costs for books, uniforms, and supplies will be added to the cost of tuition.
National Exams
The New Jersey State Board of Pharmacy does not require certification as a prerequisite to licensure. Pharmacy technician graduates of an accredited program are eligible to take the Pharmacy Technician Certification Exam offered by the Pharmacy Technician Certification Board (PTCB). Successful candidates will earn the Certified Pharmacy Technician (CPhT) credential.
The PTCB determines the eligibility of each candidate to obtain the credential and may be changed at any time.
Eligibility requirements include:
Completion of a PTCB recognized pharmacy technician training program or equivalent work experience (500 hours minimum)
Full disclosure of all criminal and State Board of Pharmacy registration or licensure actions
Meet all the applicable PTCB certification policies
Take and pass the Pharmacy Technician Certification Exam
Pay the fee of $129
Preliminary scores may be issued after completing the exam but are not official. The final results will be published within two to three weeks on the PTCB's website – candidate dashboard. The official certification can be download in the dashboard. Certificates must be renewed biennially to maintain PTCB certification. Requirements for renewal include completion of 20 hours of CE and confirmation of no criminal convictions and/or disciplinary actions by a state board of pharmacy.
Pharmacy technicians who are certified in New Jersey can operate under the greater pharmacist to pharmacy technician ratio, which is 1:2 for uncertified technicians. Certified pharmacy technicians who are employed at a pharmacist to certified pharmacy technician ratio greater than 1:2 must still operate under the supervision of a pharmacist with the specific details outlined in the employment policy and procedure manual. The policies must outline functions that may not be performed by pharmacy technicians.
Acquiring Your State License
Application
Candidates for licensure must be at least 18 years old with a high school diploma or GED equivalent. Applications for registration must be submitted within 10 days of hire.
Pharmacy Technician Application:
Submit an application for registration online, making sure to answer all questions
Include the application filing fee of $70 with the application. Payment can be made during the online checkout or via check or money order
Schedule an appointment for fingerprinting and have the results submitted to the Board
Submit a detailed letter of explanation, all of the relevant police reports, reference letter, and any judgments of convictions, sentencing orders, termination of probation orders, and evidence of rehabilitation if applicable if convicted of a crime
Submit a passport-style photo of your face and shoulders. Full-sized photographs, photos with other people, photocopies, scanned photographs, or photocopies of a passport will not be accepted. Sign full name and print first and last name in the backside of the photo
Include a copy of marriage certificate, divorce decree or court order in case of name change
Notify the Board of any new address or change of address after submitting an application for registration
There are three distinct phases in the application for registration as a pharmacy technician in New Jersey.
Phase I (1 to 2 weeks) – This is the estimated time between receipt of the application by the Board (online or paper) and the initial review of the application and supplemental documentation. The Board will email instructions to complete the fingerprints for the background check and provide details of any deficiencies so you can proceed to the next phase of the application.
Phase II (2 to 4 weeks) – The estimated time between Phase I and the receipt of the background check results and remaining application deficiencies. The vendor will submit background check results to the Board within 1 to 3 weeks from the fingerprint appointment date. The Board will require an additional 4 to 6 weeks to investigate applicants with criminal history.
Phase III (1 to 5 business days) – The estimated time between Phase II and the application approval. The Board will email a congratulations letter upon approval of the application. The email will serve as a temporary registration. The hard copy registration will be sent in the mail within 10 to 15 business days. Applicants can check the status of their registration online on the verification website.
Renewal
New Jersey pharmacy technicians' registration must be renewed biennially. The Board will send notification of the pending renewal via email at least 60 days before the expiration. It is important to maintain accurate records on file to receive notifications from the Board. Failure to receive notifications is not a valid excuse for non-renewal. The renewal applications must be completed online. Applicants who do not renew within a specified timeframe must apply for reinstatement of the registration using valid form downloadable from the Board's website. Renew using the following steps:
Complete the renewal application online and submit a check or money order made out to the New Jersey Board of Pharmacy. The renewal fee is $70 if submitting before the expiration date.
See "Yes" if you've had any disciplinary action against any government-issued license since the last renewal or "No" if you have not
Update name and address if there have been changes since the last renewal
Verification of employment may be required during the renewal process.
Reinstating a Pharmacy Technician Registration
The Board may reinstate the professional or occupational license or certificate of registration or certification of an applicant whose license or certification has been suspended provided that the applicant otherwise qualifies for license or licensure, registration or certification and submit the following with the application for reinstatement:
Payment of all fees: Reinstatement fee of $125, fingerprint resubmit fee of $18.75, past due renewal fee from prior biennial renewal period of $70, current renewal fee of $70 or $35
Employment details – state each job held during the period of expired or suspended registration including the name, address and telephone number of each employer
Complete of Certification and Authorization form for a Criminal History Background Check
Contact the Board:
New Jersey Board of Pharmacy
P.O. Box 45013
Newark, New Jersey 07101
Phone: (973) 504-6450
Email: RubinaccioA@dca.njoag.gov
Pharmacy Technician Schools in New Jersey
Blackwood, NJ Pharmacy Technician programs:
Pennco Tech – Blackwood, NJ Campus
99 Erial Rd.,
Blackwood, NJ 08012
(856) 677-5176
Camden County College
200 College Dr,
Blackwood, NJ 08012-0200
(856) 374-5089
Branchburg, NJ Pharmacy Technician programs:
Raritan County Community College
118 Lamington Road
Branchburg, NJ 08876
908-526-1200
Edison, NJ Pharmacy Technician programs:
AIMS Education – Edison
2672 Woodbridge Ave,
Edison, NJ 08837
908-222-0002
Elizabeth, NJ Pharmacy Technician programs:
Branford Institute
Address: 333 N Broad St # 201,
Elizabeth, NJ 07208
908-352-1004
JFK Institute of Healthcare
1210 E Grand St,
Elizabeth, NJ 07201
844-535-3381
Hackensack, NJ Pharmacy Technician programs:
American Institute of Pharmaceutical Technology
210 Lee Pl,
Hackensack, NJ 07601
201-500-9975
Lincroft, NJ Pharmacy Technician programs:
Brookdale Community College
765 Newman Springs Rd,
Lincroft, NJ 07738
732.224.2345
Mount Laurel, NJ Pharmacy Technician programs:
Rowan College at Burlington County
900 College Circle,
Mount Laurel, New Jersey 08054
(856) 222-9311
Newark, NJ Pharmacy Technician programs:
Americation Career and Training School
24 Commerce St #401,
Newark, NJ 07102
973-642-4160
New Jersey City, NJ Pharmacy Technician programs:
New Jersey City University
2039 Kennedy Blvd
Jersey City, NJ 07305
201-200-3234
Paterson, NJ Pharmacy Technician programs:
Branford Institute, Paterson
302 Main St,
Paterson, NJ 07505
973-881-9428
Pascataway, NJ Pharmacy Technician programs:
AIMS Education
4500 New Brunswick Ave,
Piscataway, NJ 08854
908-222-0002
Paramus, NJ Pharmacy Technician programs:
Bergen Community College
400 Paramus Road Paramus, NJ 07652
(201) 447-7100
Randolph, NJ Pharmacy Technician programs:
County College of Morris
214 Center Grove Rd.
Randolph, NJ 07869
973-328-5000
Somerset, NJ Pharmacy Technician programs:
Marie's Allied Health & Technical Institute, Inc
863 Hamilton St,
Somerset, NJ 08873
732-565-0898
Summit, NJ Pharmacy Technician programs:
Overlook Medical Center
99 Beauvoir Ave,
Summit, NJ 07901
908-522-2000
Toms River, NJ Pharmacy Technician programs:
Ocean County College
College Drive,
Toms River, NJ 08754
732.255.040
Union, NJ Pharmacy Technician programs:
Healthcare Training Institute
1969 Morris Ave,
Union, NJ 07083
908-851-7711
Vineland, NJ Pharmacy Technician programs:
Rowan College of South Jersey Cumberland Campus
3322 College Drive
Vineland, NJ 08360
856-776-2​372
Washington, NJ Pharmacy Technician programs:
Warren County Community College
475 Route 57 West
Washington NJ 07882
(908) 835-WCCC (9222)
Wayne, NJ Pharmacy Technician programs:
William Paterson University
300 Pompton Rd
Wayne, New Jersey 07470
973-720-2000