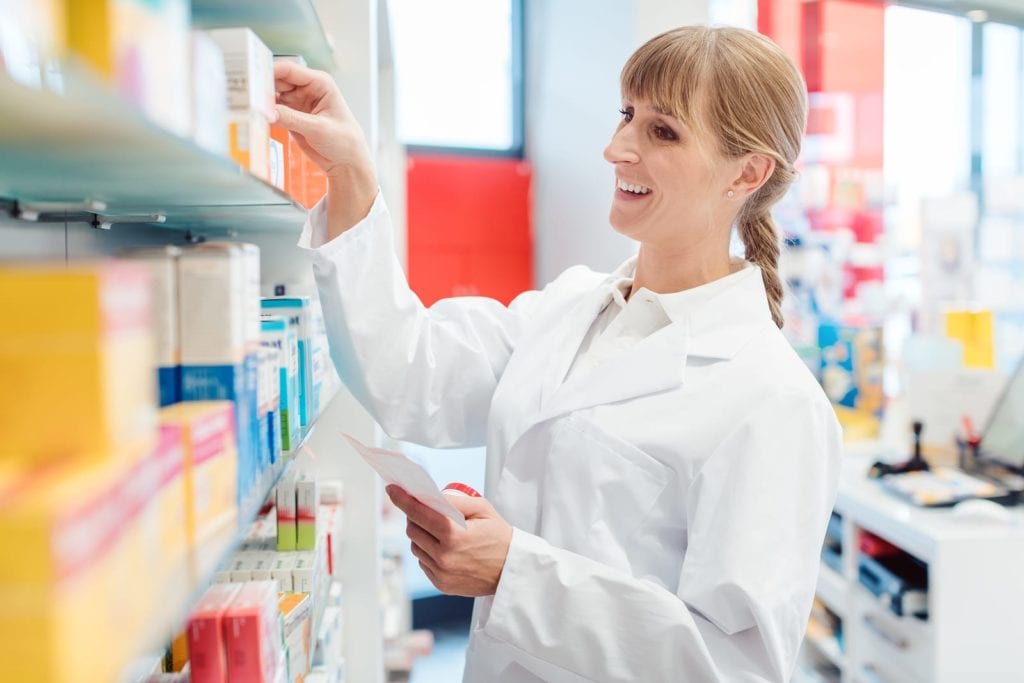 Working as a pharmacy technician may be ideal if you want to work in healthcare but don't want to perform clinical duties. Technicians help pharmacists receive and dispense medications, maintain patient records, and collect payments. They answer basic queries, answer the phones, receive electronic prescriptions, maintain the pharmacy inventory of medication, measure, mix, count, and pour medications, and apply labels. The job requires attention to detail, precision, and a commitment to public safety. Pharmacy Technicians work in hospitals, retail chains, grocery stores, and community pharmacies.
Your education and experience as a pharmacy technician is valuable if you're considering a career as a pharmacist later on. Pharmacists can earn as much as $127,400 annually, so the additional study is worthwhile. The shortage of pharmacists is a contributing factor to the current demand for technicians. According to the US Bureau of Labor Statistics, employment opportunities for pharmacy technicians will increase by 7 percent through 2028. The projected job growth places it among the fastest-growing professions in the United States. As of 2018, the median annual salary is $32,700.
Ocean County College
The pharmacy technician program at Ocean County College is offered in traditional and online formats. The program seeks to prepare students for entry-level employment in retail and institutional pharmacies. It also includes preparation for the PTCB exam. Students will learn how to define drugs by generic and brand names, medical terminology specific to pharmacy, drug interactions, medication route of administration and side effects, IV flow rates, drug compounding, dose conversion, inventory control, and PTCB review. Students who complete the requirements will be prepared to sit for the PTCB exam.
Admission criteria:
Have a high school diploma or GED
Must have a basic knowledge of math
Purchase the course textbook
The tuition for the program is $979. A flexible payment plan is available for all students. It requires a 50 percent deposit at registration, 25 percent on the first day of class, and 25 percent within 30 days of the first class.
Address: College Drive, Toms River, NJ 08754
Phone: 732-255-0400
Brookdale Community College
Persons interested in enrolling in the pharmacy technician program at Brookdale Community College must attend an information session. The session will cover program details, requirements for admission, and documents to be submitted. Attendees will meet the program coordinator and get a clearer idea of the role of the pharmacy technician. The comprehensive curriculum covers the knowledge and skills students need to succeed in a retail or institutional pharmacy and pass to pass the PTCB exam. Course modules include pharmacy law, receiving and preparing prescriptions, pharmacology, pharmacy calculations, compounding medications, pharmacy law, drug and their effects, inventory management, the top 200 drugs, and pharmacy operations. Students will develop hands-on skills through practice in a simulated lab. The program requires completion of 104 contact hours of classroom theory and practice followed by 40 hours of pharmacy externship in a real-world setting. Students will participate in a resume-writing workshop at the conclusion of the program. Attendance to all classes is required for graduating from the program. The duration of the program is 4 months. Classes meet Tuesdays and Thursdays from 5:3- pm to 8:30 pm.
Admission criteria:
Must be at least 18 years old
Have a high school diploma or GED
Pass a criminal background check
The course fee is $1,399. It does not include textbooks, uniforms, and other supplies.
Address: 765 Newman Springs Road, Lincroft, NJ 07738-1543
Phone: 732-224-2345
William Paterson University
The Pharmacy Technician program at William Paterson University prepares students for entry-level employment in the field of pharmacy and to pursue national certification through the PTCB exam. The program will include theory and hands-on practice. Areas of study include pharmacy calculations, dosage calculations, reading and interpreting prescriptions, medical terminology, identifying drugs by generic and brand names, IV flow rates, inventory control, billing and reimbursement, and drug compounding. Other topics include the history of pharmacy, the role and responsibility of a pharmacy technician, drug regulation and control, types of pharmacy, pharmacy technician certification and registration, routes and formulations, basic biophamaceutics, calculating a 24-hour supply of IV solutions, aseptic techniques, parenterals and compounding, handling of sterile products, parts of prescriptions and labeling, and pharmacy measures and abbreviations. Classes meet Tuesdays and Thursdays from 6:00 pm to 9:30 pm for two months.
Admission criteria:
Have a high school diploma or GED
Tuition for the program is $1,699.
Bradford Institute
The pharmacy technician program at Bradford Institute prepares adults for registration as a Pharmacy Technician in New Jersey. Graduates are eligible to take the PTCB licensing examination to improve their chances of employment in hospital pharmacies. The PTCB recognized program equips students with marketable skills to qualify for entry-level employment in various pharmacy settings. Students will learn how to greet and manage customers, receive and prepare prescriptions for dispensing, manage day-to-day administrative duties, maintain pharmacy inventory, update patient profiles, and receive payments. The program comprises of six separate module – Pharmacology, Medical Terminology, Pharmaceutical Calculations, and more. Program graduates will participate in a 50-hour internship that will provide the opportunity to put their theoretical skills into practice. Classes meet Monday through Friday. Both day and evening schedules are available.
Pennco Tech
Penno Tech prepares pharmacy technician students to meet the highest standards of professionalism, ethics, and confidentiality. Instructors will emphasize medical terminology as it relates to the pharmacy, medications and their effects on the human body, inventory control, communication and interpersonal skills, and packaging and labeling. The curriculum covers 900 clock hours – Pharmacy Technician I 360 hours, Pharmacy Technician II 360 clock hours, and Applied Pharmacy Technician Internship 180 clock hours. Areas of study include pharmacy jurisprudence, the role of the CPhT, anatomy and physiology, brand and generic names of medications, pharmacological effects of medications, pharmaceutical calculations, drug distribution systems, material management policy, and pharmacy calculations involved in compounding and IV preparation. The 180-hour internship will take place in a pharmacy, hospital, or other health care facility. It may not be scheduled immediately upon completion of the program. This part of the program is subject to site availability. Day and evening schedules are available.
Admission criteria:
Must be at least 18 years old
Attend a personal onsite interview with a representative from the Admissions Committee
Complete an Entrance Questionnaire
Submit a completed enrollment form and registration fee of $100
Provide proof of completing high school or GED or submit ATB scores Verbal – 2000 and Quantitative – 210
Pass a criminal background check and drug screen
The program will cost ,$11,700 including the $100 enrollment fee, books, and tools.
Address: 99 Erial Rd., Blackwood, NJ 08012
Phone: 856-245-5320
Rutgers University – Division of Continuing Studies
The Online Pharmacy Technician Certification program at Rutgers University Division of Continuing Studies equips students with the skills for entry-level employment and national certification. The program is offered online, but each student is paired with an instructor of one-on-one assistance. Areas of study include pharmacology of medications, pharmaceutical calculations, processing prescriptions, ethics of practice, patient care and interaction, billing and reimbursement, pharmaceutical terms and abbreviations, packaging and labeling, and inventory management. Students will participate in a 40 to 100-hour internship at the conclusion of the program. The online program lets students complete the requirements at their own pace. However, they will have up to 12 months to complete the program.
Admission criteria:
Be proficient in keyboarding
Have a command of English grammar and punctuation
Have a basic understanding of high school math
Must be at least 18 years old – to take the PTCB exam
Have a high school diploma or GED
Complete a background check to participate in the externship at Walgreens or CVS
The program fee of $3,300 includes all course materials.
Address: 303 George Street, Ste. 610, New Brunswick, NJ 08901
Phone: 732-628-6052