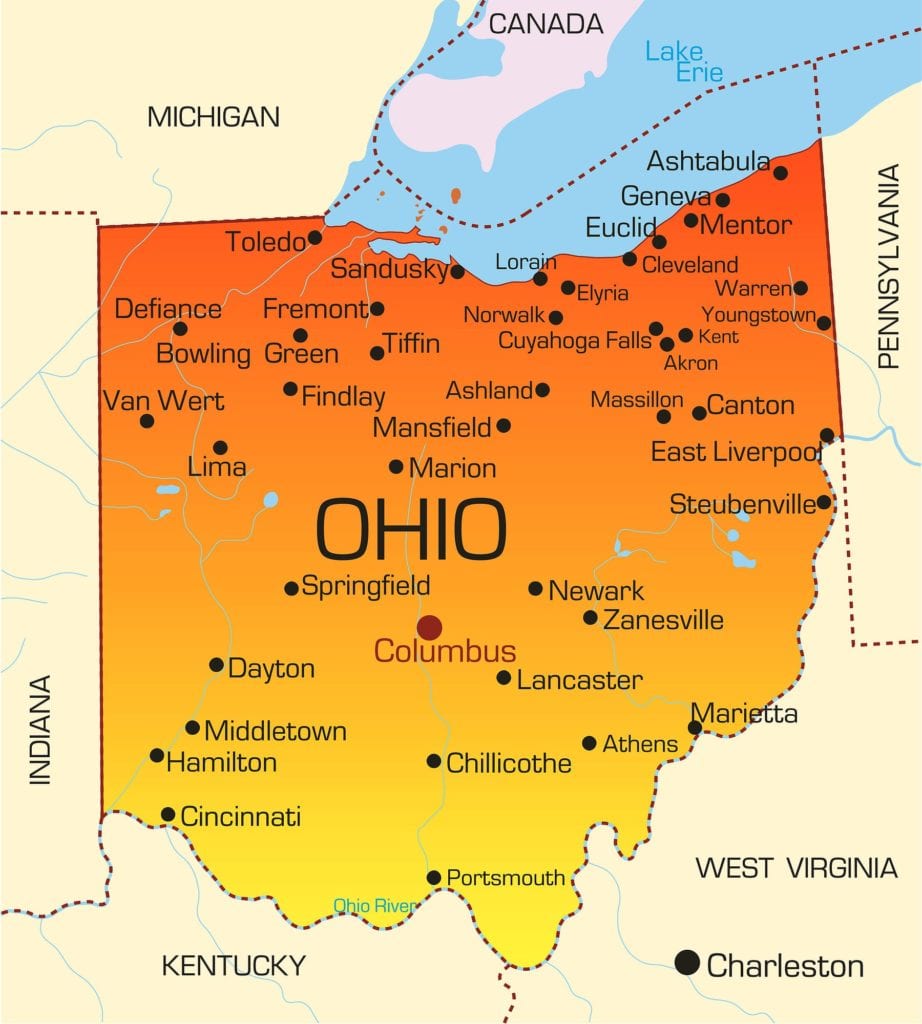 Pharmacy technicians assist pharmacists in the receipt, preparation, and dispensing of medication orders for patients. They also perform administrative functions within the pharmacy, such as maintaining stock levels, removing discontinued medications from circulation, updating patient records, answering the phone, responding to customer queries, and submitting insurance claims. The Ohio State Board of Pharmacy requires technicians to complete an approved training program that meets the guidelines for registration. Through nationally recognized Pharmacy Technician training programs, students receive skills and knowledge to qualify for entry-level positions in pharmacies as well as prepare for national certification as a Certified Pharmacy Technician (CPhT).  National certification is offered by two governing bodies, the Pharmacy Technician Certification Board and the National Healthcareer Association.
Pharmacy Tech Schools in Ohio
Ohio Pharmacy Technician License Requirements
Individuals who will be performing the duties of a pharmacy technician in Ohio must seek active registration from the Board of Pharmacy. Registration is a legal term that is equivalent to licensure. There are three registration categories (Certified Technician, Registered Technician, and Technician Trainee). Each candidate must determine the best option for registration based on his/her current training and education. Completion of a technician training program is an essential part of the registration process. There are several approved training options, including:
Completion of an employer-based training program in Ohio
Completion of a non-employer-based training program that meets one of the following requirements:

An American Society of Health System Pharmacists/Accreditation Council for Pharmacy Education accredited program. The Board will accept training from ASHP/ACPE accredited programs that are in candidate status
A pharmaceutical technician program conducted by a branch of the Armed Forces of the United States, the Indian Health Service of the United States Department of Health and Human Services, or the United States Department of Veteran Affairs
A Board of Pharmacy approved pharmacy technician training program conducted at an Ohio public high school as part of a career-technical education program
A Doctor of Pharmacy (PharmD) program if the applicant's graduation date is within five years of an application for registration
The Board will issue a Certificate of Issuance within 15 business days of the submitted application.
Age Requirement
Applicants must be at least 18 years old to register as a pharmacy technician in Ohio.
Education Requirement
The Ohio State Board of Pharmacy requires all applicants to have a high school diploma or GED equivalent. Candidates for registration must all complete an accredited pharmacy technician program or an employer-based pharmacy technician program.
Other Requirements
All prospective pharmacy technicians must complete a background check as part of the registration process. Candidates with prior convictions may not be eligible for registration. However, the Board reviews each case and makes a final determination based on factors such as the time elapsed, the severity of the conviction, evidence of rehabilitation, and compliance with the terms of parole. Specific crimes may result in outright denial of registration. These include driving under the influence (drugs or alcohol), possession of illegal drugs or prescription drugs without a prescription, possession or sale of illegal drugs, theft, and multiple arrests.
The Pharmacy Technician Program
Content
One of the greatest benefits of pharmacy technician schools (as well as other allied health careers) is that there's no need to invest years of time and money to get started. Apart from a high school diploma, there are no prerequisites for entry into most programs. The training typically includes dynamic experiences in the classroom as directed by experienced instructors who might have years or experience in the field themselves.
Practical experiences in modern labs facilitate hands-on learning, interaction, and simulations of real-challenges in preparation for the pharmacy externship. Members of faculty will provide lots of personalized training as they guide students through the process of receiving and dispensing orders and attending to day-to-day duties in the pharmacy. The pharmacy externship experience places students in the field to work alongside pharmacists, pharmacy technicians, and other students to gain real-world experience. The externship provides an excellent opportunity to build resumes, formation of professional contacts, connect with potential employers.
Pharmacy Technician classes cover multiple topics such as medical terminology, updating patient records, administrative duties, receiving and dispensing medications, customer service, inventory management, IV preparations, pharmacy billing systems, pharmacy calculations, and pharmacy terminology. Intensive preparation for certification exam is a feature of most pharmacy technician programs. To become eligible to take the PTCB exam, completing a program that is accredited by the American Society of Health-System Pharmacists.
Duration and Cost
Pharmacy technician programs may be as long as one year or as short as 4 months depended on the type of credential awarded. Certificate programs include all the foundational topics required for competent practice but are designed for fast entry to the workforce. They typically require a commitment of 4 to 6 months full-time and can be more than 12 months for part-time students. The pharmacy technician associate degree includes general education studies along with core pharmacy technician courses. It is ideal for those who intend to pursue further studies in healthcare although it is not necessary for routine practice in most pharmacy settings.
Training programs are offered at community colleges, vocational schools, adult education centers, and proprietary institutes of learning. In Ohio, there are no ASHP accredited employer-based training. However, it is possible to sit for the PTCB exam after completing at least 500 hours of practice in the field. Employer-based training is beneficial in that it provides hands-on, real-world experience from the very first day. Students might even earn a small stipend throughout the training and may qualify for immediate employment depending on their ability.
The average cost of certificate programs in Ohio is $2,700 for a comprehensive program that includes clinical externships, books, uniforms, and outside support. Degree programs at public colleges can cost slightly more. As expected, training at private institutions can be costly but may include all associated costs and extended externships at leading pharmacies. Financial aid is available for eligible students and will significantly reduce out of pocket costs.
National Exams
The Ohio State Board of Pharmacy does not require certification as prerequisite to licensure. However, national certification through the PTCB or ExCPT will improve your job prospects. Employers today expect it from prospective employees and may even pay for current employees to complete certification. The Board will accept PTCB certification as in demonstration of your ability to function as a competent pharmacy technician.
The Pharmacy Technician Certification Board bestows the Certified Pharmacy Technician (CPhT) credential to successful candidates. Eligibility requirements include:
Completion of a PTCB recognized pharmacy technician training program or equivalent work experience (500 hours minimum)
Full disclosure of all criminal and State Board of Pharmacy registration or licensure actions
Meet all the applicable PTCB certification policies
Take and pass the Pharmacy Technician Certification Exam
Pay the fee of $129
The preliminary scores presented upon completion of the exam provide an indication of your performance but are not official. The official scores will be published within two to three weeks following the exam. The PTCB will update your certification status (verifiable on the website) after this time. The certificate will be available to download on your PTCB dashboard if you pass the exam. The certification must be renewed every 2 years to maintain the credential. Recertification requires completion of 20 hours of CE.
The ICPT designs and develops the ExCPT exam. To be eligible to take the ExCPT, you must:
Be at least 18 years of age
Have a high school diploma or GED
Must have a completed a training program or have at least 12 months of pharmacy-related experience – completed within 36 months of the application date
Take and pass the ExCPT exam
Pay the exam fee of $105
Pharmacy technician programs include preparation for success on the PTCB and ExCPT exams.
Acquiring Your State License
Application
Anyone seeking to perform the duties of a pharmacy technician (trainees included) must seek registration from the Board of Pharmacy before performing those duties. The registration must be designated as active before the technician assumes practice. Ohio State recognizes three types of registration: Certified Pharmacy Technician, Registered Pharmacy Technician, and Pharmacy Technician Trainee. The category of registration that you choose will be based on your current experience and education.
Processing of applications for registrations can take up to 15 business days after the date of submission. The candidate must wait for the Certificate of Issuance notice and an Active status from the Board of Pharmacy.
Pharmacy Technician Trainee Application:
Create and sign in to your account at www.eLicense.ohio.gov
Select "New License Applications"
Select Board of Pharmacy then select "Pharmacy Technician Trainee" from the drop-down box.
Select General Application from the third drop-down box
Complete the eligibility questions
Submit all required documentation including proof of background check.
Documents must be sent directly to the Board
Pay the non-refundable application fee of $25
Renewal
Renewal dates are determined by the category of registration.
Registered pharmacy technicians must renew their registration by March 31st of even-numbered years. The registration costs $50.
Certified pharmacy technicians must renew their registration by September 30th of even-numbered years. The registration renewal cost is $50.
Registered pharmacy technicians must complete continuing education units to maintain registration. They must complete 10 contact hours (1.0 CEU) of continuing pharmacy technician education within the 24-month registration cycle and before the expiration date of the registration. Two of the 10 contact hours must cover pharmacy jurisprudence and two must cover patient or medication safety. One-third of the CE requirements may be fulfilled by volunteering with an approved provider of volunteer health care services in the state.
Certified pharmacy technicians will fulfill their CE requirements through the certifying organization that is recognized by the Ohio Board of Pharmacy. For the PTCB or ExCPT, it means 20 hours of CE every two years.
Contact the Board:
Ohio State Board of Pharmacy
77 S High St, Room 1702.
Columbus, OH 43215-6126
614-466-4143
Fax: 614-752-4836
ASHP Accredited Pharmacy Technician Schools in Ohio
Archbold, OH Pharmacy Technician programs:
Four County Career Center
22-900 State Route 34
Archbold, OH 43502
(419) 267-3331
Ashland, OH Pharmacy Technician programs:
Ashland County – West Holmes Career Center
1783 State Route 60
Ashland, Ohio 44805
419-289-3313
Canfield, OH Pharmacy Technician programs:
Mahoning County Career Technical Center
7300 North Palmyra Rd
Canfield, OH 44406
(330) 729-4100
Chilicothe, OH Pharmacy Technician programs:
Pickaway-Ross Adult Education – Chillicothe
1410 Industrial Dr
Chillicothe, OH 45601
Cincinnati, OH Pharmacy Technician programs:
Ross Medical Education Center – Cincinnati
11590 Century Blvd, Suite 210
Cincinnati OH 45246
(513) 851-8500
Cleveland, OH Pharmacy Technician programs:
Cleveland Clinic School of Pharmacy Technology
9500 Euclid Avenue
Cleveland, OH 44195
(216) 444-2200
Cleveland Job Corps Center
13421 Coit Road
Cleveland OH 44110
(216) 541-7786
University Hospitals
11100 Euclid Avenue
Cleveland OH 44106
216-844-3722
Cleveland Heights, OH Pharmacy Technician programs:
Lakewood University
2231 North Taylor Road
Cleveland Heights OH 44112
(800) 517-0857 ext. x739
Columbus, OH Pharmacy Technician programs:
Columbus State Community College
550 East Spring St
Columbus, OH 43215
(614) 287-5353
Daymar College – Columbus
2745 Winchester Pike
Columbus, Ohio 43232
(614) 643-6680
Dayton, OH Pharmacy Technician programs:
Sinclair Community College
444 W Third St,
Dayton, OH 45402
(937) 512-3285
Fremont, OH Pharmacy Technician programs:
Vanguard-Sentinel Joint Vocational School
1306 Cedar Street
Fremont, OH 43420
419-334-6901 ext 420
Highland Hills, OH Pharmacy Technician programs:
Cuyahoga Community College – Eastern Campus, EHCT 230D
4250 Richmond Road
Highland Hills, OH 44122
(216) 987-2381
Hillsboro, OH Pharmacy Technician programs:
Southern State Community College
100 Hobart Dr.
Hillsboro, OH 45133
800-628-7722
Southern State Community College
100 Hobart Drive
Hillsboro, OH 45133
Kettering, OH Pharmacy Technician programs:
American National University – Dayton, Ohio Campus
1837 Woodman Center Dr
Kettering, OH 45420
(937) 299-9450
Lucasville, OH Pharmacy Technician programs:
Scioto County Career Technical Center
951 Vern Riffe Drive
Lucasville OH 45648
(740) 259-5526 ext. ext 1108
Mansfield, OH Pharmacy Technician programs:
North Central State College
2441 Kenwood Circle
Mansfield, OH 44906
Middleburg Heights, OH Pharmacy Technician programs:
Polaris Career Center
7285 Old Oak Blvd
Middleburg Heights, OH 44130
(440) 891-7697
Middletown, OH Pharmacy Technician programs:
Warren County Career Center – Greentree Academy Campus
5757 Innovation Drive
Middletown, OH 45005
(513) 932-8145 ext 5356
North Canton, OH Pharmacy Technician programs:
Stark State College of Technology
6200 Frank Ave NW
North Canton, OH 44720
(330) 494-6170 ext. 4438
North Olmstead, OH Pharmacy Technician programs:
Remington College (Cleveland West Campus)
26350 Brookpark Rd
North Olmstead, OH 44070
(440) 777-2560
Ontario, OH Pharmacy Technician programs:
Ross Education, LLC – Ontario Campus
2150 West 4th Street
Ontario OH 44906
(810) 658-1424
Rio Grande, OH Pharmacy Technician programs:
University of Rio Grande
218 N College Ave
Rio Grande, OH 45674
(740) 245-7448
Sylvania, OH Pharmacy Technician programs:
Ross Medical LLC – Sylvania
5834 Monroe Street
Sylvania OH 43560
(419) 882-3203
Toledo, OH Pharmacy Technician programs:
ProMedica Health System
100 Madison Ave
Toledo OH 43604
800-366-1232
Warren, OH Pharmacy Technician programs:
Trumbull Career and Technical Center
528 Educational Highway
Warren, OH 44483
(330) 847-0503
Youngstown, OH Pharmacy Technician programs:
American National University – Youngstown, Ohio Campus
3487 Belmont Avenue
Youngstown, OH 44505
(330) 759-0205