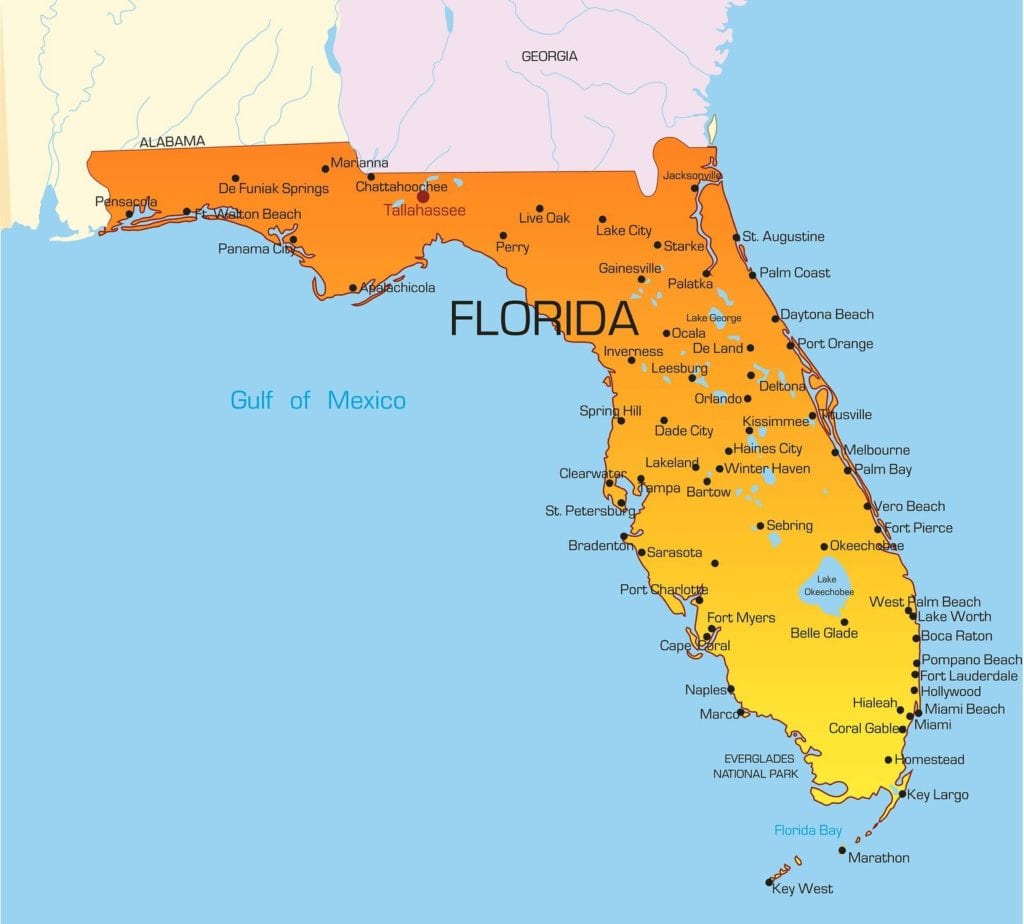 Florida's pharmacy technician certificate programs help health care employers meet the rising need for trained technicians in the hospital and retail pharmacy setting. In the last decade, the demand for pharmacy technicians has almost doubled as these professionals become indispensable to the people they serve. Growing demand for prescription medications coupled with a shortage of registered pharmacists creates new opportunities for pharmacy technicians to play an important role in the industry. The expanding role of pharmacy technicians in the health care setting raises some concerns for employers and state pharmacy boards. As a result, the Florida Board of Pharmacy requires pharmacy technicians to register with the Board after completing an approved training program.
Pharmacy Tech Schools in FL
Florida Pharmacy Technician Requirements
License Requirement
Florida's pharmacy technician candidates must register by filing an application with the board before performing assigned duties under the direct supervision of a licensed pharmacist. The applicant must submit proof of completing a pharmacy technician program, approved by the Board of Pharmacy, along with the non-refundable application fee. While the Board requires technicians to register before working in a hospital or retail pharmacy setting, pharmacy technician students enrolled in a board-approved program, can work in a pharmacy for the purpose of practical training. During that time, the student must wear identification to indicate student status. Licensed pharmacy interns can obtain employment as registered pharmacy technicians without filing an application to the board to register as a pharmacy technician. Employers must verify a prospective employee's registration before hire.
Age Requirement
You must be at least 17 years old at the time of application for Florida state registration.
Education Requirement
The Florida Board of Pharmacy does not require a high school diploma to process your application. While this lowers barriers to entry, many employers may request a copy of your high school diploma or GED with your application for employment.
The Board requires all prospective pharmacy technicians to complete an approved training program, which prepares them to provide quality, safe, and effective service at the state's pharmacies. The Board recognizes training programs accredited by the:
American Society of Health-System Pharmacists
Southern Association of Colleges and Schools
Florida Commission for Independent Education (CIE)
Council on Occupational Education and
Those provided by a branch of the federal armed services.
The Board also approved a list of employer-based pharmacy technician training programs available on the Department of Health website. See below for a full list of training programs.
Other Requirements
The Board will request a certified copy of documents of disciplinary actions taken against you if you answer "yes" to any questions related to the disciplinary history on the application. They will also need details of the circumstances that led to the action taken against you and a description of your rehabilitative steps.
The Board expects pharmacy technicians to be in good health. If you suffer from any of the medical conditions highlighted on the application form, you'll need to submit documentation detailing your current status, treatment, and prognosis from a licensed professional.
A criminal background check is another requirement for Board registration. The Board may clear minor offenses upon review. However, repeat offenders and violent crimes must undergo an extensive board review and applicants must submit evidence of rehabilitation. All applicants with prior convictions must submit copies of arrest records, proof of completion of parole, probation or sanctions, and an explanation of the circumstances surrounding the offense.
The Pharmacy Technician Program
Content
Florida's pharmacy technician training providers prepare students for entry-level employment as pharmacy technicians. Through theoretical training and practical skills, they acquire the confidence to support licensed pharmacists in hospitals, retail pharmacies, nursing homes and mail-order pharmacies.
During the program, students learn how to maintain patient medication records, deliver medication to patient rooms, fulfill prescriptions, maintain inventory, fill medical forms for insurance and billing purposes. Course content includes pharmacy calculations, nutrition, health care systems, medical terminology, pharmacology, pharmacy law and ethics, and computer technology.
A clinical externship is a critical part of the program. Students work in local pharmacies where they practice performing the duties of a pharmacy technician. Clinical externships are usually a minimum of 180 hours long. Graduates of pharmacy technician programs can register with the Board of Pharmacy and can also apply for the PTCB certification exam.
Duration and Cost
Pharmacy technician programs range from $2,495 to $23,500 in Florida for tuition only. Additional costs include books, exams, uniform, and other supplies. Some programs/pharmacists may pay a small stipend during the clinical externship. Financial aid may be available to help cover the costs of training for those students who meet the eligibility criteria.
Duration depends on whether you attend full-time or part-time and the number of training hours the program provides. Generally, students can complete training in as little as 4 months or as long as 24 months (for associate degree programs). Many accredited programs offer credits that you can transfer to a degree program.
National Exams
With all other factors equal, an employer will employ a candidate who took the initiative to acquire certification. The Board of Pharmacy emphasizes formal training above all else but does recognize certification from the Pharmacy Technician Certification Board (PTCB).
While Florida registration is state-contained, PTCB certification is valid nationwide. The national certification gives candidates immediate recognition and enables them to offer quality patient care and service. Once candidates pass the Pharmacy Technician Certification Exam (PTCE) and meet the other eligibility requirements, they can use the designation CPhT (Certified Pharmacy Technician). Certification must be renewed every two years after meeting the Board's continuing education requirements.
Applicants must possess a high school diploma and pass a criminal background check to obtain certification. The fee for the Pearson Vue administered exam is $129. The exam comprises of 90 multiple-choice questions, 80 scored and 10 unscored, which tests candidates' comprehension of 9 knowledge domains.
Acquiring Your State License
Application
To apply for registration as a pharmacy technician in Florida, complete the following steps:
Submit a completed Pharmacy Technician Registration Application
Include your Social Security Number on your application
Submit a certificate of completion from an approved pharmacy technician program. Acceptable documents include an official transcript, a copy of diploma, or a copy of certificate. The official transcript must be mailed directly to the Board office from the university.
Submit a payment of $105 using a certified check or money order made payable to the Florida Department of Health ($50.00 non-refundable application fee, $50.00 licensure fee, $5.00 unlicensed activity fee).
The Board will send out a deficiency letter if you fail to provide proof of completing an approved training program.
If you answer "yes" to any of the questions related to disciplinary actions, criminal history or medical history, you must also submit supporting documents.
You must submit all requirements for registration within one year of submitting your application before your documents expire. The Board will acknowledge receipt of the application after initial review of new applications – approximately 30 days. Your Registered Pharmacy Technician license will be issued once your application is complete. The license will be sent via mail within 2 weeks of the issue date.
Renewal
The department will mail your renewal application 90 days before your license expires. You should maintain an accurate mailing address on file to receive updates. The license will go into delinquent status if you fail to renew by expiry date. To renew your license, you'll need to submit:
The completed renewal application
The renewal fee of $55 (for active licenses only)
Meet the continuing education requirements, which is 20 hours of courses approved by the board or the Accreditation Council for Pharmacy Education.
Transfers
Florida does not accept license transfers from other states. Pharmacy technicians from other states must complete a training program or provide proof of training from another state for the Pharmacy Board review.
The Florida State Board of Pharmacy Information
Office: 4052 Bald Cypress Way, Bin #C-04
Tallahassee, FL 32399
850-245-4292
Website: http://www.doh.state.fl.us/mqa/pharmacy
American Society of Health-System Pharmacists Accredited Programs
Davie, FL Pharmacy Technician programs:
McFatter Vocational Technical Center
6500 Nova Drive
Davie, FL 33317
(754) 321-5700
Kissimmee, FL Pharmacy Technician programs:
Technical Education Center Osceola
501 Simpson Road
Kissimmee, FL 34744
(407) 344-5080
Lauderdale Lakes, FL Pharmacy Technician programs:
Allied Health and Technical Training Institute, Inc.
7205 West Oakland Park
Lauderdale Lakes, FL 33319
(752) 223-4555
(954) 337-0524
Orlando, FL Pharmacy Technician programs:
Orange County Public Schools
445 W. Amelia Street
Orlando, FL 32801
(407) 281-5120
Fort Pierce, FL Pharmacy Technician classes:
International Institute For Health Care Professionals
600 N Us Hwy 1
Fort Pierce, FL 34950
772-489-8228
Shands At the University of Florida
1600 SW Archer Road
Gainesville, FL 32608
(352) 265-0111
Hialeah Adult Education Center
251 East 47 Street
Hialeah, FL 33014
(305) 822-1500
Florida State College at Jacksonville
4501 Capper Road
Jacksonville, FL 32202
(904) 633-8100
Kissimmee, FL Pharmacy Technician classes:
Liberty High School
4250 Pleasant Hill Road
Kissimmee, FL 34746
(407) 933-3910
Lake Worth, FL Pharmacy Technician classes:
Medical Institute of Palm Beach, Inc
5821-B Lake Worth Road
Lake Worth, FL 33463
(561) 964-5043
Lauderhill, FL Pharmacy Technician classes:
Allied Health and Technical Training Institute, Inc.
7205- 7207 West Oakland Park Blvd
Lauderhill, FL 33313
(954) 900-3071
Leisure City, FL Pharmacy Technician classes:
South Dade Educational Center
28300 SW 152 Ave
Leisure City, FL 33030
(305) 248-5723
Live Oak, FL Pharmacy Technician classes:
Suwannee-Hamilton Technical Center
415 SW Pinewood Drive
Live Oak, FL 32064
(386) 647-4200
Margate, FL Pharmacy Technician classes:
Chancellor Institute, Inc.
5648 West Atlantic Blvd.
Margate, FL 33063
(954) 532-2680
Miami, FL Pharmacy Technician classes:
1492 Pharma Group Corp.
6627 South Dixie Highway
Miami, FL 33143
(305) 665-4411
Florida Vocational Institute
7757 West Flagler St
Miami, FL 33144
(305) 665-1911
Med Health Equipment, LLC
7205 N W 68 Street
Miami, FL 33166
(305) 882-8883
New Professions Technical Institute, Inc
4000 West Flagler Street
Miami, FL 33134
(305) 461-2223
Sullivan And Cogliano Training Centers, Inc.
7740 North Kendall Drive
Miami, FL 33156
(888) 872-4677
Vocational Institute of Florida
1849 W. Flagler Street
Miami, FL 33144
(305) 665-1911
Miramar, FL Pharmacy Technician classes:
Sistema Universitario Ana G. Mendez: Universidad Del Este
3520 Enterprise Way
Miramar, FL 33025
(954) 885-5595
Naples, FL Pharmacy Technician classes:
Lorenzo Walker Institute of Technology
3702 Estey Avenue
Naples, FL 34104
(239) 377-0900
North Miami Beach, FL Pharmacy Technician classes:
Asa College
3909 Ne 163rd St
North Miami Beach, FL 33160
(877) 679-8772
Orlando, FL Pharmacy Technician classes:
Concorde Career Institute
3444 Mccrory Place
Orlando, FL 32803
(407) 502-6374
Pensacola, FL Pharmacy Technician classes:
Express Training Services, LLC
4900 Bayou Blvd
Pensacola, FL 32503
(850) 479-9443
The University of West Florida, Continuing Education
1100 University Parkway
Pensacola, FL 32514
850-473-7468
Port Saint Lucie, FL Pharmacy Technician classes:
Fortis Institute
9022 South Us Highway 1
Port Saint Lucie, FL 34952
(772) 221-9799
Rockledge, FL Pharmacy Technician classes:
Rockledge Institute, LLC
571 Haverty Court
Rockledge, FL 32955
(321) 301-4439
Saint Petersburg, FL Pharmacy Technician classes:
Pinellas County Job Corps Center
500 22nd Street South
Saint Petersburg, FL 33712
(727) 551-2900
Pinellas Technical Education Center
901 34th Street South
St. Petersburg, FL 33711
(727) 893-2500
Sebring, FL Pharmacy Technician classes:
Adventist Health System Sunbelt
4200 Sun 'N Lake Blvd
Sebring, FL 32803
(407) 896-6611
Azure College Inc
2940 Us 27 S
Sebring, FL 33870
(863) 774-3535
St Augustine, FL Pharmacy Technician classes:
Flagler Community Pharmacy, Inc.
300 Health Park Blvd.
St Augustine, FL 32086
(904) 824-4556
Tallahassee, FL Pharmacy Technician classes:
Tallahassee Memorial Healthcare
1300 Miccosukee Road
Tallahassee, FL 32308
(850) 431-1155
Total Care Medical, Inc
2565 Capital Medical Blvd
Tallahassee, FL 32308
(850) 219-0202
Tamarac, FL Pharmacy Technician classes:
University Hospital & Medical Center
7201 North University Dr
Tamarac, FL 33321
(954) 317-0682
Tampa, FL Pharmacy Technician classes:
Adel Consulting, Inc.
3606 Madaca Lane
Tampa, FL 33618
(813) 341-1555
Henry W. Brewster Technical Center
2222 North Tampa Street
Tampa, FL 33602
(813) 276-5448
Aguilas International Medical Institute
2137 W Dr Martin Luther King Jr Blv
Tampa, FL 33615
(813) 871-2407
Hillsborough Community College Continuing Education
1602 B N. 15th Street
Tampa, FL 33606
(813) 259-6010
International Academy of Design & Technology
3725 W. Grace Street
Tampa, FL 33607
(813) 881-0007
Omnicare, Inc.
8603 Florida Mining Blvd
Tampa, FL 33634
(813) 247-9225
University of South Florida
4202 E Fowler Ave
Tampa, FL 33620
(813) 974-2011
University Of South Florida Continuing Education
4202 E Fowler
Tampa, FL 33612
(813) 974-2403
Venice, FL Pharmacy Technician classes:
Venice HMA Inc, Venice Regional Medical Center
540 The Malto
Venice, FL 34285
(941) 483-7773
West Palm Beach, FL Pharmacy Technician classes:
Palm Beach Cancer Institute
1309 North Flagler Drive
West Palm Beach, FL 33401
(561) 366-4100