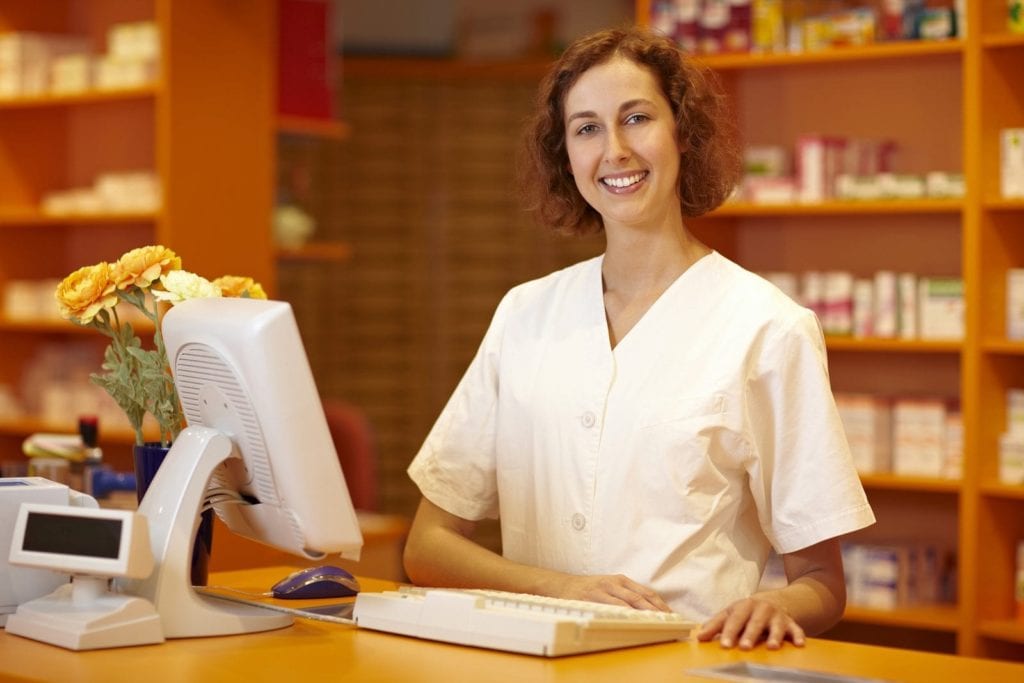 A well-trained pharmacy technician is a valuable asset to any employer. Pharmacy technician training programs prepare students to assume a central role in hospital, home health, community, and retail pharmacy environments. Functioning as an intermediary between doctors and pharmacists and pharmacists and patients, the technician compounds and delivers medications, maintains patient records, and manages inventory. The role requires students to be accurate, compassionate, empathetic, and responsible. Communication and math skills are also of paramount importance. Pharmacy technicians in Florida earn an average of $30,000 to 40,000 annually depending on education and certification.
Orange Tech College
The ASHP accredited pharmacy technician program at Orange Tech College prepares students for national certification through the PTCB or ExCPT. It comprises of 1050 hours of theory and hands-on training. Training includes but is not limited to introduction to medical terminology, pharmacology, medical drugs, pharmacy law, pharmaceutical compounding, sterile techniques, IV and chemotherapy preparation, medical delivery systems, patient record systems, pharmacy math, medication purchasing, receiving and inventory systems, pharmaceutical automation, employability and leadership skills, CPR and AIDS. Through a partnership with PioneerRx, Orange Tech College offers students a hands-on approach to learning that simulates the functions and workflow of innovative pharmacies. The duration of the program is 10 months.
Admission criteria:
Must take the TABE
Must have a high school diploma or GED
Complete a background check for the pharmacy externship
Provide proof of immunization
Complete a PPD test and 10-panel drug screen.
The total program cost of $5,806.04 includes tuition and fees.
Seminole State College
Students enrolled in the pharmacy technician program at Seminole State College gain the technical skills, concepts, and clerical functions to perform the functions of a pharmacy technician under the supervision of a licensed pharmacist. Course topics include anatomy and physiology, introduction to pharmacy technology, pharmacology, concepts in pharmacy technology, pharmaceutics and calculations, pharmacy operations, basic IV infusion, pharmacy technician applications, and pharmacy technician practicum. Students must also complete computer and internet literacy or office applications and English I to earn the 40 credits required for graduation. Graduates will receive an Applied Technology Diploma and are eligible to apply for the PTCB or ExCPT to become nationally certified. They may apply for employment in drug stores, wholesale drug companies, long-term care facilities, and hospitals. The option is available for students to complete common prerequisite courses for an upper-division major as part of their general A.A. degree program. After graduating from Seminole State, they can continue their studies at a state college or university with junior standing.
Admission criteria:
Must be eligible to enroll in the ENC 1101 class before commencing pharmacy technician courses.
Submit a completed application to the program
Must have a high school diploma or GED
Must complete a criminal background check and drug screen – persons convicted of a crime may not be eligible for licensure from the Board of Pharmacy
Tuition costs $104.38 per credit for Florida residents. Students will need to budget for books, fees, supplies, and uniforms.
Concorde Career Institute
The pharmacy technician program at Concorde Career Institute prepares students to become a valuable asset in hospitals, nursing homes, and long-term care facilities. The program is offered in a hybrid format with the theory classes taught online and the laboratory classes taught on campus. Interested persons must be competent in math to be able to function competently in the pharmacy practice. Course topics include introduction to pharmacy practice, pharmacology lab, compounding and aseptic techniques, pharmacology I and II, and pharmacy externship. The 662-hour program includes 240 theory hours, 192 lab hours, and 230 externship hours. Students complete the program in 24 instructional weeks and are eligible to apply for national certification. Graduates will receive a Pharmacy Technician Diploma.
Admission criteria:
Attend a personal interview and campus tour
Submit a completed application and Enrollment Agreement and disclosures
Take the Online Readiness Assessment
Must be a citizen or permanent resident
Proof of completing high school or GED
Must be 18 years or older
Attend an orientation program
Score 10 or more on the Wonderlic SLE
Pass a criminal background check
Submit to a random drug screen
The program cost of $14,559 includes tuition and textbooks. Financial aid is available for eligible students.
Website: https://www.concorde.edu/
Address: 3444 McCrory Place, Orlando, FL 32803
Phone: 407-812-3060
Toll-free: 1-800-693-7010
Fax: 407-812-3061
Lake Technical College– Eustis– Main Campus
The pharmacy technician program at Lake Technical College prepares students to enter the workplace as a trained pharmacy technician capable of assisting licensed pharmacists with all pharmacy operations. Students learn how to recognize and respond to emergency situations, prepare and deliver medications, and read and interpret prescriptions. Other areas of study include profession ethics and legal responsibilities, blood borne diseases, pharmaceutical chemistry, drug classification, pharmacy terminology and abbreviations, and IV compounding. Students will utilize pharmacy software, PioneerRX, on campus in a simulated lab to become familiar with the system used in community and institutional pharmacies. The curriculum covers 1050 hours of instruction in 35 weeks. Graduates have the knowledge and skills to become nationally certified in the field.
Admission criteria:
Must complete the online application
Apply for financial aid
Meet with a career advisor
Pay the required tuition fees
Complete the online orientation before the first day of class
Tuition for the program is $3024. Books, fees, uniforms, and supplies are additional.
Florida Career College
Florida Career College's pharmacy technician diploma program gives students a solid foundation in the fundamentals of pharmacy. The curriculum includes hands-on practice in a hospital, compounding, retail, and mail-order pharmacy. In the classroom, students will learn how state and federal laws affect practice, professionalism in a pharmacy setting, ethical issues, pharmacy terminology, IV compounding, medication therapy, and pharmaceutical calculations. The total program credits are 32.77 semester credit hours. Students must complete 760 contact hours (8 modules) in the designated 34 weeks. The clinical externship is four and a half weeks – 180 hours.
Admission criteria:
Be at least 17 years of age
Have a high school diploma or GED or an Associate's or higher degree from an accredited institution
Provide copy of diploma indicating the date of graduation or a copy of General Education Diploma (GED) certificate
Attend an initial interview with an Admission Representative
Tuition for the program is $15,400. Books and supplies cost $1,406. The tuition includes the first certification exam.
Address: 989 North Semoran Boulevard Orlando, FL 32807
Phone: 888-852-7272
UCF Continuing Education
The pharmacy technician program at UCF lets students explore and acquire the skills to work in an entry-level position at hospital, community or mail-order pharmacies. The curriculum covers the anatomy and physiology, basic terms for medical conditions, reading and interpreting prescriptions, updating patient records, drug classes, pharmacy math, dosage calculations, and pharmacy law. The course is delivered online.
Admission criteria:
Students must have internet access, email, and a web browser to access the online course
There are no other prerequisites for the program
Registration for the program is $105.
Website: https://www.ce.ucf.edu/

Address: 3280 Progress Drive, Suite 700, Orlando, FL 32826
Phone: 407.882.0260
Toll-Free: 866.232.5834
Fax: 407.882.0266
Email: ce@ucf.edu
 Cambridge College of Healthcare and Technology
The pharmacy technician program at Cambridge College prepares students for employment in various pharmacy settings. Students learn how to administer medications to patients under the direction of a licensed pharmacist. The curriculum covers hands-on training in labs that feature the latest healthcare devices and equipment, real-world experience through clinical externships at local pharmacies and health care facilities, support in transitioning from the classroom to career, and real-world insights from experienced instructors who are also industry experts. Graduates will receive a Pharmacy Technician Diploma that grants them eligibility to take the PTCB exam to become a certified pharmacy technician. The duration of the program is 36 weeks. Job placement assistance is available for all students.
Admission criteria:
Attend an admission interview
Submit a personal statement
Submit a record of vaccination or waiver form
Provide proof of high school graduation or official college transcript confirming associate, bachelor's or master's degree
Submit a completed application with the application fee of $50
Complete paperwork for a drug screen and background check
The program cost of $14,400 includes books, background check, drug screen, one set of scrubs, lab fees, technology fees, insurance fees, and CPR.
Rasmussen College
Rasmussen College makes it easy for students to advance in healthcare through the pharmacy technician program. Flexible schedules fit the needs of working adults. Students will be prepared to take the Pharmacy Technician Certification Exam to earn a pharmacy technician certificate. Graduates will have the option to transfer the credits to a Healthcare Associate's degree specializing in Pharmacy Technician. Core courses include Career Development, Customer Service in Healthcare, Medical Terminology, Medical Law and Ethics Foundations of Pharmacy Practice Pharmacy Calculations, Pharmacology for Technicians, Sterile and Non-Sterile Compounding, Pharmacy Technician Capstone, and Pharmacy Virtual Practicum. The program offers a total of 38 general education ad core credits. It will include opportunities to practice in retail and institutional pharmacies. The duration of the program is nine months.
Admission Criteria:
Must apply and be accepted to the College
Submit official high school transcript
Submit placement test scores
Submit an application for financial aid
Complete a full background check –must be free from disqualifying offenses
Complete a screen for drug and alcohol
Tuition costs $11,980. Books and supplies cost an additional $380.
Website: https://www.rasmussen.edu/
Address: 385 Douglas Avenue, Suite 1000, Altamonte Springs, Florida 32714
Phone: 407-635-8200
Fax: 407-635-8282