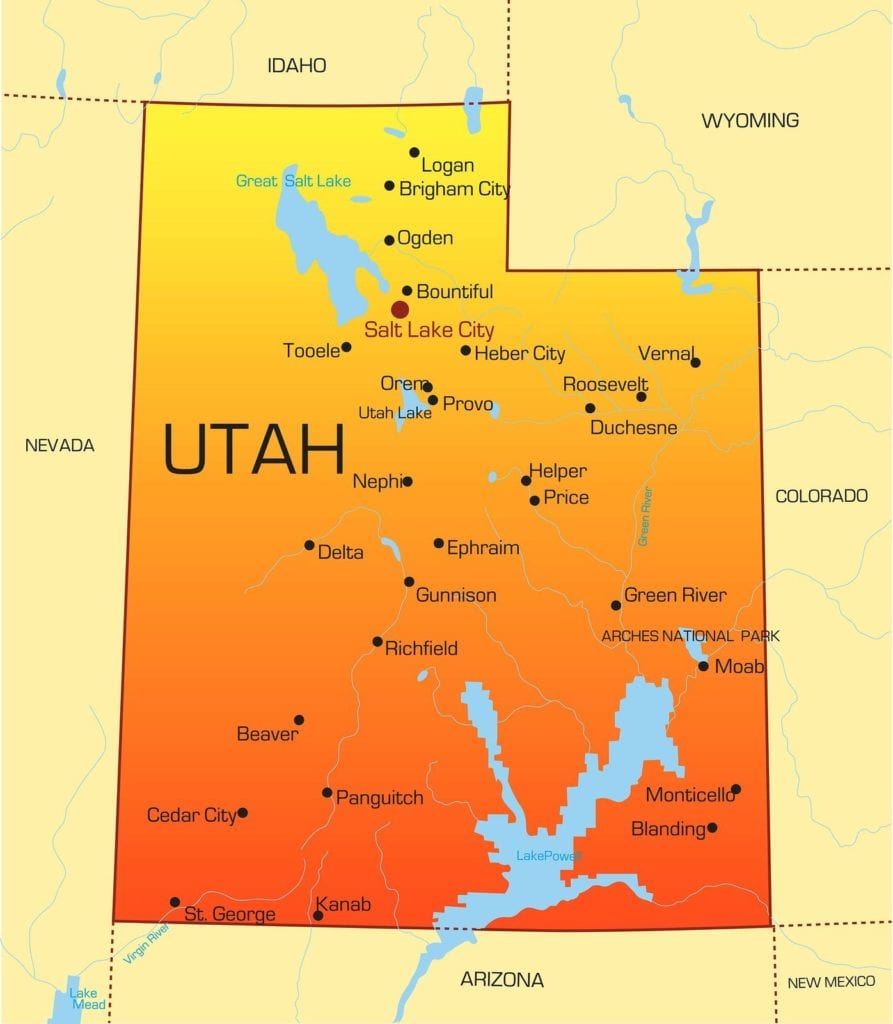 Training to become a pharmacy technician is one way to enter the field of healthcare. Pharmacy technicians work under a pharmacist's direction to fill prescriptions and execute a host of other duties. Trained and certified technicians can work in a variety of health care settings, including hospitals, assisted living facilities and community pharmacies.
With continued growth in the sector, employment trends reveal a steady increase in job opportunities or new and existing pharmacy technicians. The latest Bureau of Labor Statistics report projects a growth of 5% from 2021 to 2031. The report suggests good opportunities and attractive salaries for pharmacy technicians with formal training and national certification.
The Division of Occupational and Professional Licensing governs pharmacy technicians within Utah. Before enrolling in accredited training programs, pharmacy technicians need to register with the DOPL. Utah's Certified Pharmacy Technicians are those who complete approved pharmacy technician training and obtain certification from the PTCB or ExCPT.
Pharmacy Technician Schools in Utah
Utah Pharmacy Technician Requirements
License Requirement
Utah state laws require pharmacy technicians and pharmacy technician students to acquire a license from the DOLP before practicing at state pharmacies. Students enrolled in a pharmacy technician training program should apply for the technician trainee license early as the DOPL requires approximately 10-20 business days to process requests. Students must get the program coordinator to complete the Training Program section on the form. The Division will only approve requests for students enrolled in state-approved programs.
After graduating from an accredited program and completing a national certification exam, pharmacy technician trainees can apply to the Division for a pharmacy technician license.
Employers and training coordinators have the responsibility of checking the status of employees and students before assigning them for work/training in pharmacies. Students and employees must use name tags to identify their position at the workplace and keep a copy of their registration in a place that's visible to the public.
Once the Division assigns a license, pharmacy technicians must work in compliance with the pharmacy laws and renew the license biennially in order to stay in compliance.
Age Requirement
Applicants must be at least 18 years old to register as a pharmacy technician in Utah.
The DOPL does not request a high school diploma or GED with the pharmacy technician and pharmacy technician trainee applications. However, pharmacy technicians applying for CPhT certification with the PTCB or ExCPT will need to present a high school transcript and meet other requirements. The DOPL requires applications for licensure to completed a pharmacy technician program that meets one of the following requirements:
Accredited by the American Society of Health Systems Pharmacists
A program at Pharmacy Technicians University
Training through a branch of the Armed Forces of the United States
Other Requirements
The DOPL requests two sets of fingerprints from pharmacy technician applicants and trainee applicants (18 years and older). The Division will use the fingerprints to search files at the Federal Bureau of Investigations (FBI) and the Utah Bureau of Criminal Identification (BCI).
Applicants with prior criminal convictions and malpractice, suspensions or denied applications from health authorities must provide an explanation and supporting documents. These do not automatically exclude an applicant from registration. However, it could delay the processing of the application by a few months.
The Pharmacy Technician Program
Content
The accredited pharmacy technician programs at vocational colleges and universities offer didactic and practical training to help graduates succeed on the job and the national certification exams. There are a few online training programs that the DOPL recognizes. These programs are most beneficial to students who prefer to study on their own time.
In the classroom, students learn how to dispense medications, the names of generic and brand name drugs, how to determine the correct dosages, and pharmacy law and ethics. Other topics include recordkeeping, customer service, pharmacology, physiology, anatomy, and healthcare systems.
More than 100 Utah pharmacies have DOPL-approval to conduct training in-house. A pharmacist-in-charge takes students through the steps they need to fulfill their roles on the job. If you choose not to enroll in a traditional classroom setting, you can apply for employment, and train in a pharmacy, such as Walgreens. One benefit of this type of training is there's no cost attached. It is especially important for employer-trained technicians to get certified as it may be difficult to qualify for employment outside of the current employer.
If possible, look for an employer-based program that are also accredited by the ASHP, which is widely recognized by State Pharmacy Boards and employers alike.
Duration and Cost
One of the key advantages of employer-based pharmacy technician training programs is the absence of excessive fees associated with other traditional training programs. Utah's approval of more than 100 pharmacy-in-house trainers confirms their support of these programs. However, looming changes in the PTCB's requirements for certification will not bode well for pharmacy technicians who train in their place of employment.
However, if you don't have the budget to pay for training, you can still benefit from the knowledge and skills you'll learn from a caring pharmacist-in-charge. You may have to pay for your lab coat, textbooks, and your pharmacy technician trainee license. Although, in some cases, your employer may cover those costs as well.
Meanwhile, there's a growing list of colleges and vocational schools that offer training in Utah. There are two ASHP-accredited providers and many other accredited by other recognized authorities. The average cost of training is $2,500 plus extra for textbooks, state registration, PTCB certification, criminal background check, immunization, insurance and uniform. The duration of the program is approximately 3 to 12 months, depending on the class schedules.
National Exams
Graduates of Utah's pharmacy technician programs must proceed to sit the PTCE or ExCPT exams. Successful candidates earn the right to use the Certified Pharmacy Technician (CPhT) designation. The DOPL requires pharmacy technicians to provide proof of certification (PTCB or ICPT) as a requirement for state registration. Apart from the DOPL's requirements, employers generally favor candidates with the CPhT credential as it demonstrates their commitment to providing safe and quality care.
The PTCB, the older of the two certifying agencies, already has strict standards for certifying pharmacy technicians. Applicants must provide proof of completing high school or a GED equivalent. Effective 2014, all candidates will have to provide fingerprints for a criminal background check.
While the PTCB does not require proof of formal pharmacy training, it will be a requirement by the year 2020. Applicants for the exam must apply online and submit the $129 fee using a credit card. Once the PTCB approves the request, candidates will have up to 90 days to schedule the exam at a Pearson VUE center of their choice. The two-hour exam contains 90 multiple-choice questions.
The NHA requires applicants to have a high school diploma or equivalent and complete pharmacy technician training or have suitable work experience to qualify for certification. The 120-question exam is available at PSI/LasetGrade test centers across the nation 310 days a year. Exam questions cover three main categories; Regulation and Technician Duties, Drug and Drug Products, and the Dispensing Process. The fee for the exam is $115.
Acquiring Your State License
Application
Utah's DOPL requires pharmacy technician students to obtain a trainee license before commencing the externship as part of a pharmacy technician training program. The following outlines the procedure for pharmacy technicians and pharmacy technician trainees.
Pharmacy technician trainee application:
Print out and complete the pharmacy technician trainee application before mailing to the DOPL.
Enclose the $50 application fee.
Submit supporting documents if you respond "yes" to the qualifying questionnaires on the application form.
Submit a Criminal History Report from the Utah Bureau of Criminal History if you're 18 years or older when you submit the application.
The program coordinator should fill out the appropriate section on the application form.
Include a copy of your social security card and state ID.
Note: The DOPL will only grant a technician trainee license to students enrolled in state-approved programs.
The state defines the following list of programs as "acceptable"
Program approved by the Division on or before April 30, 2014
Programs accredited by the American Society of Health System Pharmacists (ASHP)
The online program offered by the National Pharmacy Technician Association (NPTA)
Pharmacy Technician University
Training programs offered by the Armed Forces.
Pharmacy technician application:
Print out and complete the pharmacy technician application for registration.
Enclose the non-refundable application fee of $90. Make check or money order payable to the DOPL.
Provide supporting documents if you respond "yes" to the criminal history or medical qualifying questions.
Fingerprint record from the Utah Bureau of Criminal Investigation and Federal Bureau of Investigation. Fingerprint services are available at the DOPL at no extra cost.
Enclose copy of current ExCPT or PTCB certification.
Include a copy of your valid state ID.
The pharmacy technician program coordinator or pharmacist-in-charge must fill out details of your pharmacy technician training.
Mail the completed application, fee, and supporting documents to the address provided below.
Renewal
A pharmacy technician license expires on September 30 on odd-numbered years. Since there's a standard renewal date for all pharmacy technicians, your first renewal cycle could be less than two years. Your subsequent renewals will be for a full two years. Pharmacy technicians must renew their licenses prior to the expiration date. The renewal form is available online for download
For faster renewals, you can renew your license online.
You can also fill out this renewal form to renew by mail.
The renewal fee is $47. Pay the fee using a check or money order.
Provide supporting documents if you answer "yes" to any of the qualifying questions.
Sign the Affidavit on the first page.
Update your name and include legal documents to support a name change.
If you fail to renew your application on time, you'll need to add $20 to the renewal fee to reinstate your license. For renewal requests later than 30 days after expiration, the reinstatement fee is $50.
Transfer
Pharmacy technicians with licenses in other states can register with the DOPL through endorsement. You'll need the following to qualify for endorsement:
Official verification of your active license from another state – in good standing for at least one year from a jurisdiction designated by the Division as equivalent to Utah
Provide documentation showing a passing score on the PTCB or ExCPT
Verification from an out-of-state employer of your employment. Employment period must exceed 1,000 hours, and the verification letter should be printed on a company letterhead.
Division of Occupational and Professional Licensing
Heber M. Wells Building, 1st Floor,
160 East 300 South,
Salt Lake City, UT 84111
Mailing Address:
PO Box 146741
Salt Lake City, UT 84114-6741
Express Delivery:
160 East 300 South (Main Lobby)
Salt Lake City, UT 84111
Local and Out-of-State: (801) 530-6628
Toll-free in Utah: (866) 275-3675
General Fax: (801) 530-6511
Pharmacy Technician Training Programs Utah
Kaysville, UT Pharmacy Technician Training Programs:
DATC – Davis Applied Technology
550 E 300 S
Kaysville, UT 84037
(801) 593-2500
The Catalyst
1265 W Sportsplex Dr
Kaysville, UT 84037
801-402-4100
Layton, UT Pharmacy Technician Training Programs:
Eagle Gate College
915 N 400 W
Layton, UT 84041
801-546-7500
Lehi, UT Pharmacy Technician Training Programs:
Mountainland ATC
2301 W Ashton Blvd
Lehi, UT 84043
(801) 863-6282
Career Step, LLC
2901 N Ashton Blvd, Suite 101
Lehi , UT 84043
800-411-7073
Logan, UT Pharmacy Technician Training Programs:
Bridgerland Applied Technology
1301 N 600 W
Logan UT 84321
Murray, UT Pharmacy Technician Training Programs:
Eagle Gate College
5588 S Green Street
Murray, UT 84123
(866) 284-8680
Ogden, UT Pharmacy Technician Training Programs:
Ogden Weber ATC
200 N Washington Blvd
Ogden, UT 84407-6704
(801) 627-8324
Steven Henager College
PO Box 9428
Ogden, UT 84409
(801) 392-1471
Provo, UT Pharmacy Technician Training Programs:
AMERITECH
1675 N Freedom Blvd Bldg # 3
Provo, UT 84604
(801) 377-2900
Career Step, LLC
4692 N 300 W STE 150
Provo, UT 84604
(801) 489-9393
Provo College (Approved under Eagle Gate College)
1450 W 820 N
Provo, UT 84601
(801) 818-894
Richfield, UT Pharmacy Technician Training Programs:
Snow College
200 S 800 W
Richfield, UT 84701
(435) 893-2211
Roosevelt, UT Pharmacy Technician Training Programs:
Uintah Basin Applied Technology
1100 E College Street
Roosevelt, UT 84006
(435) 722-4523
Salt Lake City, UT Pharmacy Technician Training Programs:
Certified Careers College
1385 W 2200 S
Salt Lake City, UT 84119
(801) 973-7008
Granite Technical Institute
2500 S State Street
Salt Lake City, UT 84115
(385) 646-4350
Salt Lake Community College School Of Applied Technology (SLTATC)
3760 S Highland Drive
Salt Lake City, UT
(801) 349-7681
Eagle Gate College
405 South Main Street
Salt Lake City, UT
801-333-7120
St George, UT Pharmacy Technician Training Programs:
DATC – Dixie Applied Technology College
46 S 1000 E
St George, UT 84770
(435) 656-4227
Stansbury Park, UT Pharmacy Technician Training Programs:
Stansbury High School
Tooele County School District
5300 N Aberdeen Lane
Stansbury Park, UT 84074
435-882-2479
West Jordan, UT Pharmacy Technician Training Programs:
Jordan Academy for Technology and Careers – Jordan Atc
9301 S Wights Fort Rd
West Jordan, UT 84088
(801) 256-5924
Salt Lake Community College (Division of Continuing Education)
3491 W Wights Fort Rd
HTC RM 209A
West Jordan, UT 84088
(801) 957-4697