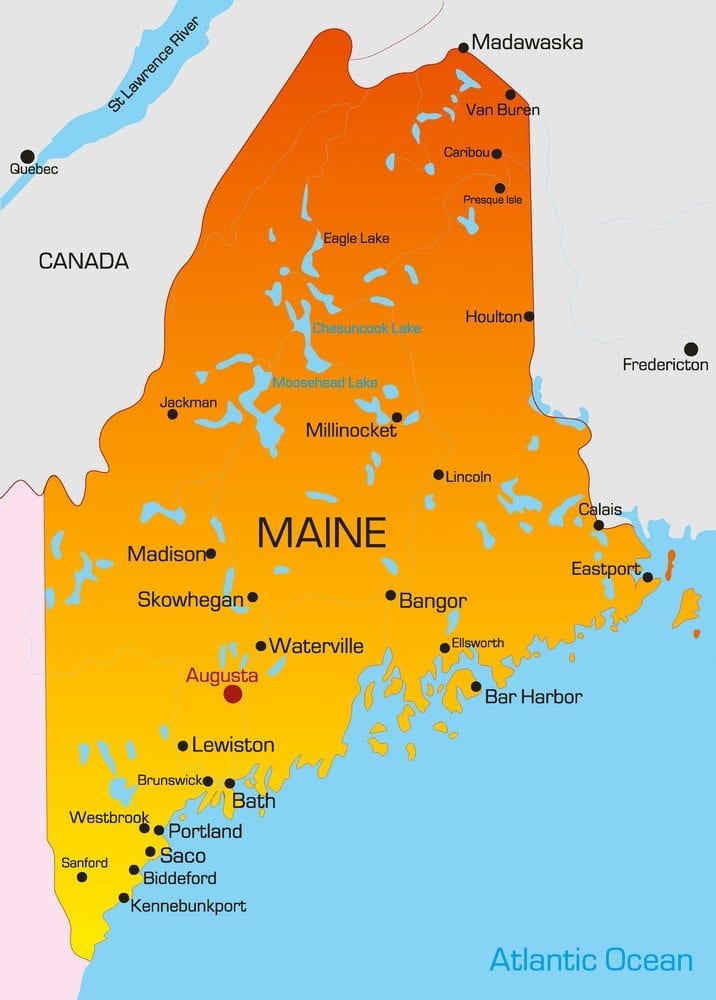 As with most other healthcare jobs, the outlook for pharmacy technicians is closely linked with the aging population and developing technology. The continuous rise in the middle-aged and senior population along with new FDA-approved medications contribute to the positive outlook for qualified and trained pharmacy technicians. The Bureau of Labor Statistics projects a 5 percent increase in employment for Pharmacy Technicians by 2031, especially for those with formal training and certification.
If you're thinking about a career in healthcare, but don't want to spend years in school, a career as a pharmacy technician could be an excellent option. As a technician, you'll assist pharmacists with dispensing medications and other products to patients. The Maine Board of Pharmacy oversees the licensure of the state's pharmacy technicians and ensures that candidates have the tools to provide quality service to the general public.
Maine Pharmacy Technician Requirements
License Requirement
Maine's pharmacy technicians must register with the Board of Pharmacy before providing services at licensed pharmacies. You must submit an application along with the required documents and wait until the Board approves the application and updates your status from Pending to Active before you can begin working. The Board can refuse to grant a license to anyone who received disciplinary action in another state or have a drug-related conviction.
Maine recognizes pharmacy technicians who receive national certification through the Pharmacy Technician Certification Board, PTCB. However, you don't need to obtain national certification in order to register or work in Maine. Pharmacists are more likely to hire a pharmacy technician with PTCB certification because a pharmacist can supervise more technicians when there's at least one that is nationally certified.
After receiving your license to work, you must report your employment, changes of work site and termination to the Board within 30 days of each change. You can send notifications to the Board via letter, fax or email.
Age Requirement
Applicants must be at least 18 years old to register as a pharmacy technician in Maine.
Education Requirement
Pharmacy technicians in Maine must possess a high school diploma or GED equivalent to register with the Board. Include a copy of your high school transcript indicating your graduation date or a certified copy of your GED transcript with the completed application.
Other Requirements
According to State of Maine law, the Board must take an applicant's criminal history record into consideration when processing a professional license. Therefore, the Board will require a criminal background check as part of the application process for all applicants. You must respond truthfully to the criminal disclosure questions on the application form and provide supporting court documents for each conviction. You will also need to disclose your Social Security number for tax administration purposes.
The Pharmacy Technician Program
Content
ASHP, American Society of Health-System Pharmacists, accredited programs provide students with a complete, formal education that prepares them for their supporting role alongside pharmacists. The program content targets those with and without experience in the field of pharmacy. In-depth instruction covers key skills that prepare graduates for job-related tasks, such as creating prescription labels, maintain patient records and confidentiality, preparing medications to dispense, counting, measuring and bottling tablets and verifying prescription requests. The programs contain an experiential component that gives students the opportunity to work alongside pharmacists and other employees to hone their skills. In order to get the best value for money, you should enroll in ASHP-accredited programs, which receive nationwide recognition.
Duration and Cost
The cost of tuition at ASHP-accredited pharmacy technician programs in Maine is approximately $4,800. In addition to tuition costs, you should allocate funds for textbooks, workbooks, state registration, insurance, background check, immunization, uniform, and other expenses. Financial aid may be available through government grants, scholarships, and private loans. The duration of the training ranges from 3 to 6 months for full-time students and 6 to 12 months for part-time students.
National Exams
There is no requirement for national certification from the Maine Board of Pharmacy. Technicians who are committed to excellence in the profession may pursue certification to improve their career opportunities and salary potential. Another benefit of national certification is the ability to transfer your credentials and practice to other states that recognize certified pharmacy technicians.
National certification is available through two recognized associations – The Pharmacy Technician Certification Board which bears the responsibility of developing and maintaining the Pharmacy Technician Certification Examination (PTCE) and the National Healthcare Association responsible for the Exam for the Certification of Pharmacy Technicians (ExCPT). Both certifications are accepted by employers and state boards of pharmacy across the United States.
Both certifying bodies require candidates to take and pass a multiple-choice exam. Other requirements include a high school diploma or GED, a clear criminal background check, and completion of a pharmacy technician program. The PTCB requires candidates to complete an accredited pharmacy technician program. The NHA will accept candidates who have completed a pharmacy-based program as well as those who have completed at least 1,200 hours of pharmacy-related work experience. Certified pharmacy technicians must renew their certification every two years and complete continuing pharmacy education as part of the renewal requirements.
Acquiring Your State License
Application
The Board will not process your application until you submit all the required documents and fees with your completed application. You must mail the form to the mailing address provided below. The Board will not accept a faxed application form and documents. Follow the steps below to submit your application to the Board.
Download and fill out the individual license application.
Provide honest answers to the criminal background disclosure questions.
Include a check payable to the Maine Board of Pharmacy in the amount of $41. You can also include your credit card information if you prefer to use your Visa or MasterCard.
Sign, date and initial all pages where indicated.
Attach copies of your transcripts to the application.
Provide copies of your social security card and driver' license.
Mail the application to the address provided below.
Check online to follow up on your application status. The Board will post real-time updates of any actions taken when processing your application. Once approved, your license will have an "active" status, and you may print a copy of your license online.
Note: The Board will discard any applications that remain in an incomplete status for more than 60 days.
Renewal
Maine requires pharmacy technicians to renew their licenses annually by December 31st.
Renewal reminders will be sent to your email address on file at least 30 days prior to the license expiration date. It is your responsibility to keep the Board informed of current contact information and to see that the license is renewed absent the renewal application. Reminder includes the licensee's access code which, along with the license number, is required for online renewal.
There's no cost to renew the license if you renew it on time. However, the Board will assess a $50 late fee for renewal requests made after the expiration date – up to 90 days after expiration. If you fail to renew your license within 90 days after expiration, you will need to fulfill all the requirements governing new applications, which means submitting a new request along with the required documents and fees. You must certify your employment at the time of renewal.
It is essential that you notify the Board of address changes within 10 days. The Board will mail the renewal reminder up to 60 days prior to your license expiration date.
Use the online portal to renew your license online.
Transfers
Pharmacy technicians licensed in other states can apply for registration in Maine. Follow the steps below to obtain a license to work in Maine:
Contact the Board of Pharmacy (or other governing body) to obtain an official License Verification. The verification form should include the state of licensure, pharmacy technician's name, type of license, license number, date of issue, the status of the license, method of issue, examinations, disciplinary actions (if any), state seal, and signature and title of a representative at the licensing authority.
Direct the Board of the Pharmacy to send the license verification report to you directly and attach the report to a completed application for registration. Note: Applications submitted without all of the Verifications of Licensure from the licensing jurisdiction(s) will not be accepted and your application returned as incomplete.
Include the $41 fee for processing the application and criminal record check.
Maine Board of Pharmacy
Mailing Address:
Maine Board of Pharmacy
35 State House Station
Augusta, Maine 04333-0035
Delivery address/physical location
Maine Board of Pharmacy
76 Northern Avenue
Gardiner, Maine 04345
Phone: 207-624-8603
Fax: 207-624-8637
Pharmacy Technician Programs in Maine
Phone: 207-624-8603
Fax: 207-624-8637
Pharmacy Technician Programs in Maine
Auburn, ME Pharmacy Technician Training Programs:
Central Maine Community College
1250 Turner Street
Auburn, ME 04210 US
855.520.6806
Augusta, ME Pharmacy Technician Training Programs:
University of Maine at Augusta
46 University Drive
Augusta, Maine 04330-9488
1.877.UMA.1234
Brunswick, ME Pharmacy Technician Training Programs:
Academy of Medical Professions
18 Pleasant Street Suite 210
Brunswick, ME 04011
207.721.0714
Presque Isle, ME Pharmacy Technician Training programs:
Northern Maine Community College
33 Edgemont Drive
Presque Isle, ME 04769
855.520.6806
South Portland, ME Pharmacy Technician Training programs:
InterCoast Colleges
207 Gannett Drive
South Portland, Maine 04106
1-888-341-1616
Southern Maine Community College
2 Fort Road,
South Portland, Maine 04106
207-741-5500
Scarborough, ME Pharmacy Technician Training programs:
Northeast Technical Institute
51 US Route 1, Suite K
Scarborough, Maine 04074
(800) 447-1151
Wells, ME Pharmacy Technician Training programs:
York County Community College
112 College Drive
Wells, ME 04090
207-216-4300