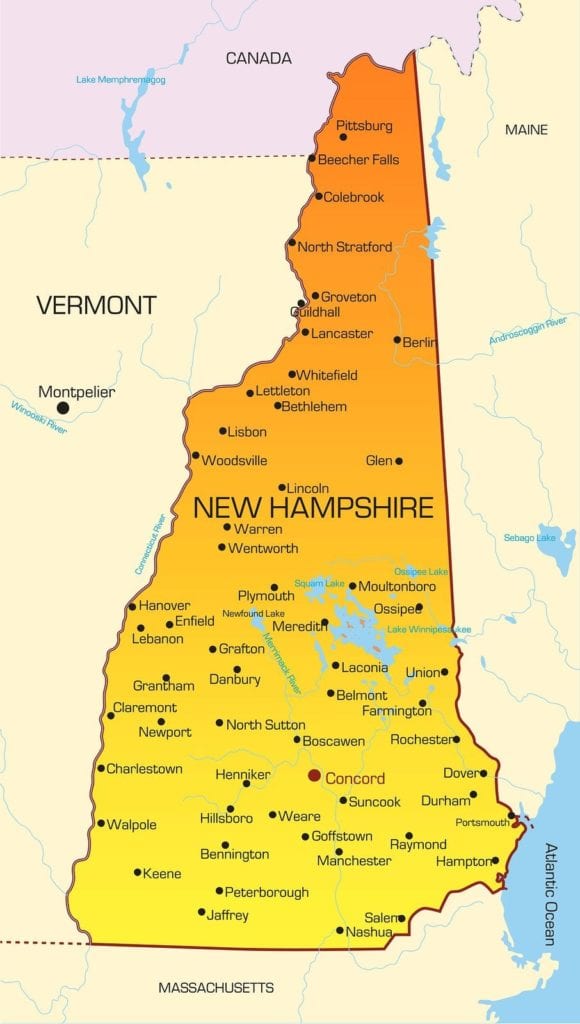 New medications offering hope to those suffering with acute and chronic diseases make their debut on the market daily. The onslaught of new medications along with an increase in the number of middle-aged and senior persons requiring prescription drugs drive the demands for qualified pharmacy workers across the nation. According to the Department of Labor, there will be approximately 22,400 new jobs nationwide for pharmacy technicians through the year 2031. The projected figure represents a 5 percent overall employment increase. At the higher end, experienced and certified New Hampshire pharmacy technicians earn $19.50 per hour while new technicians can expect to earn $16.35. The New Hampshire Board of Pharmacy governs the practice of pharmacy within the state, outlining the training, certification, and roles and responsibilities of both Advanced and Certified Pharmacy Technicians to ensure public safety.
New Hampshire Pharmacy Technician Requirements
License Requirement
Any person who assists in performing manipulative and nondiscretionary pharmacy functions under a pharmacist's supervision must register with the Board of Pharmacy. New technicians should register within 15 days of employment after completing 80 hours of initial training. Candidates must also meet the other requirements for registration:
Be 16 years or older
Possess a high school diploma or equivalent or working to complete high school or equivalent
Have a good moral character
No drug-related felonies
An applicant who has not completed the 80-hour training requirement can submit a letter from a supervising pharmacist with the application. The letter must indicate a date for completing the training.
Registered pharmacy technicians can register as a certified pharmacy technician after completing a minimum of 600 hours of training under a licensed pharmacist and passing a nationally recognized certification exam. Pharmacy technicians bearing the "certified" status with the Board, can only perform duties as a certified pharmacy technician as long the certification is current and in good standing. The technician must notify the pharmacist in charge and the Board within 15 days of a lapse in certification. Thereafter, the Board will assign the individual a "registered" status.
Registered and certified pharmacy technicians must renew their applications biennially, report changes in their names and address, and perform only those duties that are in line with the Board's regulations governing pharmacy technicians.
Age Requirement
The New Hampshire Board of Pharmacy accepts registration requests from persons 16 years and older only.
Education Requirement
All Registered and Certified Pharmacy Technicians must be high school graduates or have equivalent education. Applicants for Registered Pharmacy Technician status who are completing the requirements for high school graduation should present proof of their enrollment. The Board will accept an official letter from the institution specifying the intended date of graduation/completion of the equivalent education.
High school graduates can present a copy of their diploma, transcript with graduation date, GED certificate, or college transcript with a clear high school graduation date.
Other Requirements
The New Hampshire Board of Pharmacy may conduct a criminal history check at its discretion. A criminal background check is not a mandatory part of the registration process. However, applicants are expected to process complete and truthful responses to the "Charges, Convictions, and Disciplinary Actions" segment of the application form and attest to the accuracy of all answers. Individuals with prior convictions or disciplinary actions must explain each "yes" answer on a separate sheet of paper and provide copies of legal/court documents with the application for registration. While convictions do not always lead to disqualification for registration, they can delay the process and may often require further information and an interview with a representative from the Board.
The Pharmacy Technician Program
Content
Comprehensive training programs prepare students to enter the medical industry as pharmacy technicians and take the PTCB or NHA national certification exam. Employer-based training outnumbers training at colleges, vocational schools, universities and other institutions. The New Hampshire Board of Pharmacy requires pharmacy technicians to complete 80 hours of training under a licensed pharmacy after hire. Registered Pharmacy Technicians must complete another 600 hours of training as a requirement for certificate registration.
Formal institutions and pharmacist-trainers cover all aspects of pharmacy practice, including drug compounding, dosage calculations, pharmacy medical terminology, I.V. flow rates, dose conversions, reading and interpreting prescriptions, and identifying generic and brand name drugs. Students also learn the evolving role of pharmacy technicians, how to fill prescriptions, how to manage inventory, billing, and patient profiles.
Requirements for hire/entry into training depends on employers and training providers. Standard requirements include a high school diploma, criminal background investigation/check. TB testing, drug screen, immunization, and a physical exam. Students must register with the Board of Pharmacy 15 days after commencing in-house training at state-licensed pharmacies.
Duration and Cost
More than 80 percent of New Hampshire's pharmacy technicians obtain their knowledge, skills and competency on the job, learning all they need under the direction of capable pharmacists. The on-the-job training has numerous benefits, which makes it an attractive option for many ne technicians. At an average rate of 2,495 for tuition plus other expenses, many students can save money while securing superior training in community and hospital pharmacies. Employers may cover tuition, textbooks, course materials, uniform, and state registration. Students work in the pharmacies full-time or part-time while they train, so it gives them a chance to earn while they learn.
National Exams
Pharmacy technicians work intimately with pharmacists to help facilitate the increasing demands for pharmaceutical products. With proper training, pharmacy technicians can work directly with the public and members of the pharmacy care team. National certification is the standard by which state boards, and pharmacy employers make an initial judgment on pharmacy technicians' competency.
Pharmacy technicians with "certified" registration with the Board obtain their certification after taking a national exam with the PTCB or NHA. Both certifying agencies require applicants to be 18 years or older, possess a high school diploma, and pass a criminal background. Both agencies also have policies that members must adhere to. Applicants for NHA certification must have formal training from an accredited training provider or 12 months of pharmacy employment. The PTCB requires pharmacy technicians to complete an accredited pharmacy technician program for certification.
Two-year registration with the PTCB is $129. To begin the process, you must submit an online application and the Board will verify your credentials and authorize testing at a Pearson Vue center in New Hampshire or other convenient location. The two-hour exam contains 90 multiple choice questions that cover six primary aspects of pharmacy practice. Successful candidates will receive a certificate and can carry the CPhT designation. The fee for PTCB renewal is $49.
The NHA's certification fee is $125. Like the PTCE, the ExCPT is a multiple-choice, 2-hour exam. However, the exam contains 110-multiple choice questions. After submitting an application to the Association, candidates can schedule a convenient time to take the exam at a testing center of their choosing.
Acquiring Your State License
Application
New Hampshire law requires pharmacy technicians to register with the Licensure Unit of the Department of Health and Human Services within 30 days of beginning employment at a pharmacy or facility. The individual must be at least 18 years of age, a high graduate or equivalent, and have no criminal or drug-related misdemeanor or felony convictions to file an application with the Department.
Pharmacy Technician Application:
New Hampshire's Pharmacy technicians may register as a "Registered Pharmacy Technician" or as a "Certified Pharmacy Technician" after completing a national certification exam. The "Registered" status is granted to individuals 16 years or older, who are high school graduates, have a good moral character and completed the prerequisite 80 hours of training. Pharmacy technicians must apply for registration within fifteen days of initial hire.
Secure the application form on the Board's website and respond to all questions.
Enclose the $128 application fee using a check or money order made out to Treasurer, The State of New Hampshire.
Provide copies of your high school diploma or GED.
Include a copy of a government issued ID and social security card.
Applicants for "registered" status should obtain a letter from a pharmacist-in-charge requesting time to complete the prerequisite 80 hours of training – only if they did not complete the training hours.
Upgrade from Registered to Certified Pharmacy Technician or add Sterile Compounding to a Current Permit
Log in to your account through the New Hampshire Online Licensing website
Select 'New Application' on the left hand side of the screen
Choose your profession, then 'Upgrade from Registered' in the obtained by method
Upload a copy of your National Certification
Complete all panels in its entirety to avoid delays in your application. Use N/A if the information does not apply to you
If you answer 'yes' to any of the questions, upload a signed, detailed explanation and any legal/court documents
Print the 'Application Summary' page – this does not grant authority to practice without your update
Select 'Pay Fees' after you've completed all panels
Print your receipt page
The Board will issue a registration certificate to each successful applicant. A copy of the certificate must be posted in the prescription department at the pharmacy technician's place of employment. The approximate time for processing applications is 2 weeks.
Renewal
All pharmacy technician registrations expire on March 31 on even-numbered years. The renewal must be submitted online. Certified pharmacy technicians must complete the continuing education units before the renewal date. The renewal fee for each 2-year cycle is $128. Pharmacy technicians must maintain accurate information with the Board, making sure to notify the department when their name or address changes.
Reinstatement of a license
If you have EVER been registered as a Pharmacy Technician in the State of New Hampshire, you must apply for reinstatement of your previous registration (no matter how long ago you were registered).
You cannot submit an application for initial registration if you have ever held a registration as a Technician in New Hampshire.
Reinstating your License
Use the 'License Verification', then select 'Online License Verification' to obtain your registration/license number. You must have this number to continue with the reinstatement.
Visit the Board of Pharmacy website and select 'Licensing', then select 'Report License Changes to Board'
Complete the form entitled 'Personal License – Change of Email Address Form' in its entirety.
Use the notes/comments section to request reinstatement instructions from the Board – the details for reinstatement of your license will be provided within three business days
Follow the instructions to complete your reinstatement online.
Transfer
New Hampshire does not make provisions for transferring out-of-state pharmacy technicians. Therefore, an individual registered in another state should obtain employment in New Hampshire and file a request for registration within 15 days of commencing employment.
Contact the Department:
State of New Hampshire Board of Pharmacy
121 South Fruit Street
Concord, NH 03301-2412
(603) 271-2350
Fax: (603) 271-2856
pharmacy.board@nh.gov
Pharmacy Technician Training Programs New Hampshire
Durham, NH Pharmacy Technician programs:
UNH Professional Development & Training
145, Cole Hall
34 Sage Way,
Durham, NH 03824
(603) 862-7380
Manchester, NH Pharmacy Technician Programs:
Manchester Community College
1066 Front Street
Manchester, NH 03102
(603) 206-8000
Nashua, NH Pharmacy Technician Programs:
Nashua Community College
505 Amherst St,
Nashua, NH 03063
603 578-8900