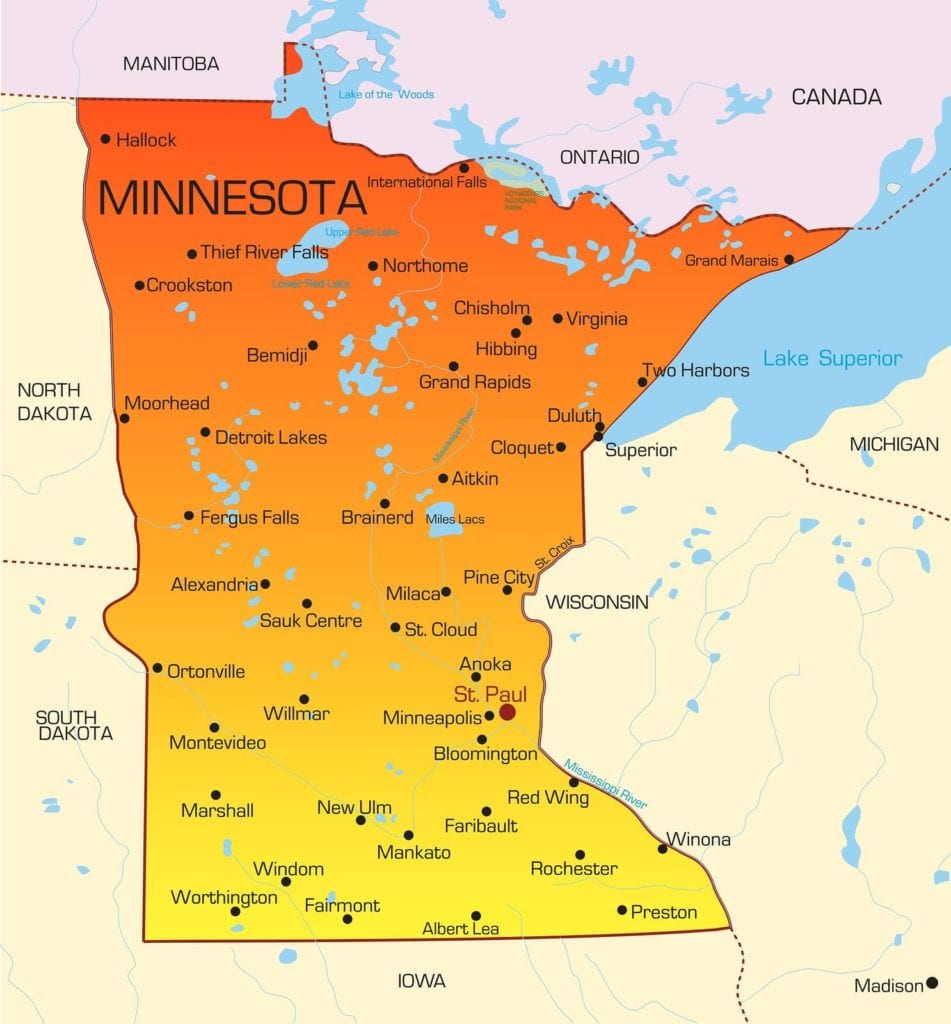 The healthcare industry employs over 15.6 million professionals nationwide. According to the Bureau of Labor Statistics, those numbers will continue to increase as the growing senior population places more demands on the industry. Pharmacy professionals, including pharmacy technicians, contribute to the growth of jobs in the industry. The Minnesota Board of Pharmacy enforces the rules surrounding the registration and management of pharmacy technicians. The requirements for registration and formal training provide one way to safeguard public health and hold pharmacy technicians and their pharmacist supervisors accountable. Technicians, once registered, can practice in hospital and community pharmacies, assisted living facilities and specialized clinics.
Pharmacy Technician Schools in Minnesota
Minnesota Pharmacy Technician Requirements
License Requirement
Minnesota's pharmacy technicians must register with the Board of Pharmacy before beginning employment. Effective 2014, the Board implemented new prerequisites for pharmacy technician registration. The changes apply to new registrations as well as for those who need to reinstate a lapsed license. The new requirements include a minimum age (18) and education (applicants must be high school graduates or possess a GED). The Board also requires applicants to complete a pharmacy technician training program – one meeting the specifications outlined below:
A board-approved, accredited technical or vocational institute or college.
A program accredited by a Board-approved national organization that accredits PT training programs.
A program facilitated by a branch of the United States Defense Force or Public Health Service.
An employer-based program that covers at least 240 hours of training over a one-year period.
Pharmacy technician training programs accredited by the American Society of Health-System Pharmacists are automatically approved by the Board.
The Board will issue a registration number once they approve the application for registration. The registration number stays with the pharmacy technician and is valid for employment at multiple pharmacies. Employers can use the registration number to check a prospective employee's status at the registry. Registration expires yearly, and pharmacy technicians have the responsibility to renew their licenses on time to keep working legally within the state. It's the pharmacist-in-charge responsibility to ensure all technicians working in the pharmacy have current licenses and registrations.
Age Requirement
Applicants must be at least 18 years old to register as a pharmacy technician in Minnesota.
Education Requirement
Minnesota's Board of Pharmacy requires all applicants to have a high school diploma or GED equivalent. Other educational requirements include completion of a pharmacy technician training program through an accredited institution or employer-provided program.
Other Requirements
Criminal background checks are not automatic as it is in other states. However, applicants should have a good moral character and no criminal charges related to theft, or state law violations involving drugs or alcohol. Applicants must respond to questions relating to their criminal background on the application form and provide details of the events leading to the conviction. The Board will determine if the information warrants a criminal background check. Although responding "yes" to those qualifying questions could delay processing of the application for registration, it is important to provide truthful information.
The Pharmacy Technician Program
Content
Pharmacy technicians are one of a few registered healthcare professionals in the pharmacy setting. They have a legal and ethical responsibility to acquire the knowledge and skills required to cater to the general public. Whether training takes place at an accredited college, university, or vocational institution, or within the hallowed walls of community pharmacies, students must cover a series of didactic and hands-on training that will give them confidence in their roles as pharmacy technicians.
The Board specifically recommends ASHP accredited programs, of which there are four in Minnesota. They also recommend colleges and universities accredited by an accrediting agency recognized by the Department of Education where students are eligible to receive financial aid.
The third option for training is an employer-based program that covers at least 240 hours of theory and practical training. In this instance, the pharmacist-in-charge must ensure students are adequately trained to perform the tasks that will become part of their responsibilities as pharmacy technicians. Some of the minimum content that training must cover include legal and ethical content, pharmacy and medical terminology, abbreviations and symbols, the dispensing process, and customer service. The pharmacist-in-charge will have to specify the details of the training in a formal training manual and include details of the assessment process for every area.
Duration and Cost
Employer-based training presents one of the best ways to train as a pharmacy technician without the accompanying high costs of tuition. There are hundreds of family-operated pharmacies and large retail chains that provide valuable training to employees. Employers typically cover the costs of tuition, uniform, study materials, textbooks and eventual registration with the state. Another benefit of in-house training is the opportunity to work with a multi-professional team in a real-world setting while training. The duration of employer-based programs varies from a few months to one year as pharmacists-in-charge must cover at least 240 hours of training.
The average cost of training at traditional academia is $4,800. The advertised costs do not typically include expenses for textbooks, uniform, and other supplies. The good news is that many colleges and vocational institutes offer financial aid for pharmacy technician students. After completing the program, students can apply for national certification through the PTCB or ExCPT in order to receive the CPhT designation and improve their employment prospects. The duration of training at colleges and similar institutes depends on class schedule. Full-time students can expect to complete their training in 6 to 12 months.
National Exams
National certification through associations, such as the Pharmacy Technician Certification Board (PTCB) and the National Healthcare Association (NHA) give pharmacy technicians a distinct advantage over their non-certified counterparts. The Minnesota Board of Pharmacy does not require certification as a requirement for registration. However, as Boards across the nation search for ways to reduce medication errors and safeguard public health, it may be a requirement in the future. The two certifying authorities grant certification to candidates who meet all their requirements, which includes passing an assessment exam.
The PTCB is responsible for the PTCE, which is the older of the two assessments. Before granting approval to take the exam, the PTCB requires applicants to:
Present a copy of their high school diploma or GED.
Complete an accredited pharmacy technician program
Disclose all criminal convictions and disciplinary actions taken by any State Board of Pharmacy.
Comply with the Board's policies.
Achieve a passing grade on the PTCE.
The PTCB reserves the right to disqualify a candidate upon disclosure of criminal convictions, disciplinary action, or violation of the Board's policy. They may conduct a criminal background check to determine a candidate's eligibility for certification.
The Board prefers online submissions from candidates seeking certification, but they will accept paper submissions with a written request. Candidates can schedule a convenient date for the exam at any one of Pearson Vue's testing centers across the nation after the Board approves the request. The two-hour exam contains 90 multiple questions – ten of which will not count towards the final score. The cost of certification with the PTCB is $129. Certified Pharmacy Technicians must renew every 2 years. The renewal fee is $40.
The NHA designs and develops the ExCPT exam. The agency is recognized by state Boards and employers. Applicants for certification must be at least 18 years and submit:
A high school diploma or GED
Must pass a criminal background check
Must be at least 18 years of age
Proof of formal pharmacy technician training or at least 12 months of pharmacy-related employment over a 36-month period.
Candidates can take the test at any one of the PSI/LaserGrade centers across the US. Test dates are available 310 days a year. The exam contains 120 questions that evaluate candidates' understanding of Drug Products, Regulation and Technician Duties, and the Dispensing Process. The certification cost is $117.
Acquiring Your State License
Application
First-time applicants for registration need to be 18 years or older and possess a high school diploma. Previously registered pharmacy technicians, with a lapsed registration of more than 12 months, must present a high school diploma or GED certificate in order to reinstate their registration. All applicants for registration must also provide proof of formal pharmacy technician training. Applications must be submitted on a Board-provided form or using the online portal.
Pharmacy Technician Application:
Complete the Board-provided application form or submit your registration online.
Must be a minimum of 18 years of ae at the time of registration
Make your check or money order payable to Minnesota Board of Pharmacy. The registration fee is $50.
Include a copy of your state ID and social security card.
Attach a copy of your high school diploma, high school transcript with graduation date, college transcript, college diploma or GED certificate with the paper application. Proof of high school graduation may also be submitted after you pay online by emailing or faxing to the Board.
Although the Board does not require applicants to include certificates as proof of formal training, they will perform audits. Therefore, it is important that you don't make claims you cannot substantiate. All pharmacy technician training must be completed within 12 months from the date you receive your technician registration number – not from the date you became employed. Prior work experience as a pharmacy technician does not waive or substitute for this requirement
Provide proof of national certification (PTCB or NHA) if any.
Mail the application and supporting documents to the address provided below.
Once the Board approves your application, they will issue a registration number that will stay with you as long as you work as a pharmacy technician. The normal processing time for applications is 5 business days after submission of all documents.
Renewal
Pharmacy technician registration expires on December 31 every year. The Board will send a renewal application 30 days before the expiration date to your last known address. It is important to keep up-to-date information with the Board in order to receive notifications. For fast and convenient renewal, you can renew your registration online.
Submit your application for renewal by logging into your account online
Pay the non-refundable renewal fee of $50
Complete your 20 hours of continuing education. Report your completed CEs by July 31 of each odd-numbered year. You will be unable to renew if you did not report to the Board that you completed your hours of CE
You will not be eligible for renewal until you report completion of your pharmacy technician training 12 months after your initial registration. If you did not complete the required training by the time allotted, you or the pharmacist-in-charge (PIC) may request an extension. Request the extension using the Technician Request for Training Extension Form. It must be filled out and signed by both the technician and the pharmacist-in-charge. The Board will review your request and grant or deny the extension.
Transfer
Pharmacy technicians, registered in other states, can apply for registration in Minnesota through the normal channels of application. The Board will grant approval to candidates who are in good standing with no disciplinary actions taken against the technician.
To apply for registration:
Fill out the application for new registration.
Provide proof of high school graduation or GED
Provide a copy of your state ID
Submit proof of formal pharmacy technician training
Submit proof of national certification (PTCB or NHA)
Submit a copy of your registration card from the home state.
Contact the Board:
Pharmacy, Minnesota Board of
2829 University Avenue S.E., Suite 530
Minneapolis, MN 55414-3251
Phone: (651) 201-2825
Fax: (612) 617-2262
Email: pharmacy.board @state.mn.us
Pharmacy Technician Training Programs Minnesota
Bloomington, MN Pharmacy Technician Training Programs:
National American University – Bloomington
7801 Metro Parkway, Suite 200
Bloomington, MN 55425
(952) 356-3691
Normandale Community College
9700 France Avenue South
Bloomington , MN 55431
(952) 358-8200
TechSkills
3601 Minnesota Dr., Suite 910
Bloomington, MN 55435
(952) 831-6500
Brooklyn Center, MN Pharmacy Technician Training Programs:
National American University – Brooklyn Center
National American University
6200 Shingle Creek Parkway, Suite 130
Brooklyn Center, MN 55430
(651) 855-6383
Brooklyn Park, MN Pharmacy Technician Training Programs:
Hennepin Technical College
9000 Brooklyn Blvd,
Brooklyn Park, MN 55445
952-995-1300
Cambridge, MN Pharmacy Technician Training Programs:
Anoka-Ramsey Community College
300 Spirit River Drive South
Cambridge, MN 55008-5704
763-433-1100
East Grand Forks, MN Pharmacy Technician Training Programs:
Northland Community and Technical College (ASHP Accredited)
2022 Central Avenue, NE
P.O. Box 111
East Grand Forks, MN 56721
(218) 793-2568
Eden Prairie, MN Pharmacy Technician Training Programs:
Hennepin Technical College
13100 College View Drive
Eden Prairie, MN 55347
(952) 995-1446
Faribault, MN Pharmacy Technician Training Programs:
South Central College – Faribault Campus
1225 Third Street SW
Faribault, MN 55021
507-332-5800
Hibbing, MN Pharmacy Technician Training Programs:
Hibbing Community College
1515 East 25th Street
Hibbing, MN 55746
(218) 262-6724
Minneapolis, MN Pharmacy Technician Training Programs:
Summit Academy OIC
935 Olson Memorial Hwy
Minneapolis, MN 55405
612-377-0150
University of Minneapolis – College of Pharmacy
5-130 Weaver-Densford Hall
308 Harvard Street SE
Minneapolis, MN 55455
612-624-1900
North Mankato, MN Pharmacy Technician Training Programs:
South Central College
1920 Lee Blvd
North Mankato, MN 56003
(507) 389-7406
Plymouth, MN Pharmacy Technician Training Programs:
Thrifty White Pharmacy (ASHP Accredited)
6055 Nathan Lane North, Suite 200
Plymouth MN 55442
763-513-4300
Rochester, MN Pharmacy Technician Training Programs:
Mayo Clinic (ASHP Accredited)
200 First Street SW
Rochester MN 55905
507-284-2511
Rosemount, MN Pharmacy Technician Training Programs:
Dakota County College
1300 145th Street E.,
Rosemount, MN 55068-2999
651-423-8000
Roseville, MN Pharmacy Technician Training Programs:
National American University – Roseville
1550 W. Hwy 36
Roseville, MN 55113
(651) 855-6383
St. Cloud, MN Pharmacy Technician Training Programs:
Saint Cloud State University
720 4th Avenue South
St. Cloud, MN 56301-4498
(320) 308-0121
Saint Paul, MN Pharmacy Technician Training Programs:
Saint Paul College (ASHP Accredited)
235 Marshall Avenue
Saint Paul, MN 55102
(651) 403-4313
Wadena, MN Pharmacy Technician Training Programs:
Minnesota State Community and Technical College
405 Colfax Avenue, S.W.
Wadena, MN 56482
218-631-7881
White Bear Lake, MN Pharmacy Technician Training Programs:
Century College
3300 Century Avenue North
White Bear Lake, Minnesota 55110
651.779.3300