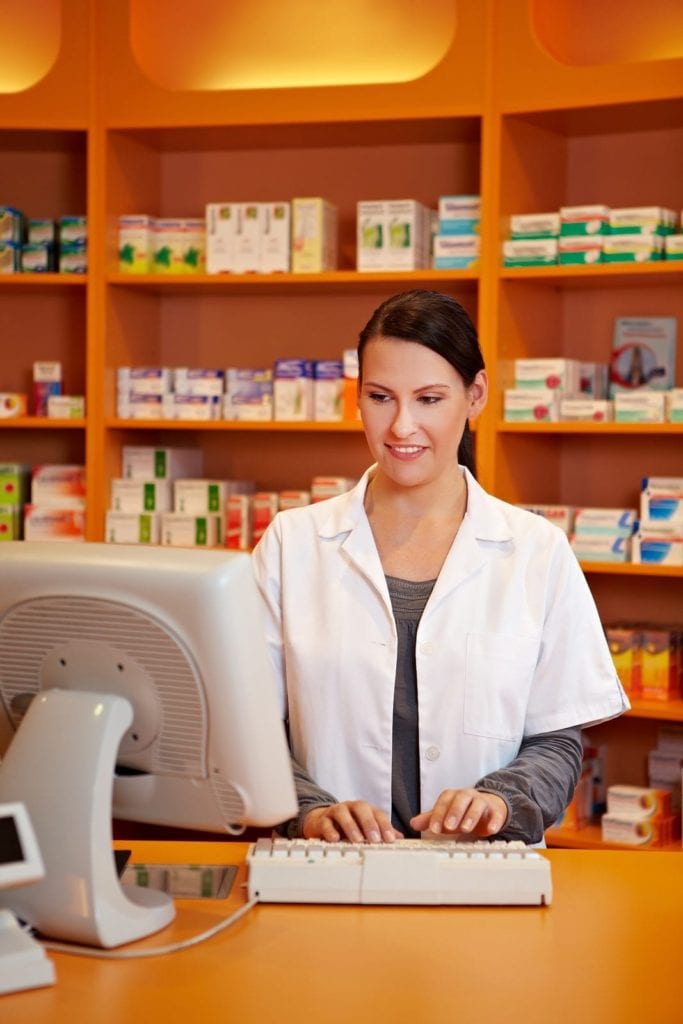 If you have a knack for helping others, good customer service skills, and would love to work in health care, then working as a pharmacy technician may be a career for you. Pharmacy technicians work under the direction of pharmacists to dispense medications to patients in a community or hospital pharmacy. Pharmacy technician programs in Florida prepare students for this rewarding career in 11 to 18 months. Program graduates can take the National Pharmacy Technician certification exam administered by the Pharmacy Technician Certification Board for national certification (CPhT), which is recognized by employers in most states. According to the US Department of Labor Bureau of Labor Statistics, employment for pharmacy technicians is expected to rise by 9% by 2024, so it's an exciting time to join the industry. Pharmacy technicians work in hospitals, grocery stores, retail pharmacies, and any other location where a licensed pharmacist dispenses medicines. Their duties include taking and recording patient information, record keeping, managing inventory, packaging and labeling medicines, operating the cash register, and calculating medications before filling dispensing containers
Florida State College at Jacksonville
Florida State College at Jacksonville hosts a limited access Pharmacy Technician Workforce Certificate program that prepares students for an in-demand career in the health-care industry. The 1,050-hour curriculum covers finance, management, planning, underlying principles of technology, community issues, labor issues, and health, safety, and environmental issues in addition to health care topics. Core topics include medical terminology, IV preparation, delivering medications, printing labels, pricing prescription drugs, metric system, receiving and handling of hazardous drugs, preparing purchase orders, patient record systems, computer applications, and employability skills. Before completing the program, students must take the PTCB's National Pharmacy Technician certification exam. Graduates can then apply to the Florida State Board of Pharmacy for registration as a Registered Pharmacy Technician (RPhT) in Florida. Day and evening schedules are available.
Admission criteria:
Must be a U.S. citizen or legal immigrant
Secure admission to Florida State College before applying for the pharmacy tech program. The non-refundable application fee is $25
A high school diploma or equivalent – official high school transcript, transcript from other colleges, or official copy of GED test scores must be provided
Must be at least 17 years old
Submit a completed program application before the deadline
Must have current CPR certification – American Heart Association BLS Provider
Complete a satisfactory criminal background check and drug screen
Submit a physical exam report completed by a licensed physician
Proof if health insurance may be required from the clinical site
Attend an interview with the program director
In-state tuition costs $3,066 plus fee. Additional costs include a background check, CPR certification, uniform, textbooks, and physical exam. Financial aid is available for eligible students.
Address: 101 W State St, Jacksonville, FL 32202
Phone:(904) 766-6585
Email: jbuford@fscj.edu
Mayo Clinic
The Pharmacy Technician Program at Mayo Clinic leads to a Pharmacy Technician Certificate. Graduates will have the confidence to dispense medications under the supervision of a licensed pharmacist. The program emphasizes the skills needed to function as a pharmacy technician. It is affordable, flexible, and accessible to all students. The combination of on-campus instruction with online classes helps students balance learning with other life commitments. The theoretical component of the program will be completed in three months. It will include practical learning in state-of-the-art pharmacy simulation labs. The pharmacy externship will be conducted in the final two months. Course topics are Introduction to Pharmacy, Pharmacology for Technicians, Career Development, Principles of Pharmacy Operations, Pharmacy Simulation Lab, Pharmacy Experiential Rotation I, and Pharmacy Experiential Rotation II. Classes meet 8 hours per day one day a week for the first 12 weeks. Clinical rotations may be scheduled between the hours of 6:30 am to 5:30 pm and includes 40 hours of training each week. The program accepts new students twice a year.
Admission criteria:
Be a high school graduate or equivalency
Be 18 years or older at the start of the program
Pass a state and national background check
Provide two professional references. Must be authority figures from previous school or place of employment
Must be a U.S. citizen or legal immigrant
Demonstrate English Language proficiency
Submit a completed application online
Submit an essay describing goals and reasons for pursuing the Pharmacy Technician program. The essay must be at least 500 words
Submit official high school transcript and transcript any college courses completed
The program is designed to meet the staffing needs at Mayo Clinic. As such, there is no cost for tuition. The cost is covered through the Mayo Clinic Workforce Development Scholarship. Students must cover the cost of the background check, PTCB exam, books, supplies, and uniforms. Many graduates are employed by Mayo Clinic after the training.
Address: 4500 San Pablo Rd S, Jacksonville, FL 32224
Phone: 507-293-2272
The Capstone Institute
The Capstone Institute Allied Health program offers an online pharmacy technician program that includes comprehensive didactic and practical training to prepare students for entry-level employment. Areas of study include customer service, dispensing of prescriptions, billing and reimbursement, pharmacology, pharmacy calculations, law and ethics, inventory management, mixing, pouring, and measuring medications, updating patient profiles, retail pharmacy operations, pharmacy software, and aseptic techniques. Graduates will receive a vocational certificate and will be eligible to sit for the PTCB or ExCPT exam. The duration of the program is 4 months.
Admission criteria:
A high school diploma or GED
Must be at least 18 years old
Tuition for the program is $2,000. A flexible payment plan is available for all students.
Address: 3416 Moncrief Rd. Ste. #103, Jacksonville, FL 32209
Phone: (888) 585-7790