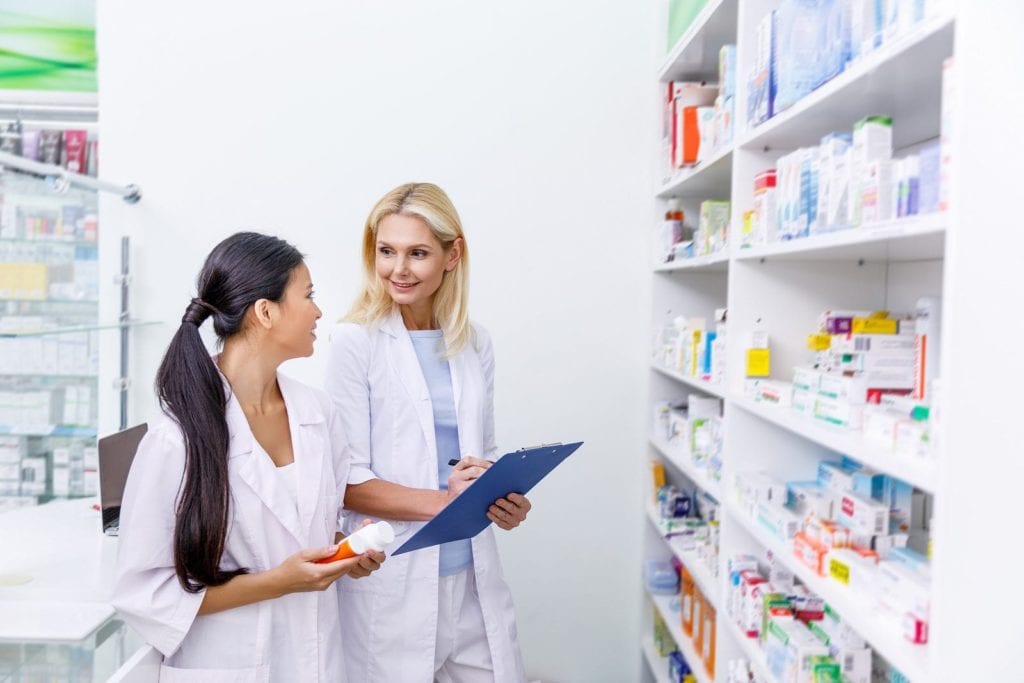 Pharmacy technicians assist pharmacists with the distribution of medications to customers and health professionals. They work in hospitals and retail pharmacies receiving information to fill prescriptions, measuring quantities of medication for prescriptions, and packaging and labeling prescriptions. They also organize inventory and check for shortages of medications or supplies, accept payments for prescriptions, process insurance claims, answer phone calls, update patient information in the pharmacy's record keeping system, and arrange for customers to speak with pharmacists. Some employers may assign technicians the responsibility of compounding or mixing medications and calling physicians for refill authorizations. In hospitals, technicians may operate automated dispensing equipment when filling prescription orders.
Although technicians do much of the tasks related to the pharmacy's operation, a pharmacist must review prescriptions before they are dispensed to patients. Pharmacy technician programs must prepare students to fill these and other roles to support pharmacists and give them the freedom to focus on patient counseling and related services. Technicians who pursue national certification through the Pharmacy Technician Certification Board will not only give their salaries a boost, but also gain a competitive advantage in the job market, and garner employer confidence to take a more active role in the pharmacy.
Medical Institute of Palm Beach, Inc.
The pharmacy technician course at Medical Institute of Palm Beach provides students with knowledge and hands-on experiences to assume the role and responsibilities of a pharmacy technician. The curriculum covers 609 hours. The completion time is 6 months. Day and evening schedules are available. Upon completion of the program, graduates will be prepared to succeed on a national certification exam to become a Certified Pharmacy Technician. Throughout the program, students will learn anatomy and physiology, pharmacology, dosage calculations, sterile and non-sterile compounding, inventory management, pouring, mixing, counting, and weighing medications, reading and interpreting prescriptions, preparing and dispensing prescriptions, and customer service. Other topics include pharmacy application and dispensing, basic math, medical terminology, pharmacy management, HIV/AIDS education, IV and unit dose preparation, career preparation, and externship.
Admission criteria:
High school diploma or GED
Program graduates are eligible to apply to become registered with The Florida Board of Pharmacy. Tuition for the program is $11,950. Registration costs $50. Tuition includes books, drug screening, certification/registration fees and study guides. Clinical sites will only consider candidates who pass their criminal background check, medical, and drug screen – these are conducted at the student's expense.
Address: 5821 Lake Worth Road, Greenacres, FL 33463
Phone: 561-964-5148
Email: info@mipb.us
Southeastern College West Palm Beach – Main Campus
Southeastern College provides the instruction adults need to assist pharmacists in the packaging and distribution of medication. The curriculum covers 1224 clock hours – students must complete 39 credit hours. The completion time is 10 months for full-time students and 18 months for part-time students. Course topics include introduction to pharmacy technology, pharmaceutical calculations, body systems and drug therapy, pharmacy operations, sterile products, and pharmacy technology externship. Graduates will receive a Pharmacy Technician Diploma and will have their names submitted to the Florida Board of Pharmacy to be considered a candidate for registration. They will also be eligible to take the PTCB to increase their chances of employment in hospitals, community pharmacies, nursing care facilities, and drug manufacturers.
Admission criteria
A high school diploma or G.E.D.
Pass the entrance examination
Complete a criminal background check and drug screen
Tuition for the program is $22,870. Books and supplies cost an estimated $1,180.
Website: https://www.sec.edu/
Address: 1756 North Congress Ave, West Palm Beach, FL 33409
Phone: (561) 433-2330
Atlantic Technical College
Students who successfully complete the pharmacy technician program at Atlantic Technical College will receive an Applied Technology Diploma. The curriculum helps students the technical skills and knowledge to perform routine tasks in the pharmacy and master new pharmacy technology. Course topics include communication and interpersonal skills, anatomy and physiology, data processing, employability skills, clinical pharmaceutical procedures, inventory maintenance, IV preparation, medication delivery, pharmacology, pharmacy law, and math and science skills. Students also learn the metric system, record keeping skills, purchase orders, safety and security procedures, prescriptions, pharmacy and medical terminology, and pharmaceutical compounding.
Admission criteria:
Attend a health science program orientation
Complete a Level II criminal background check and drug screen
Have a valid social security number
Have a high school diploma or GED
Graduates will be eligible to register with the Florida Board of Pharmacy as a Pharmacy Technician. They are also eligible to take the National Certification exam administered by the Pharmacy Technician Certification Board. Tuition for the 10-month program is $3,303.
Address: 4700 Coconut Creek Parkway, Coconut Creek, Florida 33063
Phone: 754-321-5100
Fax: 754-321-538