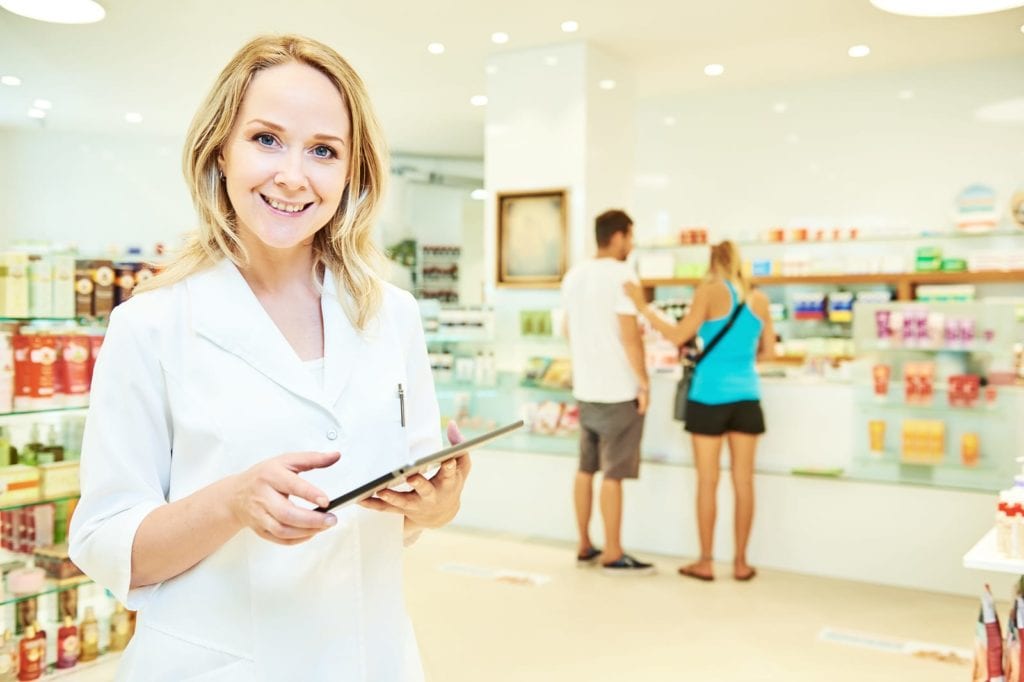 Pharmacy technicians play a significant role in the daily activities of a Pharmacy. They work closely with a licensed pharmacist to receive and prepare prescriptions for distribution to customers. The duties of a pharmacy technician depend on the health care settings. Common responsibilities include customer service, receiving prescriptions including digital prescriptions, customer service, compounding medications, maintaining inventory, calculating dosages, and administrative tasks like ringing up sales and preparing claims to submit to insurance companies.
Pharmacy technicians work in hospitals, community pharmacies, home infusion pharmacies, and long-term care facilities. They may also work with pharmaceutical manufacturers, insurance companies, nursing homes, and online pharmacies. As the need for prescription medications increases due to the prevalence of chronic illnesses, employment for pharmacy technicians will grow. A shortage of pharmacists also creates demand for more pharmacy technicians in community pharmacies. Certification as a pharmacy technician is essential to employers as technicians assume greater responsibility in the pharmacy.
Pharmacy technicians in New Jersey must register with the State Board of Pharmacy to practice legally in the state.
Middlesex County College
Middlesex Community College prepares pharmacy technician students for a career in a retail or other pharmacy settings. The coursework will also include preparation for the success on the Pharmacy Technician Certification Board's exam. Tit covers pharmacy medical terminology, pharmacy practice in multiple environments, pharmacy calculations and measurements, reading and interpreting prescriptions, defining drugs by generic and brand names, and pharmacy law and ethics. Other topics include drug classification, dosage calculations, the top 200 drugs, sterile compounding dose conversions, handling of sterile products, IV flow rates, and aseptic techniques. The curriculum will include 50 contact hours of instruction. Classes meet Tuesdays and Thursdays from 6 pm to 9:30 pm for approximately two months (15 sessions). Students must earn a final grade of 80 percent or higher to pass the course.
Admission criteria:
Demonstrate proficiency in spoken and written English
Commit to attending all classes
The tuition, general fee, and the textbook will cost an approximately $1,199.
Middlesex County College
Middlesex County College facilitates an online pharmacy technician program that covers the basics that students need to read prescriptions and update patient records. Students will learn simple math, basic terms for medical conditions, anatomy and physiology, common classes of drugs, dosage calculations, translation of metric measurements, and prescription pricing. Other topics include law and regulations, communication skills, customer service, and preparation for the PTCB exam to become a Certified Pharmacy Technician. Students will cover 12 modules in six weeks. They include What Is a Pharmacy Technician, Pharmacology, Understanding Pharmacy Rules and Regulations, Pharmacy Operation, Medical Records, Anti-Infectives Drugs That Kill The Bugs, Heart, Lungs, and Stomach, The Central Nervous System, Hormones, Eyes, and Ears, Pharmacy Math, Communication, and the Future of Pharmacy Technicians. The final exam will be delivered on the day of the last lesson.
Tuition for the program is $115.
AIMS Education – Edison
The Pharmacy Technician certificate program at AIMS Education prepares students for skilled practice as pharmacy technicians. Students will receive superior instruction in the classroom as well as practical, hands-on experiences in a clinical setting. The curriculum will include instruction in medical terminology, pharmacy abbreviations, drug administration, drug regulation and control, pharmaceutical formulation, pharmacy management, pharmacy law and ethics, dosage calculations, reading and interpreting prescriptions, sterile compounding, IV flow rates, and billing and insurance. The classroom and lab sessions cover 400 instructional hours. Students must participate in a mandatory 250-hour clinical internship at a site selected by the Internship Department at AIMS. It will give students the opportunity to deliver practical training in a real-world environment. The internship will commence only after completion of the classroom and lab requirements. The schedule for the internship will depend on the availability of shifts at AIMS Education clinical affiliates. Both day and evening students must make themselves available to participate in the internship during normal business hours. Program graduates are eligible to take the PTCB exam to earn the Certified Pharmacy Technician (CPhT) credential. The duration of the day program is approximately 7 months. The duration of the evening program is 9 months. Day classes meet from 9:00 am to 2:00 pm. Evening classes meet from 5:30 pm to 9:30 pm.
Admission criteria:
Have a high school diploma or equivalent
Obtain a passing score on the Wonderlic Scholastic Level Exam
Tuition for the program is $7,125. Books and supplies cost $75.
Address: 2672 Woodbridge Ave., Edison, NJ 08837
Phone: (908) 222-0002 ext.400
Branford Institute
Graduates of the pharmacy technician program at Branford Institute will be eligible to sit for the PTCB licensing exam to earn the prestigious title of Certified Pharmacy Technician and become a Registered Pharmacy Technician in New Jersey. Certification is essential for employment in some pharmacy settings, including top hospitals, retail pharmacies, physicians' offices, and billing and insurance offices. The program is designed for adults who desire an entry-level position in the field of Allied Health. The curriculum covers six modules including pharmacology, medical terminology, pharmacy calculations, inventory maintenance, dispensing medications, billing and insurance, and sterile compounding. Upon completion of the program, students will participate in a 50-hour externship that will give students the opportunity to utilize the theory and hands-on practice in the classroom. The clinical externship is not mandatory. Graduates will qualify for employment in hospitals, clinics, pharmacy stores, doctors' offices, and pharmaceutical companies.