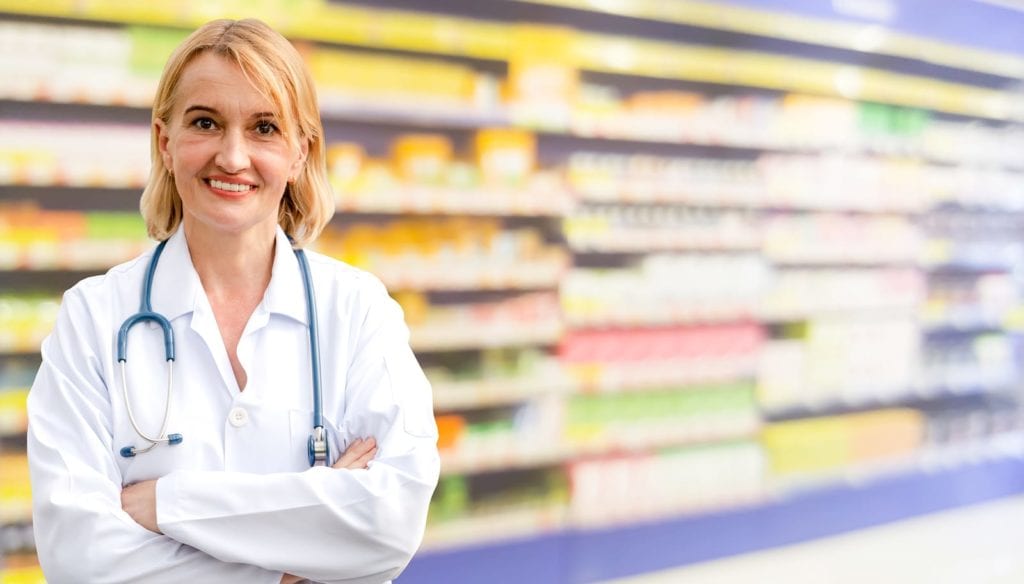 Pharmacy Technicians assist pharmacists in the dispensing of prescription medications and health care products in hospitals and community pharmacies. They perform other duties such as processing insurance claims, interacting with customers, monitoring and ordering medications, receiving supplies, maintaining patient profiles, packaging and labeling medications, and managing the day-to-day administrative functions.
The profession is regulated by the Bureau of Health Professions Licensure. Practicing pharmacy technicians must be registered with the State Board. Registration requires completion of National Certification (PTCB or ExCPT) and passage of a pharmacy technician assessment exam that is approved by the Board. Candidates may take the assessment after completing a Board-approved pharmacy technician program or completing at least 500 hours of employment as a pharmacy technician trainee.
Apart from the technical skills acquired in a formal training program, technicians must have excellent communication skills, be proficient with technology and mathematics, and physically capable of standing for long shifts. The duties of a pharmacy technician also require attentiveness to detail, accuracy, and awareness of safety in practice to reduce instances of medication errors. Pharmacy technicians work under the direction of a registered pharmacist. While they may receive and prepare prescriptions for dispensing, a pharmacist must check packages before they can be dispensed to the patient.
Quinsigamond Community College
QCC's pharmacy technician program is offered through Workforce Development Center in Worcester. The program requires travel to one or more clinical sites, and students will have the option of completing at least 50 percent of the content online.
Students enrolled in the program will acquire knowledge, skills, and competencies to assume an entry-level position in community, hospital, and long-term care pharmacies as a pharmacy technician. Lectures will cover pharmacy technician duties, communication skills, and assisting the pharmacist. In addition to lectures, students will participate in a pharmacy externship comprising of 135 of practice in a local pharmacy. Course topics include Introduction to Medical Terminology, Pharmacy Technician, Principles of Human Biology or General Biology Core Concepts, Healthcare First Year Experience, Pharmacy Technician Clinical Co-Operative Externship, Introduction to Microcomputer Applications, and Introduction to Psychology. The program's 25 credits must be completed in two semesters. Graduates will have knowledge of the laws of pharmacy practice, take and follow directives from the pharmacist, communicate effectively, competently perform the duties of a pharmacy technician, and know drug names, classifications, dosage forms, and pharmacy calculations.
Admission criteria:
A high school diploma or GED
Follow the steps for enrolling in QCC and secure admission to the college
Submit to Criminal Offender Record Information (CORI), Sex Offender Registry Information (SORI), and National Background Checks
Pass a drug test – failing the test could result in dismissal from the program
Provide documentation of immunization – Hepatitis B
Take the College Placement Test – an evaluation of the English and math proficiency for candidates who have not completed college level courses
Tuition for the Pharmacy Technician Certificate is $415 per semester.
Website: https://www.qcc.edu/academics/healthcare/pharmacy-technician-certificate
Address: 670 West Boylston Street, Worcester, MA 01606
Phone: 508-853-2300
Community College of Baltimore County
The Community College of Baltimore County's Pharmacy Technician program prepares students for an entry-level position in a pharmacy setting where they will dispense prescriptions under the supervision of a pharmacist. Graduates will receive a Continuing Education Workforce Training Certificate and be prepared to take the PTCB exam to become a Certified Pharmacy Technician. They may opt to participate in an unpaid Pharmacy Technician Externship to gain hands-on experience in a real-world setting. Classes meet on Thursday evenings at the Essex location and during the daytime on Fridays at CCBC Randallstown. There is an additional course offering for graduates to enhance their skillset and employment opportunities. The advanced Compounding Sterile Preparations covers 30 hours of instruction for an additional $935.
Admission criteria:
Submit a completed application to CCBC
A high school diploma or GED
Be computer literate and have access to a reliable Internet connection
Tuition and fees cost $2059. The cost of textbooks, supplies, and PTCB is not included. Financial aid may be available through Continuing Education Opportunity Grant, Workforce Development, Tuition Waiver, and Baltimore County College Promise.
Website: http://www.ccbcmd.edu/Programs-and-Courses-Finder/ConED-Program/pharmacy-technician
Address: 7201 Rossville Blvd., Baltimore, MD 21237
Phone: 443.840.CCBC
Health Care Training Services
The Pharmacy Technician Program at Health Care Training Services equips students with knowledge and competencies to perform the duties of a pharmacy technician in retail and institutional pharmacies. The program will include 42 hours of theory lead by an experienced instructor.  Students will learn how to communicate effectively, receive and fill prescriptions, monitor and order inventory, measure, mix, count and pour medications, package and label medications, update patient profiles, and practice within the laws for pharmacy technicians. Graduates will be prepared for success on the nation PTCB or ExCPT exam to become a Certified Pharmacy Technician. The program does not include a pharmacy externship so it is recommended that students make arrangements to gain experience in the field before taking the exam.
Website: https://www.hctschool.com/course_PharmacyTechnician.html
Address: 657 Quarry Street, Fall River, MA 02723 
Phone: 508-672-6800
JVS Boston
JVS Boston offers free training for adults to become a Certified Pharmacy Technician. The curriculum will include theory in the classroom followed by a valuable externship opportunity with affiliates. Externship partners include Walgreens, CVS, Boston Children's Hospital, Tufts Medical Center, and South Shore Hospital. Graduates will receive job placement assistance to secure employment in a retail or institutional pharmacy in Boston. The program is designed to be completed in 12 weeks and includes instruction in pharmacy mathematics, professional communication, pharmacy law, pharmacokinetics, professional development, and pharmacy basics. Persons interested in enrolling in the free program must attend an information session. Sessions are scheduled on Tuesdays at 10:00 am at JVS' main office.
Admission criteria:
Demonstrate good communication skills including listening skills
Be detail oriented
A high school diploma or equivalent
Be 18 years or older
Have a desire to work as a pharmacy technician
Be proficient in English – read, writing, speaking
Pass a background check, CORI and drug testing
Attend an information session
Complete the registration form
Tuition is free for all students. JVS has a 100 percent job placement rate.
Website: https://www.jvs-boston.org/
Address: 75 Federal Street, 3rd Floor, Boston, MA 02110 United States
Phone: 617-399-3131
Middlesex Community College
Middlesex Community College's pharmacy technician program is designed to prepare students with the skills to practice as a pharmacy technician in a retail setting. After completing 60 hours of lectures led by an experienced instructor, students will participate in an 80-hour externship in a real-world pharmacy. The instruction will include preparation for the National Certification Exam. Those who pass the exam will be eligible to use the Certified Pharmacy Technician credential. Course topics will include pharmacy law, pharmacy operations, pharmaceutical calculations, medical abbreviations, interpreting drug orders, medical abbreviations, routes of administration, pharmacy regulations, and the top two hundred prescription medications. Through a partnership with CVS Pharmacies, the school is able to offer students valuable hands-on practice in a retail pharmacy setting. The externship will reinforce the content learned in the classroom and give students opportunities to work with the pharmacy team guided by experienced instructors.
Admission criteria:
A high school diploma or GED
Be 18 years or older
Consent to a CORI, SORI and background check
Be proficient in mathematics, spelling, and reading
Take and pass a Math Assessment test – students who submit HS transcripts with a grade C or better in math can apply for a waiver
Submit to a drug test before commencing the pharmacy externship
Tuition for the program is #1,299.
Website: https://www.middlesex.mass.edu/careertraining/pharmtec.aspx
Address: 591 Springs Road, Bedford, MA 01730
Toll-Free: 800-818-3434