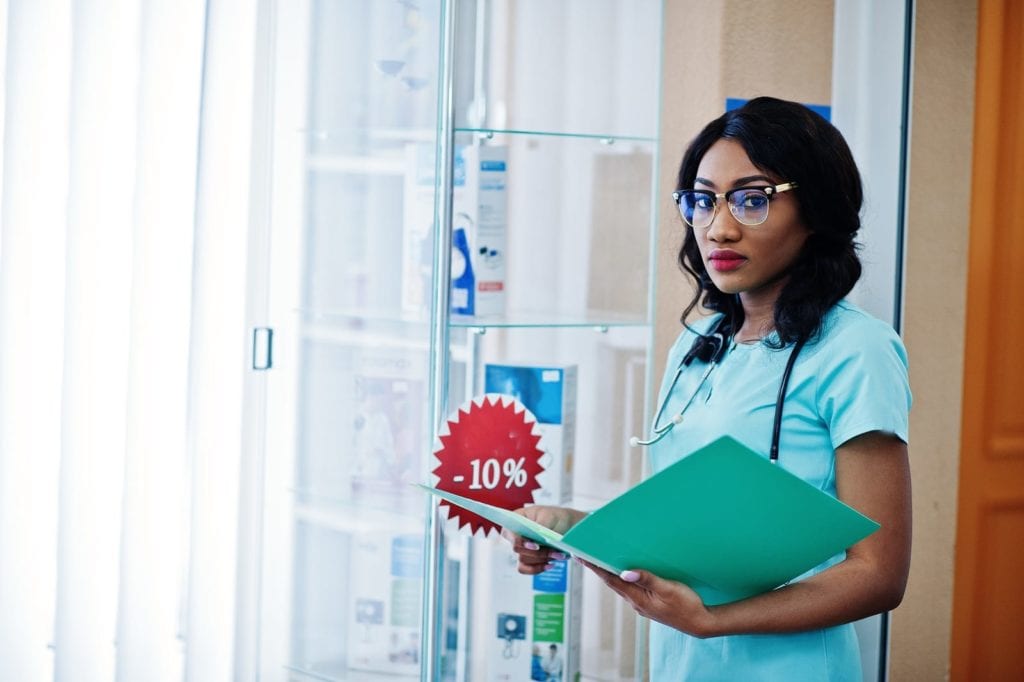 In retail and hospital pharmacies, technicians perform on the front lines taking on duties that do not require a pharmacist's professional judgment. Technicians complete their responsibilities under the direction of a licensed pharmacist and within the state and federal guidelines. A pharmacist must verify a technician's work before medications are dispensed to the customer. By taking charge of the reception and preparation of prescriptions for dispensing and overseeing routine duties within the pharmacy, technicians give pharmacists the freedom to perform duties related to patient counseling, drug monitoring, and other core services.
Pharmacy technician programs include the essential training adults need to perform the highly technical duties that technicians must perform. Students will learn how to perform pharmaceutical calculations, maintain patient confidentiality, prepare and maintain prescription orders, compound sterile and non-sterile preparations, distribute medications, verify prescription refills for accuracy, use pharmacy technology, and provide customer care.
Since the role of technicians is constantly evolving in response to changes in the practice of pharmacy, certification has become essential for most employers and state agencies. Pharmacists rely on technicians to manage the daily functions of the pharmacy. Adults seeking a career as a pharmacist must be skilled, well trained, and competent for the effective and efficient operation of the pharmacy.
Durham Technical Community College
Durham Technical College's Pharmacy Technology program emphasizes the skills and knowledge adults need to become competent pharmacy technicians in retail, institutional, and specialty pharmacies. Students will learn how to perform technical duties related to the receipt, preparation, and dispensing of prescriptions under the direction of a licensed pharmacist. Training will include the preparation of admixtures of intravenous solutions, maintaining patient profiles, clerical responsibilities, medication dispensing procedures, processing insurance forms, preparing bulk formulations, and customer care. Additional areas of study include pharmaceutical math, pharmacology, pathophysiology, microcomputers, and procedural skills, sterile products, introduction to pharmacy, principles of management, dosage forms, community pharmacy, hospital pharmacy, pharmacy trends, and introduction to ethics. Students must participate in a pharmacy externship at a community and hospital pharmacy. Externship partners include Durham Regional Hospital, Duke University Medical Center, Rex Healthcare, Veterans Affairs Medical Center, Lincoln Community Health Center, and University of North Carolina Hospitals. After completing the diploma program in three semesters, students have the option to complete an additional three semesters to obtain an AAS degree. Graduates of the American Society of Health-System Pharmacists accredited program are prepared to meet the need for technical support personnel in hospitals, nursing homes, community pharmacies, drug manufacturers, and home health care agencies.
Admission criteria:
A completed application to the college
Official high school transcripts
Apply for financial aid
Attend Students Orientation
Complete the placement tests – may be waived for applicants who submit acceptable COMPASS, ASSET, ACCUPLACER, SAT, NCDAP, and ACT scores
Complete a criminal background check and drug screen
Tuition costs $1,493 per semester for legal residents of North Carolina.
Address: 1637 East Lawson Street, Durham, NC 27703
Phone: 919-536-7200
Wake Technical Community College
Wake Technical Community College's Pharmacy Technology Program leads to a Diploma or an AAS degree for students who want to lay a foundation for continued education. The aim of the program is to give students a thorough preparation for the responsibilities that technicians must assume in the pharmacy operation – both retail and institutional. Through a combination of classroom lectures and coordinated clinical experiences, students will learn how to manage the daily operations of the pharmacy in accordance with state laws and under the direction of a registered pharmacist. Areas of study include anatomy and physiology, drug delivery systems, pharmacy administration, pharmacology, drug interactions, medication therapy, and clinical pharmacy services. Practical training in a simulated lab will support the development of skills that will enable students to perform specialized duties, such as the operation of pharmacy equipment, preparing bulk formulations, and other responsibilities. To round out the training, students will participate in a pharmacy externship at a community, hospital, and specialty pharmacy. The externship gives students the opportunity to apply theoretical concepts and work with students and professionals in the dispensing of medication and healthcare products. Graduates of the diploma program can take general education courses to be eligible for an AAS degree. Admission is limited and is based on a first come first served basis.
Admission criteria:
Provide documentation of legal NC residency during an interview
Apply for admission to Wake Tech Community College
Official transcripts of high school and previous college education – must be submitted in a sealed envelope
Make arrangements for financial aid and veterans benefits
Schedule and take the placement test – must place in English 111 and Math 110
Submit to a drug
Provide documentation of criminal background clearance
Have valid health insurance
Have a valid CPR for Healthcare Provider card
Complete the Health Form indicating health records, immunization records, and physical exam
Attend an orientation session – mandatory
North Carolina residents can expect to pay $8,300 to complete the pharmacy technician program. The cost includes fees, health requirements, PTCB exam, equipment, CPR certification, textbooks, and uniforms.
Address: 2901 Holston Lane, Raleigh, North Carolina 27610
Phone: 919-747-0402
Johnston Community College
Students enrolled in the pharmacy technician program at Johnston Community College will receive thorough preparation for employment in the field of pharmacy. In accordance with the American Society of Health-System Pharmacist (ASHP)/ Accreditation Council for Pharmacy Education (ACPE) standards, the accredited program meets national standards for pharmacy technician training. Through coordinated academic and practical sessions, students will have the technical skills to transition from the classroom to the pharmacy and dispense medication and health care products under the supervision of a licensed pharmacist. Graduates will be prepared for success on a national certification exam and have the confidence to pursue further studies in healthcare. The course will cover pharmacology, mixing intravenous solutions, maintain patient profiles, ordering pharmacy stock, receiving and verifying prescriptions and refill requests, packaging and labeling unit and bulk dosages, and preparing insurance forms. Modules include community pharmacy, institutional pharmacy, introduction to pharmacy, pharmacy trends, sterile products, pharmacy calculations, and pharmacy professional practice. The program requires participation in a pharmacy externship at a community pharmacy and institutional pharmacy. The required 40 credits must be completed in a maximum time of 12 months.
Admission criteria:
A completed application to the college
Transcripts from high school and any college-level courses submitted on a sealed envelope
Attend a program orientation
Obtain placement in English 111 and Math 110
Have a current CPR for Healthcare Providers card
A physical exam report
Proof of health insurance
Complete algebra, chemistry or biology with a grade C or better
Attend an interview with an admissions counselor
The total cost for tuition and fees is $3,248 for NC residents. Students should budget an additional $1,315 for textbooks, uniforms, and other supplies.
McKimmon Center for Extension & Continuing Education
The Continuing Education Department prepares adults for entry-level employment in the pharmacy field and success on the PTCB exam. The course content is delivered online giving adults the convenience to study within affecting their commitments. The curriculum will cover generic and brand name drugs, medical terminology, pharmacy laws and ethics, reading and interpreting prescriptions, introduction to compounding and sterile products, the body and drugs, communication and customer care, retail pharmacy, technology in pharmacy, and dosage formulations and administration. Other essential topics include terminology and abbreviations, pediatric and neonatal patients, geriatric patients, and inventory management and insurance billing.
Admission criteria:
Access to a computer and Internet
Basic keyboarding and computer skills
Tuition for the program is $3,245. The cost includes the required textbooks and workbooks.
Wilson Community College
Wilson Community College facilitates a 92-hour pharmacy technician program to prepare adults for entry-level employment in a retail, institutional, or specialty pharmacy. The program content supports the development of the technical competencies required to support pharmacists in the dispensing of medication and health care products. Students will learn how to mix, pour, weigh, and count medications, package and label medications, prepare unit dosages, perform dosage calculations, maintain inventory, fill insurance forms. The training will also include preparation for the PTCB exam and specific responsibilities for technicians in institutional pharmacies.
Admission criteria:
Completed application for admission
A high school diploma or GED equivalent
Have a valid email address
Proof of ID – driver's license or state ID – and social security card
Technology fee, accident insurance, textbooks, and accident insurance are included in the cost of the program.
Address: 902 Herring Avenue E, Wilson, NC 27893
Phone: (252) 291-1195
Fax: (252) 243-7148