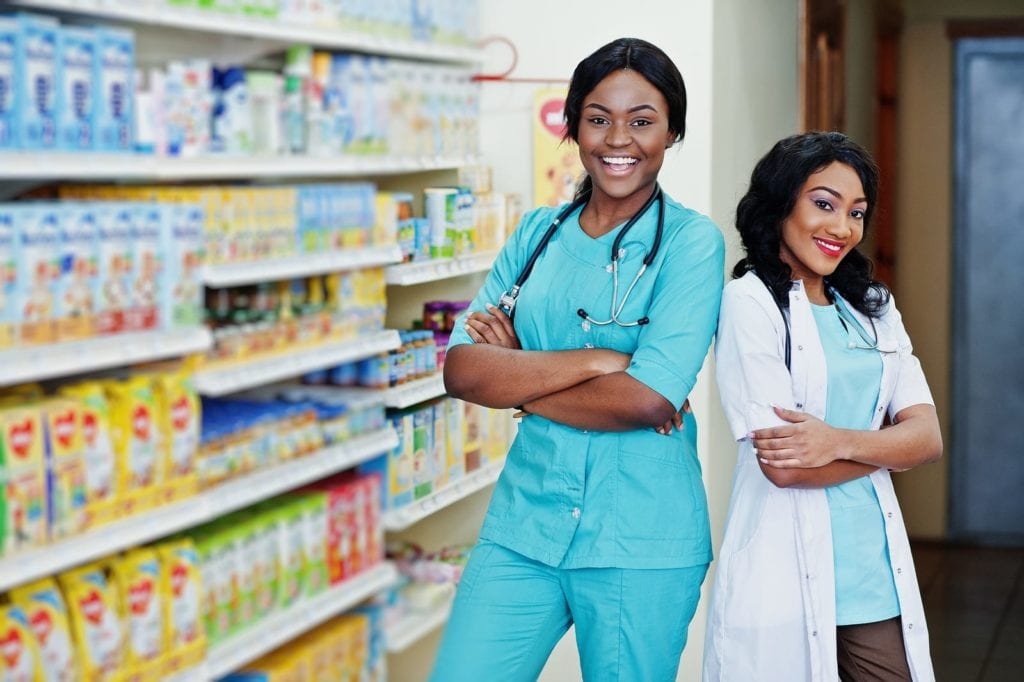 Pharmacy technician programs include the essential preparation for a rewarding career in one of the fastest growing fields in health care. Pharmacy technicians prepare and dispense medications to patients under the supervision of a registered pharmacist. They work in hospitals, community pharmacies, retail chains, and other health care settings to ensure that patients get the medications and health care products they need.
A technician's role depends on the type of pharmacy, the staff, and state and employer guidelines. Key duties might include receiving and screening orders for accuracy and completeness, retrieving, counting, weighing, measuring, pouring, and mixing medications to fill the prescription, restocking medications before the supply is depleted, preparing claims to submit to insurance companies, using pharmacy software to update patient records, packaging and labeling medications, referring customers to the pharmacist, and managing the day to day administrative duties in the pharmacy.
According to the US Bureau of Labor Statistics, an additional 47,600 pharmacy technicians will be required to meet demands in the next decade.
Umanah Healthcare Institute – Gastonia Campus
Umanah Healthcare Institute's Pharmacy Technician Program supports the development of skills in the area of counting pills, preparing and dispensing medication, processing pharmacy orders, and the packaging of medications. The curriculum covers a total of 150 contact hours in the classroom and laboratory. Upon completion of the theoretical requirements, students will participate in an externship comprising of 120 hours in a real-world pharmacy. Graduates will be prepared to sit for the National Pharmacy Technician Certifying Board Examination. Successful candidates will be listed on the Pharmacy Certification Technician Board in North Carolina. The duration of the program is 10 weeks. Classes meet Mondays and Wednesdays from 9:00 am to 1:00 pm. Enrollment must be completed at least two days prior to the start of class.
Admission criteria:
High school diploma or GED
Proof of immunizations
Results of a TB skin test
An acceptable background check
Valid driver's license or state ID and social security number
Complete a drug screen
Tuition for the program costs $1,750. It includes the textbook, exam prep book, class materials, and students' insurance. Students must cover the additional costs for drug tests, TB skin test, background check, uniform, and lab supply fee.
Chosen Health Care Institute, INC
The Pharmacy Technician course at Chosen Health Care Institute provides students with knowledge and skills to assist pharmacists with the preparation and dispensing of medication. Students will learn how to process medication orders, compound and package medications, manage inventories, and use a prescription balance. Graduates will be eligible to take the NHA exam to become a Certified Pharmacy Technician. The duration of the program is 10 weeks. The curriculum covers 240 contact hours – 100 hours in the classroom and 140 hours in the skills lab. Classes meet Tuesdays and Thursdays from 9:00 am to 2:00 pm.
Admission criteria:
Be 18 years or older at the time of enrollment
High school transcript or GED transcript
Driver's license or government issued ID and social security card
Submit a completed application
Pay the registration fee or full tuition payment
Complete a criminal background check at Chosen Health Care Institute (it costs $20) or at Mecklenburg County Court House ($25) within one calendar year
TB skin test – costs $20 at Chosen Health Care Institute
Drug test record – completed within one year
Tuition for the program costs $1,450 and includes the non-refundable registration fee. Students must purchase the course textbook.
Address: 8401 University Executive Park Dr., Charlotte, NC 28262
Phone: 704-547-1988
Fax: 704-547-5077
Divine Health Academy
Divine's Pharmacy Technology program is designed to prepare students for success on the Pharmacy Technician Certification Board Examination. The curriculum was developed by a practicing pharmacist and includes a total of 150 hours of theory – 90 hours in the classroom and 60 hours for homework. In addition to the classroom requirements, students must complete 240 hours in an approved pharmacy for applying the theoretical principles and gain practical experiences. Students must obtain a minimum grade C in all courses to graduate from the program. The program is accredited by the American Council of Pharmaceutical Education.
Admission criteria:
A high school diploma or GED
Submit a completed application
Complete the Criminal Conviction form
Consent to drug/alcohol testing – administered at any time during the program
Sign the Confidentiality Agreement
Complete the Work History, Personal Reference, and Release form
Complete a physical examination
Provide proof of immunization
Provide documentation of liability insurance
Submit to laboratory tests
Complete a background check – at the facility's request
The program tuition of $1,485 does not include the textbook and the PTCB exam. It will cover liability insurance fees, computer support, handouts, and study materials.
Address: 5633 Monroe Road, Charlotte, NC 28212
Phone: 704-566-2955
Fax: 704-566-2957
Alt: 704-566-2956
Central Piedmont Community College
Central Piedmont Community College provides pharmacy technology training that leads to a Pharmacy Technician Diploma or a Pharmacy Technology AAS degree. Students will learn how to assist a registered pharmacist with those duties that a technician can legally perform. The course content builds on the domains of health care and pharmaceutical principles and emphasizes the provision of safe and individualized care. Students learn how to prepare prescription medications, mix IV solutions and other specialized medications, maintain inventories, update patient profiles, monitor drug therapy and package medications. Major requirements include Introduction to Pharmacy, Pharmacy Practice I, Pharmacy Calculations, Pharmacology I, Trends in Pharmacy, Sterile Products, Pharmacology II, Pharmacy Prof Practice, and Pharmacy Clinical. Additional requirements for the ASS include Medical Terminology, Pharmacy Dosage Forms, Hospital Pharmacy, Trends in Pharmacy, Professional Issues, and Community Pharmacy. Graduates will be eligible to take the PTCB exam. Admission open in the Fall semester. AAS students will complete the requirements in 5 semesters. Diploma students will complete the requirements in 3 semesters. Candidates for the AAS program are selected on a best-prepared basis using a point system.
Admission criteria:
Submit a completed application to CPCC
Request high school transcripts and any college transcripts to be sent to the Admissions, Records, and Registrations department
Take and pass placement tests
Meet with a counselor to review placement test scores and courses for registration
Take and pass the TEAS exam – for admission to the AAS program
Submit an application for the Pharmacy Technology AAS Degree
Complete any prerequisite courses
Provide proof of health and accident insurance
Complete a criminal background check, physical exam, and required vaccinations
Submit to a 13-panel drug screen
The cost of the program without General Education courses is $7,118 including books, uniform, lab fees, and general fees.
Address: 2800 Campus Ridge Rd, Matthews, NC 28105
Phone: 704-330-6432
South Piedmont Community College
The pharmacy technician program at South Piedmont Community College prepares students for the Pharmacy Technician Certification Board Exam. The program delivers 600 contact hours of classroom lectures and clinical externship. The 2-part program requires students to complete the theory in 4 months and the clinical externship in 4 months. The pharmacy externship will be delivered at a local Walgreens or CVS pharmacy. Course topics include program orientation, working at a pharmacy, preparing for the workforce, computer fundamentals, keyboard kinetics, medical word building, basic anatomy, mastering medical language, pharmacology, pharmacy law, regulations, and standards, the business of pharmacy, simulation preparation, pharmaceutical calculations, prescriptions, and nonsterile compounding. Other topics include community pharmacy practice, institutional pharmacy practice, externship preparation, virtual inventory management for technicians, virtual medication safety for technicians, virtual pharmacy externship for technician, externship, and final exam preparation. A new class begins on the 20th of each month – there is no new admission in December.
Admission criteria:
Provide proof of North Carolina residency
Submit a copy of high school diploma or GED or unofficial college transcripts
Complete a criminal background check or drug screen through Career Step
Tuition for each part of the program costs $180 and includes the required books.
Address: 680 US 74, Polkton, NC 28135
Phone: 704-272-5300