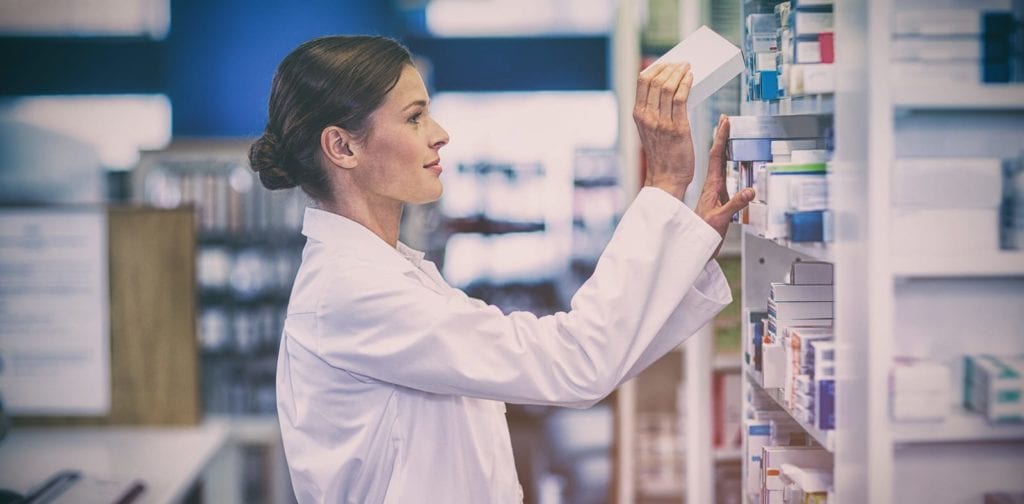 Pharmacy Technicians work in pharmacies to fill prescriptions under the direction of a pharmacist. Pharmacy technician programs provide the training they need to retrieve medications, measure accurate amounts, pay attention to dosage forms and strength, label containers, and prepare admixtures for IVs.
Pharmacy technicians have a key role in the administration and operation of the pharmacy. Typical tasks include but are not limited to transcribing physicians orders, filling prescriptions, maintaining inventory and stock, keeping a clean workspace, preparing unit doses, packaging and labeling medications, completing insurance forms, reviewing orders as they come in, and data entry.
Pharmacy technicians can find employment in retail pharmacies, long-term care facilities, clinics, hospitals, and home health care. The demand for pharmacy technicians continues to grow. The Bureau of Labor Statistics projects a job growth of 12 percent from 2016 to 2026. The demand is a result of new technology and the availability of new drugs, the shortage of registered pharmacists, and the industry certification of technicians.
Pharmacy technicians must register with the California Board of Pharmacy to legally practice in the state. Registered technicians can perform routine tasks related to the receipt of prescriptions and the preparation and dispensing of medications to customers.
Northern California Nursing Academy
North California Nursing Academy's Pharmacy Technician program meets the State Board of Pharmacy's educational requirements for pharmacy technicians. The program sets a solid foundation in pharmacy terminology and the fundamentals of pharmacy. Training will include theory in the classroom and hands-on practice in various pharmacies including retail, hospital, long-term care, and compounding pharmacies. The curriculum requires completion of 320 hours in 6 to 8 months. Required courses include Introduction to Pharmacy Technician, Drug Identification, Pharmacy Law and Ethics, Pharmaceutical Mathematics, Drug Management Procedures, Prescription Filling Procedures, Professional Relations, Insurance Procedures, and Job Search and Retention. At the conclusion of the program, students will be able to demonstrate competency as a pharmacy technician, understand the job duties in various pharmacy settings, and take the State Board Exam. Morning and evening schedules are available. The morning class meets Monday through Friday from 8:30 am to 3:30 and the evening class meets Mondays, Wednesdays, and Fridays from 5:00 pm to 10:0 pm.
Admission criteria:
Be 18 years at the start of the program
Provide proof of completing high school or GED
Possess a valid government issued ID
Have a valid social security number
Be able to speak, written and understand English
Submit a completed Application for Admission and Application fee
Complete of Entrance Assessment Test with a minimum score of 150 in English and 150 or higher in Mathematics
Provide proof of good health
Obtain TB clearance
Have no felony convictions
Tuition, registration, malpractice insurance, books, handouts, and uniform cost $8,995.
Website: http://ncnursingacademy.com/
Address: 355 Gellert Blvd. Suite 101 and 279, Daly City, CA 94015
Phone: (650) 992-NCNA
Alt: (650) 684-0315
Fax: (650) 992-6263
Foothill College
The Pharmacy Technician Certificate at Foothill College is accredited by the Pharmacy Technician Accreditation Commission (ASHP). Students must complete 52 units of core courses to obtain the Certificate. Course modules include Introduction to Allied Health Programs, Orientation to Pharmacy Technology, Basic Pharmaceutics, Inpatient Dispensing, Ambulatory Pharmacy Practice, Dosage Calculations, Pharmacology, Interprofessional Patient Competencies, Aseptic Technique & IV Preparation, Dosage Calculations, Pharmacology, Dispensing and Compounding, Home Health Care Supplies, Pharmacy Technician Certification Exam Review, Retail Clinical, and Hospital Clinical. Graduates will receive a Pharmacy Technician Certificate and will be eligible to register with the California State Board of Pharmacy and for employment in nursing homes, hospitals, long-term care, and community pharmacies. They also have the option to enroll in the two-year Pharmacy Technician Associate in Science degree, which includes general education courses. All graduates should be able to demonstrate knowledge of pharmaceutical concepts, clinical skills, and values that are essential for practice in a retail and institutional setting. The program admits new students in the Fall Quarter only and covers a period of 9 months.
Admission criteria:
Obtain a campus wide identification number (CWID)
Upload official transcripts from all colleges attended
Math placement results, BLS Card copy, Approved petitions, and Documentation of completion of CSU – if applicable
Complete the prerequisites with a grade C or better – BIOL 14 or equivalent, MATH 220, PHT 200L, ENGL 1A or equivalent
Complete a background check
A completed fingerprint card and signed statement
Tuition for the program is $1,900.
Website: https://foothill.edu/pharmtech/
Address: 12345 El Monte Road, Los Altos Hills, CA 94022
Phone: 650-949-6121
San Francisco State University
The Pharmacy Technician Program at San Francisco State University admits new students in the Spring, Summer, and Fall terms only. The program features classroom lectures and 80 hours of clinical externship in retail and hospital pharmacy. Course topics include inventory control, billing and reimbursement, handling of sterile products, dose conversions, pharmacy sterile compounding, aseptic technique, total parenteral nutrition, and dispensing prescriptions. Students will learn the role of the pharmacy technician, evolution of pharmacy, transcribing orders, pharmacy measures, children's doses, labeling prescriptions, generic drugs, dosage forms, basics of IV solutions, the metric system, drug pricing, and dosage calculations. Classes meet Saturdays from 9:00 am to 3:00 pm for eight weeks.
Admission criteria:
Submit a completed application and fee
Provide official transcripts from all colleges attended
Complete a background check
A completed fingerprint card and signed statement
Tuition costs $1,299 and includes the externship, textbooks, and materials. An online certificate is available is $1,399.
Website: https://cel.sfsu.edu/pharmacy
Address: 835 Market Street, 6th Floor, San Francisco, California 94103
Phone: 888-963-5967
City College of San Francisco
The Pharmacy Technician Program at the City College of San Francisco covers 30 units in two semesters. Students will be prepared for entry-level employment as a pharmacy technician through participation in classroom lectures, laboratory experiences, and two 120-hour clinical rotations in a community and institutional pharmacy.
Admission criteria:
Be 18 years or older
Submit a completed application for admission
Submit official high school transcript or GED
Have a minimum 2.0 GPA or college or high school transcript
Attend an orientation
Submit a completed physical exam report and proof of immunity
Complete a background check and drug screen
Complete College Assessment and placement testing
Complete the prerequisite courses with a grade C or better – MATH 40, ENGL 95, ENGL 88 or ENGL 88A – provide official transcript
Tuition costs $46 per semester unit for California residents. Additional costs include Student Health Benefit fee, books, equipment, certification, materials, and uniforms.
Website: https://www.ccsf.edu/dam/ccsf/documents/health_care_technology_documents/PharmacyTechnician.pdf
Address: 50 Frida Kahlo Way, San Francisco, CA 94112
Phone: 415-561-1900
Bay Area Medical Academy
Students enrolled in the Pharmacy Technician program at BAMA will gain knowledge and skills to qualify for entry-level positions in retail and institutional pharmacies. Graduates will be prepared to take the national certification exam offered by the Pharmacy Technician Certification Board (PTCB). The program will cover 600 hours of lecture and hands-on experiences in the lab followed by 240 hours of pharmacy externship in a real-world environment. The externship will take place at a local Walgreens or CVS. Participants will gain first-hand experience in a high volume pharmacy, confidence to perform their duties under the direction of a licensed pharmacist, and job experience to add to their resumes. Course topics will include pharmacy calculations, pharmacology, dispensing and documenting medications, laws, ethics and standards, pharmaceutical and medical terminology, abbreviation and symbols, and inventory control. Through employer partnerships, students may have the opportunity for employment at leading pharmacies in the Bay Area. Classes meet Monday through Friday from 9:00 am to 2:30 pm. Monthly enrollment is available.
Admission criteria:
Be 18 years or older
Obtain a score of 70% or above on the English test
Take and pass the Math assessment
Attend an interview with the pharmacy instructor
Have a high school diploma or equivalent
Pass a criminal background check
Submit an official transcript of high school or college coursework
Pay the minimum deposit to reserve a seat in the class
Tuition is $10,500.00. Additional requirements include registration fee, uniforms and IDs, textbooks, lab and material fees, and graduation fee will bring the total cost of attendance to $11,049. The program qualifies for FAFSA, public funding through the Veteran GI Bill®, the Workforce Innovation and Opportunity Act (WIOA), and the Department of Rehabilitation. A flexible payment plan is also available for qualifying students.
Website: https://www.bamasf.com/programs/pharmacy-technician/
Address: 530 Bush St., Suite 201, San Francisco, CA 94108
Phone: 415-217-0077
Fax: 415-358-5997