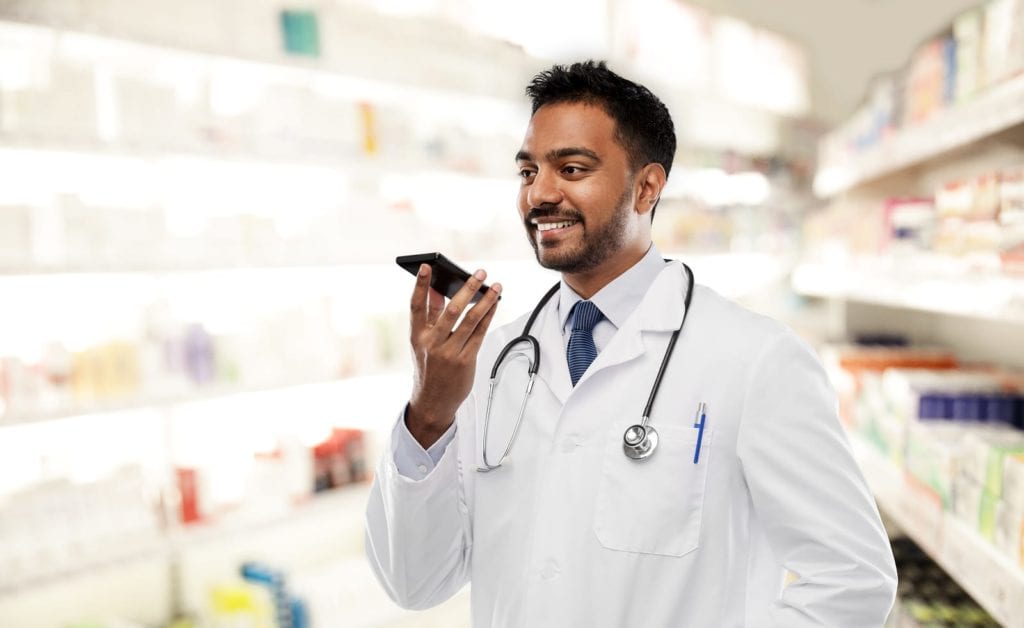 Pharmacy technicians are tasked with numerous responsibilities in retail or institutional pharmacies. If your desire is to support pharmacists through the preparation and distribution of medications and health care products in a fast-paced environment, then a career as a pharmacy technician may be right for you. A pharmacy technician program will deliver the training that will prepare you to impact the lives of patients every day.
Training through a formal program is not mandatory for registration as a pharmacy technician in California. The California State Board of Pharmacy requires a high school diploma and hands-on practice in a pharmacy environment.  However, additional training through a formal program will help you to prepare for national certification through the Pharmacy Technician Certification Board and also develop in-demand skills that are sought after by institutional pharmacies. Whether you chose to work in a community or hospital pharmacy, you will have plenty of opportunities to put your training to use. Pharmacy technician programs can be completed in as little as 8 weeks or may take as much as 2 years to complete. They might award a Pharmacy Technician Certificate, Diploma, or Associate Degree. Candidates for registration must also pass a criminal background check.
Apart from being one route to registration as a pharmacy technician in California, national PTCB certification will also provide a competitive advantage in your job search. More and more employers are giving preference to applicants who are Certified Pharmacy Technicians. You must meet the age requirements, pass a criminal background check, have a high school diploma or GED, and pass the PTCB exam to receive the credential. The exam covers nine sections with included subsections that cover pharmacy information systems, medication safety, and pharmacy law and regulations and other areas.
Western Medical Training Center
The pharmacy technician program at Western Medical Training Center teaches vital skills to prepare adults for a career as a pharmacy technician in a retail or hospital setting. Graduates will have the skills to dispense medications under the direction of a licensed pharmacist. The program will include 130 hours of theory on campus. Students must also participate of 120 externship hours at a pharmacy to obtain a California Pharmacy Technician License. Course topics include pharmacology, pharmacy terminology, medication order entry and fill process, management of inventory, quality assurance, pharmacy law and regulations, medication safety, using pharmacy information systems, billing and reimbursement, and sterile and non-sterile compounding. The duration of the program is 26 days. Western offers expert tutors, low teacher to student ratio, personalized instruction, and flexible classes.    The evening class meets Monday through Friday from 5:30 pm to 10:30 pm. The weekend class meets Saturday and Sunday from 5:00 pm to 10:00 pm.
Admission criteria:
Be 18 years or older
Have a high school diploma
Have a valid ID and social security card
Tuition for the program is $1,400. The cost for the PTCB exam is $129.
Website: https://wmtc.info/pharmacy-tech-training-course/
Address: 1161 East Main Street #205 El Cajon, CA 92021   
Phone: 619-241-9931
Email: kfarook@wmtc.info
California Medical College
The on-campus pharmacy technician program at California Medical College provides students with a comprehensive knowledge that will enable them to receive and prepare prescriptions under the direction of a registered pharmacist. Students will also acquire knowledge that will enable them to succeed on the national certification exam. The curriculum covers 96 hours of theory but has no provisions for lab skills or clinical externships. It is designed to help adults enter the field of pharmacy. Training will include the history of medication and pharmacies, medical terminology, pharmacy ethics, HIPAA, conversions and drug calculations, pharmacy stocking, body systems, compounding medications, repackaging, and safety procedures. Other topics include major drug classifications, alternative and complementary medical treatments, psychopharmacology, reading, filling, and labeling prescriptions, drug information, maintaining pharmacy records, and pharmaceutical reference guides. Graduates will understand the role of pharmacies and medication in society, the procedures for measuring, converting, and processing medications while preventing error, the concepts of microbiology, how different medications target various body systems, and the classes of drugs and the diseases they treat.
Classes meet Monday and Wednesday from 6:00 pm to 10:00 pm for three months. 
Admission criteria:
A high school diploma or GED
Be 18 years or older
Contact the school to learn more about the class schedule and tuition.
Website: http://www.californiamedicalcollege.edu/programs/pharmacy-technician/
Address: 7851 Mission Center Court, Suite #326, San Diego, CA 92108
Phone: (858) 357-8800
PIMA Medical Institute
The pharmacy technician program at PIMA Medical Institute blends math, medicine, and chemistry to prepare students to dispense health care products to patients, mix intravenous, receive electronic prescriptions, and count tablets and label packages. Students will also learn to receive refill requests, enter orders into the pharmacy systems, stock inventory, and verify prescriptions for completeness and accuracy. They will gain an experience in IV compounding – an essential skill for employment in a hospital. The curriculum covers 840 contact hours of instruction – 350 hours of theory, 250 hours of lab, and 240 hours of externship. It includes 35.5 credit hours. Course topics include Pharmacy Math, Inventory Maintenance, Pharmacology, Pharmacy Law and Ethics, Pharmacy Technician Duties, Pharmacology, Principles of Customer Service, Pharmacy Laboratory Skills, Pharmacy Computer Applications, and Fundamentals of Chemistry. e duration of the pharmacy technician program is 9 months. Graduates will be prepared to take the PTCB exam and qualify for licensure as a pharmacy technician in California.
Admission criteria:
Be 18 years or older
Have a high school diploma or equivalency
Take an entrance exam and pass with a minimum score – waived for applicants who have completed an associate's degree or higher
Complete a background check
Attend an interview
Demonstrate English proficiency
The cost of attendance is $15,259 and includes tuition, registration, books, and uniforms.
Website: https://pmi.edu/locations/california/chula-vista
Address: 111 Campus Way, San Marcos, CA 92078
Phone: 800-477-PIMA
San Diego State University
The pharmacy technician program at San Diego State University prepares students for entry-level employment in a retail or other pharmacy setting. The curriculum includes 59.5 hours of instruction in the classroom plus an 80-hour pharmacy externship in the local pharmacy. The clinical portion of the program is optional. Lectures and hands-on instruction will include reading and interpreting prescriptions, pharmacy calculations, the history of pharmacy, medical terminology, defining drugs by generic and brand names, inventory control, practice in multiple pharmacy environments, and dispensing of prescriptions. The final two sessions will include extensive preparation for the PTCE exam using the study guide and practice test.
Admission criteria:
A high school diploma or GED
Demonstrate the ability to read, write, and comprehend English
Have basic skills in arithmetic
Provide immunization records – MMR, TdaP, Varicella, Hep B
Submit TB test results
Have a negative 9-panel drug screen
Complete a criminal background check
The background check, drug screen, immunization and TB test are for students to opt to participate in the pharmacy externship.
The program fee is $1,599 and includes textbooks and parking. The tuition must be paid in full at the time of registration. The cost of the background check is $300.
Website: https://ces.sdsu.edu/health-care-fitness/health-care-career-programs
Address: 250 Campanile Drive, San Diego, CA 92182-1920
Phone: (619) 594-5821
San Diego Community Training Center 
The Pharmacy Technician program at San Diego Community Training Center prepares students for an entry-level position as a pharmacy technician. The program leads to a Pharmacy Technician Diploma and qualifies students for employment in various healthcare settings and for success on the PTCB exam. The curriculum covers 400 clock hours including 240 hours theory and 160 clock hours of pharmacy externship. It delivers 17.55 semester credits. The duration of the program is 20 weeks. Graduates must a Live Scan from the FBI and DOJ to qualify for registration. They will be able to perform the role and responsibilities of a pharmacy technician, use standard techniques in the performances of duties related to the pharmacy operation, identify classifications of drugs, dispense drugs, profile patients, maintain pharmacy records, calculate dosages, and interact with pharmacists, team members, and customers. The school offers experienced instructors, small tutor to student ratio, and job placement assistance. Morning and evening schedules are available. The morning sessions meet Monday through Friday from 8:00 am to 12:00 pm. The evening sessions meet Monday through Friday from 1:00 pm to 5:00 pm.
Admission criteria:
A high school diploma or GED
Submit a completed application
Read all the pre-enrollment disclosures
Submit a copy of Livescan fingerprints
Attend an interview with a Student Affairs Representative
The cost of the program is $5,771.19. It includes tuition, registration fee, books, supplies, and California State Board of Pharmacy Registration.
Website: https://sdctrainingcenter.com/educational_programs/pharmacy_technician/
Address: 1475 6th Ave, 4th Floor, San Diego, CA 92101
Phone: (619) 814-9068
Email: info@sdctrainingcenter.com
California College San Diego
The pharmacy technician training at California College is delivered as a part of the Associate of Occupational Studies Degree in Medical Specialties program. Students will gain a general background in health specialties as they gain an understanding of medical assisting, pharmacy technology, and medical billing and coding. Graduates may qualify for taking the certification exam and licensing in various specialties. Courses include Computer Fundamentals, Computerized Medical Administration, Computerized Pharmacy Systems and Databases, Professional Development, Externship, Phlebotomy and Hematological Procedures, Medical Laboratory Processes, Medical Terminology, Law and Ethics, Medical Aseptic Procedures, Cardiopulmonary/ECG, Vital Signs and Emergencies, Microbiology and Clinical Procedures, Medical Billing, and Medical Records and Communication. Other courses include but are not limited to Insurance Specialist, Principles of Anatomy and Physiology, Nursing Assistant Theory, Nursing Assistant Practice, Clinical Applications Capstone, Drug Administration, Pharmacy Essentials, Principles of Pharmacy Technology, and Pharmacy Technology Applications. Students must also completed general education courses to round off the total minimum credits of 100.5 for the Associate Degree. The duration of the program is 20 months.
Admission criteria:
Must have graduated from an accredited high school or have completed the equivalent
Tuition for the program is $42,411.
Website: https://www.cc-sd.edu/
Address: 277 Rancheros Drive, Suite 200, San Marcos, CA 92069
Phone: (760) 621-4333