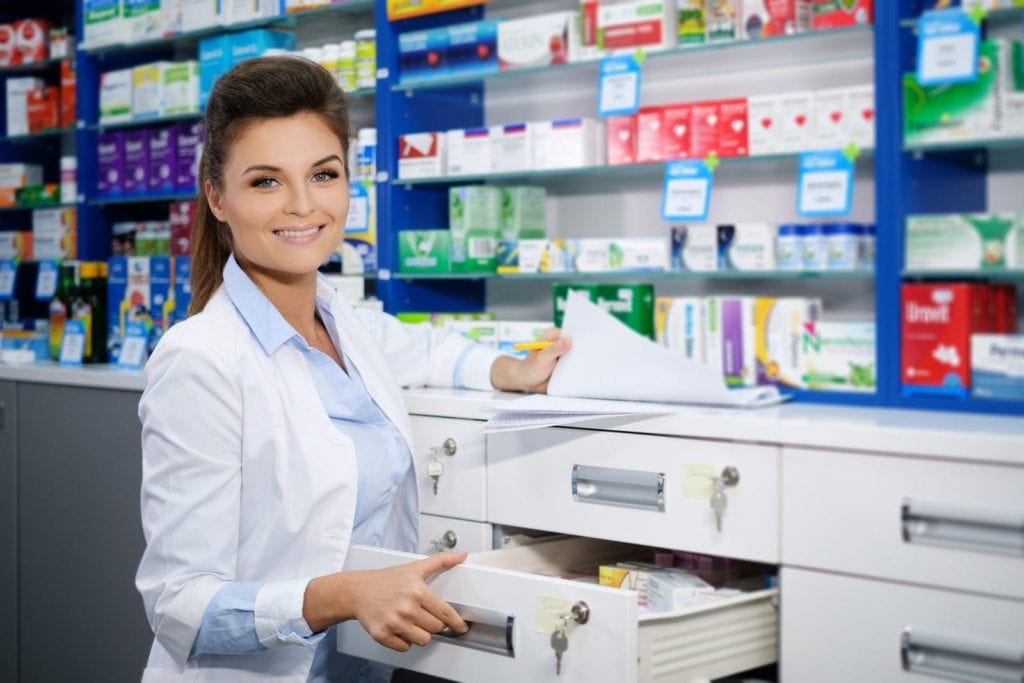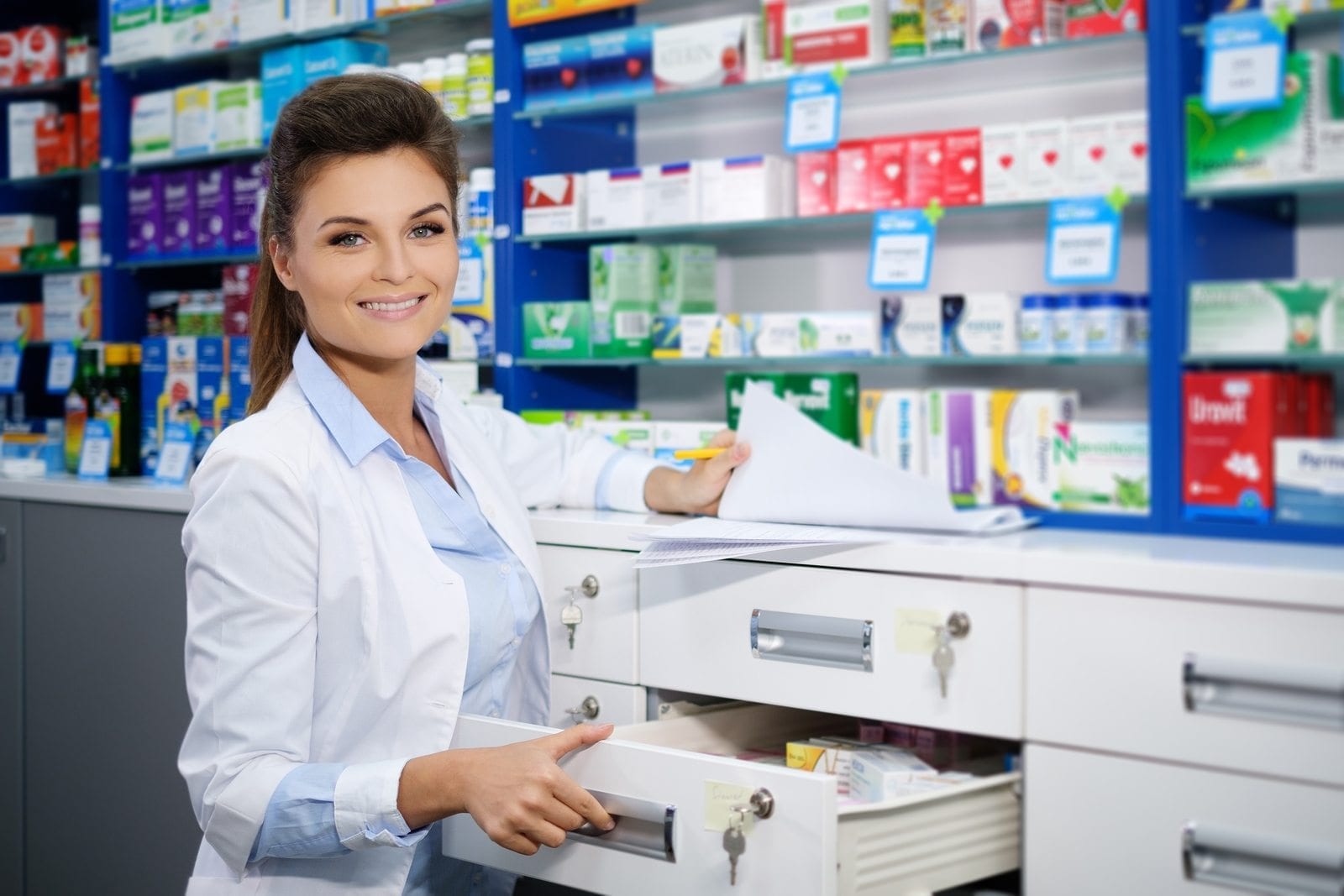 Pharmacy technicians work under the direction of a registered pharmacist to mix and fill prescriptions, attend to customers, and maintain stock levels. Their responsibilities vary from job to job, but common tasks include compounding sterile intravenous solutions, filling prescriptions, mixing pharmaceutical preparations, packing and labeling drugs, chemical and pharmaceutical preparations, computing drug charges, ordering stock supplies, sterilizing equipment, and collecting patient information to maintain records. Pharmacy technician schools help students acquire a knowledge of medication and their effects, the pharmacy process, including laws that govern practice, and customer service and communication, so they're able to function effectively within the role. National certification is essential for securing employment with most employers as it confirms your professionalism and commitment to the profession. Pharmacy technicians work in hospitals, retail pharmacies, long-term care facilities, pharmaceutical companies, and mail-order pharmacies where they earn approximately $19,500 to $31,000 annually.
Bremo Pharmacies Business Office and Training Center
Bremo Pharmacy paves the way for adult learners to start a career as a pharmacy technician in just three months. Classes meet for two hours a week, so students can complete the curriculum in 12 weeks and gain the confidence to pass the state and national exams. The spacious classroom is located in mid-town Richmond. Flexible daytime and evening class options are available. The evening class meets from 5:30 pm to 7:30 pm on Thursdays. The daytime class meets from 10:00 am to 12:00 noon on Fridays. The comprehensive curriculum covers the history of pharmacy and pharmacy technicians, the technician's role, drug information, drug interactions, administration, adverse drug interactions, and the names of generic and trade name drugs. Other pharmacy specific topics include labeling requirements, compounding laws, controlled substances, regulatory agencies, and pharmaceutics. The final two weeks of the program will cover study tips, practice tests, and review to help students succeed on the exam. There are no prerequisites for enrollment. Tuition, registration, and books total $550.
Address: 2002 Staples Mill Road, Richmond, VA 23230
Phone: (804) 285-8055
Fax: (804) 285-8059
Chester Career College
CCC's Pharmacy Technician training concludes with an A.A.S. Degree awarded to graduates. Students learn the skills necessary to dispense prescriptions under the supervision of a registered pharmacist. They also learn inventory control, inpatient record maintenance, and patient education. Throughout the program, instructors will emphasize the development of excellent customer service and communication skills. Course topics include dosage calculations, abbreviations, classification of drugs, routes of administration, hospital pharmacy, aseptic techniques, preparing IV mixtures, pharmacy stock, and billing, compounding oral solutions, ointment and creams, dosage forms, and filling prescriptions. Students must participate in a pharmacy externship that will give them real-world experiences by working with a team in a community pharmacy. The program is available in a day or evening format. The day program is 70 weeks and the evening program is 105 weeks. Students earn 62 semester credit hours at the conclusion of the program. Graduates are eligible to take the PTCB exam for national certification. Tuition costs $5,500.
Address: 751 W Hundred Rd, Chester, VA 23836
Phone: 804-751-9191
Fax: 804-751-259
J.T. Pharmacy Technician Training
J.T. offers Pharmacy Technician Training as a classroom or online option. Twelve weeks of classroom training concludes with an externship at Walgreens Pharmacy. Course topics include but are not limited to pharmacy law, top 200 drugs, pharmacology, insurance terms and billing, pharmacy calculations, compounding and IV, robotics for inpatient and outpatient settings, dosage forms, and sig codes. The traditional classroom program is available in day and night schedules with each class meeting twice weekly. Alternatively, students have the option of attending a once weekly 3-hour class on Fridays. The online program is an 18-week course where students complete all the theory online before spending another 18 weeks participating in the pharmacy externship. Graduates are prepared to become a National Certified Pharmacy Technician and to obtain licensure with the State of Missouri. Tuition for the program is $750. Registration costs $100. Online tuition costs $950. A payment plan is available for each option.
Address: 9507 Woodman Road Suite B, Richmond, VA 23228
Phone: 804-517-4029
Email: J.T.CPhT@gmail.com