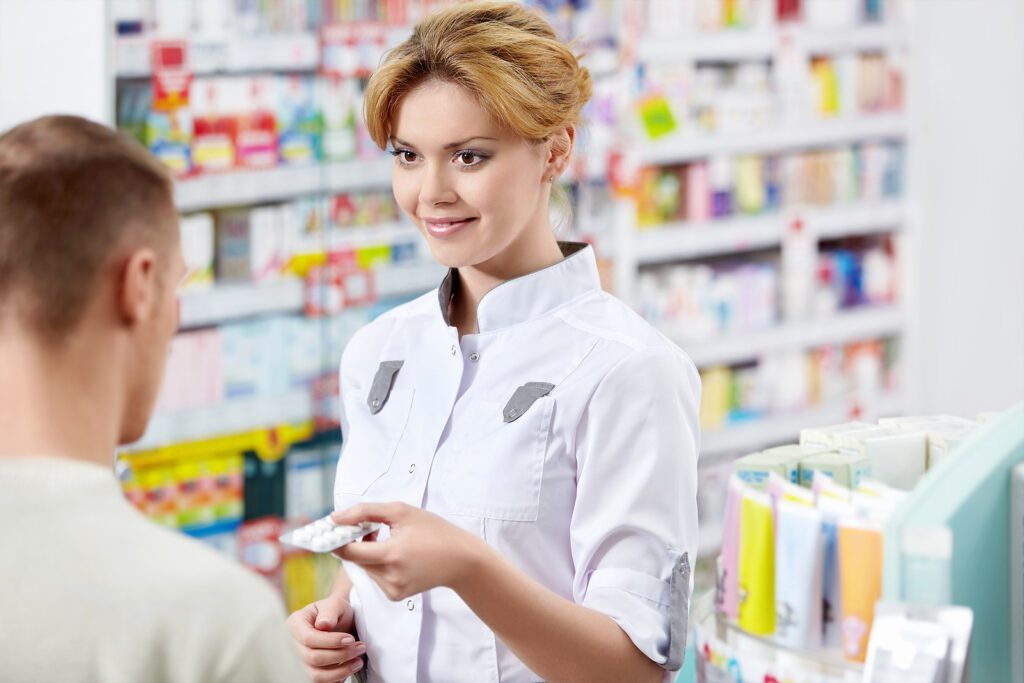 A pharmacy technician's role may involve repetitive tasks related to the reception and dispensing of prescription medications and other health care products under the supervision of a licensed pharmacist. Though the responsibilities are mundane, the role is a most important one as technicians relieve pharmacists of these all-important tasks to give them the freedom to focus on other duties related to in-pharmacy services and direct patient care. The technician's role is so vital to the workflow of the pharmacy, that pharmacy technician programs have expanded their curriculums to prepare students to update inventory, manage billing and insurance claims, reconcile medications, and address customer service issues. These additional tasks are separate from the expected duties which include measuring, pouring, and recording dosages of medications, packaging and labeling medications, and confirming prescriptions with physicians. Pharmacy technicians in California must be licensed with the State Board of Pharmacy. Applicants must be 18 years of age, have a high school diploma, a valid social security number, pass a criminal background check, and meet one of the outlined educational requirements one of which includes completion of an approved training program.
Mission Valley ROP
The pharmacy technician program at Mission Valley ROP is recognized by the Pharmacy Technician Certification Board and qualifies students to take the PTCE exam. Theory and practical instruction prepare students for entry-level pharmacy technician positions in hospital and retail pharmacies. The curriculum will cover medical and pharmaceutical terminology, inventory management, administrative duties, administration of medications, nonprescription medications, extemporaneous compounding, the role and responsibilities of a pharmacy technician, basic anatomy related to the pharmacology of medications, pharmaceutical calculations, and preparation for success on the PTCB exam. It will include 240 hours of instruction in the classroom and 120 hours at a community classroom site.  High school and adult class schedules are available. Adult classes meet Monday through Thursday from 10:00 to 12:30 pm. The duration of the program is 8 months.
Admission criteria:
Must have basic math skills and some understanding of Biology
Must have CPR certification before the beginning of the last quarter
Provide proof of passing a physical
Must obtain a negative TB test and Hepatitis B test
Must have a high school graduate or have a GED certificate
Must pass the math and English entrance exam
Proof of COVID-19 vaccination required at clinical site
The program costs $3,650. Additional cost for books, lab, and testing fee is approximately $300.
Riverside Adult School
The pharmacy technician program at Riverside Adult School prepares students to become licensed pharmacy technician in the State of California and obtain entry-level employment as a pharmacy technician. Students will learn in the classroom and complete a 120-hour pharmacy externship to apply the theoretical principles. They will learn laws and regulations as pertains to the pharmacy and pharmacy technician, pharmacy terms, abbreviations, symbols and drugs, pharmacy calculations including metric and apothecary systems, dispensing medications, record keeping, customer service, retail skills, Basic Life Support (American Heart Association), insurance and billing, and clerical skills. Students must maintain a minimum 76% grade average and a 93% attendance rate to graduate from the program. Graduates are eligible to apply for registration with the California State Board of Pharmacy.
Admission criteria:
Submit a high school transcript demonstrating graduation from an accredited high school
Must have an educational functioning level of "Exited from Advanced ESL" or "Low Advanced Secondary Education" as determined by assessments completed during registration
Strong English reading, speaking, and listening skills are required for pharmacy tech interns
Must have current government-issued photo ID and social security card
Must have the physical ability to stand for long periods of time, bend, and stoop when completing internship
Must have basic keyboarding and computer skills to facilitate learning of software
The program is free to students. Students are responsible for associated costs including textbooks, uniforms, livescan fingerprinting, and self-query report.
Foothill College
The Pharmacy Technician Certificate program at Foothill College prepares students for entry-level employment as a pharmacy technician in community and institutional pharmacies. Students will learn through lectures and discussions in the classroom and hands-on activities in the school's lab at local community pharmacies. Course topics include introduction to allied health, orientation to pharmacy technology, dosage calculations, pharmacy law for pharmacy technicians, pharmacology, interprofessional patient competencies, dispensing and compounding, aseptic techniques and IV preparation, PTCE review, and pharmacy clinical.  Graduates will be eligible to apply to the California State Board of Pharmacy for registration as a pharmacy technician and take the PTCE to become a Certified Pharmacy Technician. An Associate of Science Degree is available for students who complete the general education requirements. The program is accredited by the ASHP/ACPE. The duration of the certificate program is 9 months. The program admits new students in the Fall quarter only and enrollment is limited to 35 students for each cohort.
Admission criteria:
Review the details of the pharmacy technician program online
Obtain a Campus-Wide Identification Number by submitting an application to Foothill College
Review the program perquisites
Submit official electronic transcripts from all colleges attended
Submit a BLS card copy and math placement results where applicable
The program costs $1,900.
Website: https://foothill.edu/
Address: 12345 El Monte Road, Los Altos Hills, CA 94022
Phone: 650.949.6121
Cerritos College
The pharmacy technician program at Cerritos College qualifies students for a pharmacy technician license in California. The certificate program requires completion of 31 units for certification. An Associate of Arts is also available for students who plan to complete the general education requirements. Course topics include pharmaceutics, pharmacy introduction, pharmacy skills pharmacy operations, non-sterile compounding, over-the-counter products, pharmacology, clinical experience (community pharmacy), and clinical experience II (classroom lab and selected hospital pharmacy). Some of the courses may be delivered online. Cerritos College offers students a full semester of sterile compounding with 16 labs, a full semester of over-the-counter products, herbal products and their uses and dangers, the role of nutrition in health, and the opportunity with a physical therapy assistant and medical assistant student to learn the basic uses of durable medical equipment and use of the glucometer and take blood pressure. Full-time students will complete the certificate program in 3 to 4 semesters and the AA in 6 semesters.
Admission criteria:
Must be a high school graduate or equivalent
Must have acceptable scores on the College Placement Tests for Writing, Mathematics, Reading clearance or deficiencies removed – submit assessment scores prior to enrolling in PHAR 63
Must have good vision, hearing, and the ability to communicate orally
Complete the lab, x-ray, and immunization requirements after acceptance to the program – provide verification prior to enrolling in PHAR 90 and PHAR 95
Clinical placement may require a criminal background check
Submit a transcript of all college work to the Admissions and Records Office
Tuition for the program is $1,207.50 to $1,700 for the Basic and Advanced Certificate options respectively.