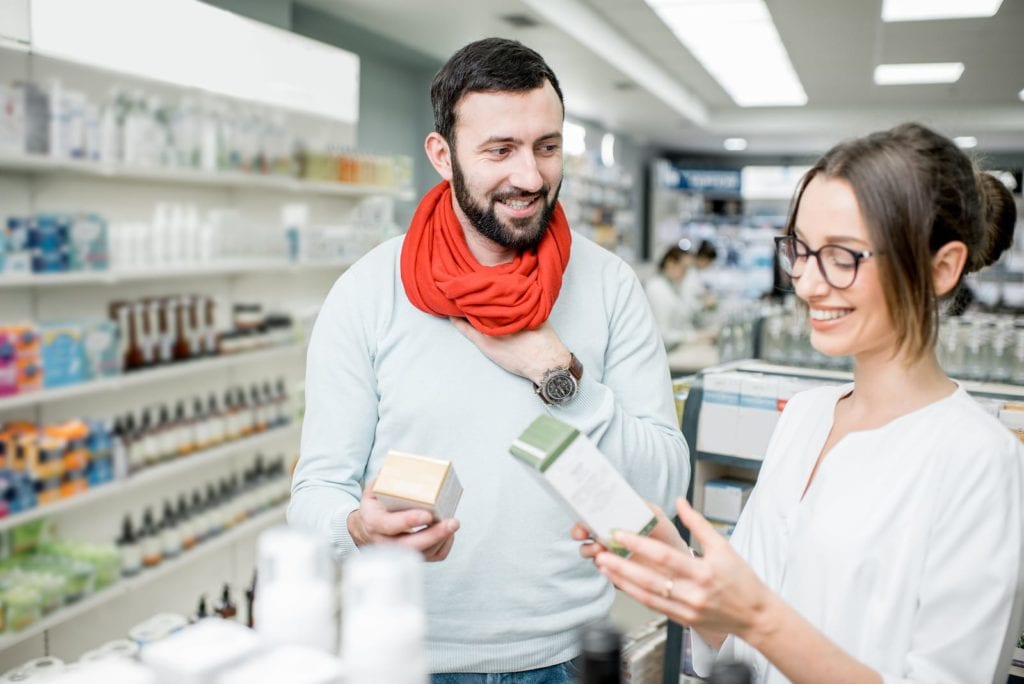 A pharmacy technician's primary role is to support pharmacists in hospitals, community pharmacies, and health-systems. While the majority of jobs are available in retail pharmacies, many technicians prefer hospital jobs to perform a broader range of responsibilities and earn more. According to data from the Bureau of Labor Statistics, hospital pharmacy technicians may earn up to 24 percent more than retail pharmacy technicians.
Working in small family-owned operations or larger retail chains, technicians receive and prepare prescriptions under the supervision of a registered pharmacist. Technological advances pave the way for the use of computerized systems, even in small operations, which play a central role in the filling of prescriptions. Technicians must be familiar with technology to receive prescriptions electronically and update the computer system. They will use their training to transcribe the prescription and submit to the pharmacist for review before dispensing to the patient. The pharmacist must review the medication for accuracy and harmful drug interactions. Pharmacy technician programs include instruction in pharmacy terminology and abbreviation, drug interactions, customer service, preparing medications for dispensing, packaging and labeling, inventory management, and legal and ethical issues in practice. Graduates will be prepared to manage day-to-day duties, such as interacting with patients, sharing information on medications, operating the cash register, processing insurance claims, monitoring and ordering stock when needed, keeping a clean and safe environment, and referring patients to the pharmacist.
Henrico Career & Technical Education
The pharmacy technician program at Henrico Career and Technical Education Center equates to 3 high school credits and 3 college credits. The program delivers theory and practical instruction to support the development of the skills needed to work with pharmacists in the delivery of health care in retail, institutional and other pharmacy settings. The training will also include preparation for success on a national certification exam. Areas of study will consist of maintenance of medication inventory, customer service, billing and insurance, collecting data to update patient records, receiving and interpreting prescriptions, preparing medications for dispensing, packaging and labeling products, pharmacy laws and ethics, top 200 drugs, generic and brand name drugs, and pharmacy administration. Interested persons should fill out and submit the completed application to CTE for evaluation.
Address: 3751-C Nine Mile Road, Henrico, VA 23223-0420
Phone: 804-781-1818
AlliedRX Institute of Healthcare
The pharmacy technician program at AlliedRX Institute of Healthcare prepares students to stock, order, prepare, and package medications for dispensing under the supervision of a registered pharmacist. The training will include topics and evaluations designed to help students succeed on the National Pharmacy Technician Exam to become a Certified Pharmacy Technician. The curriculum blends chemistry, math, and medicine to produce pharmacy technicians who are competency and mindful of medication safety. Course topics include medical terminology, drugs and their effects on the body, dosage calculations, sterile compounding, legal and ethical guidelines that govern practice, customer service, accurate reporting of patient histories, receiving electronic prescriptions, preparing medication for dispensing, and billing and insurance. Graduates will be eligible for employment in clinics, nursing homes, retail pharmacies, hospitals, home health care, nuclear medicine, drug and wholesale companies, and medical insurance companies. AlliedRX offers flexible schedules to accommodate working adults.
Admission criteria:
A high school diploma or GED transcripts
Complete a criminal background check – applicants with acknowledgment of felony convictions will be denied
Students with a GPA of less than 2.0 will need to take the NHA-CS101
Tuition costs $750. There is a non-refundable lab fee of $55. A flexible payment plan is available. In addition to the deposit of $100, students must pay the registration fee of $25 and follow up with payments of $75 per week.