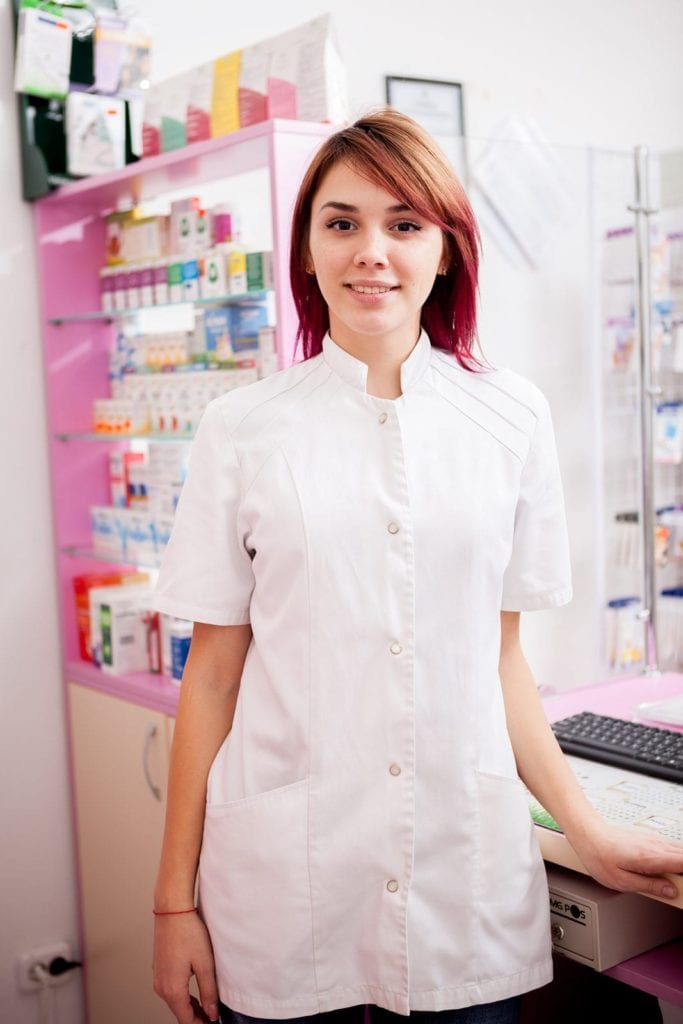 Maximizing the scope of pharmacy technicians lets pharmacists assume an expanded role and focus on the delivery of the clinical services that the public needs. Technicians manage the technical aspects of the dispensing medications, including both new and refill prescriptions.
Pharmacy technician programs provide students with a knowledge of medical terminology, medication, pharmacy laws and ethics, and computation of dosages. Students learn how to fill prescriptions, to be approved by the pharmacist, before dispensing to the patient. Diligence and accuracy make pharmacy technicians a valuable part of the health care team. However, it is certification through a national certifying body that gives pharmacy technicians the credentials that employers want and trust. Certified pharmacy technicians have their pick of jobs in retail stores, hospitals, and other medical settings.
A pharmacy technician's duties vary. However, general duties include receiving and entering prescriptions into the pharmacy's database, counting or mixing medications and labeling the package before dispensing to the patient, maintaining store inventory, and managing the daily administrative duties. Pharmacy technicians who work in retail pharmacies will have daily interactions with a wide sector of patients who need to fill their doctors' prescriptions whereas those employed in an institutional setting will work primarily with doctors and nurses who request medications for institutionalized patients. Pharmacy technicians in Virginia earn an average of $29,820 annually, according to a 2016 report from the Bureau of Labor Statistics.
Danville Community College
Danville Community College prepares pharmacy technician students for employment in nursing homes, home health care, hospitals, retail, and mail order prescription pharmacies. Interested persons must meet the general admission requirements for the college before applying to the program. Program admission requires a high school diploma or equivalent education, passing scores in the admission test or completion of the development studies course, a personal interview with a member of the admission team, and a physician's report of good physical and mental health. Since there are more applicants than seats available, admission is selective and not first-come, first-served. Admission representatives will consider the student's academic background and timely completion of the development studies. To successfully complete the program, students must complete a minimum of 24 credits with a GPA of 2.0 or higher. Course topics include math for allied health, general pharmacology, medical terminology, basic pharmacy, basic pharmacy lab, interpersonal communication, pharmacy technician lab, and keyboarding. Tuition costs $3,387. Books and supplies cost an additional $731.
Website: https://danville.edu/
Address: 1008 South Main St., Danville, VA 24541
Phone: 434.797.2222
Alt: 434.688.0136
Fax: 434.797.8514
Toll-Free: 1.800.560.4291
American National University
American National University's pharmacy technician diploma program provides students with the knowledge, skills, and experience to assume an entry-level position in various pharmacy settings. Students have a unique opportunity to learn medical abbreviations, patient communications, and drug interactions. The diploma program requires completion of 48 credit hours, which translates to 96 quality points. Course topics include dosage and calculations of medicine, community pharmacy systems of operation, pharmacy law and ethics, communication for the healthcare professional, pharmacology for the pharmacy technician, and intravenous admixture and compounding lab. Training also includes anatomy and physiology, institutional pharmacy practice, community pharmacy practice, institutional pharmacy technician externship, and pharmacy technician exam success. In addition to the lectures, students will also develop practical skills such as the understanding of drugs and their applications, updating patient profiles, assisting pharmacists with the preparation and administration of prescriptions, maintaining patient records, updating inventory, and preparing insurance claims. Upon completion of the program, students will be prepared to take the Certified Pharmacy Technician exam administered by the Pharmacy Technician Certification Board. Due to the progressive learning format of the program, students are able to continue their education to the associate's degree or bachelor's degree levels. Tuition for the program costs $20,070. Books and supplies cost $2,700.
Website: https://an.edu/ 
Address: 336 Old Riverside Drive, Danville, VA 24541
Phone: 434-793-6822