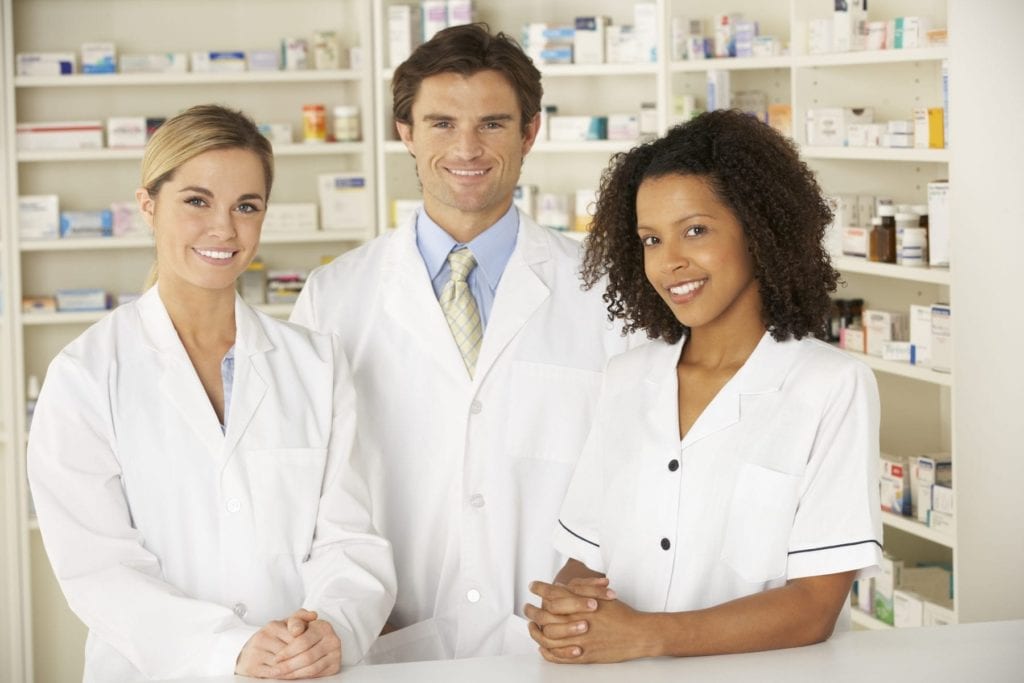 An aging population and increase in prescription drugs raise the demands for pharmacy technicians. In fact, the United States Bureau of Labor Statistics projects that employment of pharmacy technicians will grow at a rate of 20 percent from the years 2012 to 2024. To become a part of this growing field, you must obtain a license to work as a pharmacy technician from the Virginia Board of Pharmacy. Pharmacy technician training programs prepare students to take the National Pharmacy Certification Technician Board exam (PTCB) to become nationally certified and qualify for state licensure. Intensive training in the classroom, lab, and pharmacy sites helps students develop the skills to prepare prescription medications, perform administrative duties, and provide excellent customer service.
Tidewater Community College
Tidewater Community College prepares adults for a rewarding career as a pharmacy technician. The certificate program prepares students to function as liaisons between a pharmacist and patients in a hospital, clinic, or retail pharmacy. The Virginia Board of Pharmacy approved program includes classroom lectures supported by practical learning opportunities in a real-world pharmacy. Students learn how to prepare, package and dispense medications under the direction of a pharmacist. The externship begins in the second semester and could lead to immediate employment. Course topics include medical terminology, general pharmacology, basic pharmacy, customer service, reading prescriptions, dosage forms, drug laws, drug classifications, pharmacy calculations, compounds of drugs, and pharmacy internship. After just eight classes, students are prepared for success on the Virginia Pharmacy Technician exam and the national PTCB exam. Graduates will have earned 17 credits. The duration of the program is two semesters. Classes are available on a day or evening schedule.
Admission criteria:
Obtain general admission to Tidewater Community College
Submit a separate application to the pharmacy technician program
Take the Placement Tests for English and Mathematics
Must have a high school diploma or GED
Demonstrate excellent communication skills
Pass a criminal background check
Complete a physical exam – to include specific vaccinations and drug testing
Must be 18 years of age at the start of the program
Tuition costs $185.35 per credit hour. Additional costs include books, supplies, application fee, background check, physical exam, immunizations, and placement testing.
Website: https://www.tcc.edu/
Address: 1700 College Crescent, Virginia Beach, VA 23453
Phone: 757-822-7100
Virginia Beach Higher Education Center
The pharmacy technician program at the Higher Education Center prepares students for the national certification exam and entry-level employment. The curriculum includes basic training in the classroom that will help them support pharmacists in retail and hospital pharmacies and clinics. It covers ethics of pharmacy practice and the role of the pharmacy technician, medical and pharmaceutical terminology, prescription medications, patient care and interaction, charges and reimbursement. Prospective students must complete the Course Registration application and submit via email or fax and send the $50 registration fee – the fee will be credited towards the total course fee. Classes meet on Saturdays from 9:00 am to 2:00 pm for one month.
Admission criteria:
Have a high school diploma or GED
Register for the program
Must be at least 18 years of age
Must be proficient in mathematics
The course fee of $1350 includes books and materials.
ECPI University
ECPI's pharmacy technician certificate program supports the development of skills that are essential for success as a pharmacy technician. Lectures in the classroom provide the foundational knowledge for an immediate career in health and for future education. Practical training in the school's lab and real-world experiences in a retail setting aids the transition from the classroom to entry-level employment. The curriculum emphasizes the importance of outpatient and inpatient pharmacy settings and includes instruction in pharmacy law, inventory control, medical terminology, anatomy and physiology, drug classifications, prescription filling, pharmacology, metric conversion, and pharmacy business management. Upon completion of the program, graduates are eligible to take the PTCB exam to become certified. The duration of the program is 10 weeks.
Admission criteria:
Must be 18 years of age
Must have a high school diploma or GED
Must demonstrate math and English proficiency
Pass a background check and drug screen
The program is not eligible for financial aid.
Address: 5555 Greenwich Road, Virginia Beach, VA 23462
Phone: 844-334-4466
Email: info@ecpi.edu
Virginia Beach School of Practical Nursing – Adult Learning Center
The comprehensive pharmacy technician program at the Adult Learning Center includes 80 hours of instruction in the classroom and 60 hours of clinical externship. The curriculum covers pharmacy medical terminology, pharmacy practice in multiple environments, reading and interpreting prescriptions, defining generic and brand name drugs, pharmacy calculations, and inventory control. Through practical experiences, students will learn dosage calculations, I.V. flow rates, aseptic techniques, total parental nutrition, billing and reimbursement, the top 200 drugs and much more. Graduates are prepared for employment in a retail or other pharmacy settings as well as for success on the PTCB exam. Classes meet Monday, Tuesday, and Thursday for 24 sessions. Class times are 9:00 am to 12:30 pm for the morning schedule or 6:00 pm to 9:30 pm for the evening schedule.
Admission criteria:
Submit an application for admission by the published deadline
Twelfth-grade students may apply to the program
Must have acceptable grades, discipline and attendance record
Pass a criminal background check and drug test
Must meet CPR, health, and immunization requirements
Tuition for the program is $1,199.
Thomas Nelson Community College
The Pharmacy Technician program at Thomas Nelson Community College includes theory, hands-on lab, and clinical externship to prepare students for entry-level employment in the field of pharmacy. The program is delivered through the Workforce Credentials and Continuing Education Department. Course modules include Pharmacy Practice, Pharmacy Mathematics, Pharmacology, and Pharmacy Technician Exam Prep. Instructors will cover the professional role and responsibility of the pharmacy technician, pharmacy record systems, drug inventory, body systems. Dosage calculations, IV flow rates as applied in pharmacology, and packaging and labeling prescriptions. Graduates will receive a Certificate of Completion and be eligible sit for the Virginia State Board of Pharmacy exam and the National Certification Program for Pharmacy Technicians (PTCB).
Admission criteria:
Attend a mandatory information session
Must have a high school diploma or GED
Must be 18 years of age or older
The program is not eligible for financial aid.