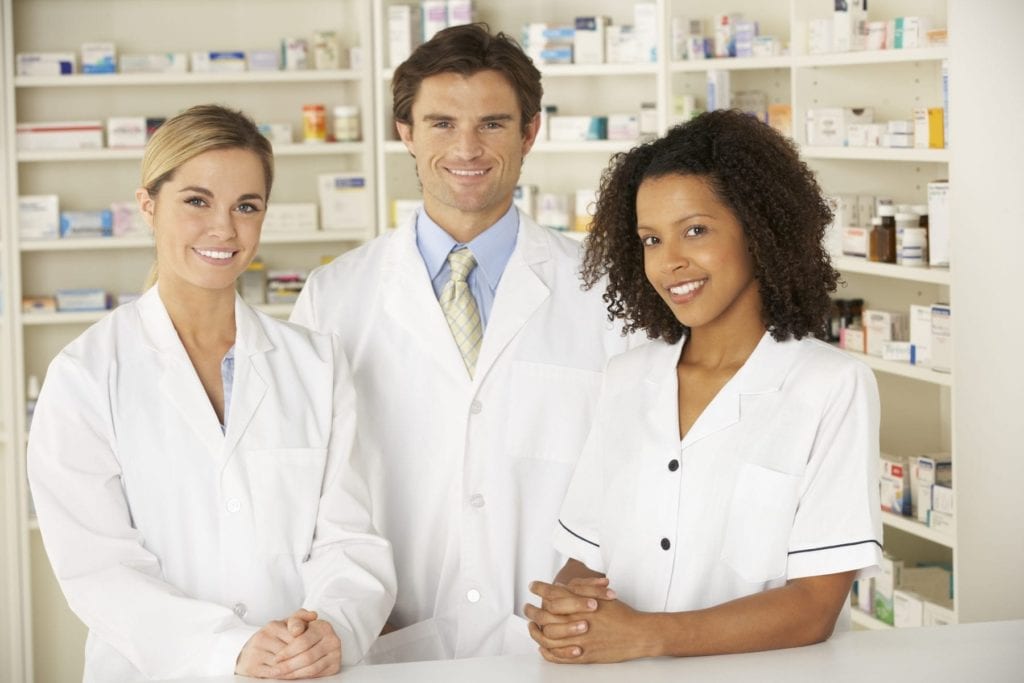 An aging population and increase in prescription drugs raise the demands for pharmacy technicians. In fact, the United States Bureau of Labor Statistics projects that employment of pharmacy technicians will grow at a rate of 20 percent from the years 2012 to 2024. To become a part of this growing field, you must obtain a license to work as a pharmacy technician from the Virginia Board of Pharmacy. Pharmacy technician training programs prepare students to take the National Pharmacy Certification Technician Board exam (PTCB) to become nationally certified and qualify for state licensure. Intensive training in the classroom, lab, and pharmacy sites helps students develop the skills to prepare prescription medications, perform administrative duties, and provide excellent customer service.
Tidewater Community College
Start a rewarding career as a pharmacy technician with two semesters of training at Tidewater Community College. The certificate program prepares students to function as liaisons between a pharmacist and patients in a hospital, clinic, or retail pharmacy. The Virginia Board of Pharmacy approved program includes classroom lectures supported by practical learning opportunities in a real-world pharmacy. Students learn how to prepare, package and dispense medications under the direction of a pharmacist. The externship begins in the second semester and could lead to immediate employment. After just eight classes, students are prepared for success on the Virginia Pharmacy Technician exam and the national PTCB exam. Prospective students must submit a completed application and place into Math Essentials based on the results of the Virginia Placement Test. A high school diploma or GED and excellent communication skills are also required for admission. Classes are available on a day or evening schedule. At the cost of $176.60 per credit, the 24-credit program will cost approximately $4,238 and does not include textbooks and supplies.
Virginia Beach Higher Education Center
The 10-week pharmacy technician program at the Higher Education Center prepares students for the national certification exam and entry-level employment. Over a period 10 weeks (50 classroom hours) students gain the knowledge and practical skills to support pharmacies in retail and hospital pharmacies and clinics. Course topics may include pharmacology, pharmacy operations, anatomy, body structure and functions, pharmacy terminology, processing orders, pharmacy calculations, and laws and ethics governing practice. Prospective students must complete the Course Registration application and submit via email or fax and send the $50 registration fee – the fee will be credited towards the total course fee. Classes meet on Saturdays or Thursdays during the fall semester. The course fee of $950 includes books and materials.
ECPI University
ECPI's pharmacy technician certificate program supports the development of skills that are essential for success as a pharmacy technician. Lectures in the classroom provide the foundational knowledge for an immediate career in health and for future education. Practical training in the school's lab and real-world experiences in a retail setting aids the transition from the classroom to entry-level employment. The curriculum emphasizes the importance of outpatient and inpatient pharmacy settings and includes instruction in pharmacy law, inventory control, medical terminology, anatomy and physiology, drug classifications, prescription filling, pharmacology, metric conversion, and pharmacy business management. Upon completion of the program, graduates are eligible to take the PTCB exam to become certified.
Virginia Beach School of Practical Nursing – Adult Learning Center
The comprehensive pharmacy technician program at the Adult Learning Center includes 80 hours of instruction in the classroom and 60 hours of clinical externship. Graduates are prepared for employment in a retail or other pharmacy setting as well as for success on the PTCB exam. The curriculum covers pharmacy medical terminology, pharmacy practice in multiple environments, reading and interpreting prescriptions, defining generic and brand name drugs, pharmacy calculations, and inventory control. Through practical experiences, students will learn dosage calculations, I.V. flow rates, aseptic techniques, total parental nutrition, billing and reimbursement, the top 200 drugs and much more. Classes meet Monday, Tuesday, and Thursday for 24 sessions. Class times are 9:00 am to 12:30 pm for the morning schedule or 6:00 pm to 9:30 pm for the evening schedule. Tuition for the program is $1,199.
Stratford University
The Associate of Applies Science in Pharmacy Technician at Stratford University is a 90-credit program. Students can attend on-campus sessions, select online learning, or a combination of both. The self-paced program may be completed in 24-months to earn and associate's degree. Each class takes 5 to 10 weeks. Students must complete the core requirements, arts and science requirements, specialization requirements, and electives. Core classes include anatomy and physiology, medical terminology, diseases of the human body, pharmacy calculations, institutional and community pharmacy opportunities, advanced administration technical lab, administrative care management, and pharmacy informatics and technology. Tuition for the program is $36,809 plus $500 for books and supplies.