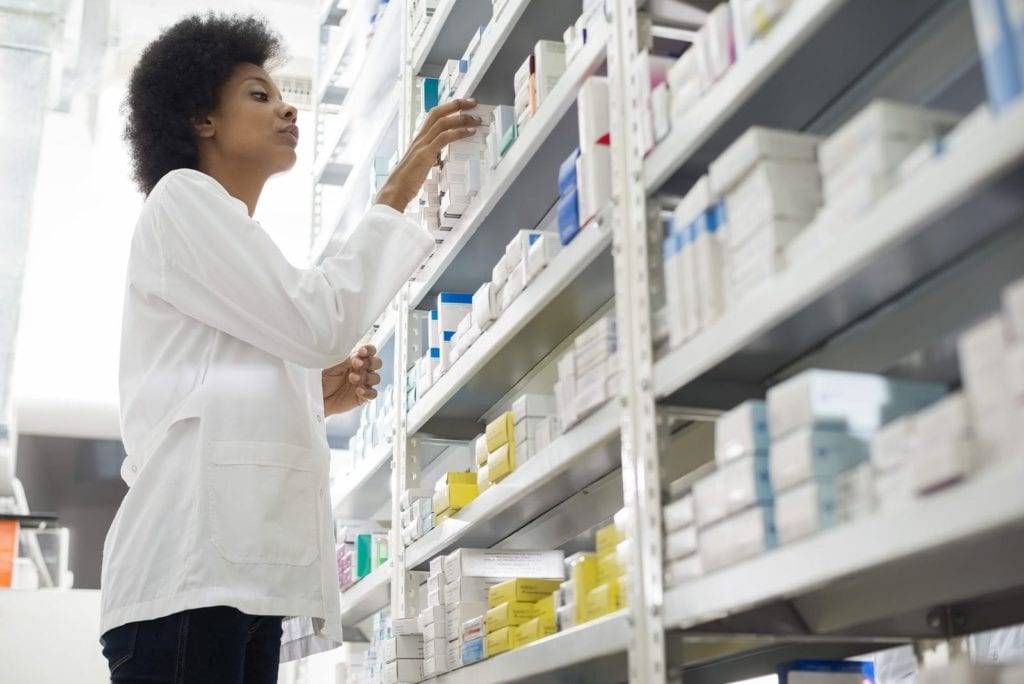 Explosive growth in the senior population, prevalence of chronic illnesses, and heavy reliance on prescription medications by both groups increase the need for pharmacy technicians. The United States Bureau of Labor Statistics projects a 12 percent growth in employment for pharmacy technicians from 2016 to 2026 – a rate that is faster than the average for all occupations. As pharmacy technicians take on a greater role in pharmacy operations, training and certification are essential. Employers are more likely to hire Certified Pharmacy Technicians who have the confidence to make the day-to-day operations of the pharmacy and dispense prescriptions under the supervision of a licensed pharmacist. Certified pharmacy technicians work in community pharmacies, hospitals, long-term care facilities, clinics, and mail-order pharmacies.
Stratford University
The Associate of Applied Science in Pharmacy Technician program at Stratford University may be completed in 24 months. The program produces pharmacy technicians capable of assisting pharmacists with the preparation and dispensing of medications. Graduates are eligible to sit the PTCB exam to become a Certified Pharmacy Technician and work in community pharmacies, hospitals, clinics, home health care agencies, and drug wholesalers. Course topics include anatomy and physiology, medical terminology, pharmacology, diseases of the human body, pharmacy calculations, institutional and community pharmacy operations, pharmacy informatics and technology, pharmacy administration, administrative care management, and pharmacy externship. To graduate with the degree, students must complete the core requirements, arts and science requirements, specialization requirements, and elective requirements. A clinical externship will emphasize the filling of drug orders, managing customer complaints, verifying insurance benefits, screen and review requests, select and prepare medications, process return drugs, and answer phones.
Admission criteria:
Have a high school diploma or GED
Demonstrate English Language proficiency
Submit a completed application for admission
Pay the non-refundable application fee of $50
Submit official academic transcripts
Drug screen, background check, immunization, and CPR certification may be required for participating in the clinical externship
Students must complete 90 credits (20 courses) to earn the associates degree. Tuition costs $370 per credit.
Address: 2900 Eisenhower Ave, Alexandria, VA 22314
Phone: (571) 777-0130
Toll-Free: (855) 444-5018
West Potomac Academy
The pharmacy technician program at West Potomac Academy includes instruction in the classroom as well as clinical pharmacy experiences to prepare students to dispense medications under the supervision of a licensed pharmacist. Students will meet the state competency requirements for pharmacy technicians and also gain exposure of an arena of pharmacy related careers. In the classroom, students will learn customer service and interpersonal skills, the role of the pharmacy technician, inventory control, finance, safety, pharmacy operations, medication maintenance, dispensing medications, and billing and insurance. Program graduates will receive 1 credit. They may also move on the 2-credit course that builds on the foundation of the first course. Students learn inventory control systems, assisting pharmacists, administration and management of a pharmacy practice, and customer care. Upon successful completion of the program, graduates will be prepared for success on the Nationally accredited Exam for the Certification of Pharmacy Technicians (ExCPT).
Address: 6500 Quander Road, Alexandria, VA 22307
Phone: 703-718-2750
Metropolitan Institute of Health & Technology
The Metropolitan Institute of Health & Technology offers a pharmacy technician program that provides students with the skills need to function as a capable pharmacy technician in multiple pharmacy settings. The school maintains small class sizes to offer students the personalized attention they need to succeed. Classroom theory, hands-on lab, and a pharmacy externship furnish the skills, training, and experience need to rise to the challenge of safe and competent care.
Admission criteria:
Submit a completed application
Proof of high school diploma or equivalent
Attend a one-on-one interview to complete the admissions process
Demonstrate English proficiency
Use the contact information provided below to learn the schedule and tuition for this program.
Unitech Training Academy
The Pharmacy Technician program prepares students for entry-level employment in a retail or hospital pharmacy. The curriculum includes theory and practical experiences in a real-world pharmacy and emphasizes the importance of confidentiality, ethics, and professionalism. Course topics include introduction to pharmacy technician, pharmacy calculations, health insurance billing, community and institutional pharmacy operations, anatomy and physiology, pharmacology, healthcare provider CPR, and pharmacy terminology. A pharmacy externship will conclude the course of study. The program covers a total of 63.07-quarter credit hours.
Admission criteria:
Be 17 years or older
Have a high school diploma or GED
Pass the Wonderlic exam with a score of 13 or higher
Complete a background check and drug screen
Provide up-to-date immunization records
The total cost of tuition is $15,400 and includes registration and lab equipment.
Address: 7228 England Drive, Building 1912, Alexandria, LA 71303
Phone: 318-625-0468