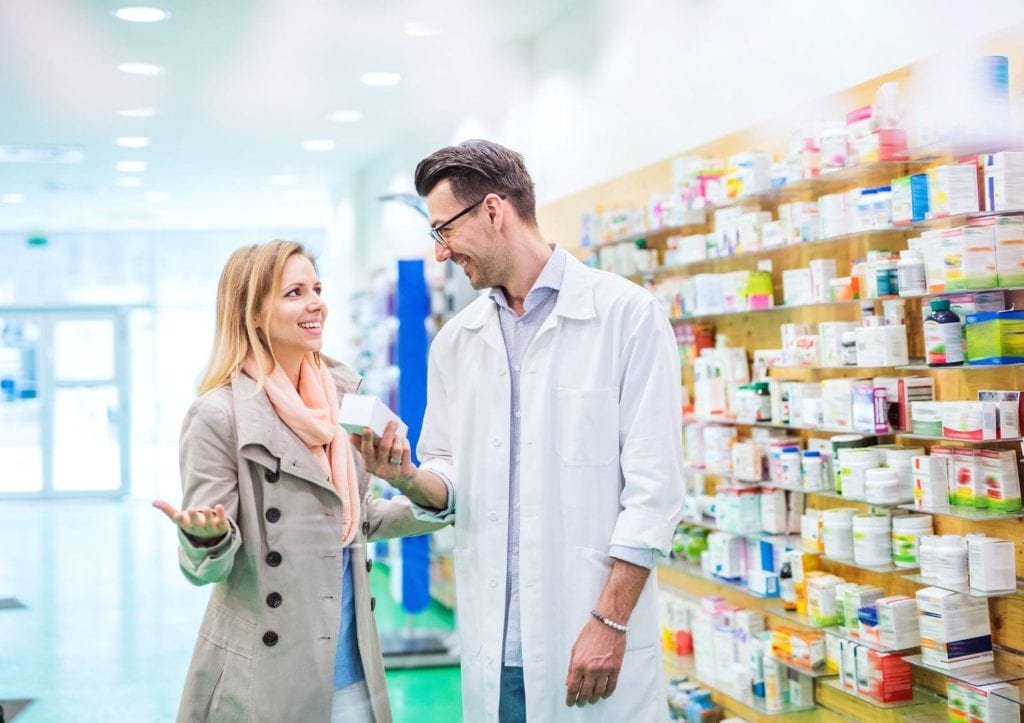 In community and institutional pharmacies, technicians are on the frontlines distributing medications to patients, providing health care services, and performing other technical duties under the supervision of a licensed pharmacist. Pharmacy technicians perform many of the same duties of the pharmacist, but their work must be checked by a pharmacist before medication can be dispensed to patients. In the State of Illinois, pharmacy technicians must obtain a license before participating in the pharmacy externship. Before entering the pharmacy technician program, you should submit a completed license application and complete a background check, fingerprinting, and drug screen to the Illinois or State Board of Pharmacy. Apply early because the approximate processing time for a license is eight weeks.
According to the Bureau of Labor Statistics, employment of pharmacy technicians is projected to grow 12 percent from 2016 to 2026 – a rate that is faster than the average for all occupations. The increase in demand for technicians is propelled by the demand for prescription medications. A technician's duties include cleaning and sterilizing equipment, receiving prescriptions, directing customers to pharmacists, managing third-party billing, operating the cash register, managing inventory, and updating patients' records. Certified pharmacy technicians, those who completed and passed a national exam, will have a greater role than other technicians and may hold a supervisory role in the pharmacy. Excellent communication and interpersonal skills are essential as technicians interact daily with patients, co-workers, and other health care professionals.
The median annual wage for pharmacy technicians was $29,450 in May 2016.
Triton College
The pharmacy technician course at Triton College delivers 75 hours of instruction as part of the preparation needful to deliver care in various practice settings, including community, mail-order, hospital, and long-term care pharmacies. The curriculum serves to enlighten students' understanding of the role of the pharmacy technician to play a supportive role to pharmacists and prepare for success on a national certification exam. Instruction will cover mathematical principles related to the pharmacology, disease states, pharmacy law and ethics, basic physiology, and fundamental skills. Further emphasis will be placed on pharmacy abbreviations, processing prescriptions, hands-on compounding, pharmacology measurement, generic medications, and preparing and labeling medications. An evening or morning schedule is available for the theoretical part of the program. Morning session meet Mondays, Wednesdays, and Fridays from 8 to 11 am. Evening sessions meet Tuesdays and Thursdays from 6 to 9 pm.
The clinical training is an essential part of the program and offers an additional 90 hours of real-world, hands-on training. Registration for the externship is separate from the pharmacy technician course and requires completion of a drug test and background check. During the externship, students will learn how to prepare and label medicines, compounding medications, issue medicine to customers, maintain patients' medication profiles in written or computerized format, fill orders for unit doses, stock and take inventory of prescription medications, fill bottles and capsules, and prepare insurance claim forms.
Admission criteria:
A high school diploma or equivalent
Good communication and interpersonal skills
Take a math placement exam
Tuition for the program costs $1,200 and does not include the registration and technology fees and textbooks.
Address: 2000 Fifth Ave, River Grove, IL 60171
Phone: (708) 456-0300
Oakton Community College
The Pharmacy Technician program at Oakton Community College is designed for adults seeking the basic skills and competencies to work in a pharmacy setting. The program is also valuable for pre-pharmacy students who want the exposure of working with registered pharmacists and members of the healthcare team. The curriculum includes instruction in the classroom as a well as a pharmacy externship to reinforce the principles covered in the classroom. Course topics include drug interactions, basic physiology, institution and community pharmacy operations, pharmacology, drugs and their effects, dispensing prescriptions, and pharmacy terminology. The pharmacy externship covers 280 contact hours of supervised practice at an assigned sit. Students must complete 35 hours a week for 8 weeks. During the externship, students will observe and participate in the pharmacy operation to increase their understanding of their role.
Admission criteria:
Be 18 years or older
Have two forms of ID
Take a placement test
Complete the theory with a minimum grade of C – for participation in the externship
Obtain criminal background clearance
Complete the health requirements including a 10-panel drug screen and flu vaccine.
Graduates are eligible to sit a national exam for certification as a pharmacy technician to work in retail, hospital, and mail-order facilities.
Address: 1600 E. Golf Road, Des Plaines, IL 60016
Phone: 847-635-1600
South Suburban College
The pharmacy technician program at South Suburban College prepares students to dispense medications under the direction of a registered pharmacist. The ASHP/ACPE-accredited certificate program covers 39 credit hours, including prerequisite courses. It includes training in aseptic IV preparation, inventories, medication order processing, packaging, compounding, computers, medical terminology, pharmacology, pharmacy law, pharmacy math, and human body structure. In addition to the coursework, students must participate in 300 hours of supervised pharmacy experiences in multiple pharmacy settings. Those who do not have prior experience in a pharmacy setting will be expected to complete an equal amount of hours in community and hospital pharmacies. Students employed as pharmacy technicians will receive credit for up to 75 internship hours. The program admits new students each semester. Part-time and full-time schedules are available. Graduates of the program may complete additional coursework to obtain an Associate's Degree in General Studies – the transferability of the degree is not guaranteed.
As an alternative to this course, a 6-credit program is available that covers the Fundamentals of Pharmacy Tech Practice. The abbreviated program was developed to prepare adults to meet the needs of qualified technicians in the pharmacy industry. It is not a replacement for the ASHP-accredited certificate program, but graduates will receive a waiver for the PHT 100 Pharmacy Technician Orientation course if they later decide to enroll in the ASHP-accredited program.
Due to the nature of internships, most assignments are scheduled for daytime shifts. Internship assignments are at the discretion of the program coordinator/instructor. Students are responsible for transportation to and from the internship sites, and must purchase a white lab jacket for use in both the lab classes and the internships.
Admission criteria:
A completed SSC application
Official high school or HSE transcripts or any college transcripts
A copy of the student's health care insurance for participation at the clinical site
A meeting with the program coordinator
Successful completion of the developmental course as determined by the results of the placement test in reading, English, and math
Obtain a grade C or above in the prerequisite courses – human body structure, composition and rhetoric, medical terminology, elementary algebra, and a typing speed of 25 wpm
Complete a drug screen and CPR certification for the PHT internship
The cost of tuition is $145 per credit for in-district students.
Address: 15800 South State Street, South Holland, Illinois 60473-1200
Phone: (708) 596-2000