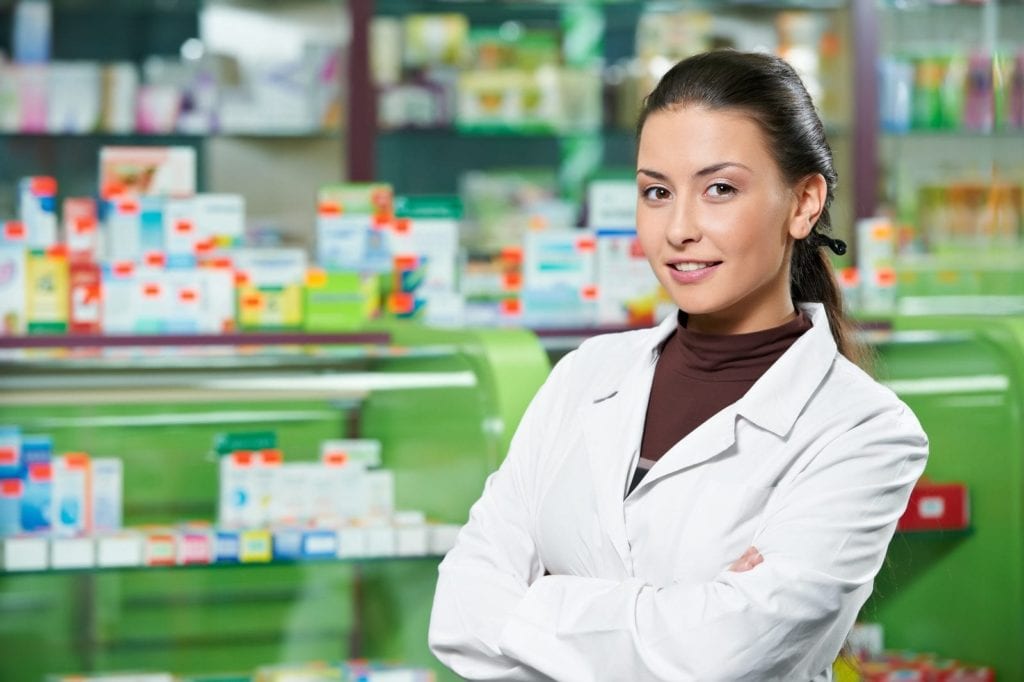 Pharmacy technicians are doing more in the pharmacy. Pharmacy technician programs prepare adults to perform much of the same duties as pharmacists. They perform all the duties related to the pharmacy operations and the dispensing of prescriptions, but a pharmacist must check the technician's work before the prescription is dispensed to the patient. Basic responsibilities include answering the telephone, managing third-party billing, receiving written prescriptions, scheduling consultations between the pharmacist and customers, cleaning and sterilizing equipment, operating the cash register, and managing inventory.
According to the Bureau of Labor Statistics, opportunities for pharmacy technicians are projected to grow 12 percent from 2016 to 2026. The projection is based on an increase in demand for prescription medications. The Illinois State Board of Pharmacy requires adults to obtain a pharmacy technician license before beginning an internship. The candidate for licensure must complete a background check, fingerprint check, and drug screen as part of the requirements for licensure by the Board.
Triton College
The 75-hour pharmacy technician course introduces students to the role of the pharmacy technician in various settings, including community, mail-order, hospital, and managed care. The training will also include preparation for success on the national certification exam. In addition to the classroom theory, students will have the opportunity to complete at least 90 hours of hands-on training at a local pharmacy. Course topics include pharmacology, the role and responsibilities of the pharmacy technician, basic physiology, various disease states, pharmacy law and ethics, communication, retail pharmacy operations, institutional operation, dosage calculations, pharmacy abbreviations, processing prescriptions, generic and brand name medications, and compounding techniques. Other topics include distributing medications, preparing and labeling medicines, stocking and taking inventory of prescriptions, maintaining patients' medication profiles, preparing insurance claim forms, and filling orders for unit doses. Day sessions meet Mondays, Wednesdays, and Fridays from 8:00 to 11:00 am. Evening sessions meet Tuesdays and Thursdays from 6:00 to 9:00 pm.
Admission criteria:
High school diploma or equivalent
Have good communication and interpersonal skills
Complete a background check and drug screen
Take a math placement exam to demonstrate the ability to do basic math
Tuition costs $1,200 and does not include the course textbooks. Additional fees for registration and technology apply.
Address: 2000 Fifth Ave, River Grove, IL 60171
Phone: (708) 456-0300
Jethro Healthcare School
Jethro Healthcare School requires applicants to meet the eligibility requirements before admission to the program. The curriculum includes 50 hours theoretical instruction that will extend for a period of 10 weeks. Qualified instructors offer personalized instruction to prepare students to meet the demand for professional technicians in a retail pharmacy setting. Areas of study include the role and responsibilities of a pharmacy technician, generic and brand name drugs, drug dispensing process, pharmaceutical calculations, patient interaction, anatomy and physiology, digestive, reproductive, and respiratory systems, pharmacy administration, nutrition, and medical terminology. Other topics include pharmacology, customer service skills, communication and interpersonal skills, dispensing prescriptions, and inventory management. The program will include preparation for success on the PTCB exam. The program is delivered based on an evening only schedule. Classes meet Tuesdays from 5:00 to 9:00 pm.
Admission criteria:
A high school diploma
Be 16 years or older
Provide a valid social security number
Provide a valid state ID or driver's license
Take and pass a written admission assessment
Demonstrate proficiency in math
The estimated program cost is $1,070 and includes tuition, registration fee, books, CPR certification, board exam, and license.
Address: 650 W Algonquin Rd., 2nd Floor, Des Plaines, IL 60016
Phone: 847-258-5783
South Suburban College
South Suburban College's ASHP/ACPE-accredited program prepares adults to assist pharmacists with the distribution of medications. The program covers 39 credit hours, including prerequisite courses. Students must complete the theory as well as the pharmacy externship to graduate from the program. Areas of study include pharmacy law, aseptic IV preparation, inventory management, medication order processing, compounding, computers, and use of a prescription balance. Other courses are pharmacy law, medical terminology, pharmacy math, and human body structure. Part-time or full-time schedules are available. At the completion of the theory, students will be expected to complete 300 hours of supervised practice in community and institutional pharmacies. Internships are typically scheduled for daytime shifts. Students must arrange transport to and from the clinical sites. The program admits new students each semester. In addition to the ASHP accredited program, South Suburban also offers a 6-credit Fundamentals of Pharmacy Tech Practice as an abbreviated alternative. The abbreviate program prepares students for entry-level practice in a community pharmacy but is not intended to replace the ASHP accredited program. Graduates of the ASHP-accredited program also have the option to complete general education course to achieve an Associate's Degree in General Studies.
Admission criteria:
Submit a completed application
Submit all high school as well as any college transcripts
Provide a copy of your healthcare insurance
Meet with the program coordinator
Complete all developmental courses with a grade C or better
Complete prerequisite courses – human body structure, fundamentals of medical terminology, composition, and rhetoric
Complete a drug screen
Complete CPR certification – prior to the internship
Tuition costs $145 per credit for resident students.
Address: 15800 South State Street, South Holland, IL 60473-1200
Phone: (708) 596-2000
Oakton Community College
The Pharmacy Technician program at Oakton Community College covers the fundamental knowledge and skills needed to practice in various pharmacy settings. The program will cover retail and institutional pharmacy operations, basic physiology, generic and brand name drugs, drug interactions, billing and insurance, and inventory control. Students must complete 7 credits for the Certificate program. In addition to the classroom theory, students must complete a 280-hour internship. It requires 35 hours of participate at a retail site for a total of 8 weeks. The supervised practice gives students the opportunity to develop pharmacy tech proficiency in a real-world environment.
Admission criteria:
Have a clear criminal background check
Have a high school diploma or GED
Complete a drug screen
Tuition costs $136.25 for District 535 residents.
Address: 1600 E. Golf Road, Des Plaines, IL 60016
Phone: 847-635-1600
Northwest Suburban College
The pharmacy technician program at Northwest Suburban College includes classroom and lab instruction to prepare students for a career as a pharmacy technician. The duration of the program is 12 weeks, and upon its conclusion, graduates will be able to sit the PTCB exam. Course topics include prescription dispensing, administrative procedures, pharmacy terminology, pharmacology, pharmacy regulations, customer service skills, and billing and insurance. Students will be expected to participate in a supervised pharmacy externship at a local retail or hospital pharmacy.
Admission criteria:
Meet with an admission representative
Submit official high school transcript showing courses taken and grades received
Have a minimum high school GPA of 2.5
Obtain criminal background clearance and drug screen
The cost of the program is $2,196. It includes tuition, background check, uniform, lab cost, graduation fee, and CPR certification.