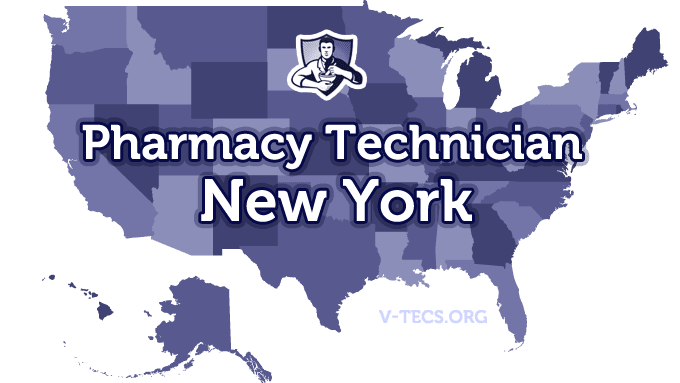 The U.S. Department of Labor's Bureau of Labor Statistics expects the employment rate of Pharmacy Technicians to rise significantly in the coming years. It has been deemed one of the "Bright Outlook" occupations. The growth in this field is thought to be an outcome of multiple factors such as America's ageing population and advances in medical technology.
Pharmacy Tech Shools in New York:
New York Institute of Medical Careers
The New York Institute of Medical Careers (NYIMC) provides a great degree program for aspiring pharmacy students and ensures employment opportunities for all its graduates. Students who wish to enroll are required to have a high school diploma. The duration of the program extends to over 130 hours. The topics covered in this course range from dosage calculations to history of the profession.
An easy installment payment method is provided whereby only a $250 down payment is to be paid at the start of the year, and the remainder of the amount can be divided up into weekly installments. The total cost of the program is $899. The institute is located on Queens and is accessible by both train and bus.
Website: http://www.nyimc.com/
Contact: 718.565.9500
Monroe College
The Monroe College is recognized as one of the nation's best and has been providing quality education since 1933. The college believes in constantly upgrading itself to stay abreast of the newest technologies, and, as such, it has introduced teaching methods based on on-line courses, webinars, etc. Monroe provides many advantages over other colleges such as the ones given below.
Accelerated Learning – It allows students to complete the program in 3 semesters or 16 months.
Flexible Scheduling-Students have the option to attend lessons scheduled for morning, evening, or night. Moreover, online lessons enable students to attend classes even during the night.
Convenient Locations – The central terminal is just 30 minutes away from all the three campuses (The Saint Lucia, New Rochelle, and Bronx) on a train ride.
Transfer Policy – If the students have acquired any prior experience to Monroe, it can be availed to get exemption from certain credits.
Website: http://www.monroecollege.edu/
Contact: 800.556.6676 
The City College of New York
The City College of New York (CCNY) is located on Convent Avenue. It is a convenient and peaceful campus. Their Pharmacy Technician program is designed to meet the surge in current demands. The course covers a comprehensive list of topics. From physiology, pharmacology, to basic arithmetic, the course content is both relevant and interesting. It also focuses on management of a pharmacy, which presents students with the opportunity, not just to master the necessary skills for employment, but also to run one's own set-up.
The proud feat for CCNY is that a majority of their students move on to clear the Pharmacy Technician Certification Examination (PTCE), which the board sets. The program is spread over 25 sessions or 75 hours in all, and thus, makes a reasonable option for those looking to learn essential skills in pharmacy.
Website: https://www.ccny.cuny.edu/
Contact: 212.650.7000
The Manhattan Institute
The Manhattan Institute has developed a Pharmacy Technician program, at the end of which students receive a diploma. The course content includes lessons related to management of pharmacies, calculations of dosages and handling the cash till. The institute welcomes national as well as foreign students to apply. Those who meet the eligibility criteria receive help with obtaining a student visa. Students who do not have the resources to afford the program fee may access financial aid by the institute. In addition, the Manhattan Institute helps their students to get career prospects through the Manhattan's Placement Division (MPD).
Website: http://www.manhattaninstitute.com/
Contact: 347.220.8181
Rochester Educational Opportunity Center
The Rochester Educational Opportunity Center (REOC), founded more than three decades ago, has earned the reputation as one of the most remarkable centers in the state of New York. The Pharmacy Technician program at REOC simulates a real life environment that prepares graduates for a practical life. Students can easily appear for the PTCE once they have graduated.
The course covers these principles.
Pharmacy Technology Basics.
Basics of Mathematics and Chemistry.
Understanding of the Anatomy and Body Functions.
Website: http://www.reoc.brockport.edu/
Contact: 585.232.2730
Molloy College
The Molloy College is located in the Rockville Centre. It is one of the most affordable private colleges on Long Island. The college is known for personalized attention which each student receives due to the optimal number of students in every class. Its two campuses are located in Rockville and Suffolk. A 13-week evening course and a 12-week day course are offered at both. The competitive advantage that Molloy has over others is that their faculty has real-world pharmacy experience and is mostly involved in hands-on pharmacology. This helps bring a relevant perspective to class and prepares students for a professional set-up. A career seminar or orientation session is offered free of charge for students to find out about career opportunities in the field. Financial assistance is provided to veterans, displaced homemakers, and dislocated workers.
Website: http://www.molloy.edu/
Contact: 516.323.3000
Sanford Brown
Sanford Brown also offers a Pharmacy Technician certificate.  Sanford Brown is proud of the fact that students who complete this course with them join the professional world with not just the right skills, but also the right attitude. The program employs both a conceptual and practical mix when it comes to teaching methodologies. Skills such as the following are primarily focused on:
Inventory Control
Dosage Preparation
Finance Handling
Customer Services
Website: http://www.sanfordbrown.edu/
Contact: 877.809.2444
ASA College
The ASA College was founded in 1985. It has two campuses located in Brooklyn and Manhattan. They are easily accessible and provide proximity for students to the commercial centers. Over the years, the college has progressed to becoming a renowned name in imparting medical assistance knowledge to students. Their Pharmacy Technology program prepares students for the PTCE exam. During their time, students learn about the following disciplines:
Communication with stakeholders.
Labeling and stock control of the inventory.
Identify symptoms and forewarn patients.
Knowledge about common prescription drugs and ailments.
Website: http://www.asa.edu/
Contact: 877.679.8772
College of Mount Saint Vincent
The College of Mount Saint Vincent is located on a sprawling 70-acre campus and offers unrivalled facilities of professional and personal development. This specific Pharmacy Technician course is a 50-hour program and offers students a comprehensive knowledge base before entering the professional realm of pharmacy. Employers also prefer the students from Mount Saint Vincent because the program for excellent growth and tremendous practical experience both in real life and simulated scenarios. The program has a very high placement rate, which means that those who finish the program are hired sooner.
Website: http://www.mountsaintvincent.edu/
Contact: 800.665.2678
NYC College of Technology
The NYC College of Technology offers a Pharmacy Technician program that constitutes 85 hours of instructor led teaching. Internships and externships are also offered as part of the program and are often with a stipend. The course accepts students with a high school diploma or a GED. Students are then trained for the PTCE exam. The NYC College, located in Brooklyn, offers many amenities and facilities that many other programs lack.
Website: http://www.citytechce.org/
Contact: 718.552.1170