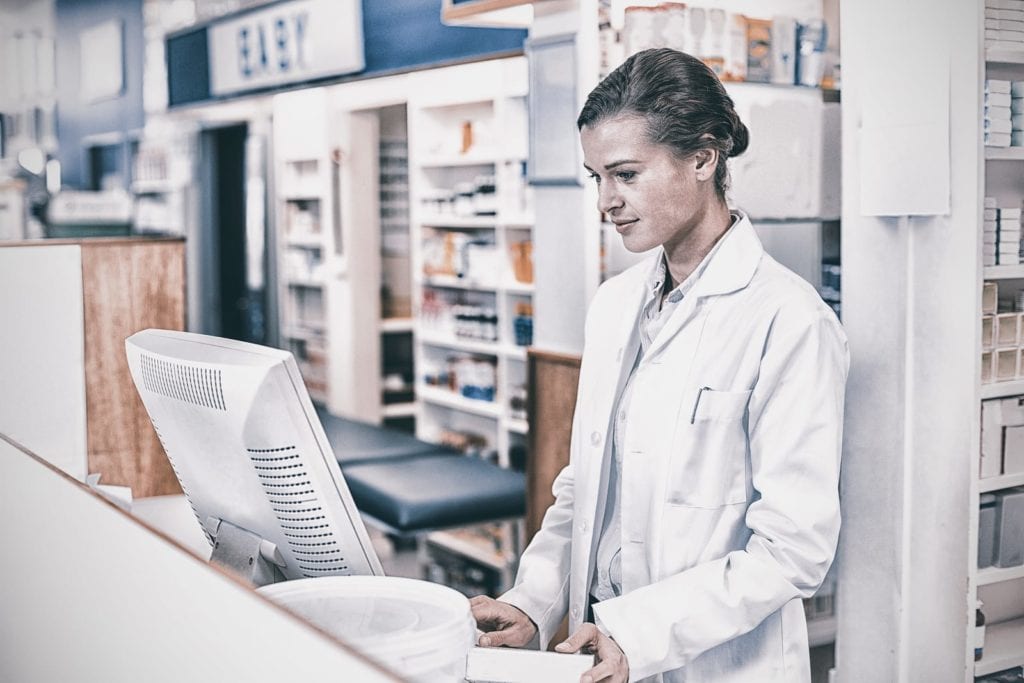 Pharmacy technicians play a larger role in the pharmacy than most patients realize. Their exact responsibilities vary by the place of work – hospital, retail pharmacy, clinic, etc. However, there are duties that are common to almost every setting. Pharmacy technician programs provide students with basic skills to function as effective members of the pharmacy team. Pharmacy terminology, patient safety, and receiving and dispensing medications are critical skills that students will develop to function effectively in a pharmacy setting.
Technicians have a primary role in receiving and verifying prescriptions. Whether the prescription is delivered in person or sent using digital technology, the technician must confirm patients' information and type of medication and quantities to ensure patient safety. Preparing the medication for dispensing is the next step, and it involves more than pouring, counting, or measuring medications and labeling containers. In hospitals and specialized units, technicians might have to responsibility of preparing compound mixtures and intravenous solutions – which require special skills and accuracy.
Apart from the preparation of medications for distribution to the patient, technicians must have good interpersonal skills to manage customer queries, interact with insurance agencies, receive and update inventory, ring up sales, and perform other administrative duties. According to the United States Bureau of Labor Statistics, employment of pharmacy technicians is expected to grow 12 percent from 2016 to 2026 – faster than the average for all occupations.
North Virginia Community College

The pharmacy technician program at NOVA Workforce delivers excellent academic instruction and practical training to prepare students for employment in the pharmaceutical industry. Students must agree to adhere to the code of professional conduct expected of health professionals – violation will result in a disciplinary warning, disciplinary action, and dismissal from the program. Attendance and participation account for a major part of the final grade – up to 50%. Students who miss more than 8 hours of class time will be dismissed from the program. Course content includes reading and interpreting prescriptions, medical terminology, dosage calculations, inventory control, IV flow rates, drug compounding, billing and reimbursement, dispensing of prescriptions, measurements and conversions, and defining drugs by generic and brand names. The program has an optional clinical component. The Clinical Coordinator will work with students to make arrangements for placement in an appropriate facility. The externship will require participation in at least 80 hours of practice at a local retail pharmacy. Placement is subject to availability and requires a statement of good health and current resume. Classes meet Tuesdays and Thursdays from 7:00 pm to 10:00 pm for 27 sessions.
Admission criteria:
Create a student profile and register through MyWorkforce online
Pay for the class at the time of registration
Pass a background check
Up-to-date immunizations – MMR, varicella, hepatitis B, Tdap,
Pass a 10-panel drug screen
Submit a current resume
TB skin test
Tuition for the Pharmacy Technician certificate is $1,950. It includes the textbook and national exam fee.
Website: https://www.nvcc.edu
Address: 2675 College Drive, Woodbridge, VA 22191
Phone: 703-878-5770
West Potomac Academy

The Pharmacy Technician program at West Potomac Academy includes classroom lectures and clinical pharmacy experiences to prepare students to become a critical part of the pharmacy team. Students will develop the skills that align with state pharmacy competencies and discover the wide range of career opportunities in the field. The externship at a local pharmacy will further encourage technical skills and collaboration with the pharmacy team. Areas of study include the role and responsibilities of the pharmacy technician, the pharmacy industry, medication maintenance, management of inventory, communication and interpersonal skills, customer service, finance, leadership skills, safety in practice, career development and resume building, pharmacology, and anatomy and physiology. High school seniors have the option to enroll in Pharmacy Tech II that builds in the first course. Areas of studies include pharmacy administration and management, inventory control systems, receiving and dispensing prescriptions, and other topics. Graduates of the program will be eligible to sit for a national exam to become Certified Pharmacy Technicians. The program is available for high school students only.
Contact the program administrator for a current schedule and cost.
Website: https://westpotomacacademy.fcps.edu/department/pharmacy-technician
Address: 6500 Quander Road, Alexandria, VA 22307
Phone: 703-718-2750
Email: WestPotomacAcademyAttendance@fcps.edu

Unitech Training Academy

Unitech Training Academy enrolls adults and trains them to fill much-needed roles in the pharmacy sector. The Pharmacy Technician Certificate program includes theory and hands-on practice so support the transition from the classroom to real-world environment. Experienced instructors will emphasize patient confidentiality, ethics and professionalism in practice, and state practice guidelines. Course topics will include but are not limited to the role and responsibility of the pharmacy technician, pharmacy calculations, code of ethics, health insurance billing, CPR certification, anatomy and physiology, medical terminology, pharmacology, pharmacy calculations, generic and brand name drugs, receiving and preparing prescriptions, and packaging and labeling. Students must participate in a clinical rotation to conclude their training. The curriculum covers a total of 63.07 quarter credit hours. Day and evening schedules are available. The day program will be completed in 11 months. The duration of the evening program is 18 months.
Admission criteria:
Must be at least 17 years old
Proof of completing high school or GED equivalency
Take and pass the Wonderlic exam with a minimum score of 13
Provide a copy of immunization records covering the vaccination requirements of the clinical agency
Pass a criminal background check and 10-panel drug screen
Tuition, registration, and lab fees cost approximately $15,400.
Website: https://unitechtrainingacademy.com/pharmacy-tech/
Address: 7228 England Drive, Building 1912, Alexandria, LA 71303
Phone: 318-625-0468

Stratford University

Stratford University offers an Associate of Applied Science in Pharmacy Technician program to prepare adults to work alongside pharmacists in the capacity of a pharmacy technician. The program's emphasis is the safe dispensing of prescriptions to patients and the preparation for success on a national certification exam. Graduates will be eligible to sit for the national exam to become a Certified Pharmacy Technician. Instruction will include community pharmacy operations, institutional pharmacy operations, diseases of the human body, medical terminology, pharmacy calculations, pharmacy informatics and technology, pharmacy administration, pharmacology, billing and insurance, and generic and brand name drugs. The AAS degree requires completion of art and science courses, elective requirements, and specialized courses. Students must also participate in a clinical externship to develop technical skills as they work alongside other professionals. During the hands-on practice in a real-world setting, students will learn how to screen and verify incoming orders, manage customer queries, prepare drug orders for distribution, select medications and package for distribution, answer the phones, and process returns.
Admission criteria:
High school transcript or official GED scores
Be proficient in the English Language
A completed application to Stratford University along with the non-refundable application fee of $50
Any official college transcripts
Pass a 10-panel drug screen
Provide proof of the immunizations required by the clinical agency
Valid CPR certification
Undergraduate tuition costs $370 per credit. Students must complete 90 credits to earn the associates degree.
Website: https://www.stratford.edu/health-sciences/associate-pharmacy-technician
Address: 2900 Eisenhower Ave, Alexandria, VA 22314
Phone: (571) 777-0130
Toll-Free: (855) 444-5018
Email: alexandriaadmissions@stratford.edu

Metropolitan Institute of Health & Technology

Adults enrolled in the pharmacy technician program at the Metropolitan Institute of Health & Technology will develop technical skills that will be beneficial to pharmacists in community and institutional pharmacies. A student-friendly environment, experienced instructors, and small class sizes give enrich students' experience during the program. The curriculum will include classroom lectures and hands-on experiences in the school's lab followed by a pharmacy externship at a community pharmacy. The internship supports the development of technical skills, teamwork, communication, and patient safety.
Admission criteria:
A completed application for admission
High school diploma or GED equivalency
A personal interview with admissions
Have good written and oral English communication
Tuition costs $1,500 and includes books, uniform, materials, registration fee, and insurance.
Website: http://mihtschool.com/health-programs/pharmacy-technician/
Address: 8170 C-D Silverbrook Rd. Lorton, VA
Phone: 703-745-5108
Email: info@mihtschool.com