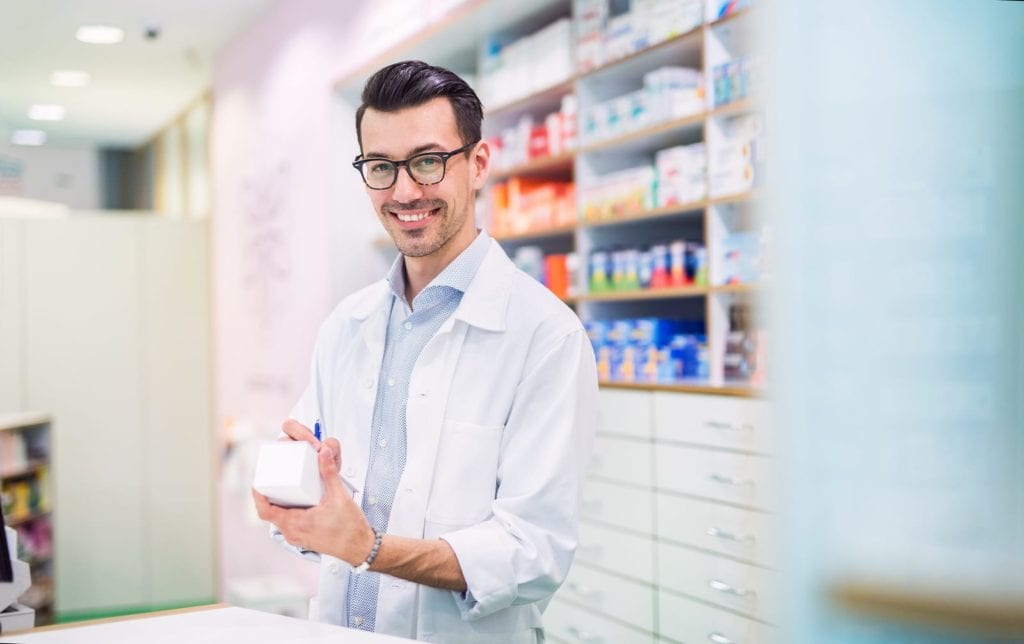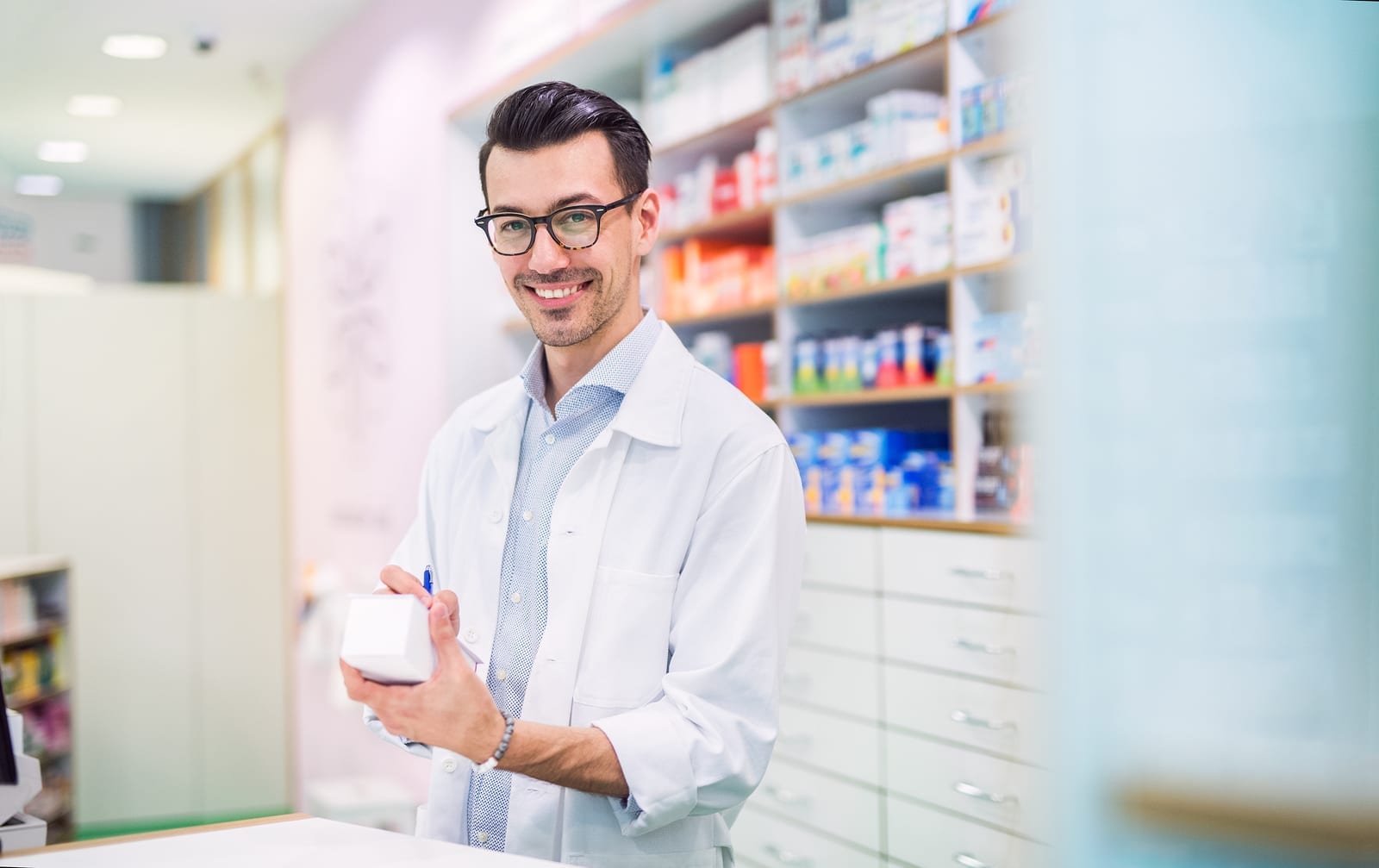 A pharmacy technician's primary responsibility is to assist the pharmacies with the receipt and preparation of prescriptions for dispensing to patients. They receive prescriptions from customers or electronically from an physician's office, perform activities related to the management of inventory, order supplies, package and label medications, count, pour, measure, and weigh medications, attend to customer service issues, and assist with payment and billing. Although a technician can manage the prescription process from start to finish, a pharmacist must review the order for completeness and accuracy before it can be dispensed to the customer.
Technicians must have the competency to work in the fast-paced environment of a medical facility. Pharmacy technician programs cover the key skills needed to perform and functions of a technician. It will include lectures in the classroom reinforced by practical experiences in a clinical environment. Programs that are accredited by the Association of Health Systems Pharmacists (ASHP) will include hands on training opportunities in a retail and hospital pharmacy. Though the job may be challenging it presents many rewards for those who want to make a difference in the lives of patients. Pharmacy technicians can quickly advance through the ranks of healthcare with continuing study.
Pharmacy technicians may work full-time or part-time. Full time technicians earn between $31,750 and $45,800 per year plus benefits. Technicians employed in a hospital typically earn more than those employed in community pharmacists and have greater responsibilities. Pharmacy technician is one of the fastest growing occupations in California.
West Los Angeles College

The Pharmacy Technician Program at West Los Angeles College will prepare adults for an exciting career in the filed of pharmacy. Upon successful completion of the course, those who meet the state requirements will qualify for a State of California Pharmacy Technician license to work in a retail or hospital pharmacy or another health care setting. Students can complete the requirements for a Basic Pharmacy Technician Certificate of Achievement in just one year. The certificate requires participation in at least 80 hours of advanced clinical experiences to prepare for employment. The combined classroom and clinical experiences total more than 490 contact hours of comprehensive instruction. Required classes include Retail Products For Pharmacy Clerks, Introduction to Pharmacy, Communication and Customer Service in Healthcare, Computers in Health Occupations, Body Systems, Pharmacy Calculations, Body Systems, Inpatient Pharmacy Services, Pharmacy Operations, Community and Pharmacy Externship, Sterile Products, In-Patient Pharmacy Services Externship, and Sterile Products Externship. An Advanced Certificate of Achievement and Associate of Science Degree are also available. Graduates of the basic certificate can complete an additional 3 classes to obtain the Advanced Certificate of Achievement. The program fulfills the technician training guidelines supplied by the Association of Health Systems Pharmacists (ASHP).
Admission criteria:
• A completed West Los Angeles College Student Application
• Pharmacy Technician Student Information Sheet
• Placement at English 28 and Math 125 in the English and Math assessments
• Be 18 years or older – must provide verification of age
• Complete criminal background clearance
• Verification for employment in the United States
• Clear drug screen
• A high school diploma or GED
Tuition for the Basic Certificate is $1,830 for California residents. Books and supplies cost an additional $2,687.
Website: http://www.wlac.edu/pharmacy/index.aspx
Address: 9000 Overland Avenue, Culver City, CA 90230
Phone: 310-287-4200

Valley College of Medical Careers

The Pharmacy Technician program at Valley College of Medical Careers covers the basics of pharmacy operations, dispensing medications, computer skills, pharmacology, and personal development to prepare students for employment in various pharmacy settings. Graduates will be eligible to apply for employment in retail pharmacies, hospital pharmacies, long term care, and other pharmaceutical environments. Students will learn how to identify and understand drug nomenclature, identify drugs by generic and brand names, calculate weights and measures, perform conversions, perform pharmacy operations in various settings, prepare sterile products, and practice within the guidelines of California Pharmacy law. Course titles include Career Development, General Concepts of Pharmacy, Federal and State Pharmacy Law, Pharmacology of the Central Nervous System, Extemporaneous Compounding of Sterile Products and Aseptic Techniques, Pharmaceutical Procedures, Pharmacology of Skin, Pharmacy and the Geriatric Patient, Cancer and Chemotherapeutic Treatments, Pharmacy Externship, and much more. The externship will cover 120 clock hours. Instructors will cover 860 clock hours in 40 weeks, and students will earn 45.5 semester credit hours. Classes meet Monday through Friday from 8:00 am to 12:00 noon, or 1:00 pm to 5:500 pm, or 6:00 pm to 10:00 pm.
Admission criteria:
• Attend an interview and school tour
• Complete an application for admission
• Pay the registration fee of $100
• Have a high school diploma or equivalent
• Be 18 years or older – must provide proof of age
• Take and pass the school's accepted standardized tests – Wonderlic SLE
The cost of attendance is $13,950 and includes tuition, registration fee, books and supplies.
Website: https://www.vcmc.edu/vcmc-programs/pharmacy-technician/
Address: 8399 Topanga Canyon Blvd., West Hills, CA. 91304
Phone: (888) 271-1444
Alt: (818) 883-9002
Email: info@vcmc.edu

West Valley Occupational Center

The pharmacy technician program at West Valley Occupational Center prepares students for employment in a community, retail chain, long-term care, or hospital pharmacy. The curriculum includes theory and practical preparation in the areas of medical terminology, pharmacy operations, pharmacology, receiving and preparing prescriptions for dispensing, dosage calculations, inventory control, packaging and labeling medications, record keeping, and billing. Students will also learn the role and responsibilities of a pharmacy technician, federal and state requirements, pharmaceutical terms, pharmacy abbreviations, drug manufacturer, sterile preparations, anatomy and physiology, and identifying medications by generic and brand names. Students will participate in an externship at the community site where they will apply the principles covered in the classroom. Graduates will be eligible to register as a Pharmacy Technician through the California State Board of Pharmacy and take the PTCB exam to become a Certified Pharmacy Technician.
Admission criteria:
• Demonstrate competency in written and verbal communication in English
• A high school diploma or equivalency
• Complete a physical exam
• Obtain TB clearance
• Demonstrate a 9.0 reading level on an assessment
• Have basic math skills
• Basic CPR certificate
• Have no criminal record
• Pay the registration fee at the time of registration.
The estimated cost of the program is $1,500 includes the $650 registration fee, books, insurance, and supplies. Insurance must be purchased directly from an insurance provider.
Website:  https://www.wvoc.net/
Address: 6200 Winnetka Ave, Woodland Hills, CA 91367
Phone: 818-346-3540

California State University

Candidates for the pharmacy technician program offered at Cal State LA Downtown must first attend an open house information session. The training prepares students to work as a pharmacy technician in retail, hospital or other pharmacies in just 10 weeks. The curriculum covers 50 contact hours of theoretical study. It will cover the knowledge areas that are essential to practice as a pharmacy technician. Areas include but are not limited to medication safety, laws and regulations, quality assurance, compounding, pharmacology for technicians, order entry, information systems, inventory management, order entry and refills, billing and reimbursement, pharmacology, dosage calculations, and packaging and labeling. The training will also include preparation for the Pharmacy Technician Certification Exam (PTCE). Experienced instructors will place emphasis in three areas – pharmacology, practical wisdom, and law. Graduates will be prepared to work within the scope of practice for technicians, apply pharmacy laws and regulations in practice, identify common drugs including those relating to body systems, use pharmacy information systems for billing, inventory, and reimbursement, and convert quantities and dosages. They will be eligible to apply for employment in hospitals, clinics, long term care facilities, mail order pharmacies, retail pharmacies, and industrial complexes. Classes are evening only – from 6:00 pm to 9:00 pm. Classes schedules may change during the final week of the program.
Admission criteria:
• A high school diploma or GED – must have covered math and science in high school
• Good written and oral communication in English
• Basic math skills
• Be 18 years or older
Tuition for the program is $1,299 and does not include the cost of textbooks. Unemployed applicants must be eligible for free tuition. The American Job Center will determine candidates' eligibility for free training.
Website: http://www.calstatela.edu/dtla/pharmacy-technician-program-downtown-la
Address: 5151 State University Drive, Los Angeles, CA 90032
Phone: (323) 343-3000