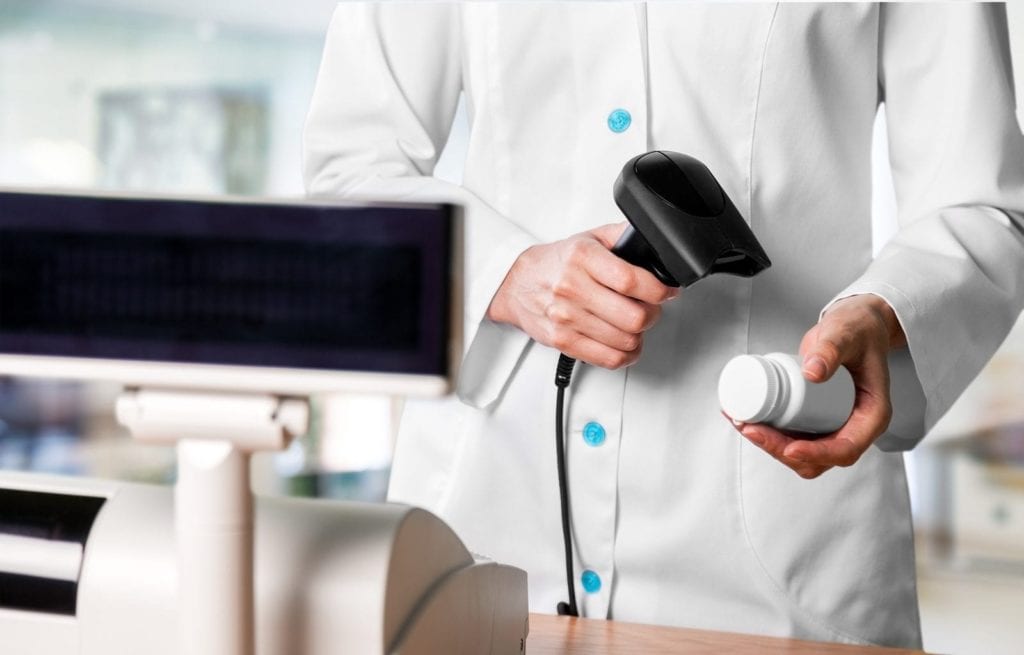 As support personnel, pharmacy technicians conduct various tasks in the pharmacy under the supervision of a licensed pharmacist. They are capable of executing a number of duties that do not require the professional judgment of the pharmacist and operate within strict accordance of state guidelines, standards, and procedures. Common duties include packaging and labeling medications, maintaining inventories or drug supplies, updating patient records, mixing drugs with parenteral fluids, and filling and dispensing orders. Using their training in the technical and administrative aspects of a pharmacy, technicians execute their role competently giving pharmacists the freedom to counsel patients and collaborate with other health care professionals. Graduates of a pharmacy technician program can take a national exam for certification, which will increase their job outlook in New Mexico and other states. The salary for pharmacy technicians in New Mexico depends on location and ranges from $8.75 to $14.50 an hour.
Central New Mexico Community College
The pharmacy technician program at Central New Mexico Community College is accredited by the American Society of Health-System Pharmacists (ASHP). It provides students with knowledge, skills, and competencies to become registered through the New Mexico Board of Pharmacy and apply for national certification. The training leads to an Entry Level Certificate of Completion. Graduates can then apply for admission to the Pharmacy Technician Advanced Level Associate of Applied Science degree program. Classroom, laboratory and practical experiences cover all aspects of the role of the pharmacy technician. The lab component will include a 90-hour block dedicated to the preparation of sterile hazardous and non-hazardous intravenous products. This will help graduates satisfy the New Mexico training requirements for technicians who compound sterile operations. Another 90-hour block will cover the preparation of non-sterile hazardous and non-hazardous compounded preparations. The certificate requires completion of 45 credit hours. The duration of the program is four terms. New courses begin in Fall and Spring semesters.
Admission criteria:
Must be 18 years old to enroll in the Pharmacy Technician Clinical
Must have a valid social security number
Must undergo the New Mexico Department of Health caregivers criminal history screening program which includes a criminal background check and fingerprints
Must submit to routine drug screen
Provide documentation od current immunizations
Must have current Healthcare Provider Basic Life Support (CPR) certificate
Must be good in good physical and psychological health – provide documentation of a recent physical exam
Tuition for the program is $2736. Additional costs for textbooks, supplies, uniforms, background check, and drug screen must be covered by the student.
Website: https://www.cnm.edu/
Address: 525 Buena Vista Dr. SE, Albuquerque, NM 87106
Phone: (505) 224-3000
PIMA Medical Institute
The pharmacy technician curriculum at PIMA Medical Institute includes math, chemistry, and medicine to prepare students to accept electronic prescriptions, mix intravenous fluids, calculate dosages, label containers, and supply patients with health products. They'll also be able to stock inventory, verify the accuracy of a prescription, manage order entry, and receive written prescription requests. A special module on IV Therapy will be covered in the training to prepare students for work in a hospital pharmacy site. Course topics include anatomy, physiology, and terminology, pharmacy math, pharmacy law and ethics, pharmacology, pharmacy technician duties, the principles of customer service, pharmacy computer analytics and much more. The certificate program covers 840 clock hours or 35.5 credit hours. Graduates of the nationally accredited program are eligible to sit the PTCB's exam for CPhT certification. Day classes are completed in 35 weeks and evening classes are 40 weeks.
Admission criteria:
Submit an application for admission
Provide proof of high school verification – a high school diploma, high school transcript, GED, official academic transcript
Must be able to speak and write English
Must meet the minimum score on the entrance exam – Wonderlic SLE
Submit to a background check and drug screen
Tuition for the program is $17,854. It includes textbooks, lab supplies, technology fee, and uniforms.
Website: https://pmi.edu/
Address: 4400 Cutler Ave N.E., Albuquerque, NM 87110
Phone: 800-477-PIMA
Carrington College- Albuquerque Campus
The pharmacy technician program at Carrington College includes theory and practical training to enable graduates to function as entry-level assists to a licensed pharmacist. Apart from formal training in the classroom, students must complete a real-world pharmacy technician externship at an approved local facility. The certificate program requires students to complete general education coursework such as mathematics, science, English composition, computer literacy, and social sciences. Technical coursework includes pharmacy calculations, chemical and physical characteristics of drugs and preparation of sterile dosage forms, medical abbreviations, symbols used in prescribing, and standards of ethics and law. Students will complete a total of 840 clock hours – 375 lecture hours, 225 lab hours, and 240 externship hours. Graduates will earn 36 credit hours. The program leads to a Pharmacy Technician Certificate. A traditional and blended program are available. The duration of the program is 36 weeks.
Admission criteria:
Must have a high school diploma or GED
Must be at least 18 years of age
Provide proof of immunization
Take and pass the Wonderlic SLE with a minimum score of 13
Pass a criminal background check and drug screen
The program cost of $15,619 includes tuition, books, and supplies.
The University of New Mexico
The pharmacy technician with clinical certificate program at the University of New Mexico prepares students to enter the field of pharmacy and take the PTCB exam for national certification. The program is delivered online and the externship will be conducted at a local pharmacy. The curriculum includes theory and practical instruction and covers pharmacy terminology, reading and interpreting prescriptions, identifying generic and brand name drugs, and pharmacy calculations. Course content includes pharmacy calculations, dosage calculations, sterile compounding, dose conversions, aseptic technique, total parental nutrition, dispensing of prescriptions, inventory control, billing and reimbursement, IV flow rates, and the top 200 drugs. Before participating in the clinical externship, students must complete the theoretical training and pass all the quizzes and the final exam. Graduates are eligible to sit the PTCB exam to become nationally certified technicians.
Admission criteria:
Must have a high school diploma or GED
Must have a computer and internet access
A background check and drug screen may be required for the clinical externship
Tuition for the program is $3,000.
Website: http://ce.unm.edu/
Address: 1 University of New Mexico, Albuquerque, NM 87131
Phone: 844-220-4266