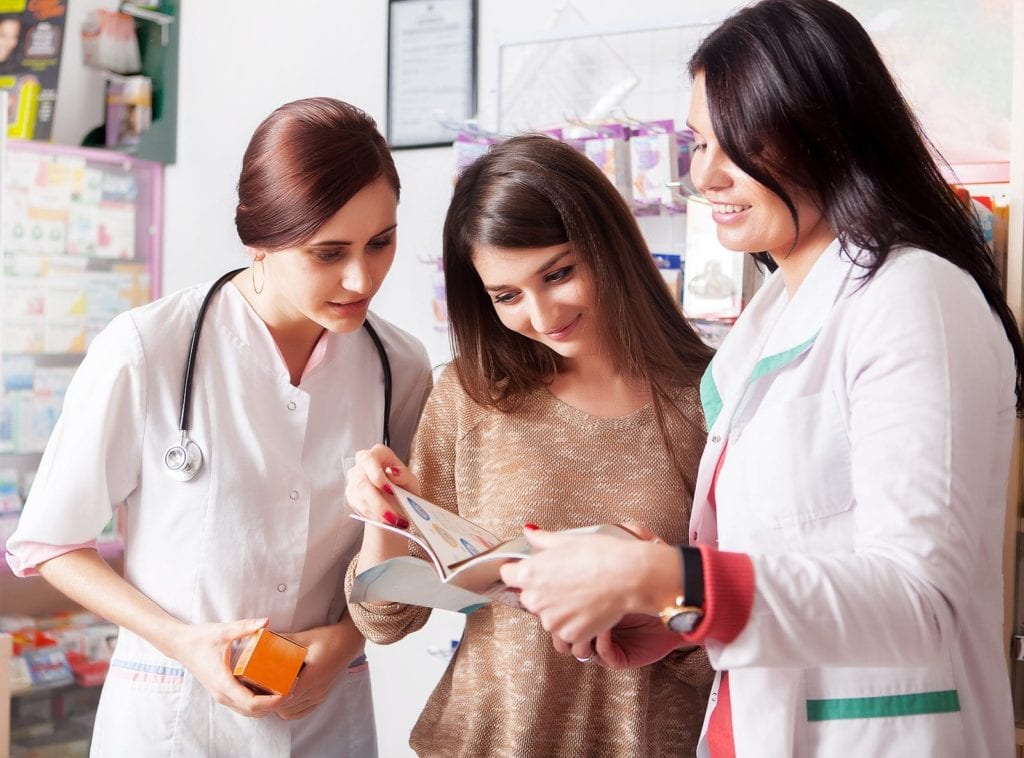 As the senior population increases in the United States, it will contribute to a rise in health care jobs, including the demand for skilled pharmacy technicians. Pharmacy technicians work under the supervision of licensed pharmacists in retail and hospital pharmacies. Their expanding scope of practice requires continuous training. For this reason, anyone who undertakes the initial pharmacy technician training should make a commitment to lifelong learning. Apart from preparing prescriptions for dispensing, pharmacy technicians must maintain patient profiles, prepare insurance claims, receive and interpret prescriptions, and take inventory. The additional administrative responsibilities require adept computer skills and an understanding of healthcare information systems. Since a pharmacy technician's most important duty is to promote patient confidence and safety, good communication, customer service, and organizational skills are also essential.  The profession is expected to have a bright outlook. According to the U.S. Bureau of Labor Statistics, employment of pharmacy technicians is expected to grow 9 percent from 2014 through 2024 – an outlook that is much faster than the national average for all occupations.
Fortis Institute
Fortis Pharmacy Technician graduates understand the basics of pharmacy practice well enough to fill an entry-level position in a retail, hospital, or online pharmacy and other pharmaceutical settings. Students learn how to read, fill, and dispense prescriptions, as well as the legal responsibilities of record maintenance and the handling of various drug categories. Other topics of study include pharmacy calculations, medications, common drug interactions and their side effects, pharmaceutical agents, and much more. The program features 780 clock hours. Full attendance is required for the 46-quarter credit class. Graduate will receive a Pharmacy Technician Diploma and be eligible to take the PTCB exam. The duration of the program is 36 weeks. Classes meet Monday through Thursday from 8:00 am to 1:00 pm. Evening classes meet Monday through Thursday from 5:30 pm to 10:30 pm.
Admission criteria:
Must be a high school graduate or have a recognized equivalent
Must be 17 years or older
Submit a completed application form
Take the Wonderlic SLE and achieve a passing score of 11 or above
Must be able to meet the program's financial obligations
Must agree to and sign the Fortis Institute Enrollment Agreement
Must submit to and pass a criminal background check
Present documentation of current Hepatitis B injections I and II and a TB test within an acceptable timeframe
Must submit to and pass a drug screen
Tuition for the program is $16,606. It includes the enrollment fee, uniforms, textbooks, student kit, and certification fee.  Financial aid is available for eligible students.
Daymar College
Daymar College's pharmacy technician program prepares students to become pharmacy technicians. The diploma program covers general education courses and computer skills in addition to the pharmacy technology courses. Course topics include strategies for success, medical terminology, anatomy and physiology, medical law and ethics, pathophysiology, introduction to pharmacy technician practices, microbiology, prescription and OTC medications, pharmacy operations and claims, and compounding aseptic technique and non-sterile compounding. General education requirements include general English and college math. Students will complete 16 quarter credits per semester. Those who successfully complete 72 quarter credits will receive a Pharmacy Technician Diploma. Graduates have the option to complete additional general education courses to earn an Associate of Science Degree. The duration of the program is 15 months.
Admission criteria:
Complete all enrollment documents including the application and enrollment agreement
Complete the College disclosure forms
Must tbe 18 years or older. Applicants under 18 must obtain a parent or legal guardian signature on the enrollment agreement
Provide proof of completing high school or GED
Take and pass the Wonderlic SLE with a passing score of 12 or above
Complete the Online Readiness Assessment
Must complete a national criminal background check
Provide immunization documents for MMR and Hepatitis B
Tuition for the diploma program is $25,141 plus expenses for books and supplies.
Tennessee College of Applied Technology – Murfreesboro Campus
pharmacy technician program at the Tennessee College of Applied Science includes classroom lectures, skills lab, and pharmacy technician externship in an established pharmacy. Students receive the technical instruction and skills development to secure gainful employment in the field of pharmacy. The program is accredited by the American Society of Health System Pharmacists (ASHP). The curriculum covers 864 clock hours of theory and practical instruction. In the classroom, students learn pharmacy calculations, sterile and non-sterile compounding, pharmacy law and ethics, pharmacology, trade and generic names for common drugs, pharmacy practice, dispensing prescriptions, and computerized systems. The program culminates with a pharmacy technician externship at a retail or hospital pharmacy. Graduates will receive a diploma which will grant them eligibility to take the PTCB's exam for CPhT certification. The duration of the program is 8 months. Classes meet Monday through Friday from 7:45 am to 2:30 pm.
Admission criteria:
Must be 18 years or older
Complete the TCAT – Murfreesboro application for admission
Must have a high school diploma or GED
Provide proof of required immunization
Take and pass the HESI
Take and pass a criminal background check
Submit to drug testing
Tuition for the program is $4,048. There will be an additional cost of $788 for textbooks and supplies.
Vanderbilt University Medical Center
The pharmacy technician program at Vanderbilt is offered in a hybrid format. Students will complete the theory online and spend at least 8 hours per week at the school to complete labs. The final 8 weeks of the program will cover experiential rotations where students will develop and demonstrate skills duration through two rotations at different pharmacy locations. The curriculum covers 624 hours.  It includes 176 contact hours theory online, 128 hours pharmacy simulation lab, and 320 hours of pharmacy externship. Course topics include an introduction to pharmacy, pharmacology for technicians, career development, principle of pharmacy operations, pharmacy simulation lab, and pharmacy technician rotation I and II. The duration of the program is 20 weeks.
Admission criteria:
Provide proof of US citizenship, permanent resident status, or eligibility to study in the US
Must have a high school diploma or equivalency
Submit a completed application and non-refundable registration fee of $50
Submit a current resume
Provide three references
Submit a personal essay detailing desire to become a pharmacy technician
Tuition for the program is $5,500. It does not include the cost of the application fee, background check, uniforms, books, and additional fees.
Website: https://www.vumc.org/
Address: 1211 Medical Center Drive, Nashville, TN 37232
Phone: (615) 322-5000