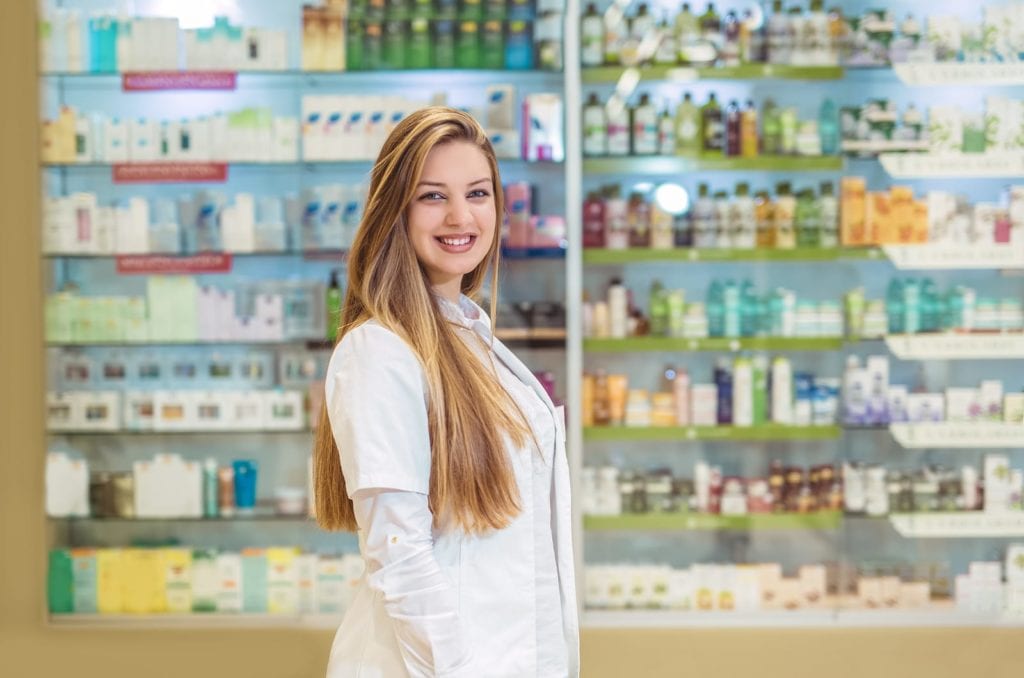 Rapid growth in the healthcare industry is creating an abundance of opportunities for careers in Allied Health. Pharmacy technicians practice under the direction of registered pharmacists to dispense medications to patients. They work in grocery stores, community pharmacies, hospitals, and other health care facilities. Outside the medical industry, pharmacy technicians may work in insurance companies, pharmaceutical manufacturers, and research.
Pharmacy technicians make valuable and much needed contributions to the operation in a pharmacy. If you're looking to get into the healthcare industry, a job as pharmacy technician may be one path that you can choose. It will open many other opportunities for growth or diversification. Technicians receive, verify and fill prescription requests, manage inventory, assist with customer services issues, refer patients to the pharmacists, create and maintain patient profiles, and communicate with insurance companies to arrange payment. A pharmacist must check the technician's work before it can be dispensed to the customer.
The New York State Board of Pharmacy does not require licensure, registration or certification. Many employers require certification from their employers. Pharmacy technician programs provide essential preparation for the certification exam. Technicians who pursue certification from an organization like the Pharmacy Technician Certification Board will have met the nationally recognized standards of competency and commitment to the profession. Certification will give them a competitive edge in the job search and improve their potential earnings and opportunities.
There is approximately 12 percent job growth projected for pharmacy technicians from 2016 to 2026 – a rate that is faster than the average for all occupations. The expected growth may be attributed to greater life expectancy, prevalence of chronic illnesses, and the availability of medication to treat diseases.
Long Island – Educational Opportunity Center
The pharmacy technician program at LIEOC covers that material students need to succeed on the Pharmacy Technician Certification Exam (PTCE) that is administered by the PTCB. Students who successfully pass the PTCE will receive the CPhT credential. Area of study includes pharmacy terminology, receiving and preparing prescriptions, pharmacology, inventory control, billing and insurance, communication, and dosage calculations. The duration of the program is 13 to 14 weeks and can be completed in one semester.
Admission criteria:
High school diploma or high school equivalency
Take and pass a placement test
Provide proof of identification – a NY state driver's license or ID, social security card or tax ID number
Provide proof of financial need – Federal Tax Return Form and unemployment letter, or SSI Award letter, or rent or utility receipt, or DSS budget print out
Tuition is free for candidates who meet the financial and educational eligibility requirements. There is a separate fee for the national exam.
Website:  https://longislandeoc.org
Address: 1090-A Suffolk Avenue, Brentwood, NY 11717
Phone: 631-434-3740
Cambridge Business Institute
The accredited pharmacy technician program offered by Cambridge Business Institute is a first step to a rewarding career in the pharmacy industry. Students will develop skills such as the discernment of medicines and laws that guide distribution, first aid, handling of hazardous substances, drugs and their effect on the human body, the state legislation that guide practice. The curriculum will include academics as well as hands-on training in the school's modern facilities. Students will also participate in a pharmacy technician externship in a real-world pharmacy. The knowledge and skills components of the program will enable graduates to communicate effectively with patients and members of the pharmacy team, receive and prepare prescriptions according to priority, dispense medications accurately, and distribute pharmacy products according to standards, procedures, and policies. Cambridge offers flexible schedules, experienced instructors, and preparation for the national exam.
Use the contact information below to learn more about the cost of tuition and class schedules.
Website:  https://cambridge-edu.com
Address: 50 Clinton Street, Suite 303, Hempstead, NY 11550
Phone: 516-874-5059
Nassau Community College – Center for Workforce Development
The pharmacy technician program at the Center for Workforce Development combines classroom instruction with an externship experience to prepare students for the Pharmacy Technician Certification Board exam. Approximately 120 hours in the classroom will be dedicated to instruction in calculating dosages, reading and interpreting prescriptions, pharmacology, drug classification, drug interaction, prevention of medication errors, and filling prescriptions. There will be an emphasis on ethics, laws and regulations, professional communication and teamwork, safety in practice, and preparation for the certification exam. The pharmacy externship will comprise of 80 hours of skills development in a pharmacy setting. They will apply the principles learned in the classroom under the direction of a registered pharmacist. Classes meet Mondays and Wednesdays from 6:00 pm to 9:00 pm for 32 classroom sessions. The duration of the program is approximately 6 months.
Admission criteria:
A high school diploma or equivalent
A background check and drug screen – a felony conviction may prevent participation in the clinical rotation
Copy of a government issued ID
Tuition for the program is $2,250.
Website: https://www.ncc.edu/continuingeducation/workforcedevelopment/pds/Pharmacy_Tech_Flyer.pdf
Address: One Education Drive, Garden City, New York, 11530
Phone: 516-572-7487
Email: cwd@ncc.edu
Barry Tech
Barry Tech seeks to prepare pharmacy technician students with the skills to execute the task of a pharmacy technician. Students will learn in the classroom in the mock pharmacy department. The study will include medical and pharmacy terminology, pharmaceutical procedures and techniques, pharmacy law and ethics, record keeping, pharmaceutical calculations, compounding of medications, inventory, patient profiles, and insurance. During a mandatory pharmacy externship, students will learn how to count tablets and measure liquids, prepare prescriptions for dispensing, price and file prescriptions, compound medications, weigh and measure medications, establish and maintain patient profiles, package and label bottles, keep track of inventory, and check prescriptions for accuracy. The location for the externship include but is not limited to Nassau University Medical Center, Walgreens Co., Parkside Pharmacy, and other independent pharmacies. Graduates will be eligible for CPR, Heart Saver/Frist Aid certification through the American Heart Association. They may also receive college credits (up to 4 a year) – based on the requirements of individual institutions. The program is available for students in the 11th and 12th grades. The duration of the program is one to 2 years.
Admission criteria:
Have a strong background in basic math
Fill out the application form – available at a local high school
Tuition is free for eligible persons. Students must arrange transport to the clinical sites and purchase uniforms for the classroom.
Website: https://www.nassauboces.org/Page/4484
Address: 1196 Prospect Avenue, Westbury, NY 11590
Phone: (516) 622-6800
Email: webmanager@nasboces.org
Access Careers
Graduates of the pharmacy technician program at Access Careers have a unique privilege of kick starting their career soon after passing the ExCPT exam. Through an affiliation agreement that Access Careers has with Walgreens, students will have the opportunity to interview and intern with the organization. The curriculum covers 120 hours of instruction in the classroom and lab. Course modules include Introduction to Pharmacy Technician, Drug Types, Dosage, Distribution and Routes of Administration, Drug Information Sources, Transcription of Prescription & Hospital Orders, Federal Pharmacy Law, Controlled Substances Regulations, Introduction to Pharmacology, Drug Classifications, Pharmaceutical Mathematics, Parental Admixtures & Sterile Products, and Clinical Laboratory. Weekend and evening classes are available. The weekend class meets Saturday and Sunday from 10:00 am to 4:30 pm. The evening class meets Monday through Thursday from 6:00 pm to 9:00 pm.
Admission criteria:
A high school diploma or GED
A completed application and registration fee of $10
Tuition costs $1,400.
Website: http://accesscareers.net/pharmacy-technician/
Address: 474 Fulton Avenue, Suite 201, Hempstead, NY 11550
Phone: 516-433-0034
E-mail: info@accesscareers.net
Molloy College – Continuing Education and Professional Development
The pharmacy technician program at the Continuing Education and Professional Development comprises of 160 hours of instruction – 80 hours of theory and 80 hours of pharmacy externship. The classroom sessions will cover the skills need to function effectively in the pharmacy. The externship facilitates in the integration of the classroom theory in a real-world setting. The 80-hour externship requires a commitment 8 hours a day for 10 days. The Clinical Coordinator will schedule 40 hours in a retail and 40 hours in an institutional pharmacy. Graduates will be prepared to sit for the PTCB exam to become a Certified Pharmacy Technician. Two flexible schedules are available for students' convenience. The first option has meeting times of two evenings a week for 13 weeks and the other class meets on Saturdays for 12 weeks. The program admits new students three times a year in the fall, spring, and summer semesters.
Admission criteria:
A high school diploma or equivalent
A completed application for admission – submitted at least two weeks prior to the start of classes
Pay the tuition deposit of $900
Tuition costs $1,800. Additional expenses include textbook, lab coat, and practice exam. A flexible payment plan is available. Students who do not master the coursework may re-register for the program at no additional cost.
Website: https://www.molloy.edu/academics/undergraduate-programs/continuing-education-and-professional-development/careers-and-professional-development-programs/pharmacy-technician
Address: 1000 Hempstead Avenue Siena Hall, Room 106 Rockville Centre, NY 11571
Phone: 516-323-3550
Email: conted@molloy.edu