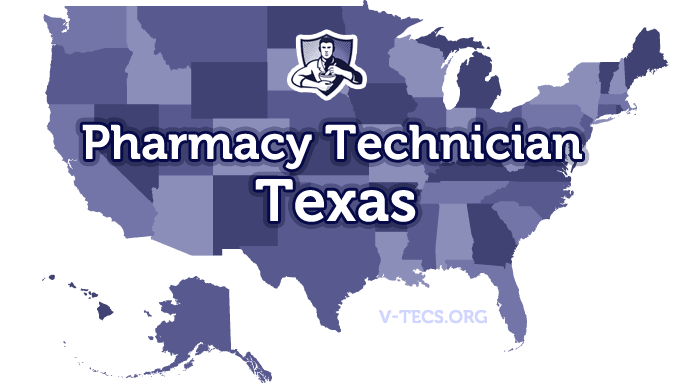 Texas is a perfect place to become a pharmacy technician, but the requirements and regulations are something that you should keep in mind moving forward. Check out Pharmacy Technician Schools in Dallas, San Antonio, Austin and Houston.
Are Pharmacy Technicians Regulated In Texas?
Yes they are regulated.
Does Texas Require Certification To Practice As A Pharmacy Technician?
Certification is going to be required to become a registered pharmacy technician, but not if you are becoming a pharmacy technician trainee.
Which Of the Certification Exams Are Approved By Texas?
The PTCB (PTCE).
What Are the Registration Dates?
You have to apply and gain your registration before you can begin your employment.
Is A License Required?
Yes it is required, and you need to have it before you can start working in a pharmacy.
The Texas State Board of Pharmacy Information
Texas State Board of Pharmacy
333 Guadalupe St.
Tower #3, Suite #600
Austin, TX
Phone: (512) 305-8000
Website: http://www.tsbp.state.tx.us
Are There Any Professional Associations?
The Texas Pharmacy Association, which can be contacted at www.texaspharmacy.org.
What Are the Requirements To Become Registered?
Have your PTCB certification in your hand if you are applying to become a registered pharmacy technician.
Obtain a high school diploma or the equivalent.
Pass a check for criminal record, and this includes finger printing.
Submitting your written application for registration as a pharmacy technician to the Texas State Board of Pharmacy is your next step, and that can be found at http://www.tsbp.state.tx.us/techregistration.htm. The nonrefundable application fee is $41 for technician trainees and $64 for registered technicians.
Those that choose to pursue a formal education and get an externship as part of the experience still have to become registered through the state board before starting their externship.
It can take anywhere from 2-6 weeks to process your application
Will There Be Training Required?
Yes, and there is usually training that is provided by the pharmacist in charge. You can also go and get your training through a formal education training program, just make sure that it is ASHP accredited.
What About Continuing Education Requirements?
Yes, you need 20 hours of continuing education as a registered pharmacy technician, although this can be waived if you maintain your national certification.
When Is Renewal Required?
Registration is set to expire every 2 years, and those that have had their registration expire for more than a year will have to start over with the initial registration. The fee is $80 for renewal, and the technician trainees are registered for 2 years and can't be renewed.
What If I Move or I change Jobs?
Let the board know by writing them, and they also have change of address forms.