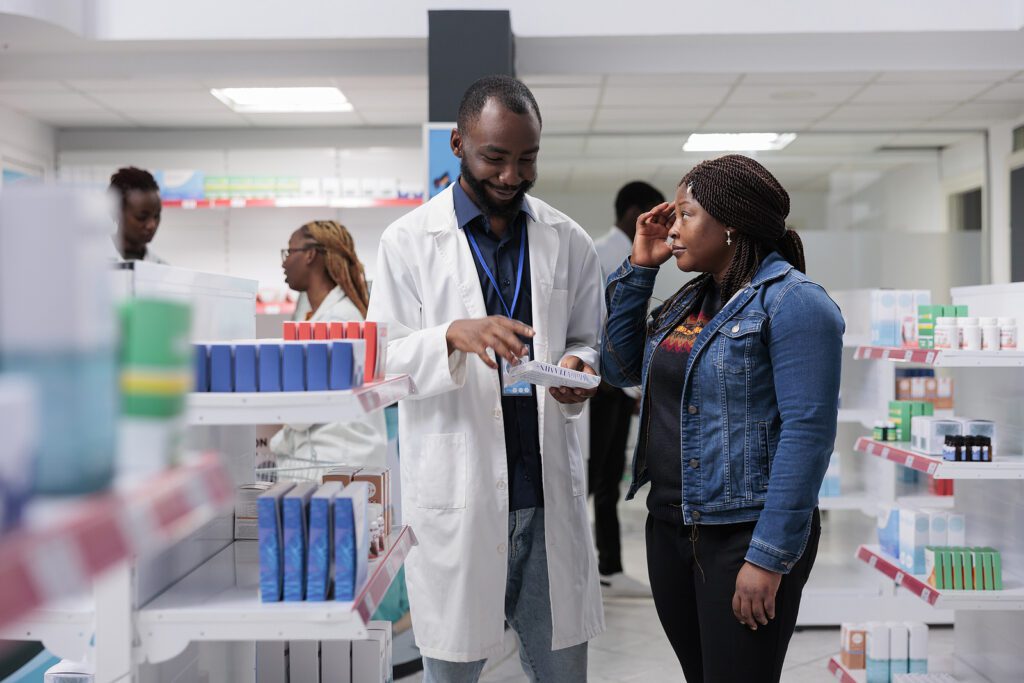 Online pharmacy technician programs are growing in popularity. The online learning provides the convenience of preparing for one of the fastest growing fields in healthcare. It will include all the support of traditional on-campus courses. Online modules cover the topics that will enable you to assist pharmacists with the dispensing of medications that patients need. The pharmacy technician externship, conducted at community and institutional pharmacies, is designed to support the application of the knowledge gained during the theoretical component of the program. After completion on the online pharmacy technician program, you will be prepared to take the PTCB or NHA national certification exam to become a certified pharmacy technician. Pharmacy technicians work under the supervision of pharmacist in hospitals, community pharmacies grocery stores, and long-term care facilities to prepare and dispense medications to patients.
There are numerous job opportunities for pharmacy technicians and according to the Bureau of Labor Statistics, opportunities will continue to increase by 5% over the next decade.
Central Piedmont Community College
The Pharmacy Technician program at Central Piedmont College is delivered online or on campus. Students may choose the online option for convenience and complete the theoretical coursework through online delivery. The hands-on practical sessions must be completed in person at the Central Campus. Students will also participate in a pharmacy externship at a community and institutional pharmacy. CPCC offers several options. The Associate of Applied Science Degree in Pharmacy Technology covers 68 to 70 credit hours of core and general education coursework. The Pharmacy Technology Diploma covers 42 to 45 credit hours and includes some general education requirements. The Health Sciences Certificate with a Specialization in Fundamentals in Pharmacy Technology is available to high school students through the Career and College Promise Program and covers 13 total credit. Major requirements for the pharmacy technician diploma include introduction to pharmacy, pharmacology, pharmacy calculations, trends in pharmacy, pharmacy practice, community pharmacy, pharmacy clinical, and pharmacy professional practice. Graduates will be eligible to sit for the PTCB exam.
Admission criteria:
Submit a completed application to Central Piedmont
Submit high school transcripts and any college transcripts to Admissions, Records and Registration
Take and pass the required placement tests
Meet with a counselor or advisor to review placement test scores, program information,  and select courses for registration
Complete any required Developmental Education courses with a grade C or better
Submit an application to the Pharmacy Technology AAS degree or Diploma program by the deadline date
Must be able to perform essential functions in various areas of retail pharmacy practice
Submit the results of a North Carolina and/or national criminal background check
Complete a medical exam including a record of immunizations
Provide proof of medical insurance
Must obtain CPCC's accident insurance
The program cost of $4,758 for the Pharmacy Technician Diploma includes tuition, books, uniforms, activity fee, tech fee, CAPS fee, lab fee, accident insurance, liability insurance, health insurance, criminal background check, physical exam, CPR/First Aid, graduation fee, pinning fee, and licensure fee.
Umanah Healthcare Institute – Charlotte Campus
The Pharmacy Technician Program at Umanah Healthcare Institute includes some online coursework that gives students the flexibility to work and study. Students will gain the skills and knowledge to work alongside pharmacists in retail and institutional pharmacies. They will learn how to count pills, prepare and dispense medications, process prescription orders, manage inventories, compound medication, package medications, and use a prescription balance. The curriculum will cover 150 hours of instruction in the classroom and lab. Students will complete an additional 120 hours for the pharmacy externship.  Students who successfully complete the requirements will be eligible to National Pharmacy Technician Certifying Board Examination. Classes meet Mondays, Wednesdays, and Fridays from 9:00 am to 2:00 pm for 10 weeks.
Admission criteria:
Must be a high school graduate or complete GED
Provide verification of immunization including a negative TB skin test result
Complete a satisfactory background check
Must have a valid driver's license or state ID and social security number
Pass a drug test
The program cost of $1750 includes the textbook, exam prep books, handouts, and student insurance. Other costs not covered drug test, background check, uniforms, TB skin test, and lab supply fee.
Address: 1401 Beatties Ford Road, Charlotte, NC 28216
Phone: 704-531-1100
Alt: 704-215-6674
Email: umanahinstitute@yahoo.com
Rowan-Cabarrus Community College
The pharmacy technician program at Rowan-Cabarrus includes some coursework delivered online. The program consists of lecture, multimedia, discussion, text and workbook assignments, independent research, and tests of competency and understanding to provide students with the technical and practical training to graduate and work as an assistant to a licensed pharmacist in retail and hospital settings. Some areas of study include customer service, receiving and dispensing prescription orders, packaging and labeling medications, dosage calculations, billing and insurance, management of inventory, basic anatomy, pharmacy law and ethics, customer service, and updating patient profiles. Graduates will be prepared to take the National Pharmacy Technician Certification Exam given by the Pharmacy Technician Certification Board.
Admission criteria:
A Gold Level Career Readiness Certificate is recommended, but not required
Register for the program online through the Continuing Education department
Pay the program fee of $180
Order the program textbook from the online bookstore
Tuition for the program is $180.
Address: 489 N. Cannon Blvd., Kannapolis, N.C. 28081
Phone: 704-216-7222
Wake Technical Community College
The Pharmacy Technology curriculum at Wake Technical Community College includes online modules for students who prefer the convenience of distance learning. Students will learn how to assist the pharmacist with receiving and processing prescription orders. The school offers a diploma option and an associate degree option for students who wish to complete additional general education coursework in addition to the core pharmacy technician basics. The degree option is specially designed for students who plan to pursue further education. Course topics include prescription medications, pharmacology, health and systems and pharmacy practice, professional ethics, pharmaceutical calculations, sterile intravenous admixture compounding, drug mechanisms of action, medical therapies for prevention and treatment, pharmacy organization and management, medication uses and indications, clinical pharmacy services, professional ethics, pharmacy law, regulations and standards, pharmacy automation and robotics, and leadership and personnel management. Students will participate in a pharmacy externship at a hospital and community pharmacy to develop their skills as they work under the supervision of licensed pharmacists and alongside certified pharmacy technicians. Graduates will be eligible to sit for the PTCB exam to become certified pharmacy technicians.
Admission criteria:
Apply for admission to Wake Tech
Submit official high school, equivalency and college transcripts electronically to Wake Tech
Apply for financial aid and veteran benefits
Submit a pharmacy technology program application
Attend a new student orientation
Submit to a background check and drug screen
Submit record of current immunizations
Submit the completed physical examination form must have AHA Basic Life Support Provider Certification
Must have health insurance coverage for clinical instruction
The program cost of $4,500 for the diploma (in-state students) and $8,300 for the AAS degree (in-state students) includes tuition, textbooks, student administration fee, technology fee, professional liability insurance, criminal background check, CPR certification, CastleBranch, PTCB exam, physical exam, immunizations, TB test, uniforms, calculator, and flash drive.
Piedmont Community College
The online pharmacy technician program at Piedmont Community College prepares students to assist pharmacists with the dispensing of prescription medication to customers or health professionals. The self-paced online program prepares students to become professional pharmacy technicians in community pharmacies. The course covers a total of 192 hours in 16 weeks. Areas of study include the practice of pharmacy, understanding regulatory agencies and laws that affect the practice of pharmacy, bringing new drugs to the market through the NDA process, naming of drug product and the patent process, ordering, maintaining, and controlling pharmacy inventory, sterile compounding and aseptic techniques, pharmacokinetics and factors that affect drug kinetics, administrative duties of the pharmacy, and preparation for the PTCB exam.
Admission criteria:
Must have a high school diploma or high school equivalency
Must have strong math skills
Register for the program and pay the registration fee of $180
Purchase the required textbooks
The registration fee is $180. Scholarships are available for North Carolina residents to cover registration fees and textbooks.