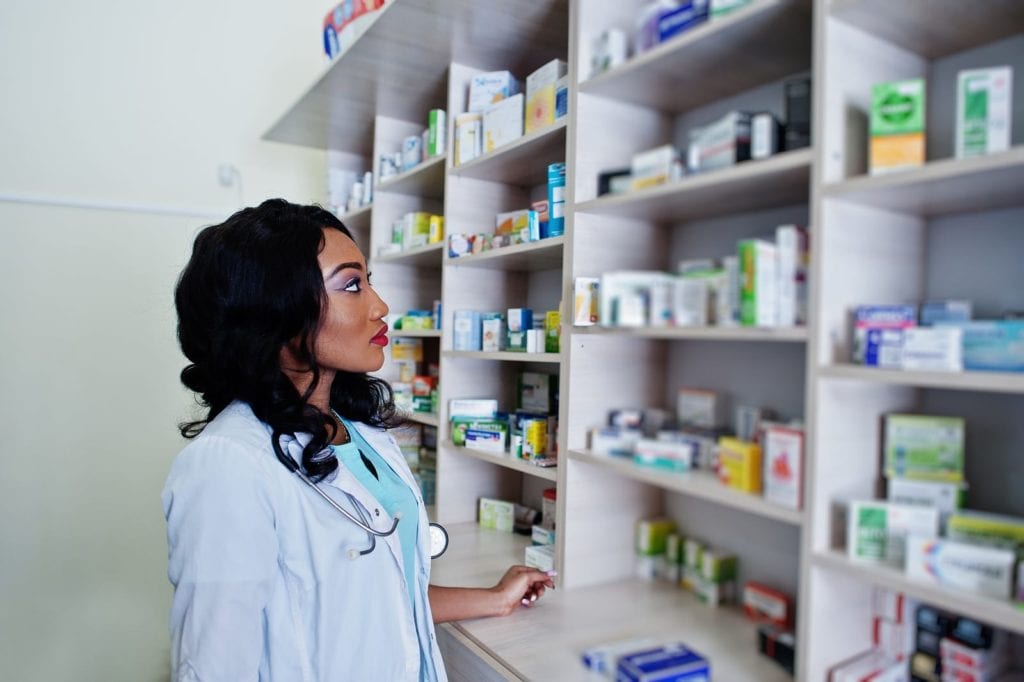 Pharmacy technicians assist pharmacists in the preparation and distribution of medications to patients. Their knowledge and abilities place them in a key role between physicians, pharmacists, and patients. Online pharmacy technician programs are a perfect solution for pharmacy technician training if you need to balance your education with work or family commitments. The rise in computerized pharmacy technician software and the widespread availability of the internet makes it possible for adults to acquire all the support and resources available to on-campus students. Interaction with faculty and other students is also supported by online programs. Upon graduation, you will be eligible to take the national exam to obtain a license to practice as a pharmacy technician in the State of Washington.
North Seattle College
The pharmacy technician certificate program at North Seattle College includes courses that may be completed online. The program is accredited by the American Society of Health System Pharmacists and has a strong reputation in the healthcare community and a 99.6 percent pass rate. Students will cover the theoretical requirements with minimal on-campus classes. The program will include in-depth, hands-on outpatient training, aseptic inpatient training, and pharmacology study. There are few prerequisites to complete for admission to the program. Students will learn computerized prescription processing using pharmacy software used by Washington pharmacies. They will also complete 432 hours of externships at leading community sites, including retail locations, hospital pharmacies, specialized pharmacies, long-term care facilities, and home health care facilities. Course topics include introduction to medical vocabulary, pharmacy law, orientation to pharmacy practice, HIV/AIDS & HIPAA, pharmacy calculations, over-the-counter drugs, sterile products, pharmacy ethics, communications in pharmacy practice, pharmacology, pharmacy technology, pharmacy records management, and pharmacy technician externship.  The certificate requires completion of 49 credit hours. The duration of the program is 9 months.
Admission criteria:
Must attend an information session and provide test scores and transcripts
Provide evidence of high school completion or GED equivalency
Provide college transcripts showing completion of Elementary Algebra and English 097/098 College Preparatory Reading and Writing, Classes must be within the last 5 years
Submit the completed pharmacy technician application and non-refundable application fee ($35)
Provide a color copy of photo ID
Complete the personal data/attestation form
Complete an American DataBank national background check – cost is $52.50
Provide documentation of good physical and mental health and immunization (MMR, DT, Hepatitis B, Varicella, and a current TB skin test)
Submit copy of drug test results
Must demonstrate computer proficiency (keyboard 45 wpm)
Tuition and fees cost $1555 per quarter for WA state residents and $3,298 for international students. Books, supplies, and miscellaneous fees cost an additional $475.
PIMA Institute
PIMA Institute offers a pharmacy technician program with a hybrid learning option to provide additional flexibility for students. Students enrolled in the hybrid option will receive the same support as on-campus students, including mental health resources, student services, career services, and resume writing. The program includes theory and hands-on training. Course topics include anatomy and physiology, computer basics, math fundamentals, pharmacy math, inventory maintenance, pharmacy law and ethics, pharmacology, pharmacy technician duties, pharmacology, principles of customer service, pharmacy laboratory skills, pharmacy computer applications, and fundamentals of chemistry. Students must complete 840 contact hours – 35.5 credit hours – to graduate from the program. Graduates will be prepared to sit for the National Pharmacy Technician Certification Examination (CPhT). The duration of the program is 9 months.
Admission criteria:
Must have a high school diploma or equivalent
Must be at least 18 years of age
Submit official high school and any applicable college transcripts
Take and pass the Wonderlic SLE exam
Complete a satisfactory background check and drug screen
Must have up-to-date immunizations
The program cost of $17,937 includes tuition, registration fee, textbooks, uniforms, tax, and technology fee.
Website: https://pmi.edu/
Address: 555 S Renton Village Place, Suite 400, Renton, WA 98057
Phone: 800-477-PIMA
Charter College
The Certificate in Pharmacy Technician program at Charter College is available in a blended learning format. The combination of classroom and online learning gives students the flexibility to balance classwork with family, work, and other commitments. The program curriculum covers 830 contact hours of 64 quarter credit hours. Students will participate in a 180-hour clinical externship at a local pharmacy. Courses topics include compliance in health care environments, introduction to pharmacy, pharmacy operations and administration, pharmacy law and ethics, infection control and safety, pharmacy calculations, pharmacy measurements, compounding, pharmacology, pharmacodynamics, pharmacokinetics, pharmacy technician certification, and pharmacy technician externship, and professional success strategies. Graduates are prepared to take a national pharmacy technician certification exam that is accredited by the NCAA, which is mandatory for Washington students. Students must pass the exam before the externship. The duration of the program is 10 months.
Admission criteria:
Must be at least 18 years of age
Must have a high school diploma or GED
Submit a completed application for admission
Attend an admission interview
Complete the health requirements
Must pass a background check administered by a third-party vendor of the college
The program cost of $26,830 includes tuition, books, lab supplies, lab kits, and fees.
Clover Park Technical College
The pharmacy technician certificate program at Clover Park Technical College is a combination of online, classroom, laboratory, and clinical experience. The structured classroom curriculum includes customer service, communication, prescription processing, aseptic technique, human relations, and pharmacy calculations. Students will participate in a clinical externship where they will practice the skills they learn in the classroom and laboratory environment. They will complete 32 hours per week at local sites. The theory and hands-on training will give them the skills to assume the role of a pharmacy technician in community, hospital, long term care, compounding and other types of pharmacies. The certificate program is 44 credit hours. The duration of the program is three quarters for the certificate. An associate degree option is also available.
Admission criteria:
Must be at least 18 years of age
Must have health insurance for the duration of the clinical
Must have a high school diploma or equivalency
Meet the college's levels for reading, writing, and math, and complete college-level math, computer applications, and medical terminology courses
Complete a comprehensive background check – certain criminal convictions will disqualify candidates from admission and state certification
Submit a record of current immunizations for MMR, Hepatitis B series, Flu, Varicella, Tetanus/Diphtheria, COVID-19, and TB test are required for the clinical externship
Provide proof of current American Heart Association CPR for the Healthcare Professional
The program cost of $7,457 for resident students includes tuition, fees, supplies, immunizations, scrubs, CPR First Aid, medical insurance WA pharmacy certification, and immunization training. .
Website: https://www.cptc.edu/
Address: 4500 Steilacoom Blvd SW, Lakewood WA 98499-4004
Phone: 253-589-5800
Renton Technical College
The pharmacy technician program at Renton Technical College includes some coursework that may be completed online. Students will learn how to compound products, mix intravenous solutions, apply math for pharmaceutical calculations, and use computers to process orders and keep records. They will also acquire detailed knowledge of products and drugs, and participate in externships in retail and hospital pharmacies. Course topics include college success, pharmacy technician fundamentals and ethics, top 200 drugs, pharmacology, outpatient pharmacy preparations and record keeping, admixture advanced techniques, medical terminology, leadership and customer service, pharmacy law and references, and pharmacy practice internship. The certificate program requires completion of 80 credit hours. Graduates must obtain a state license to practice from the Washington State Board of Pharmacy. New students are admitted in the fall. Classes meet Monday through Friday from 8:00 am to 2:30 pm. The duration of the program is 5 quarters.
Admission criteria:
Must be 18 years or older by the beginning of the first quarter
Must be a high school graduate – current high school students and those with a high school equivalency are also accepted into the program
Must be fluent in English
Must pass a criminal background check
Submit record of up-to-date vaccination for MMR, Varicella, TdaP, Hepatitis B, and influenza, TB test
COVID vaccination may be required by the clinical site
Must have current health insurance
Submit a physician's evaluation indicating good health
The estimated cost of the certificate program is $10,607 plus the cost of personal health insurance.
Edmonds Community College
The pharmacy technician program at Edmonds Community College includes courses that may be completed online. Students will study the ways medications work in the body and how they are applied in pharmaceutical care, use evidence-based tools for researching drug information, practice calculations, electronic health record management, and prescription filling process, and learn techniques for sterile compounding. Prerequisite courses must be completed before commencing block courses. Course topics include career and college success healthcare, healthcare provider, orientation to pharmacy practice, pharmacy terminology, over-the-counter drugs, applied pharmacology, pharmaceutical calculations, prescription processing, pharmacy law and ethics, preparations and aseptic technique, and pharmacy clinical. The certificate requires completion of 39 credit hours. The clinical externship covers a total of 264 hours. Graduates are eligible to sit for the PTCB exam for licensure in Washington State.
Admission criteria:
Complete the prerequisite courses with a grade C or higher – Human Body, Introduction to Health Care, Basic Medical Terminology, Basic Life Support, and HIV/AIDS
Submit documentation of immunization – TB test, hepatitis B, MMR, Varicella, Tdap, seasonal influenza, COVID-19
Must have current CPR certification – American Heart Association (AHA) BLS Provider Card only
Complete a national criminal background check and Washington State Patrol Background Check
Must have professional liability insurance
Complete a satisfactory drug screen
Must have personal health insurance
Tuition costs $6,644.08 for prerequisite and core courses. Boos and supplies cost an additional $1,524. Lab fees cost $796.