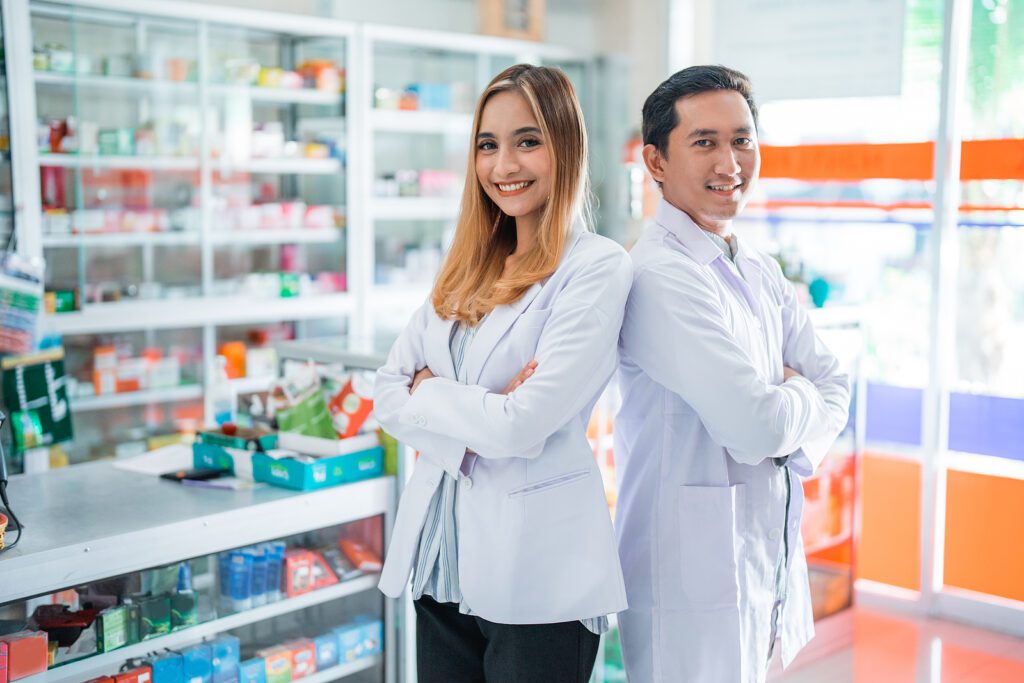 As a pharmacy technician, you'll dispense prescriptions and other healthcare products under the direct supervision of a licensed pharmacist. Job duties vary from one place to another but generally include counting or measuring medications, securing refill authorization, mixing compounds, packaging and labeling prescriptions, and attending to customer service issues. Online pharmacy technician programs are just as comprehensive as in-person classes and include opportunities to develop your skills onsite. They offer the convenience to complete the theory without traveling to a traditional campus and self-paced study if you need to study at your own pace. Finding a job is easy once you complete the online pharmacy technician program and take a national certification exam such as the PTCB or ExCPT. The Bureau of Labor Statistics projects a 5 percent growth in jobs for pharmacy technicians through 2031. Pharmacy technicians will be needed to assume greater responsibilities to give pharmacists the freedom to provide more patient care services.
The College of Healthcare Professionals
The Pharmacy Technician Program at The College of Healthcare Professionals is available in hybrid format at the San Antonio campus. The blended learning includes online classes and in-person classes that will let students learn pharmacology theory online and receive hands-on medical training in person. Course modules include overview of anatomy, physiology, and medical terminology, introduction to pharmacy, ethics, and patient safety, institutional pharmacy, community pharmacy, pharmacy calculations, pharmacy techniques and practice, sterile compounds, parenteral and IV admixtures, customer service and career preparation, certification prep for pharmacy technicians, and pharmacy technician externship. The pharmacy technician externship will cover a total of 180 hours or 4 credit hours. The duration of the program is 9 months.
Admission criteria:
Must be 18 years or older
Must have a high school diploma or GED
Must pass the Scholastic Level Exam with a minimum score of 14
Must be able to read and write in English
Must have good coordination
Must be neat and professional at all times
Must pass a criminal background check
Must provide two valid forms of Government Issued ID
The program cost of $17,300 includes the registration fee, technology fees, textbooks, and tuition.
Austin Community College- Eastview Campus
The pharmacy technician program at Austin Community College includes lectures, hands-on lab, and pharmacy externship. The lectures are available as internet-based, distant learning or hybrid format for students who prefer the flexibility of online learning. Students' attendance will be required on campus for the laboratory component of the course. The program is accredited by the American Society of Health-System Pharmacists. Areas of study include an introduction to pharmacy, pharmaceutical mathematics, community pharmacy practice, institutional pharmacy practice, pharmacy drug therapy and treatment, and practicum – pharmacy technician. Graduates are eligible to take the national Pharmacy Technician Certification Exam. They may also be eligible to enter directly into the Pharmacy Tech Program's AAS degree plan. New students are admitted in the fall, spring, and summer semesters.
Admission criteria:
Must be enrolled in Austin Community College
Must be TSI complete before applying to the program
Complete the immunization requirements on the Immunization Form
Review and complete the mandatory online Information Session
Schedule and attend a mandatory program advising session
Completing co-requisite courses is recommended – Student Success for Health Professionals and Essentials of Medical Terminology
Submit official transcripts for coursework taken at any school other than ACC
Set up a CastleBranch account
Upload the completed Immunization Form to CastleBranch
Upload other application documents
Complete a criminal background check
Obtain a clear TB test
Complete a drug screen
Complete the Health Data Form
Must have health insurance
The program cost of $4,444 for in-district students includes tuition, uniforms, trainee registration, fingerprinting process, criminal background check, drug screening, PTCB exam, and textbooks.
Website: https://sites.austincc.edu/health/
Address: 3401 Webberville Road, Austin, TX
Phone: (512) 223-5700
Toll-Free: 1-888.626-1697
E-mail: healthsciences@austincc.edu
Southern Careers Institute – Austin
The online pharmacy technician program at Southern Careers Institute combines online learning with onsite lab and an externship at local pharmacies. Students enrolled in the program will gain an understanding of pharmacy operations and the interpersonal skills that will enable them to handle prescription insurance claims, collect patient information and payments, update medication inventory information, advise patients on over-the-counter options, and connect patients with the pharmacist. Course topics include communication, telemedicine communication, pharmacy processes, pharmacy settings, pharmacy administration, vital body systems, pharmacology for foundational body systems, pharmacology for transformative body systems, math for pharmacy technicians, compounding, profession of pharmacy, and pharmacy technician externship. The curriculum will cover a total of 848 clock hours (65 quarter credit hours) including 510 hours in the classroom, 170 hours in the skills lab, and 168 hours extern hours. Graduates will have successfully earned 65 quarter credits. Graduates will be prepared to take the national PTCB exam – the exam fee is included on the program cost. The estimated completion time is 33 weeks.
Admission criteria:
Attend an interview with an Admissions Representative
Provide proof of high school graduation or GED or associate degree from an accredited institution
Must be at least 16 years of age – must provide proof of a high school diploma or GED and have written permission from a parent or legal guardian if under the age of 18
Sign the Enrollment Agreement
Complete and pass a Background Check
Must be able to read, write and speak English
Must register as a Pharmacy Technician Trainee with the Texas State Board of Pharmacy
Submit a completed application to the program with the non-refundable fee of $62
Complete a fingerprint session including the non-refundable fee of $45
The program cost of $17,900 includes tuition, fingerprint session, TSBP Pharmacy Technician trainee registration, and BLS certification.
Website: https://scitexas.edu/
Address: 2301 S. Congress Ave. Suite 27Austin, TX 78704
Phone: (512) 265-0203
Central Texas College
Central Texas College offers an online pharmacy technician program through ProTrain. The program prepares students for a high-demand career as a pharmacy technician through its self-paced study option. Once enrolled, students will have access to all lessons with the freedom to leart from anywhere. Course topics include an overview of the pharmacy and the role of the pharmacy technician, pharmacy math, dosage calculations, drug references, pharmacy practice settings, compounding, pharmacy management and medication safety, therapeutic agents, over-the-counter and complemental medicine, professional perspectives on HIV and AIDS, medical terminology, and PTCB exam review. Students have the option to participate in a pharmacy externship. Graduates will be eligible to take the PTCB exam and apply for registration as a pharmacy technician in Texas. Student access to the online courses will be available for 12 months.
Admission criteria:
Must be at least 18 years of age
Must have a computer and access to the internet
A high school diploma or GED is recommended
Must be proficient in English and high school math
The program cost of $1,575 includes course materials and ebooks.
Blinn College District
The online pharmacy technician program offered at Blinn College District prepares students for employment in community and institutional pharmacies. The curriculum is based on nationally recognized training assessment and certification standards set by the American Pharmaceutical Association. Instructors are licensed pharmacists and healthcare professionals who structure classes to promote student-instructor instruction.  Students will learn the qualifications and responsibilities of the pharmacy technician, the history of pharmacy, qualifications for certification, medical terms and abbreviations, standards of law and ethics governing pharmacy practice, safety standards, how to process, prepare, label, and maintain records of prescriptions in a community pharmacy, over-the-counter drugs, inventory management, count and pour techniques, calculating prescriptions, drug selection and preparation, and legal parameters. The training will include preparation for the PTCE exam. Students will complete 160 hours to obtain a Pharmacy Technician Certificate. Graduates will be prepared for success on the PTCB exam.
Admission criteria:
Must attend a mandatory online information session
Must be at least 18 years of age
Must have a high school diploma or GED
Take and meet the minimum standards on the TSI
Must have a computer and access to the internet
Scholarships and grants are available for eligible students.
Temple College
The pharmacy technician program at Temple College includes online course modules. The training is designed to provide students with the knowledge and skills to qualify for entry-level positions in hospital or retail pharmacies. Students will complete 32 CEUs. Areas of study include the role of the pharmacy technician, pharmacy processes, preparation and dispensing of prescriptions, inventory management, billing and insurance, pharmacy administration, compounding, and preparation for the PTCB exam. The program is available as a Web-Enhanced program. Classes meet online Mondays and Wednesdays from 6 pm to 9:30 pm for six months.
Admission criteria:
Must have a high school diploma, GED, and High School Equivalency Certificate
Must be 18 years or older
Provide a valid photo ID and social security card
Submit to a criminal history background check. Candidates with infractions will not qualify for state certification and will not be admitted to the program
Provide documentation of the required immunization via CastleBranch – TB skin test, hepatitis B, Tdap, MMR, and varicella
Provide the results from a drug screening test
Must have a valid and current CPR for Healthcare Providers card
The program cost of $2,534 includes textbooks, supplies, and PTCB exam voucher. Additional costs include scrubs, tech trainee license, fingerprinting, background check, CPR course, and drug screen. A flexible payment plan is available for all students.