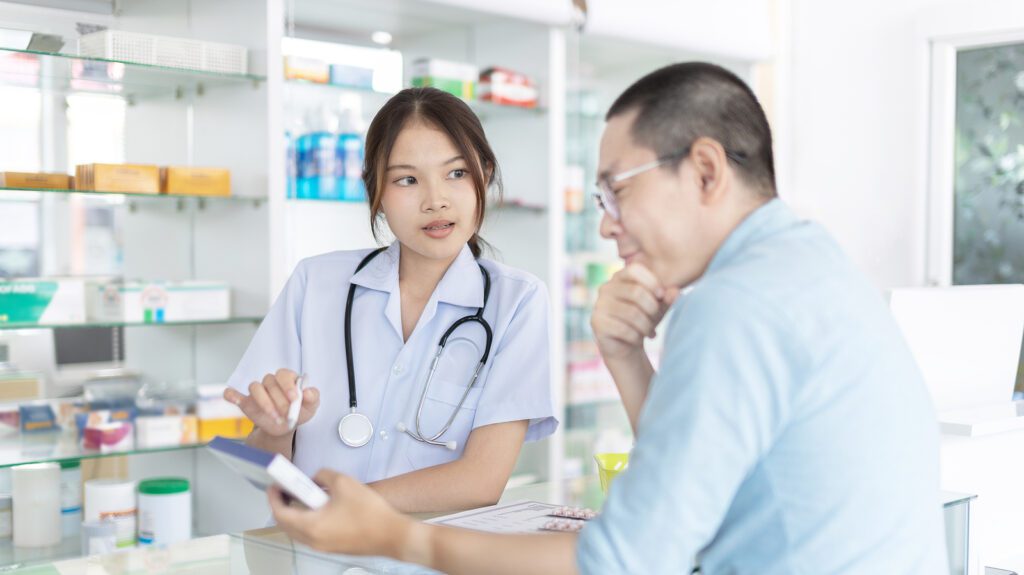 Pharmacy employers are always on the lookout for skilled and certified pharmacy technician to join their team. Online pharmacy technician programs offer the benefits of convenience, affordability, and the option to complete the coursework at your own pace. Although instruction takes place online, most pharmacy technician programs include an in-person pharmacy technician externship that will enable you to apply the skills learned in a real-world environment. The program will cover all the skills you need to function in the role of a pharmacy technician in a retail or institutional pharmacy. The curriculum will include the basics of pharmacy law and ethics, retail pharmacy operations, institutional pharmacy operations, inventory management, pharmaceutical calculations, pharmacology, and much more. Most online programs grant access to the student portal for 6 to 12 months. According to the Bureau of Labor Statistics, pharmacy technicians earned a median annual salary of $36,740 in 2021.
CALRegional Career Accelerated Learning
The hybrid pharmacy technician program at CALRegional prepares students to work under the supervision of a licensed pharmacist to fill prescriptions and maintain patient records. Theory and hands-on training will cover all aspects of retail, hospital, closed door, and sterile compounding. The program consists of 182 hours of classroom and hands-on training followed by 120 hours of clinical externship. Practical skills include compounding and administering IVs using the aseptic technique, receiving, identifying and filling prescriptions, drug classifications and interactions, establishing and maintaining patient records, managing billing and inventory, and dosage calculation and medical math. Students will acquire CPR certification and preparation for success on a national certification exam.  Upon completion of the program, graduates will be prepared to sit the NHA certification. The cost of the exam is included in the tuition. The duration of the program is 9 to 12 weeks.
Admission criteria:
Must be at least 18 years of age
Must have a high school diploma, GED or equivalent
Must have no felony/certain misdemeanor convictions on record
Attend an information session
Submit an application for admission online
Pass a criminal background check and drug screen
Submit immunization record – must include hepatitis B, MMR, varicella, TB, Tdap, influenza, COVID-19
Must have current BLS for Healthcare Providers – included in program fee
The program cost of $2,995 includes materials, books, NHA exam fee, and supplies.
Website: https://calregional.com/
Address: 4820 Business Center Drive, Suite 100 Fairfield, CA 94534
Phone: (800) 927-5159
Carrington College
Carrington College's San Jose Campus offers a blended Pharmacy Technology program that gives students the opportunity to complete some of the coursework online and the practical requirements on-campus. The program leads to a Certificate of Achievement and requires completion of 840 hours – 375 hours of lecture online, 225 hours of lab skills, and 240 hours of pharmacy externship. Students will earn 36 credit hours at the completion of the program requirements.  Areas of study include general pharmacy and pharmacology, cardiovascular and renal systems, microbiology, classification of infectious diseases, eye/ear medications, OTC drug usage, pediatrics, geriatrics, endocrine system and psychopharmacology, principles of math, career development, interpersonal communication, introduction to psychology, principles of nutrition, retail operations, hospital operations and parenteral dosage calculations lab, and compounding and pharmacy calculations lab.  Graduates are prepared to take the national certification exam to become certified pharmacy technicians. They may take additional general education courses to obtain an Associate of Science degree in Pharmacy Technology. The duration of the program is 9 months.
Admission criteria:
Must have a high school diploma or GED
Must be at least 18 years old at the time of enrollment
Submit a completed application and registration fee of $100
Pass the Wonderlic SLE with a minimum score of 13
Must be in good physical and mental health
Must pass a criminal background check and drug screen
Must provide documentation of current immunization – Hepatitis B, Varicella, TB, Tdap, COVID-19
The program cost of $20,560.20 includes tuition, uniforms, books, supplies and fees.
Mission College
The pharmacy technician program at Mission College includes live presentations online. The program emphasizes real-world applications through hands-on workshops on campus and a pharmacy externship at local pharmacies. Experienced pharmacists and pharmacy technicians conduct training on campus and plan pharmacy visits and field trips for students' understanding of retail and institutional pharmacy operations. In the lab, students will participate in simulations of real-life settings and hands-on practice with the dispensing and compounding of drug products, pharmacy software, cash register transactions, drug labeling, inventory, and aseptic techniques. Course topics include pharmacy calculations, professional development, introduction to pharmacy practice, pharmacy communications and customer service, pharmacy law, pharmacy terminology and abbreviations, managed care, institutional pharmacy practice, outpatient pharmacy practice, clinical pharmacy externship, and OTC and healthcare devices. Students will participate in pharmacy externships at sites such as CVS pharmacy, Kaiser Permanente, El Camino Hospital, Walgreens and other industry leaders. Graduates will receive a Certificate of Completion and will be eligible for licensure from the California Board of Pharmacy. Day and evening schedules are available. Day classes meet Monday through Thursday from 9:00 am to 12:00 pm for eight months. Evening classes meet Monday through Thursday from 6:30 pm to 9:30 pm for eight months.
Admission criteria:
Must view the information session online
Apply for admission through the Continuing Education Department
Attend a formal interview with the Program Director
Must have a high school diploma or GED – documents required
Must take and pass the admission assessment tests
Complete a satisfactory background check
Have a typing speed of at least 20 WPM – a typing test may be administered
Demonstrate strong English, math, and communication skills
Complete health clearance and TB test and updated COVID vaccinations
The program cost of $5,500 includes deposit and class materials. A payment plan is available for all students.
Foothill College
The Foothill College Pharmacy Technician Program includes online general education courses as well as on-campus hands-on practical and an externship at a local pharmacy. The program is national accredited by the ASHP/ACPE and prepares students to dispense medication under the supervision of a registered pharmacist. The program culminates with an Advanced-Level Pharmacy Technician Certificate. Students have the option to complete general education course before or after acquisition of the certificate to earn an AAS degree. Courses include Introduction to Allied Health Program, Introduction to College, Pharmacy Technician As A Career, Orientation to Pharmacy Technology, Basic Pharmaceutics, Inpatient Dispensing, Ambulatory Pharmacy Practice, Dosage Calculations, Pharmacology, Interprofessional Patient Competencies, Dosage Calculations, Dispensing and Compounding, Home Health Care Supplies, Retail Clinical, Hospital Clinical, and Pharmacy Technician Certification Exam Review. The AAS requires completion of 89.5 to 90.5 units. Graduates will eligible to take the PTCB exam and to apply for registration as a pharmacy technician through the California Board of Pharmacy. The duration of the Associate Degree program is 8 terms – 2 years. The certificate program is 9 months. Admission is available in the fall quarter only.
Admission criteria:
Obtain a campus-wide identification number or CWID by submitting an application to Foothill College
Must provide proof of completing high school or equivalency
Complete the prerequisite courses with a grade C or better – Biology, Math, English, and Pharmacy Technician as a Career (PHT)
Submit official electronic transcripts of all college courses complete
Must submit math placement results
Must have and maintain Basic Life Support for Healthcare Providers throughout the program
The approximate cost of the program $1,900.
Website: https://foothill.edu/
Address: 12345 El Monte Road, Los Altos Hills, CA 94022
Phone: 650-949-6121
San Francisco State University
The online pharmacy technician program at San Francisco State University is offered as an in-person/online hybrid course. The online program is self-paced and prepares students to work as a pharmacy technician in retail and other pharmacy setting. Course topics include pharmacy technician role and responsibilities, pharmacy technician certification and registration process, types of pharmacy including hospital pharmacy, retail practice, long-term care practice, mail order pharmacy, drug regulation and control, pharmaceutical terminology and related anatomy, pharmacy calculations and math review, pharmacy measures and abbreviations, routes and formulations, parenterals and compounding, total parenteral nutrition, factors affecting drug activity, information and pharmacy resources, brand name and generic drugs, and inventory management. The program will include an 80-hour externship at a local pharmacy. Online sessions over 50 contact hours. Graduates will be eligible to take the Pharmacy Technician Certification Board exam. The program includes 24/7 instructor support, online health care content and supplements for each course, student and instructor collaboration, access to online community with interactive content, a secure student portal, and engaging labs and student exercises. Registration is open year-round.
Admission criteria:
A high school diploma or GED to sit for the PTCB exam
Must have taken math and science in high school
Must pass a background check and drug screen to participate in the externship
A computer with a connection to the internet is required to access the course
The program cost of $1,399 includes an 80-hour clinical externship, six months access, all eBooks, workbooks, and related course materials.
Website: https://www.sfsu.edu/
Address: 1600 Holloway Avenue, Centennial Square, San Francisco, CA 94132
Phone: (415) 405-7700
City College San Francisco
The Pharmacy Technician Program at the City College San Francisco includes coursework that may be completed online. Students have the option to complete the Pharmacy Technician AS Degree or the Pharmacy Technician Certificate of Achievement. Students will complete coursework in the classroom, online, and at off-site pharmacies. The Certificate program requires completion of 30 units. The AAS program requires completion of 66.5 to 70 units. Areas of study include the role and responsibility of the pharmacy technician, reading and interpreting prescriptions, packaging and labeling, dosage calculations, generic and brand name drugs, pharmacology, pharmacy operations, pharmacy law and ethics, and billing and reimbursement. Corresponding theory and clinical courses must be taken in the same semester. Students will complete a pharmacy externship in a local retail or hospital pharmacy. Graduates will be eligible to take the PTCB exam to become Certified Pharmacy Technicians.
Admission criteria:
Must be at least 18 years or older
Must submit official high school transcript or GED
Must have a minimum 2.0 GPA on high school transcripts or prior college coursework
Schedule and attend a pharmacy technician information session
Submit record of physical exam
Provide evidence of current two-step TB test or chest x-ray
Provide record of immunization – hepatitis B, varicella, Tdap, COVID-19
Provide CCSF Placement Test results or test waiver
Copy of CCSF transcript
A satisfactory background check and drug screen
Tuition costs $46 per unit for California residents and $360 per unit for non-resident students. Additional costs for books, supplies, uniforms, equipment, and certification apply.
San Jose State University
The Online Pharmacy Technician program offered at San Jose State University prepares students for entry-level employment as a pharmacy technician in retail and institutional pharmacies. Students will acquire knowledge and skills through online sessions, one-on-one sessions with faculty, hands-on learning experiences in a virtual lab, and clinical externship at a local pharmacy. Areas of study include Orientation to Pharmacy, Pharmacy Law and Ethics, Pharmacy Calculations, Pharmacology: Basics and Specific Populations, Body Systems, Communication Skills and Billing, Lab Practice – Retail, Lab Practice – Hospital, and Final Comprehensive Exam. The online lab module covers extensive practical activities that pharmacy technicians perform in a real-world setting. A virtual externship provides additional opportunities to develop skills. The 100+ hour externship is available as an option for graduates who want to put their skills to work in a real-world pharmacy. Externships are scheduled at a local CVS or Walgreens pharmacy. Graduates will be prepared to take the PTCB exam. Enrollment is open throughout the year.
Admission criteria:
Complete a satisfactory background check and drug screen to participate in the externship
Must have a high school diploma or GED to take the PTCB exam
Pass a drug screening test
Must have professional liability insurance
Must have up-to-date immunization before participation in the pharmacy externship
A computer with an internet connection is required for access to the course
The program cost of $2,495 includes access for 12 months.