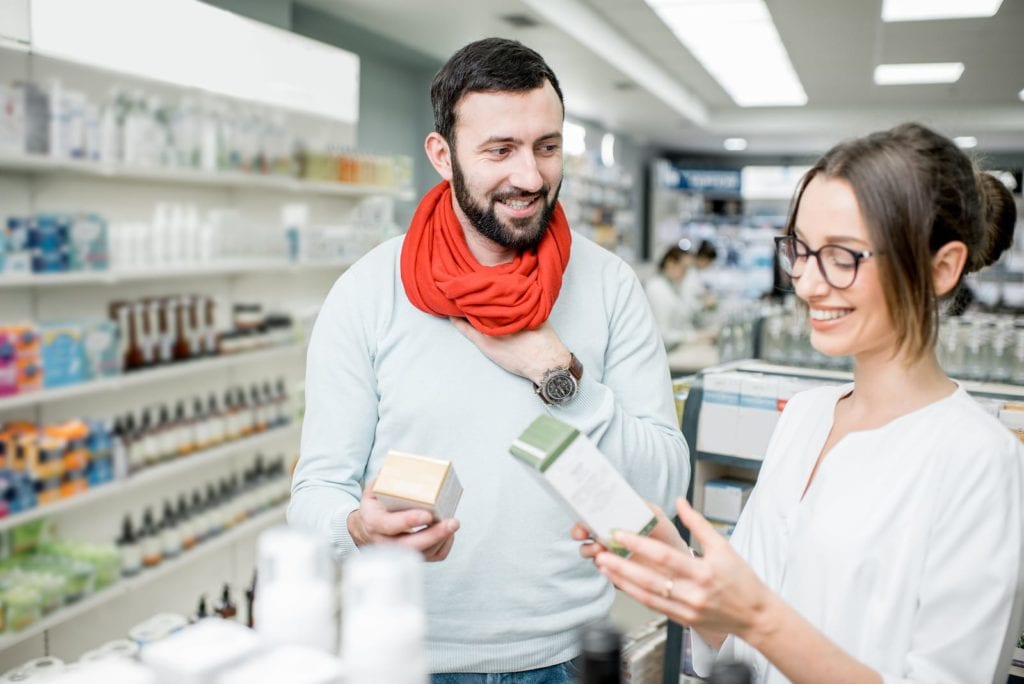 A pharmacy technician assists a pharmacist with the preparation and dispensing of prescription medications to patients and healthcare institutions. As a technician, you will receive prescription requests in person, over the phone, or electronically and prepare them for dispensing to the patient after review by the pharmacist. You might also be tasked with the management of medication supplies, updating patients' records, and providing general information to patients. An online pharmacy technician program is a convenient way to prepare for the role as a pharmacy technician. It will provide the same level of support as traditional programs but with the ability to study at your own pace and from the convenience of your own home. At a projected rate of 5 percent, employment of pharmacy technicians is expected to increase faster than the average for all occupations. The expansion of retail pharmacies, the expanding role of the pharmacy technician, and the increasing need for medication among the middle-aged and elderly populations are some factors that drive demand for technicians.
Indiana University Health
The accelerated pharmacy technician program at Indiana University Health is offered in a hybrid model. Students will complete live online lectures at home on Mondays and Wednesdays and attend classes on campus Tuesdays, Thursdays, and some Fridays. Course topics include pharmaceutical calculations, pharmacy practice form pharmacy technicians, pharmacology for pharmacy technicians, sterile products laboratory, dispensing laboratory, pharmacy law, professionalism for technicians, national certification exam review, and clinical practicum for pharmacy technicians. It is 1 of 3 ASHP accredited programs in Indiana. Students will complete real hands-on experience through clinical rotations at local sites. The program is accredited by the ASHP. Graduates are eligible to sit the national exam administered by the PTCB to become certified pharmacy technicians. They will be prepared for work in both retail and hospital settings. The duration of the accelerated program is 4 months. Classes meet Monday through Friday from 8:00 am to 3:30 pm.
Admission criteria:
Must have a high school diploma or GED
Must be at least 18 years by the start of the program
Must be able to read, write and communicate effectively in English
Provide proof of personal health insurance coverage
Must be able to carry, reach, and lift up to 30 lbs.
Successfully pass the background check and drug screen
Be eligible to obtain an Indiana Pharmacy Technician-in-Training permit from the Board of Pharmacy
Be a US citizen or have a permanent residence card
Submit a completed application and non-refundable processing fee of $30
Must have personal access to a computer with administrative rights for downloading and installing software
Must have reliable internet access
Sign an enrollment agreement
Must have immunization clearance – MMR, varicella, Tdap, PPD screen, and flu
Tuition is $2,100. Books, fees, and uniforms are not included.
Website: https://iuhealth.org/
Address: 1812 N. Capitol Ave. Room 631, Indianapolis, IN 46202
Phone: (317) 962-0919
Ivy Tech College
The online pharmacy technician program at Ivy Tech is offered in partnership with CareerStep. The program is accredited by ASHP – one of a few accredited online programs. Students will complete the required theory online in the convenience of home or office and participate in a clinical rotation at community and institutional pharmacies. Areas of study include computer fundamentals, pharmacology, pharmacy law, the business of pharmacy, preparing for the workforce, program orientation, medical word building, pharmacy calculations, nonsterile compounding, virtual pharmacy labs, pharmacology, basic anatomy, mastering medical language, and preparation for the final exam. The program covers more than 600 instructional hours. Students will have access to the online modules for 12 months. Graduates will be eligible to take the PTCB to become a certified pharmacy technician. A voucher is included with the tuition.
Admission criteria:
Must be at least 18 years old
Must have a high school diploma or GED
Must have a computer and access to the internet
Must be able to read and communicate in English
Must have a good command of mathematical calculations
Tuition for the program is $2995. The cost includes textbooks, ebooks, and other course materials.
Vincennes University
The pharmacy technician program offered by Vincennes University has an online option for students who prefer the convenience of distance learning. The program is accredited by the ASHP and prepares students with the skills and knowledge to work in retail and institutional pharmacies. The program offers three options including a certificate of completion, a certificate of graduation, and an associate of science degree. Course topics include pharmacology, dispensing lab, pharmacy law and ethics for technicians, pharmacy management, pharmacy calculations, and practicum. Students enrolling in the associate of science degree option must complete general education coursework to qualify for the degree.  Graduates will be eligible to sit for the PTCE during the practicum semester of the program – scheduled around May. They will demonstrate the knowledge necessary for satisfactory performance in an entry-level pharmacy position, demonstrate inventory and stocking skills, prepare IV mixtures, ointments and creams, prepare medication for clients, demonstrate proper dispensing techniques, and apply mathematical concepts for dosage calculations. The duration of the program is 12 months.
Admission criteria:
Must meet the requirements for admission to the University
Qualify for placement into MATT 107 or higher with no co-requisite requirements as determined by placement scores, high school academic record and GPA, or complete any 100-level or higher MATT or MATH course with a grade of C or better
Qualify for placement into ENGL 101 with no co-requisite requirements as determined by placement scores, high school academic record and GPA, or complete ENGL 101 with a grade of C or better
Must possess CPR certification for Professional Rescuer/AED from the American Red Cross or Health Care Provider Level from the American Heart Association
Must provide verification of Hepatitis B inoculation or waiver
Submit a satisfactory criminal background check and pass a drug screen from firms approved by the Pharmacy Technology Program
Must have a Tech-in-Training license before the clinical part of the program
Must hold no grade less than a C in any required course in the pharmacy technology curriculum
Hold no grade less than a C in any general education course. Applicants with grades less than C in required general education courses are not eligible for admission
Must submit required health forms
Tuition costs $255.85 per credit for Illinois residents. Additional costs for the program include but are not limited to a healthcare database (background check, drug screen, health form management), books, uniforms, and miscellaneous fees for clinical.
Website: https://www.vinu.edu/
Address: 1002 North First Street Vincennes, Indiana 47591
Phone: 812-888-VUVU
Toll-Free: 800-742-9198