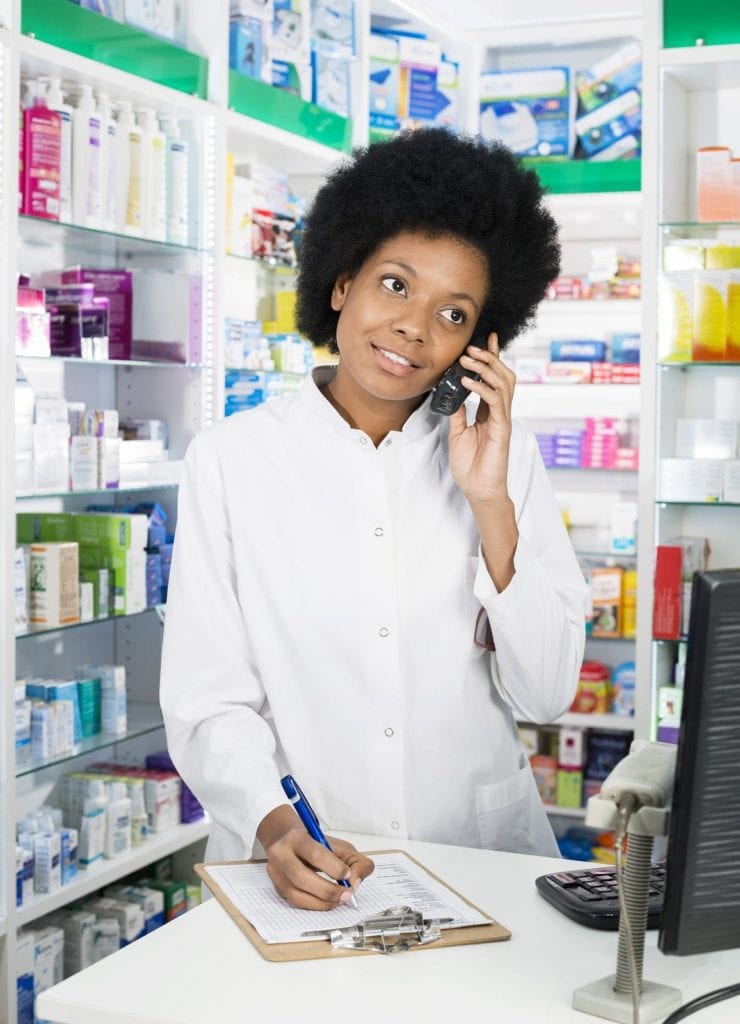 The demand for pharmacy technicians is growing at a staggering rate despite the sluggish U.S. economy. Growth in the baby boomer population and the rapid production of new medications are just a few factors that create opportunities for health care professionals while the job market for other professions has somewhat slowed. Pharmacy technician programs are on the increase as they help to bolster the workforce. If you love helping others and want to start a career in a field where there is much demand, assisting a registered pharmacist in a role as a pharmacy technician may prove rewarding. To succeed as a pharmacy technician, you should be detail-oriented and possess strong organization skills to measure, count, pour, and weigh medications and package and label them before dispensing to patients. Good communication and customer service skills are also essential to greet customers, answer questions, and collaborate with other health care professionals. Employment of pharmacy technician is projected to increase 20 percent by 2022, according to the Bureau of Labor Statistics. Entry-level technicians earn an average annual salary of $24,318.
Genesee Health Careers
The pharmacy technician program at Genesee Health Careers may be completed in just 14 weeks. The curriculum provides the technical and practical education that will enable graduates to function as competent pharmacy technicians under the direction of a registered pharmacist. It covers 210 clock hours of instruction in pharmacology, medical and pharmacy terminology, dosage calculations, inventory control, packaging and labeling, dispensing prescriptions, customer service, billing systems, and aseptic techniques. Students will also participate in a 70-hour clinical externship to apply the principles learned in the classroom in a real-world pharmacy setting.
Ross Medical Education Center
The pharmacy technician program at Ross Medical Education Center prepares students for a career in pharmaceuticals. The curriculum offers 900 clock hours of instruction (66.5 quarter credits). Included in the time is an 180-hour pharmacy technician externship. Students will be expected to complete an additional 302.5 hours of outside classroom work that will be factored into the student's grades. Course content includes an introduction to pharmacy, pharmacy operations, basic principles and concepts of mathematics, measurement systems, dosage calculations, pharmacy law and ethics, medical terminology, non-sterile compounding, general pharmacy, community and retail pharmacies, hospital and health systems pharmacies, and sterile compounding. The duration of the program is 36 weeks for day and evening students. Applicants must have a high school diploma or GED and be able to pass a criminal background check. Tuition for the program is $14,600.
Baker College
The pharmacy technician program at Baker College leads to an Associate of Applied Science degree. Students develop the skills to help pharmacists dispense medication and other healthcare products to pharmacists. Graduates will be prepared for entry-level employment in hospital pharmacies, mail-order pharmacies, and retail pharmacies and assisted living facilities. The intensive curriculum also prepares students for success on the national certification exam administered by the Pharmacy Technician Certification Board. It includes 63 credit hours of pharmacy technician major requirements and 28 credit hours of general education requirements. The course content includes an introduction to disease, introduction to healthcare, medical terminology, introduction to electronic health records, pharmacy technology, interpretation of medication orders, hospital and community pharmacy, compounding, third party billing, structure and function of the human body, and pharmacy technician capstone review. Interested persons must meet the health requirements, including current TB test results, submission to a drug screen and a criminal background check, and be able to communicate competently in English. Tuition costs $390 per credit.
Charter Health Care Training Center
Charter Health Care Training Center's Pharmacy Technician Program prepares students for practice in a variety of pharmacy settings. The duration of the program is 17 weeks and includes interactive classroom sessions and opportunities for hands-on practice in the school's modern pharmacy simulation lab. Upon conclusion of the on-site requirements, students will participate in a clinical externship in a local pharmacy. The program is approved by the American Society of Health-System Pharmacists and meets its rigorous accreditation standards. Course content includes pharmacology for technicians, medication order entry and fill process, pharmacy math, non-sterile compounding, CPR for Healthcare Providers, pharmacy quality assurance, inventory management, insurance billing and reimbursement, sterile IV drug preparation, inventory management, and customer service excellence. Students will have multiple hands-on experiences in a simulation lab where they'll practice preparing prescriptions, sterile IV admixtures, and non-sterile drug compounding. Classes meet Monday through Thursday from 8:30 am to 3:30 pm. Graduates will be well prepared for success on the Pharmacy Technician Certification Exam (PTCE) to earn the title Certified Pharmacy Technician (CPhT). The program is designed to be completed in 5 to 6 months. Applicants must have a high school diploma or GED.
Dorsey Schools-Saginaw Michigan Campus
Dorsey Schools' Pharmacy Technician training program prepares students for employment in an ambulatory pharmacy to dispense medication under the direction of a registered pharmacist. No experience in the field in required to enroll in the program. Graduates will be eligible to sit a national pharmacy technician certification exam. Course content includes pharmacy operations, pharmacy terminology, communication, customer service, dosage calculations, generic and trade name drugs, pharmacology, aseptic techniques, non-sterile compounding, and pharmacy billing systems. Students also learn medical and pharmacological terminology and abbreviations, common diseases, pharmacy law and ethics, body structure and function, and drug uses and side effects. In addition to classroom sessions, students will be expected to complete a supervised pharmacy externship in an ambulatory pharmacy setting where they'll gain industry experience. Applicants must have a high school diploma or GED and pass a criminal background check. Tuition for the program is $12,864 and includes one complimentary lab coat and a one-time payment for graduates to take a national certification exam.