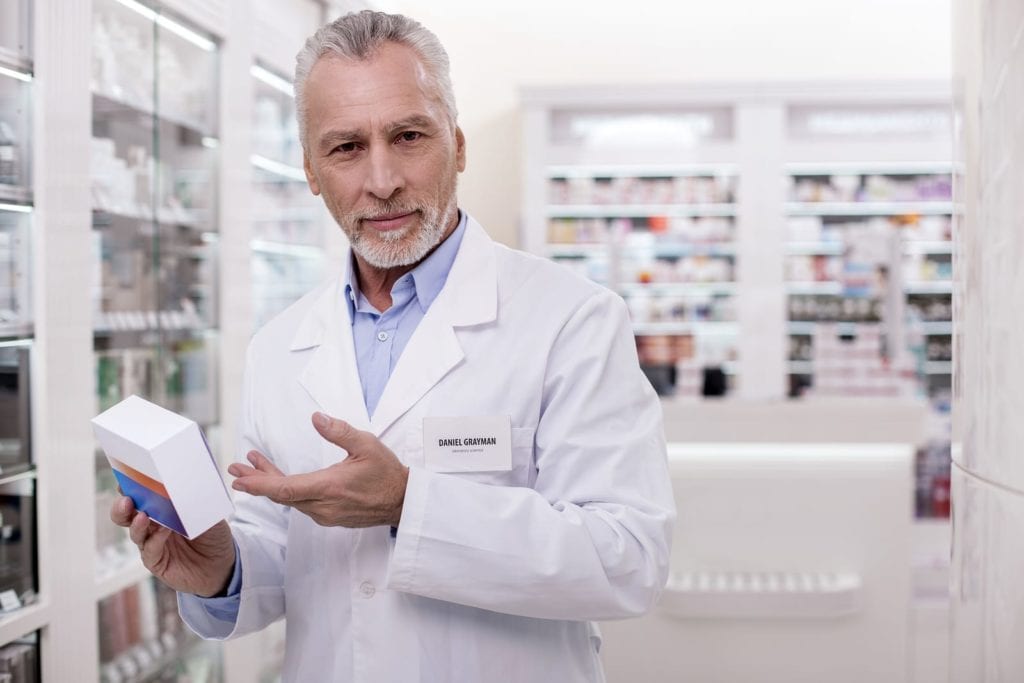 As integral members of the pharmacy operation, pharmacy technicians assist pharmacies with the preparation and distribution of medication and the management of daily pharmacy operations. Their duties include receiving prescriptions, reading and interpreting prescriptions, packaging and labeling products, sterile product preparation, record-keeping, counting and pouring medications, customer service, and inventory control and management.
Pharmacy technicians work in community pharmacies, hospitals, retail chains, mail order pharmacies, nursing homes, and education programs. Opportunities for pharmacy technicians in Texas remain strong. According to the United States Bureau of Labor Statistics, employment of pharmacy technicians is projected to increase by 12 percent from 2016 to 2026.
Pharmacy technician programs cover the skills and knowledge adults need to enter the growing field of pharmaceuticals. They emphasize patient health and medication safety, including the importance of accuracy, precision, and attention to detail. Students learn how to follow directions, collaborate with health care professionals, and execute tasks that do not require the professional judgment of the pharmacist. Upon completion of the program, graduates can take a national exam, such as the Pharmacy Technician Certification Exam, to become Certified Pharmacy Technicians.
Alvin Community College
Alvin Community College offers a Pharmacy Technician Program that leads to a Pharmacy Technician Certificate or an Associate Degree. The 32 credits for the certificate program may be completed in two semesters. The 4-semester AAS degree requires completion of 60 credits. The hybrid program requires completion of some courses online. Students will complete the laboratory requirements in the classroom. During the final semester, students will participate in a 256-hour clinical internship, which requires a commitment of 16 to 20 hours per week. The externship may be all retail hours or 128 hours in a retail environment and 128 hours in a local hospital. Course topics include introduction to pharmacy, drug classification, pharmaceutical mathematics, community pharmacy practice pharmacy terminology, pharmacy drug therapy and treatment, pharmacy therapy and disease process, compounding, sterile preparations, and institutional pharmacy practice. Graduates will be prepared to sit the Pharmacy Technician Certification Exam to become Certified Pharmacy Technicians. Registration with the Texas State Board of Pharmacy as a Pharmacy Technician in Training is required for participation in the pharmacy practicum – a criminal background check is a necessary part of the process.
Admission criteria:
Have a high school diploma or GED
Meet the requirements for admission to Alvin Community College
Complete a background check and have no felonies in the last 5 years
Not be on suspension or academic probation
Have up-to-date immunizations – hepatitis B, varicella, MMR, measles (second vaccination), tetanus/diphtheria, and non-reactive PPD skin test
Have current CPR for Healthcare Providers
Complete a drug screen
Tuition costs $257 per credit for in-district residents. Other fees and expenses will apply.
Address: 3110 Mustang Road, Alvin, TX 77511
Phone: 281-756-3500
College of the Mainland
The College of the Mainland prepares adults for a career in the fast-growing field of pharmacy in less than one year. The program is available as a Pharmacy Technology Certificate and an Associate of Applied Science in Pharmacy Technology. Training includes classroom lectures, hands-on labs, and internships to equip students with the skills to become competent technicians. The Certificate program requires completion of 30 credit hours. The AAS program requires completion of 60 credit hours. Areas of study include introduction to pharmacy, institutional pharmacy, pharmacy drug therapy and treatment, pharmaceutical math, clinical pharmacy technician, intravenous admixture and sterile compounds, pharmacotherapy and disease process, medical terminology, pharmacy law, human anatomy and physiology, and business computer applications. Students must complete 160 hours of internships at a community and hospital pharmacy. The pharmacy internship provides the opportunity to gain real-world experience and apply the principles learned in the classroom. Graduates are prepared for success on the Pharmacy Technician Certification Exam.
Admission criteria:
Meet all the requirements for general admissions
Complete an application for the Pharmacy Technician program
Provide documentation of completing high school or high school equivalency certificate
Complete the Pharmacy Technician Required Immunizations and Tests Form and provide copies of immunization records – MMR, Hep B, Varicella, Tdap, TB skin test, Influenza
Complete a drug screen and criminal background check
Tuition costs $2,500 and includes a background check, licensing fees, and drug screen. Financial aid is available to eligible students.
Website: https://www.com.edu/ 
Address: 1200 Amburn Rd., Texas City, TX 77591
Phone: (409) 938-1211
Phone: (888) 258-8859
Fax: (409) 938-1306
Northwest Educational Center
Northwest Educational Center trains pharmacy technicians to distribute medications under the supervision of a licensed pharmacist. Students learn how to calculate dosages, prepare and distribute medications to patients, use medical terminology, and perform business operations. Areas of study include principles of pharmacology, dosage calculations, drug identification, pharmaceutics, safety procedures, prescription preparation, and drug laws and regulations. Other topics include anatomy and physiology, pharmacy laboratory procedures, record-keeping, medical and pharmaceutical terminology, patient communication, and pharmacy business operations. After completing the theoretical studies in the classroom, students will participate in an externship to develop and apply practical skills in a real-world setting. The curriculum covers 720 clock hours in the classroom and skills lab followed by 180 clock hours of pharmacy externship to total 900 hours of instruction. Day and evening classes are available. The day schedule requires completion of 25 to 26 weeks on campus followed by 4 to 6 weeks at pharmacy sites. Classes meet Monday through Friday from 8:00 am to 2:30 pm. The evening schedule meets Monday through Thursday from 6:00 pm to 10:00 pm for 45 to 46 weeks.
Admission criteria:
A high school diploma or GED
A minimum score of 15 on the Scholastic Level Exam
Complete a criminal background check including fingerprint imaging
Attend an admissions interview.
The estimated cost of the program is $8,500.
Lone Star College – North Harris
Lone Star College prepares students for a career as a pharmacy technician in just nine months. The training concludes with a Pharmacy Technician Certificate, which can be stacked for students to complete additional credits towards a Pharmacy Management AAS Degree. The pharmacy technician certificate is designed to be completed in two semesters and covers the fundamentals of the profession and the role of the pharmacy technician. The Certificate requires completion of 31 credits. Course topics include pharmacy law, drug classification, pharmaceutical mathematics, community pharmacy practice, pharmacy technician certificate review, compounding sterile preparations, institutional pharmacy practice, and pharmacotherapy and disease process. The program admits new students in the fall – recruitment begins in April. Due to popular demand, an evening program is available in the spring and runs for 12 months.
Admission criteria:
High school transcripts
College transcripts of all colleges/universities attended
Passing scores on the COMPASS, THEA, or ASSET tests
Complete the math and English requirements with a minimum grade of C
Attend an interview with the program director
Complete a drug screen prior to the clinical externship
Complete the Hepatitis B immunization series
Physical examination completed by a licensed physician
Verification of immunization record – TB skin test, MMR, and Varicella
Student liability insurance
CPR certification
The average full-time tuition is $800 per semester for resident students.