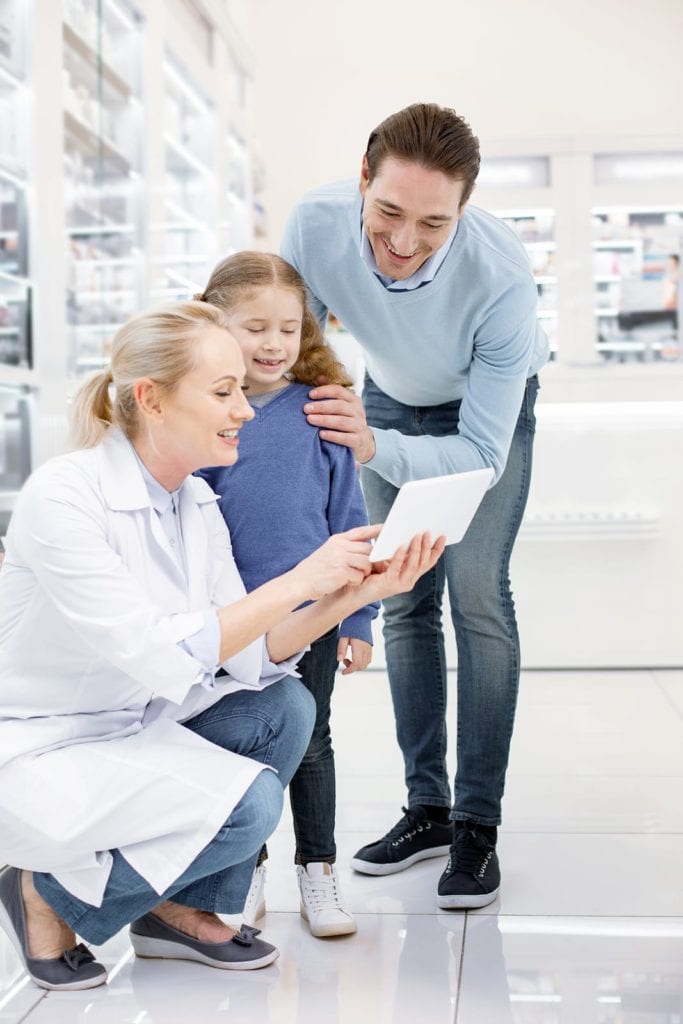 Pharmacy technicians work in pharmacies where they receive, prepare, and distribute medications under the supervision of a registered pharmacist. As the need for health care services and prescription medication soars, there is expected to be greater demand for pharmacy technicians. The shortage of registered pharmacists also creates more demand for professional pharmacy technicians. In community and retail pharmacies, they carry a substantial share of the workload as they prepare prescription medications for dispensing, package and label medications, count, mix and pour medications, update customer profiles, receive electronic prescriptions, order and store inventory, ring up sales, and prepare claims to submit to insurance companies. In hospital pharmacies, technicians' might prepare drug mixtures, make 24-hour light food, create customized drugs, compound solutions, suspensions, and creams, fill orders written by physicians in the hospital, load and monitor automatic counting machines, and enter medication information on to patients' hospital charts. There is projected to be a 12 percent growth in employment for pharmacy technicians through 2026. This growth translates to an additional 47,600 jobs. The median annual salary for pharmacy technicians was $31,750 in 2017 according to the United States Bureau of Labor Statistics.
Everett Community College
The online pharmacy technician program at Everett Community College helps students master the skills to assume an entry-level position as a pharmacy technician. The training will cover human anatomy, medical terminology, patient records, reading and interpreting prescriptions, common drug classes, and dosage calculations. Other areas of study include translating metric measurements, prescription pricing, communication skills, laws and regulations that govern pharmacy, and basic preparation for the certification exam. The basic pharmacy technician courses include 24 hours of instruction. The program is accessible for 6 weeks online. Course modules include What is a Pharmacy Technician, Pharmacology, Understanding Pharmacy Rules and Regulations, What Do All These Medical Words Mean, Your Core: Heart, Lungs, and Stomach, The Central Nervous System: Pain and Brain Drugs, Hormones, Eyes, and Ears, and Pharmacy Math. Communication and the Future of Pharmacy Technicians will be covered in the sixth week. Tuition for the program is $109.
Address: 2333 Seaway Blvd., Everett, WA 98203
Phone: 425-267-0150
Fax: 425-259-8299
Email: learn@everettcc.edu
North Seattle College
The Pharmacy Technician Certificate program at North Seattle College is designed to be completed in 9 months. Students will receive comprehensive training that will help them pass the certification exam and secure employment as a pharmacy technician. The program is accredited by the ASHP and the Washington State Board of Pharmacy. The curriculum combines theory with intensive hands-on training in pharmacology, aseptic techniques, computerized prescription processing, and compounding. The pharmacy internship will commence in the second quarter of the program. When the clinical sessions begin, students will attend classes on campus two days a week. The pharmacy externship exceeds the state's requirements, offering 432 hours of real-world experiences in hospitals, community pharmacies, retail locations, specialized pharmacies, and long-term care facilities.
Admission criteria:
Attend an information session and provide test scores and transcripts
Provide documentation of completing high school or GED equivalency
Provide college transcripts as evidence of completing Math 097 or equivalent and English 097 OR take the Compass Math and English placement test
Submit a completed application to the Pharmacy Technician program and the application fee of $35
Fill out the personal data/attestation form
Submit a color copy of photo ID
Complete a national background check
Provide documentation of immunization – MMR, DT, Hepatitis B, Varicella, TB test, and Flu shot
Drug test results may be required for the externship experience
Tuition for the 49-credit certificate program is $4,461. Books and supplies will cost approximately $870.
Address: 9600 College Way North, Seattle, Washington 98103
Phone: 206-934-3600
Edmonds Community College
The Pharmacy Technician program at Edmonds Community College comprises of classroom and clinical training to prepare students for entry-level positions in community and institutional pharmacies. Graduates will be eligible to fill out the
"Application for Pharmacy Technician" to obtain certification through the Program Washington State Department of Health – Board of Pharmacy. Students must complete 39 credits (in three quarters) and a 264-hour practicum to graduate from the program. The requirements do not include the prerequisites. The practicum commences in the third quarter. During this quarter, students will also need to pay for and take the Certified Pharmacy Technician (CPhT) exam. A passing score is essential for licensure in the state of Washington. Prerequisite courses include the human body, introduction to health care, basics, basic medical terminology, basic life support, and HIV/AIDS. Course modules in the Certificate program include Orientation to Pharmacy Practice, Pharmacy Law and Ethics, Pharmacy Terminology, Applied Pharmacology, Pharmaceutical Calculations, Prescription Processing, Over the Counter Drugs, Hospital Procedures, and Clinical Work Experience.
Admission criteria:
Submit a completed application for admission
Apply for financial aid
Take the placement test and meet with an advisor
Provide transcripts of prerequisite courses
Submit high school transcripts
Complete background check and drug screen – for the clinical site
Tuition costs $5,754. Books and fees cost an additional $1,800.
Address: 20000 68th Ave. W, Lynnwood, WA 98036
Phone: 425-640-1459
Renton Technical College
Renton Technical College's pharmacy technician program prepares students with the skills to assist licensed pharmacists in community, retail, and institutional pharmacies. The program is approved by the Washington State Board of Pharmacy, so graduates may apply for a license after successful completion of a national certification exam. In addition to classroom lectures, demonstrations, and skills lab, students will participate in pharmacy externships in retail and hospital pharmacies. The program requires completion of 77 credits. Course modules include pharmacy technician fundamentals, top 200 drugs, pharmacology, outpatient pharmacy prep and record keeping, admixture advanced techniques, medical terminology, anatomy and physiology, pharmacy law and references, and inpatient and home healthcare pharmacy. Other modules include communication and customer service, management supervision and human relations, pharmacy calculations, pharmacy practice, and business office machines. Classes meet Monday through Friday from 8:00 am to 2:30 pm.
Admission criteria:
Be 18 years or older
Take and pass the Accuplacer test
Have a high school diploma or equivalency or be currently enrolled in high school
Be fluent in verbal and written English
Register with Castle Branch to complete a Nationwide criminal background check – within three months of admission
Complete the vaccination and health requirements – the report must be signed by a licensed healthcare provider
Have valid health insurance for sickness and injury
Ability to lift a minimum of 50 pounds and stand or walk for extended periods.
Tuition for the certification program is $8,437. Books and supplies cost an additional $706.
PIMA Medical Institute
The pharmacy technician program at PIMA Medical Institute prepares students for entry-level employment as a pharmacy technician. Students develop essential skills, such as inventory management, customer service, and prescription preparation that will enable them to provide valuable support to licensed pharmacists. The program covers 840 hours including classroom and clinical hours. The pharmacy externship requires completion of 240 hours in a retail and institutional pharmacy. Course topics include pharmacy math, inventory maintenance, pharmacology, pharmacy law and ethics, pharmacy technician duties, pharmacology, principles of customer service, pharmacy laboratory skills, pharmacy computer applications, and fundamentals of chemistry. Day and evening classes are available. The day classes total 36 weeks and the evening classes must be completed in 41 weeks.
Admission criteria:
Have a high school diploma or GED
Be 18 years or older – applicants under 18 must have parental consent
Take an entrance exam and pass with the minimum score
Complete a background check and drug screen
Attend an admission interview
Score 60% or more in the mathematics screening exam
Tuition for the program costs $14,106. Books and supplies cost an additional $1,031.
Address: 555 S. Renton Village Place, Renton, WA 98057
Phone: 800-477-PIMA