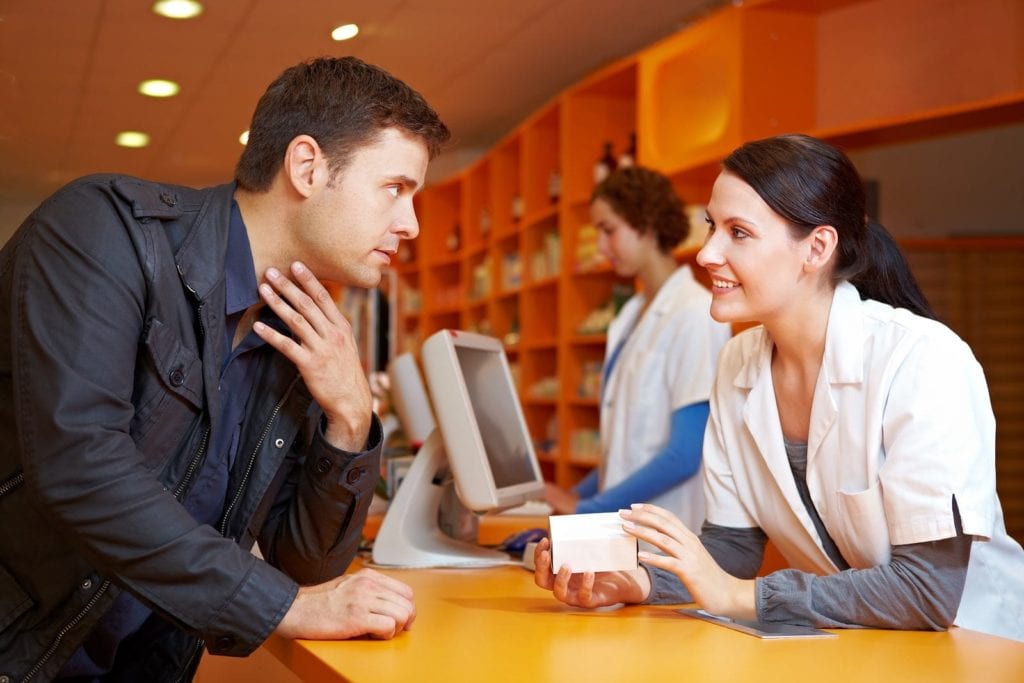 A Pharmacy Technician assists licensed pharmacists with the overall operation of the pharmacy, performing activities related to the dispensing of drugs that do not require clinical judgment. In California, a pharmacy technician must obtain licensure from the California Board of Pharmacy as a prerequisite to practice. The duties, role, and function depend on the setting. For instance, in a retail pharmacy, technicians may prepare medications, maintain inventory, maintain patient records, manage the cash register, print prescription labels, prepare insurance claims, and answer questions not requiring the clinical judgment of a licensed pharmacist. In hospitals, pharmacy technicians may prepare medications that are not available commercially, repackage medications, prepare sterile intravenous medications, collect data for quality improvement, deliver medications to patients' rooms, operate computerized dispensing, and replenish nursing stations in addition to those duties that technicians perform in a retail setting. Apart from the traditional pharmacy setting, technicians may also find employment in mail order pharmacies, federal and state jail pharmacies, medical insurance companies, and drug manufacturing companies.
San Francisco State University
The pharmacy technician program at San Francisco State University prepares students to work as a pharmacy technician in a retail or other pharmacy setting and to take the PTCB exam. The curriculum includes 50 hours of classroom theory and practice followed by an 80-hour clinical externship. Topics covered include the history of pharmacy, medical terminology, pharmacy calculations, reading and interpreting prescriptions, defining drugs by generic and brand names, and pharmacy practice in multiple environments. Classroom and hands-on training will teach students how to calculate dosages, IV flow rates, aseptic technique, total parenteral nutrition, inventory control, drug classifications, and billing and reimbursement. An online version of the course is available and includes six months of access to all the course materials, textbooks, and resources to encourage students to study at their own pace.
Admission criteria:
A high school diploma or GED
Must have taken math and science in high school
Tuition for the traditional campus program is $1,299 and includes all textbooks and materials.
City College of San Francisco
The two-semester pharmacy technician program at City College of San Francisco covers 684 hours of didactic and practical experience in a simulated community pharmacy. In the classroom, students will learn the role and function of pharmacy technicians. Applicants must be 18 years or older, possess an official high school transcript or GED, a 2.0 GPA on college or high school transcripts, and attend an individual orientation. Upon acceptance to the program, students must complete a physical exam and provide proof of immunity for specified communicable diseases. Successful completion of Math, English, Introduction to Computers, Medical Terminology, and Anatomy is recommended. Graduates will be eligible to apply to take the PTCB exam.
Admission criteria:
Must be 18 years of age or older
Submit official high school transcript indicating graduating or GED
Must have a 2.0 GPA on college or high school transcript
Attend an orientation session
Submit a completed physical exam report and proof of immunity for specific communicable diseases
Complete a satisfactory background check and drug screen after acceptance into the program
Complete a placement test in Math and English
Submit a completed application for admission
Tuition for the program is $5,582 for California residents. First semester expenses total approximately $350 for textbooks, supplies, lab coat, and name tag.
Bay Area Medical Academy
Pharmacy technician students at Bay Area Medical Academy learn the skills needed to support pharmacists in a hospital or retail setting. Graduates are prepared for success on the national certification exam and entry-level positions in pharmacies. The 7.5 month-long program features 600 lecture hours in the classroom and 240 hours on a clinical externship. Topics covered include pharmacology, pharmacy calculations, abbreviations, pharmaceutical and medical terminology, symbols used in prescribing, dispensing, and documenting medications, and standards, ethics, and laws that pertain to pharmacy practice. Classes meet Monday through Friday from 9:00 am to 2:30 pm.
Admission criteria:
Must be 18 years or older
Must have a high school diploma or equivalent
Must pay the minimum required deposit at registration
Attend an interview with the pharmacy instructor
Take and pass an English test score of 70% or higher
Submit official transcripts
Pass a criminal background check
The approximate cost of attendance is $11,049 including registration, textbooks, lab fees, uniforms, ID cards, lab materials, graduation and administration fee, and tuition.
Address: 530 Bush, Suite 201, San Francisco, CA 94108
Phone: 415-217-0077
Fax: 415-358-5997
Email: info@bamasf.com
Mission College
Mission College facilitates an accelerated evening or day pharmacy technician program to help individuals who are interested in qualifying for California State Board licensing. The intensive program runs for 30 weeks to prepare students for entry-level employment in the shortest possible time. High school graduates, college students, and adults seeking a career change benefit from the practical approach to training, which allows them to enter the in-demand healthcare industry. The curriculum, developed by licensed pharmacists, and taught by pharmacists and certified pharmacy technicians, covers all the skills students need to function effectively as a pharmacy technician. The 400-hour program includes classroom and lab instruction as well as externship experiential training in an approved pharmacy. Day classes meet from August to April. Evening classes meet from February to October.
Admission criteria:
Attend an information meeting
Attend a formal interview with the program director
Take and pass the Assessment Tests
Must have a high school diploma or GED
Pass a background check
Demonstrate a minimum typing speed of 20 WPM
Obtain health care including a negative TB test
Demonstrate competency in English, math, and communication
Tuition is $5,500 inclusive of deposit and class materials. A flexible payment plan is offered to all students. Financial aid is not available for the program.
Address: 3000 Mission College Boulevard Santa Clara, CA 95054-1897
Phone: 408-855-5083
Foothill College
The pharmacy technician program at Foothills College is open for admission during the fall quarter only. Students who successfully complete the 9-month program will be qualified to apply for registration as a pharmacy technician with the California State Board of Pharmacy. A two-year expanded program is also available and includes general education courses that lead to an associate's degree in pharmacy technician. Graduates of the expanded program can transfer to a four-year program or enter the workforce with advanced theoretical and clinical abilities. Punctuality and reliability are critical for those enrolled in the program as these traits are essential to success in health care. Students who are habitually late or absent will be placed on probation and may be dismissed from the program. Due to the intense nature of the coursework, full-time employment is not recommended.
Admission criteria:
A high school diploma or equivalency
Complete Human Biology or higher with a grade C or better
Complete Elementary Algebra or higher with a grade C or better
Complete English 100 or higher with a grade C or better
Keyboarding proficiency of 35 wpm or higher and Anatomy and Physiology are recommended but not required
Pass a criminal background check
Must obtain a clear drug screen
The overall cost of attendance for California residents is $1,900.
Address: 12345 El Monte Road, Los Altos Hills, CA 94022
Phone: (650) 949-6121
California State University, East Bay – Continuing Education
Cal State East Bay's Pharmacy Technician Program prepares adults for an exciting career as a pharmacy technician. The program is offered online and delivers the same high-quality instruction afforded to traditional students, but gives students the opportunity to work at their own pace. Students will have one-on-one interaction with the instructor during the online coursework, hands-on practice, and pharmacy externship at retail and hospital pharmacies. Areas of study include Orientation of Pharmacy, Pharmacy Law and Ethics, Medical and Pharmaceutical Terminology, Pharmaceutical Calculations, Pharmacology, Communication Skills, Insurance and Inventory Procedures, Lab Module, Clinical Rotations, and Final Comprehensive Exam. Graduates will be prepared to take the Pharmacy Technician Certification Board's (PTCB) National Certification Exam. The self-paced program gives students up to 12 months to complete the requirements for a Certificate in Pharmacy Technician.
Admission criteria:
Have a high school diploma or equivalent
Must be proficient in keyboarding
Must be proficient in Microsoft Word or other word processing program
Have a command of English grammar and punctuation
Have a basic understanding of high school math
Pass a drug screening test
Complete a background check and employment verification
Obtain professional liability insurance
Complete the immunization requirements
Tuition costs $2,565.
Address: 25800 Carlos Bee Blvd, SF 102, Hayward, CA 94542
Phone: (800) 730-2784
Fax: (510) 885-4817
Contra Costa Medical Career College
The Pharmacy Technician certificate program at Contra Costa Medical Career College gives students knowledge, skills and confidence to assist pharmacists in retail, hospital, and mail order pharmacies. Students will learn how to maintain patient profiles, complete insurance claim forms, verify prescripts, and prepare medications for dispensing. They will also learn how to count tablets and label bottles, mix intravenous solutions, manage order entry of prescriptions, stock and inventory prescriptions and OTC medications, receive prescriptions and requests for refills, and attend to customers. Course topics include pharmacy math, inventory maintenance, pharmacology, computer applications, clerical duties, pharmacy regulatory guidelines, and pharmacy law and ethics. Students will complete a 120-hour externship after completing the theoretical portion of the program.
Admission criteria:
A high school diploma or GED
Tuition costs $3,600. Other costs include registration fee, textbooks, uniforms, BLS certification, Live Scan, state licensing fee, and self-query fee.
Website: https://www.ccmcc.edu/
Address: 4041 Lone Tree Way, Suite 101, Antioch, Ca 94531
Phone: 1 (925) 757-2900
Fax: 1 (925) 757-5873
Northern California Nursing Academy
The pharmacy technician program at Northern California Nursing Academy delivers knowledge and skills in pharmacy fundamentals and terminology. Through theory and practical coursework, students will learn how to receive and verify prescriptions and prepare medications for distribution to patients. Students will have the opportunity to participate in a pharmacy externship at Walgreens. Graduates will receive a Certificate of Completion and will be eligible to apply for a license through the California State Board of Pharmacy. The duration of the program is 4 to 5 months. Classes meet Saturday and Sunday from 9:00 am to 3:00 pm. A hybrid, self-paced program is available.
Admission criteria:
Must be at least 18 years old by the start of the program
Must have a high school diploma or GED
Must have a valid government ID and social security card
Must be able to communicate effectively in English – both verbal and written
Submit an Application for Admission and the non-refundable registration fee
Provide proof of good health – through an exam performed by a physician or nurse practitioner
Must not have been convicted of any sections in the Penal Code
The cost of the program $7,400.
Address: 355 Gellert Blvd Ste 101 Daly City CA 94015
Phone: 650-992-NCNA (6262)
Alt: 650-684-0315
Fax: (650) 992-6263
Email: info@ncnursingacademy.com