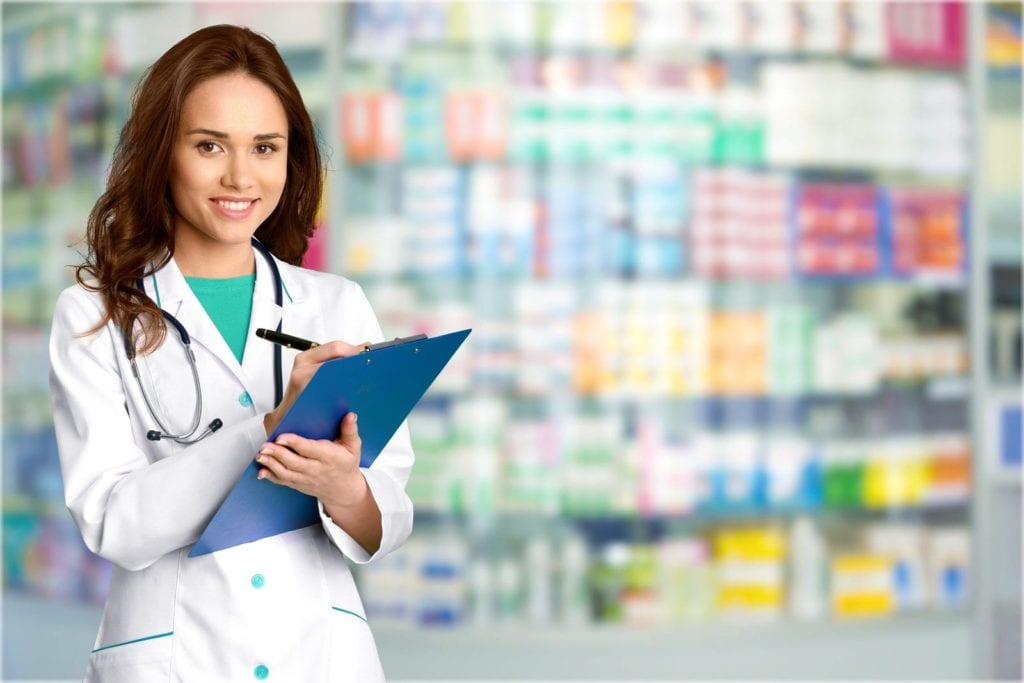 Pharmacy technicians use their training and education to manage the supply of medication in a pharmacy setting and assist pharmacists with administrative tasks and advisory services. In hospitals, their duties are more specialized and may involve the manufacture and preparation of complex medicines. As a part of the pharmacy team, pharmacy technicians work under the supervision of a licensed pharmacist to dispense prescriptions, order items, receive and unload deliveries, generate stock lists, manage patient records, bill insurance companies, answer customer questions, prepare and package medications, and refer queries to the pharmacist. In hospitals, pharmacy technicians prepare a greater variety of medications and perform specialized tasks. For this reason, adequate training is essential to prevent mistakes during the preparation of patients' prescriptions. Training to become a pharmacy technician usually takes 3 to 12 months. The training combines practical work with learning experiences in the classroom and includes instruction in pharmacy law, disease management, human physiology, and pharmacology.
Metro Technology Centers
The pharmacy technician certificate program at Metro Technology Centers is open to adults. The career major prepares students for a career in the fast-paced health care industry. The training includes classroom lectures and clinical externship at a community pharmacy. Students learn medical and pharmaceutical terminology, classification of drugs, state and federal laws related to controlled substances, inventory control, drug regulation and control, HIPAA, prescriptions, pharmaceutical calculations, hospital and community pharmacy, financial issues, and drug names. Customer service and employability skills are also included in the training.
Admission criteria:
Must have reading and math skills at the 8th-grade level or above
Must have good communication and an interest in a health career
Provide immunization records when applying to the program
Must have a high school diploma or GED
Must be at least 18 years of age
The program cost is $576. Books cost $115.
Oklahoma City Community College
The pharmacy technician program at Oklahoma City Community College comprises of 48 classroom hours to prepare students for the national Pharmacy Technician Certification Exam. Course topics include state regulations, mathematics, basic IV admixture, computerized pharmacy systems, applicable law, insurance restrictions, nomenclature, and more. Instructors will employ classroom exercises and competency reviews throughout the program.  Graduates will receive a Certificate of Completion after completing the coursework of 80% or better. Classes meet Mondays and Wednesdays from 6:00 pm to 9:00 pm for 8 weeks.
Admission criteria:
Must have a high school diploma or GED
Obtain a clean background check
Register for the program
The program cost of $700 is due at registration. It includes textbooks and access to the OCCC's math lab.
Website: https://www.occc.edu/
Address: 7777 South May Avenue, Oklahoma City, OK 73159-4444
Phone: 405-682-1611
Meridian Technology Center
Students enrolled in the Pharmacy Technician program at Meridian Technology Center will learn the names, appropriate uses and potential side effects of commonly prescribed medications. Students will learn in a simulated pharmacy and learn how to receive, prepare, compound, and dispense prescription medications. MTC will give students the opportunity to use advanced robotic equipment used in high-tech pharmacies. The use of PioneerRX Pharmacy Software will let students learn in a real-world environment and practice with software that is used in most independent pharmacies. The curriculum covers 600 hours of theory and practical training. Course topics include anatomy, core medical terminology, Healthcare Provider CPR and First Aid, orientation to the pharmacy technician career, hospital and long-term care pharmacy operations, pharmaceutical terminology, pharmaceutical compounding, pharmacology calculations, pharmacology for PhT, pharmacy law and ethics, pharmacy technician certification preparation, pharmacy technician internship, professional skills in the pharmacy, and retail pharmacy operations. The program is recognized by the Pharmacy Technician Certification Board (PTCB) so graduates will be eligible to apply for the PTCB CPhT certification.
Admission criteria:
Apply for financial aid (if needed)
Submit proof of completing high school – a high school diploma, transcript, or GED score report
Submit proof of post-secondary transcripts – if any
Provide proof of residency
Submit an application for admission
Schedule and attend an orientation session
Pay the $100 non-refundable deposit to secure enrollment
Tuition for the program is $1,800. Other expenses include closed-toed shoes, materials, headphones, lanyard, background check, and PTCB certification.
Mednoc Training College
Mednoc Training College offers a comprehensive pharmacy technician training program to prepare adults for employment in retail or hospital pharmacies. The curriculum covers 154 clock hours of instruction – 98 hours of classroom lectures and lab skills and 56 clock hours of externship at a local retail pharmacy. The coursework will cover pharmacology and terminology, abbreviations, inventory management, clerical skills and customer service, creating and maintaining patient records, package and label prescriptions, prepare and medication amounts, drug classifications, legal and ethical responsibility, accepting payments, and receiving prescription requests. Students must pass the written exam and clinical skills, obtain 90% on each chapter exam, write a 5-page clinical paper, and pass the homework and popup quizzes to successfully complete the program. Graduates will eb eligible to take the PTCB exam. The duration of the program is 5 weeks for daytime students, 7 weeks for evening students, and 6 weeks for weekend students.
Admission criteria:
Must be at least 18 years of age – applicants under 18 must be enrolled in high school
Have a high school diploma, GED, or other equivalency
Demonstrate basic math knowledge at 8th
Submit an application for admission
Provide two forms of identification – a social security card and photo ID
Complete a satisfactory background check
Have no history of drug abuse and arrest with controlled substances
Complete a TB screening test – available at MTC
Complete a satisfactory drug test – available at MTC
Must have current BLS card before commencing the pharmacy externship
Must be mentally and physically able to pass the course
Must obtain a flu shot during flu season
The program cost of $1,655 includes tuition ($1,290), lab fees, national certification exam. TB skin screen test, OSBI, drug test, BLS certification, and name badge.
Address: 2828 NW 57th Street, Suite 120, Oklahoma City, OK 73112
Phone: (405) 225-7876
Cell: (405) 589-2573
Fax: (405) 421-9521
Email: info@mednoc.com