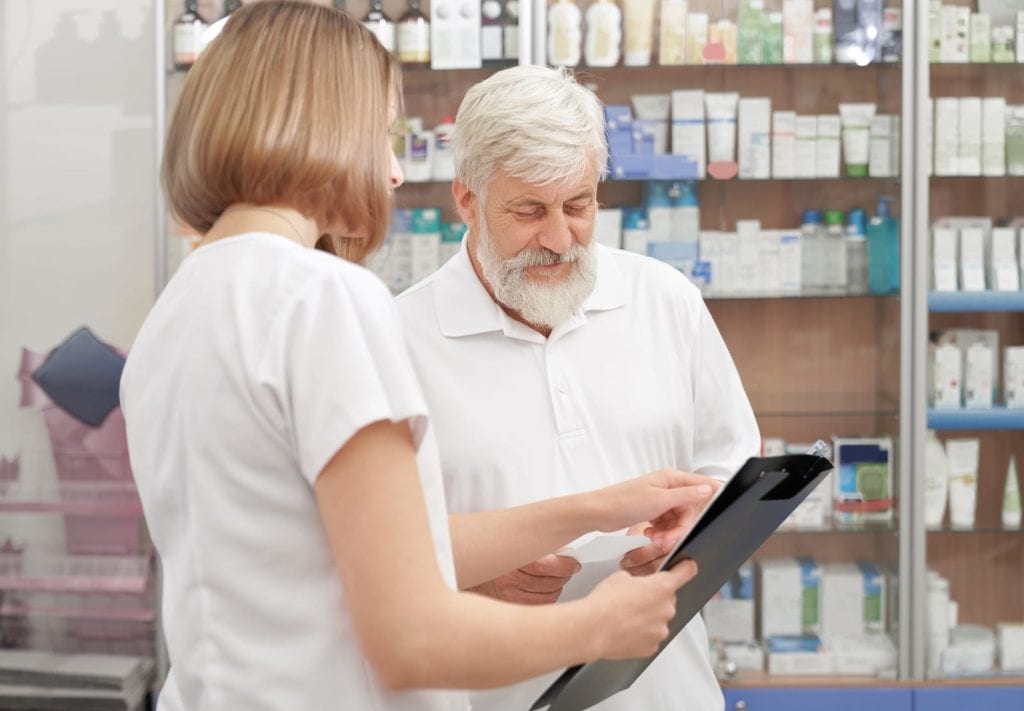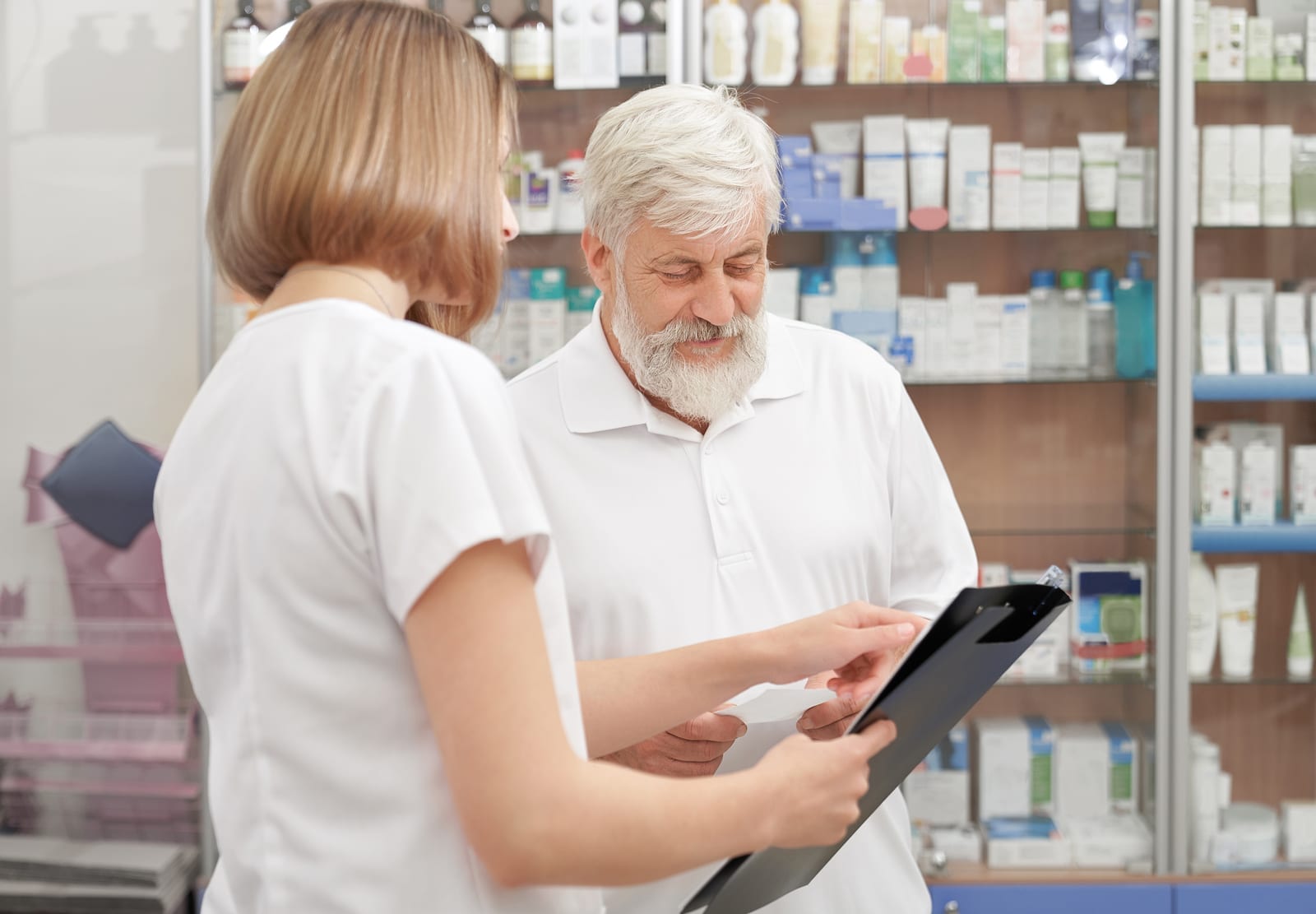 Pharmacy technicians are health care professionals who are essential to the functioning of the pharmacy team. They practice in numerous health care settings such as hospitals, home health care, long term care, community pharmacies, grocery stores, and nuclear pharmacies. The last decade has brought an expansion in the role of the pharmacy technician, and these changes necessitated some improvements in pharmacy technician training. Some programs cover a period of 6 to 12 months to prepare students to assume the expanded role.
Pharmacy technicians today might perform all duties that do not necessitate the clinical judgment of the pharmacist. Their responsibilities include but are not limited to order entry and verification, following up with patients, receiving and preparing prescriptions for the pharmacist to review, delegating duties to staff, preparing insurance claims, inventory management, and maintain patient profiles. Through the proper management of the pharmacy operation and dispensary, pharmacy technicians give pharmacists the freedom to focus on medication therapy management and other key tasks.
Pharmacy technicians in Iowa must register with the Iowa Board of Pharmacy. Registration may be as a Certified Pharmacy Technician or a Pharmacy Technician Trainee but must be within 30 days of accepting employment. Pharmacy technician trainees have up to one year to become nationally certified after commencing employment or training. Practicing without registration will result in disciplinary sanctions.
Iowa Valley Community College District
The pharmacy technician program at Iowa Valley Community College prepares students to dispense medication under the supervision of a licensed pharmacist. The comprehensive program requires students to complete 50 contact hours to prepare for the PTCB exam and entry-level employment. Course content includes IV flow rates, reading and interpreting prescriptions, medical terminology, drug compounding, dose conversions, inventory control, defining drugs by generic and brand names, dispensing of prescriptions, and billing and reimbursement. Students will learn the role of the pharmacy technician, evolution of pharmacy, review of the pharmacy hospital setting, retail practice, and long term care, pharmacy measures, unit dose systems, aseptic technique, handling of sterile products, children's doses, Total Parenteral Nutrition, basics of IV solutions, calculating a 24-hour supply of IV solutions, and prescription label requirements. Graduates will be eligible to participate in an 80-hour clinical externship at a local retail pharmacy.
Admission criteria:
A high school diploma or GED
Be able to read, write, and speak English proficiently
Participation in the clinical externship requires a criminal background check and drug screen
Tuition costs $1,299 and covers materials and supplies. GAP Tuition Assistance is available to eligible students.
Address: 3702 S. Center Street, Marshalltown, Iowa 50158
Phone: 641-752-4645
Toll-Free: 1-800-284-4823
Email: ivceinfo@iavalley.edu
Hawkeye Community College
The short term pharmacy technician program at Hawkeye Community College prepares students for entry-level employment in a retail and institutional pharmacy setting. The hybrid course includes online delivery of content plus required classroom hours. The online coursework requires a minimum commitment of four hours a week. Students will spend at least 112 hours in the classroom. Billing and payments, ordering and inventory, communication, reading and interpreting prescriptions, label requirements, dosage calculations, IV flow rates, retail and institutional pharmacy operations, pharmacy law and ethics, maintain patient profiles and pharmacy records, and handling of sterile products are some of the topics covered. Graduates of the non-credit program will be eligible to sit for the PTCB to become a Certified Pharmacy Technician. There are no specific entrance requirements for admission. However, a high school diploma is required as a minimum educational requirement. Classes meet for approximately 3.5 months. Class times are Mondays and Thursdays from 5:00 pm to 9:00 pm.
Admission criteria:
A high school diploma or GED
A valid email address
The total cost of the program is $2,599. It includes tuition, textbook, materials, and a certification exam approved by the Iowa Board of Pharmacy. Financial aid may be available for eligible students.
Address: 1501 East Orange Road, P.O. Box 8015, Waterloo, IA 50704-8015
Phone: 319-296-2320
Kirkwood Community College
Kirkwood Community College trains adults quickly and efficiently to function as a pharmacy technician. Students will learn how to be a dependable and competent support to a licensed pharmacist in a busy community or hospital pharmacy. The instruction includes a mix of classroom lectures, online learning, simulation labs, and clinical experiences. The school maintains small class sizes to ensure personalized instruction. Course topics will include professionals in health, pharmacy terminology, basic anatomy and physiology, introduction to keyboarding, microcomputer literacy, pharmacology for the pharmacy technician, communication for health care professionals, introduction to psychology, and pharmacy technician clinical. Students must participate in a 48-hour clinical rotation to complete the program. Graduates will be eligible to take a national pharmacy technician certification exam for employment in Iowa. The duration of the program is two semesters. New students are admitted in the Fall and Spring semesters.
Admission criteria:
Have a high school diploma or GED
Take and pass the placement exam
Attend orientation/registration requirements
Complete the health screen
Tuition for the diploma program is $5,154. Program fees and supplies, such as textbooks, lab course fees, tool sets, uniforms, clinical expenses, health screenings, and third-party credential will bring the total program cost to $7,207. The Kibble Grant may be available for eligible students.
Address: 6301 Kirkwood Blvd. SW, Cedar Rapids, Iowa 52404
Phone: 319-398-5411
Northeast Iowa Community College (NICC)
The comprehensive pharmacy technician program at Northeast Iowa Community College is offered in online format. The program prepares students for the PTCB exam and entry-level employment as a pharmacy technician. Areas of study include dosage calculations, reading and interpreting prescriptions, pharmacy terminology, aseptic techniques, the top 200 drugs, handling of sterile products, drug classifications, total parenteral nutrition, and inventory management. Students will also learn billing and reimbursement, packaging and labeling containers, and dispensing of prescriptions. At the conclusion of the theory, students have the option to participate in a pharmacy technician externship.
Admission criteria:
Must be at least 18 years old
Have a high school diploma or equivalency
Candidates who plan to participate in the optional clinical must pass a background check and drug. These must be completed through Condensed Curriculum International
Contact the school for a current schedule of classes and tuition for the online Pharmacy Technician program.