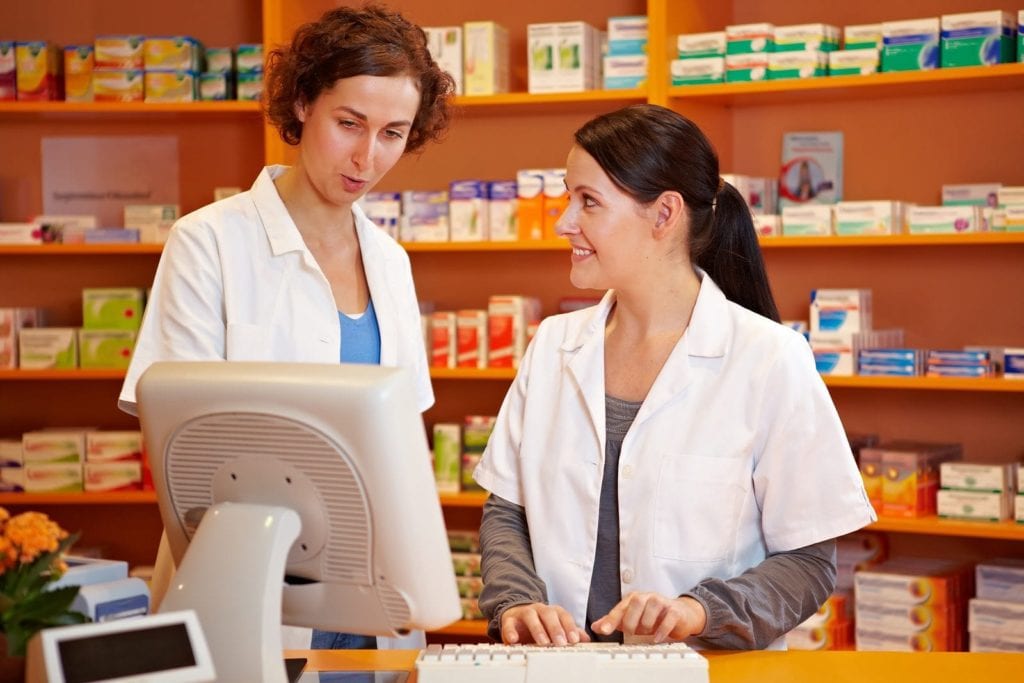 A pharmacy technician's role has expanded in recent times in response to pharmacists' need to conduct more clinical services in the pharmacy. Since there is no clear definition of what a pharmacy technician's role entails, the duties and responsibilities vary by setting, experience, and training. Pharmacy technician training is both knowledge-based and competence-based and is available in high schools, vocational schools, and community colleges. The curriculum will cover pharmacy operations, medications and their effects, pharmacy law and ethics, human anatomy and physiology, and disease management. Graduates who elect to sit a national exam to become Certified Pharmacy Technicians (CPhT) have the best opportunities in the workforce. Although certification is becoming more and more critical to longevity in the profession, pharmacy technicians must also stay up-to-date with changes in the industry. Pharmacy technicians work in hospitals, community pharmacies, home infusion pharmacies, nuclear pharmacies, government agencies, pharmaceutical companies, and other health care settings. Common duties include dispensing medications and other health care products, pharmacy administration, billing and reimbursement, reconciliation, procuring stock, accepting payments, and customer care.
Tulsa Tech
The pharmacy technician program at Tulsa Tech is open to high school students as well as adult candidates. They learn how to maintain an inventory of medications and verify insurance coverage. Students also acquire the skills to function as a pharmacist's primary support by mastering pharmaceutical compounding and learning how to fill retail prescriptions and prepare intravenous medications. The curriculum offers a total of 525 hours, including 265 theory hours, 130 lab hours, and 130 clinical hours. Courses covered include pharmaceutical compounding, pharmacology, anatomy, pharmaceutical terminology, core medical terminology, pharmacy law and ethics, retail pharmacy operations, pharmacological calculations, and pharmacy professionalism. Students must complete the 130-hour externship to receive credit and earn a grade of C or better and have at least a 90% attendance rate to participate in the externship. Graduates are prepared for success on the national certification exam and have the competencies to assume a pharmacy technician role in retail, clinical, hospital, apothecary, and nuclear pharmacy settings. The duration of the program is one year for high school students and 9 months for adults. Classes meet from 8:00 am to 11:00 pr from 12:00 pm to 3:00 pm.
Admission criteria:
Must be a high school senior or adult
Must undergo a criminal background check including a sex offender registration as required by the Oklahoma Child Care Facilities Licensing Act
Provide verification of immunizations through vaccination records, titer blood test results or declination statements
Must have current AHA CPR for Healthcare Provider card
Must have transportation to clinical sites
All students must complete drug screening before the clinicals
The training is free for high school students who are living the Tulsa Tech school district. The program cost of adults is $2,100. Tools, supplies, and certification cost $557.40.
Website: https://tulsatech.edu/
Address: 3350 S Memorial Dr, Tulsa, OK 74145-1322
Phone: 918-828-1200
Fax: 918-828-1209
Tulsa Community College
The pharmacy technology program at Tulsa Tech prepares students for the field of pharmacy technology. The curriculum provides a balance of technical training with classroom instruction for students to develop the knowledge and skills to meet the guidelines of the pharmacy profession. Apart from comprehensive instruction in the classroom, students will benefit from diverse pharmacy externships at local agencies such as community, institutional, closed-door, and compounding pharmacies. Lab skill sessions will be conducted in the state-of-the-art pharmacy lab located on campus. These sessions will be dedicated to the development of skills in apothecary, sterile compounding, and community/retail practice. Course modules include Introduction to Profession of Pharmacy, Introduction to Pharmacology, Pharmacy Technician Practicum I, and Preceptorship. The curriculum requires the completion of 16 credit hours. Graduates will be prepared to take the Pharmacy Technician Certification Exam.
Admission criteria:
Must submit an application for admission to the College before applying to the Pharmacy Technology program. Admission to the College does not guarantee admission to the PT program
Submit official high school transcripts or GED, ACT scores, and official previous college transcripts
Submit an application to the PT program online
Must meet with an academic advisor
Must attend a new student orientation
Must demonstrate proficiency in basic math, English, reading, writing, and speaking
Must be a high school graduate or have a high school equivalency (GED) and a high school or college GPA of 2.0 or better
Concurrent high school students must be 18 years before the clinical rotations, have only three credit hours of high school coursework remaining, and meet the concurrent enrollment policies
Must attend an interview with the program director or designee
Must complete an extensive criminal background check including a 7-year county of residence nationwide criminal history check, national sexual predator screening, SS check, and Medicare fraud screening
Submit record of immunization
Consent to routine drug screens
Tuition costs $112.55 per credit hour for Oklahoma residents and $337.55 per credit hour for non-Oklahoma residents.