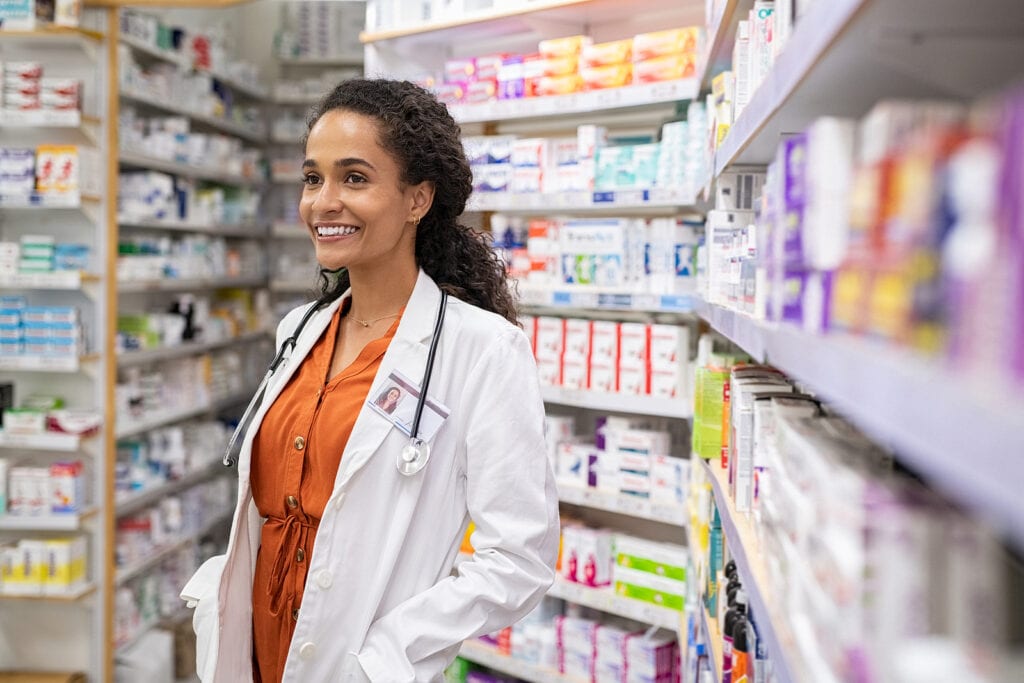 The expanding role of the pharmacy technician and the need for more medication among the aging population creates a demand for training pharmacy technicians. Pharmacy technicians work under the supervision of a pharmacist to dispense medication in a controlled environment. Pharmacy technicians receive and confirm prescription orders, prepare and fill prescriptions, manage inventory and check stock for expired medications, respond to customer queries, and perform specialized tasks such as compounding medications.  To succeed as a pharmacy technician, you must be able to communicate effectively in verbal and written forms, solve conflicts that may arise in the pharmacy, organize your time to complete your duties quickly and efficiently, and pay close attention to details. Completing an accredited pharmacy technician is the first step to national certification from a certifying body such as the Pharmacy Technician Certification Board. Upon successful completion of the exam, you will be eligible to assume the CPhT credential. Certified technicians get the best jobs and may earn slightly more than non-certified technicians.
Milwaukee Area Technical College
Students enrolled in the pharmacy technician program at Milwaukee Area Technical College will acquire skills and knowledge needed to function as a pharmacy technician in retail and institutional pharmacies. The curriculum covers 30 credit hours of theory and hands-on instruction. Course topics include written communication, medical terminology, culture of healthcare, digital literacy, orientation to pharmacy operations, pharmaceutical calculations, introduction to drug classification, community pharmacy lab, federal laws, ethics, and customer service, orientation to sterile solutions, pharmacy operations lab, psychology of human relations, and pharmacy clinical experience.  The clinical rotations will be conducted in both community and institutional pharmacies. Graduates are prepared to take the Pharmacy Technician Certification Board's Certified Pharmacy Technician exam. They will receive a Healthcare Customer Service certificate in addition to a Pharmacy Technician Certificate. Full-time and part-time schedules are available. New classes begin in August and January.
Admission criteria:
Must be 18 years old at the completion of the program
Must have one year of high school algebra – recommended
Attend an orientation session
Complete Criminal Background Check Acknowledgement
Pay the admission fees
Tuition costs $2,376 per semester for full-time students. Books and supplies cost $1,008.
Milwaukee Career College
Milwaukee Career College prepares adults to fill entry-level positions as pharmacy technicians. The pharmacy technician program includes classroom lectures, hands-on activities, and a pharmacy externship. Students will learn how to assist pharmacists with the receipt of and preparation of prescriptions, insurance claims, customer database, and sterile and non-sterile compounding. The 6-week externship will provide opportunities for students to practice their newly developed skills in a real-world setting. Apart from the clinical skills, students will learn administrative and customer service skills that will make them an asset to their employers.  Graduates will be eligible to take a national certification exam to become a Certified Pharmacy Technician. They will also benefit from job placement assistance. The duration of the program is 8 months.
Admission criteria:
Provide proof of valid high school graduation – HSED, GED, or transcripts
Pass an entrance assessment
Provide valid US government-issued documents to establish identity – photo ID and social security card
Complete a criminal background check and drug screen
Submit a completed application and registration fee
Financial aid is available for eligible students.
Website: https://mkecc.edu/
Address: 3077 N. Mayfair Rd. Suite 300, Milwaukee, WI 53222
Phone: 1-414-928-2145
University of Wisconsin – Milwaukee
The online pharmacy technician program at the University of Wisconsin prepares adults for national certification and success as a pharmacy technician. The program is specifically geared to adults who want the flexibility of online training to balance study with other life activities. The comprehensive training includes preparation for the Pharmacy Technician Certification Board Exam (PTCE). Areas of study include inventory control, receiving and processing prescriptions, pharmacy technician role and duties, pharmacology, pharmacy terminology, billing and insurance, and sterile and non-sterile compounding. The open registration makes it possible for prospective students to register and begin at any time. The class size is limited to 100 persons.
Admission criteria:
Must have a high school diploma or GED
Must have a computer and internet access
The cost of the program is $3,899.
Website: https://uwm.edu/
Address: 2200 East Kenwood Blvd, Milwaukee, WI 53211
Phone: 414-229-1122
University of Wisconsin Hospitals and Clinics Authority
The UW Health Pharmacy Technician Training Program in provides students with the knowledge and skills to start a successful career as a pharmacy technician. The program is accredited through the Accreditation Council for Pharmacy Education (ACPE). Students will learn in the classroom and through hands-on activities in the simulated labs and in a community and institutional pharmacy.  Current and prospective UW Health employees who agree to a two-year work agreement can complete the program for free. Current employees are paid for 40 hours a week while in the program.
Admission criteria:
Must be at least 18 years or older. Applicants 17 years of age may apply for the program with consent from a parent or guardian
Must have a high school diploma or GED
Must be able to lift up to 50 pounds and carry objects up to 25 pounds
Must be able to stand for long periods
The program is free. Students who have not accepted the commitment to work for JW Health must pay a program fee of $3,400. The cost of books, unforms, and parking are not included.
Website: https://careers.uwhealth.org/
Address: 3185 Deming Way, Middleton, WI 53562-1435
Phone: (608) 890-8057