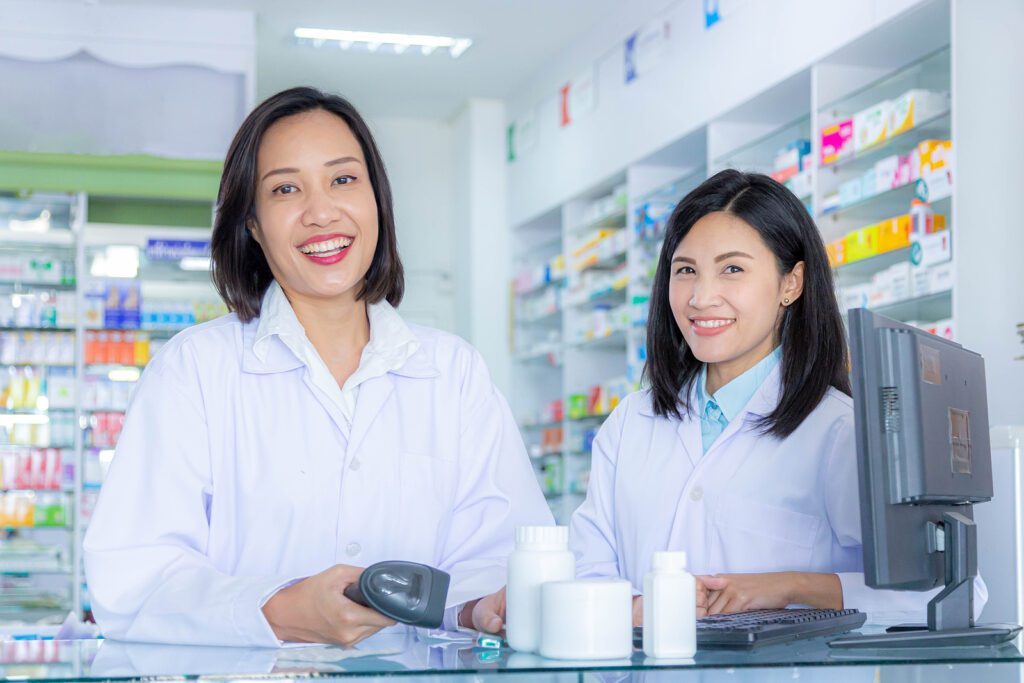 Pharmacy technicians fill a critical role in the healthcare system. They help to ease the pharmacist's workloads in a time when the aging population increases demand for prescription medications. Pharmacy technicians work in hospitals, community pharmacies, insurance companies, and home health care. Their duties might include making IV medications, inventory management, mixing, measuring, and packing medications, billing for services, answering calls, and management of customer service issues. Pharmacy technician programs will prepare you for the role and responsibility of a technician. Accredited programs include preparation for both retail and institutional pharmacies and are essential if you plan to take a national certification exam such as the Pharmacy Technician Certification Exam offered by the PTCB.
Pikes Peak Community College
The pharmacy technician program at Pikes Peak Community College provides adults with knowledge and training in pharmacy that will enable them to assist licensed pharmacists. Students will learn how to use clinical lab equipment, work as a member of the pharmacy team in community and institutional pharmacies, and interact with customers. The program provides valuable on-the-job training during the externship and one-on-one guidance from experienced staff. Graduates of the American Society of Health-System Pharmacists-accredited program will be prepared to interpret, fill and distribute prescriptions for medications, use proper aseptic techniques in the preparation of sterile medication products, perform pharmaceutical calculations, understand the use and side effects of prescription and nonprescription drugs, and apply the laws governing the practice of pharmacy.
Admission criteria:
Apply for admission to Pikes Peak Community College
Request and submit official transcripts – from high school and college – to be sent to the Records Office at PPCC
Complete an Application for Admission to the Pharmacy Technician program and schedule an appointment with a PHT Adviser
Complete the prerequisite courses with a grade of C or better – College Composition and Reading and Math for ClinicalCalc Literacy AND Mat 103 Math for Clinical Calculations
Complete a criminal background check and drug screen through CastleBranch
Must be able to read and write English
Tuition costs $247.35 per credit for resident students.
Website: https://www.ppcc.edu/
Address: 5675 S. Academy Blvd., Colorado Springs, CO 80906 USA
Phone: 719-502-2000
Toll-Free: 866-411-PPCC (7722)
Front Range Community College
Front Range Community College provides an advanced-level pharmacy technician program that prepares students to perform pharmacy-related functions under the direct supervision of a licensed pharmacist. Instruction includes didactic and simulated components, conducted in the classroom, followed by an off-site clinical component. The curriculum requires the completion of 26 credits for the certificate. Topics will cover pharmacy operations in both community and institutional pharmacy settings. Areas of study include pharmacy law and ethics, pharmacology, institutional pharmacy, community pharmacy, pharmaceutical calculations, and compounding techniques. The pharmacy externships in the second semester will be scheduled at both community and institutional pharmacies. Graduates will receive a Certificate of Completion in Advanced Pharmacy Technician Training be prepared for success on the Pharmacy Technician National Examination. The program is nationally accredited by the ASHP. They have the option to complete the ACPE-National Sterile Compounding Certification Course after graduation. New students are admitted in the fall or spring semester. The duration of the program is two semesters.
Admission criteria:
Maintain the required immunizations throughout the program – TB test, Tdap, Hepatitis B, MMR, Varicella, seasonal influenza, negative COVID test, COVID-19 vaccine series
Submit a completed application for admission to the pharmacy technical program
Must be 18 years or older
Must have current American Heart Association BLS Provider CPR card
Pass a 10-panel background check and drug screen
Tuition costs $247.35 per credit for resident students. Financial aid is available for eligible students.
Pueblo Community College
The Pharmacy Technician program at Pueblo Community College is taught by certified pharmacy technicians with years of experience in both hospital and retail settings. They will prepare students for entry-level employment through lectures, labs, and hands-on training. Students will learn how to measure, mix, count, and label dosages of medications, operate dispensing equipment when filling prescription orders, compound or mix medications, and attend to customer service issues. Clinical externships will take place at retail and hospital pharmacies and will give students the opportunity to gain hands-on experience. Graduates will be prepared to take the Pharmacy Technician Certification Board exam. The certificate program requires the completion of 34 credits. The duration of the program is three semesters. Day, evening, and online options are available.
Admission criteria:
Pass a criminal background check and drug screen
Must have a Classic Accuplacer score of 62+ in reading comprehension, 95+ in sentence skills, and 45+ in elementary math – Next Gen Accuplacer scores are also accepted
Submit a completed application to the program
Tuition costs $247.35 per credit for resident students.
PIMA Medical Institute
The pharmacy technician program at PIMA Medical Institute prepares students to work alongside pharmacists in retail and institutional pharmacies. The curriculum covers 840 contact hours – 350 hours theory, 250 hours lab, and 240 hours externship. The total number of credits awarded is 35.5. Course topics include study skills, anatomy, physiology, and terminology, computer basics, math fundamentals, CPR & First Aid, pharmacy math, pharmacy technician duties, pharmacology, principles of customer service, fundamentals of chemistry, and pharmacy computer applications. Graduates will be eligible to take the national PTCB exam. The duration of the program is 35 for daytime schedules and 40 weeks for evening classes.
Admission criteria:
Must have a high school diploma or GED
Take an entrance exam and pass with the minimum score
Schedule and attend an admissions interview
Pass a criminal background check and drug screen
Tuition for the program is $16,551. It includes the cost of textbooks, lab supplies, tax, technology fee, and uniforms.
Website: https://pmi.edu/
Address: 5725 Mark Dabling Boulevard, Suite 150, Colorado Springs, CO 80919
Phone: 800-477-PIMA